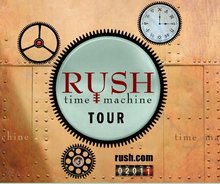 UPDATE - 5/31@7:43AM: Here's a review from Explore Music (thanks Power Windows).
UPDATE - 5/26@2:10PM: Official photos are now posted at the Rush on the Road Photo Store website.
UPDATE - 5/26@8:26AM: Here's a review from The Art Desk (thanks Japes).
Rush finishes up their run of UK dates tonight at The O2 in London. President Obama is in town but it's not clear whether he has tickets to the show - although he will be addressing Parliament. As far as I know Rush will not be addressing Parliament or visiting the Queen, but they will more than likely put on yet another kickass concert for our fellow English Rush fans. Rumor has it that the show is sold out or close to it. For everybody going tonight, have fun, be safe and make sure to share your photos, videos and reports with us.
Date/Time: Wednesday, May 25th @ 7:30PM
Show Number: 23
Venue: The O2
Place: London, England
gallery: [view] [upload] [YouTube videos]
reviews: [reviews]