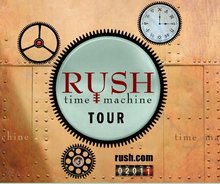 Rush wrapped up the European leg of their 2011 Time Machine Tour this past weekend with stops in the two cities where they filmed their 2 most recent live DVDs. Last Friday night they played the Ahoy Rotterdam Arena in the Netherlands where they recorded Snakes & Arrows Live back in 2007, then on Sunday they hit the Festhalle Frankfurt where R30 was recorded. Speaking of Rush live DVDs, we finally received some details regarding the release of Rush's next DVD earlier this week via the MusicTAP TAPSheet for May 28th. From the report:
Concord Records have a RUSH DVD with an undetermined title (for the moment, which makes it a new one) scheduled for September 27.
Although it doesn't explicitly say it, I think it's safe to say that this refers to the live DVD of Rush's April 15th performance at Quicken Loans Arena in Cleveland. Concord Records is the company that bought Rounder Records last year, and the last 3 Rush live DVDs were put out by Rounder. Although the release date is currently given as September 27th, judging by past experience it's very likely that it will end up being pushed back into October or even November. But it looks like we will most certainly have a new Rush live DVD by Christmas of this year. In a blog post from couple of weeks ago Rush sound engineer Rich Chycki mentioned that the "Cleveland DVD" is also underway. More details to be had when there are some...
Rush will resume the tour back in the USA next Wednesday, June 8th with a stop at the BI-LO Center in Greenville, SC. Then they'll move steadily westward and up the west coast, playing a total of 12 more dates and finally finishing up the 2011 tour at The Gorge in Washington State. And if you don't already have it, you can get the official Rush Time Machine Tour mobile app for the iPhone, iPod and iPad at iTunes, and for Google Android at Amazon.com. MusicRadar.com is taking nominations for a poll they will be running to determine The Best Live Act in the World Today. You can nominate Rush at this link (thanks RushFanForever).
It sounds as if Neil Peart and his friend/riding partner Brutus are safe and sound back in North America, and we should be getting another news update at NeilPeart.net in the near future. Brutus tweeted the following yesterday:
Just read the first draft of Bubba's next story! Will be sent out shortly. I'll give the heads up. In Toronto now before riding the 07 west.
Neil Peart will also be making an appearance on the Late Show with David Letterman next Thursday, June 9th as part of the show's Drum Solo Week. Since the band will be between tour dates on Thursday it looks like Neil's segment will be pre-taped, and from reports I've been hearing the pre-taping will take place this coming Monday, June 6th. For all the details, check out this post.
Speaking of Neil Peart, Neil's recent interview with Jeff Woods of the syndicated radio show The Legends of Classic Rock aired this past Sunday and was made available online earlier this week. You can listen to the 25-minute interview at this link or by using the player below.
And in yet another piece of Neil Peart news, Gibson.com posted their list of the The Top 10 Rock Drummers of All Time to their website earlier this week and Neil made the list at #2 second only to legendary Led Zeppelin sticks-man John Bonham. Here's what they had to say:
Drummer and lyricist for Rush, Neal Peart is hailed in many circles as the quintessential rock drummer. He's known for his ingenious drum parts and intense solos with lead passages that rock hard and prove the drums, indeed, can be a lead instrument. No Rush concert is complete without Peart's sparking, obligatory drum solo, and his syncopated drumming style certainly has its own distinct sound and aura. You can always tell when itís Peart playing.
RushCon 2011 (aka RushCon X-1) will take place in three short weeks over the weekend of June 24-25th in Las Vegas, coinciding with the Rush concert at the MGM Grand Hotel on Friday, June 24th. Demand for the Friday night Las Vegas Rush after-concert party was so high that the RushCon team decided to move it to a larger venue. From the RushCon website:
Great news! Due to the overwhelming response for our Rush After-Concert party, we have decided to move it to a larger venue. This way, no Rush fan is left out. Our after party will now be held at the Hard Rock Cafe on the Strip. It is conveniently located a mere 5-minute walk from the Rush Concert. We will dominate the airwaves and screens (with Rush tunes and videos) at our private third floor takeover, which features a great bar, VIP area, and a giant patio overlooking the Strip. Rush fans will party it up in style!
The convention itself will still take place the following day at the Night Owl room in the Hooters Hotel. For all the event details check out this link, and go here to register.
A couple of weeks ago I mentioned a new restaurant in Gothenburg, Sweden that was opened recently by members of the Swedish metal band In Flames. The restaurant is simply named Restaurant 2112 as a tribute to Rush's 2112 album. Metal Hammer magazine recently conducted a video interview on location at the restaurant with co-owner Peter Iwers who had this to say regarding the restaurant's name:
... 2112 is inspired from Rush. It was released in '76 ... it's one of the best records in the prog genre ... so we chose 2112 ...
You can check out the entire interview at this link. For more information on the restaurant you can go to their website or visit them on Facebook. Thanks to Power Windows for the heads up.
Vivian Slaughter of Japanese metal band Gallhammer was recently interviewed by NoiseCreep.com and mentions Geddy Lee as being an influence:
... [I] picked up bass because I thought the bass sound is cool and I wanted to play simple riffs over and over. Also, guitar seems difficult to me [laughs]! I haven't been influenced by someone so much, but I like Geddy Lee. I never get tired of watching the Rush DVD. ...

Reader DaveTinNY recently took his car in for some service and was pleasantly surprised when he received his service ticket number. You can check out a photo at this link.
Eric at Power Windows located this old commercial on YouTube for the 2001 Nissan Maxima which features Rush's Tom Sawyer. You can check it out at this link.
The Drum Channel and the film Adventures of Power (featuring Neil Peart) have teamed up to sponsor an Air Drum Battle where entrants could win one of over 100 prizes with the grand prize being a 3000 dollar Pacific drum kit with DW hardware and pedals, and Sabian B8 Pro Performance Cymbals. The first round of voting closed this past weekend and I'm happy to say that our own air-drummer extraordinaire LanceTheShred has made it into the finals with his entry where he air-drums to Rush's Red Barchetta (watch it at this link).
The late documentary filmmaker Allan King released a film in 1972 called Come on Children which featured a young Alex Lifeson. The film gained some notoriety when portions of it were included in the Rush documentary Rush: Beyond the Lighted Stage as shown here. Reader RushFanForever located another clip from the film on YouTUbe which also includes a young Alex. You can check it out below or at this link along with this extended version.
That's all for this week. Have a great weekend!