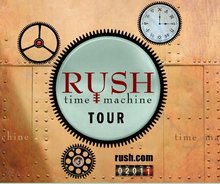 UPDATE - 6/3@2:42PM: Here's a review from the Burn Your Ears webzine (thanks Power Windows).
UPDATE - 6/1@4:27PM: Here's a review from Faz.net.
UPDATE - 5/31@7:40AM: Official photos are now posted at the Rush on the Road Photo Store website.
UPDATE - 5/30@9:40PM: Here's a review and photo gallery from the Frankfurter Neue Presse (thanks RushFanForever).
Rush finishes up the European leg of the 2011 Time Machine Tour tonight at the Festhalle Frankfurt in Frankfurt, Germany, returning to the venue where they filmed R30 back in 2004.
After tonight the band will head back to North America and take a 9-day break before kicking off the third and final leg of the 2011 tour at the BI-LO Center in Greenville, SC on Wednesday, June 8th. For all of our fellow German Rush fans who are going to tonight's show, have fun, be safe and make sure to share your photos, videos and reports with us.
Date/Time: Sunday, May 29th @ 7:30PM
Show Number: 25
Venue: Festhalle Frankfurt
Place: Frankfurt, Germany
gallery: [view] [upload] [YouTube videos]
reviews: [reviews]