Friday, October 24, 2014
Updates and other random Rush stuff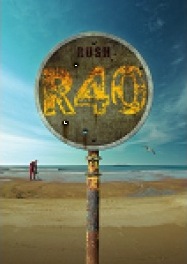 In less than 3 weeks on November 11th Rush will release their R40 40th Anniversary Collectors Box Set (6 Blu-ray discs or 10 DVDs). The set will include Rush's 5 most recent live videos (Rush in Rio, R30, Snakes & Arrows Live, Time Machine, Clockwork Angels Tour) along with an R40 bonus disc, all contained in a 52 page hardback book measuring 305mm x 225mm (12" x 9"). The bonus disc will include the Laura Secord Secondary School 1974 footage (the FULL show including the 2 unreleased tracks I've Been Runnin' and The Loser, along with their cover of Bad Boy), the Passaic, NJ Capitol Theatre show from 1976, Lock and Key live from 1988, Rush at the Molson Amphitheatre in 1997, the I Still Love You Man video from 2011 and the Rush portion of the Rock & Roll Hall Of Fame Induction in 2013. For complete details of what's contained in the set, just read the Rush.com press release, and check out this 1:30-minute video trailer. You can pre-order the R40 box set on 6 Blu-ray discs or 10 DVDs. In part 2 of Phil Simon's interview with Neil Peart that was posted earlier today, Neil spoke a little about the box set and what he thought stood out about the release:
... one of the standout editions [in the R40 box set] was the Test for Echo Toronto show. ... It was a tremendously emotional memory-that particular show and that particular material. When I watched the way I played then ... just after I studied with Freddie Gruber, ... I played a certain way on that tour that I really liked to watch: real graceful and I was concentrating very much on technique. All of that was fresh and kind of unique to that tour and yet it had never been released. At the time it was filmed (that Toronto show) there were apparently some technical difficulties with audio and we were told it was useless. It just sat in the vault for all these years. So having that resurrected is important to us personally and autobiographically and also I still really like that body of work represented by Test for Echo album and what we presented on that tour too. The solo I was doing was interesting to me in terms of what I was doing and the evolution of myself as a soloist. For all of those reasons, I'm particularly glad that that saw the light of day again.
In addition to the R40 box set Simon spoke with Neil about Rush opening bands, and what he's been doing with his time off from the band. Part 1 of the interview was posted online earlier this month for a piece that ran in the Huffington Post. In the Huffington Post piece Neil talked about his new book Far and Near: On Days Like These, describing some of the themes contained in the book and compares writing to music. Part 3 of the interview should be posted by the end of next week and will include Neil's answers to the fan questions Simon collected via his website last month.
Geddy Lee and Alex Lifeson's Grapes Under Pressure 3 charity eBay auction ran a couple weeks ago from Friday, October 3rd through Monday, October 13th and ended up raising thousands of dollars for Grapes for Humanity. Geddy posted a message to Rush.com earlier this week thanking everyone for participating in the auction:
On behalf of Alex, myself and the entire GUP team I'd like to say a huge ginormous THANK YOU SO VERY MUCH to all of our fans, friends, and followers who took the time and spent their hard earned money to support this Grapes Under Pressure 3 Ebay auction in support of Grapes for Humanity Canada. Your money will go a super long way to help rebuild health care facilities in the Philippines that were damaged or destroyed in the Haiyan Typhoon. You have helped a lot of people!

Thank you all for caring!

my best to you,
Geddy Lee
Some standout items from the auction were a Vintage Silver Rush Road Case that went for $5,250.50, a Signed Limited Edition Fender Geddy Lee Replica Jazz Bass that sold for $11,200, a Signed Alex Lifeson Signature Gibson Les Paul Axcess that went for $11,000, a Rush ReDISCovered Signed Vinyl Test Pressing that sold for $1,125, and a Rush Signed Moving Pictures Live Test Pressing that went for $2,505. Grapes for Humanity is an organization that helps to raise funds to benefit humanitarian causes around the world with the assistance of the international wine community, and Geddy Lee is a member of the board of directors. In recent years he and Alex Lifeson have conducted a number of charity auctions and events to raise money for the organization as part of an initiative that they cleverly call Grapes Under Pressure. The first 2 Grapes Under Pressure events took place in 2009 and 2011 respectively.
Hand-crafted miniature guitar and drum manufacturer Axe Heaven announced earlier this week that they now have miniature replicas of Neil Peart's Hockey Theme and Time Machine drum kits available. The Hockey Theme kit is a miniature reproduction of the custom DW kit Neil used to record his version of The Hockey Theme for TSN's NHL broadcasts back in 2009. The Time Machine kit is a miniature reproduction of the kit Neil used on both the Time Machine and Clockwork Angels tours. Visit AxeHeaven.com for all the details and to purchase your miniature replica kit. They also have additional miniature instruments, including miniature versions of both Alex Lifeson's and Geddy Lee's guitars, and Neil Peart's Snakes & Arrows kit.


Reader Mark S spotted a Rush-autographed guitar on a recent episode of Pawn Stars as seen here. And yours truly spotted a Geddy Lee bass on display at the new Hard Rock Rocksino in Northfield, OH as seen here. Speaking of Rush guitars, Brian at Private Reserve Guitars recently conducted a video review of Gibson's custom Alex Lifeson Les Paul Axcess electric guitar. You can check out the review on the Musician's Friend YouTube channel here (thanks Mark R).
Reader RushEsq let me know that the USC Trojans Marching Band played a condensed version of Rush's Tom Sawyer during their halftime show at last weekend's USC/Colorado football game. You can watch it online at this location at about the 6:20 mark.
Metal Sludge ran a poll a couple weeks ago to determine The Best Single Word Classic Rock Band Name Of All Time and Rush came in at #3 behind KISS and Aerosmith (thanks Doug B.
Reader Kelly D spotted a Rush reference in the direct-to-dvd Scooby Doo film Scooby Doo! Frankencreepy which released this past summer. Towards the beginning of the film the gang is doing a live webchat with fans, and the first fan is a stereotypical nerd with the handle Alexsuperfan2112.
Back in July we learned that Tiffin University in Tiffin, Ohio would be offering a new, 15-week, music history course titled Rush: Progressive Rock and Modern Society taught by Professor Nathan Santos. The course explores the musical and cultural issues of the 1970s and '80s where students analyze progressive rock, along with its musical elements, lyrical themes, historical, social and cultural content and its significance within the development of popular music styles. The course is centered specifically on the music and styles of Rush where students look at the style changes the band went through over the years and how bands withstand changes to continue to create music. The course is well under way now and recently had Rush discoverer and media scholar Donna Halper give a guest lecture via Skype. The 1 hour, 15 minute lecture was posted to YouTube yesterday and can be seen below or at this location.
October was another big month for Rush releases, 2 of which celebrated anniversaries this past week. Rush's 15th studio album Counterparts celebrated its 21st anniversary last Sunday, and the band's 5th live album and 1st live concert DVD Rush in Rio celebrated its 11th anniversary on Tuesday. This coming Wednesday, October 29th Power Windows, Exit ... Stage Left and Hemisperes all celebrate anniversaries as well. That's it for this week. Have a wonderful weekend!