UPDATE - 5/4@9:33PM: There's now a much better image scan of the video credits below the fold courtesy Sno Scootr (WARNING: SPOILERS).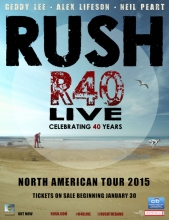 Rush wrapped up band rehearsals for the R40 Live tour out in Los Angeles last week and are now in full production rehearsalso at the BOK Center in Tulsa where the tour will kickoff just 4 days from today on May 8th. As is always the case in the lead-up to opening night, speculation regarding the setlist has been the hot topic of conversation among Rush fans. It now seems like we may finally have our first hint at what the setlist will contain as some fans who purchased VIP ticket packages for the tour have already started receiving their merchandise, including a copy of the R40 Live tourbook. You can check out a photo of the swag here (thanks Sno Scootr). The video credits in the back of the tourbook contain a list of all the songs played that have video associated with them. To check out a photo scan of these credits along with a list of the songs, click below the fold (WARNING: SPOILERS). Note that this is not a comprehensive list, but only songs that have associated background video.
*** WARNING ***
*** SPOILERS BELOW ***
...... click on Read More for the rest ......