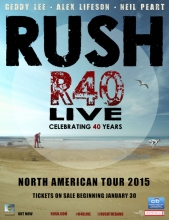 Date/Time: Monday, June 29th @ 8:00PM
Show Number: 23
Venue: Madison Square Garden
Place: New York, NY
Twitter: #R40NYC | #R40Live
Instagram: #R40NYC
YouTube: New York Rush R40 Live Tour
Setlist: Version ???
Rush makes their way to the Big Apple tonight to play Madison Square Garden in New York City for what stands to be another epic show to close out the 2nd leg of the R40 Live tour. They'll then take a well-deserved 11-day break and pick things back up on July 9th in Kansas City. The band returned to their standard 3-setlist rotation last week for the 3 shows following their stint in Toronto, and it was expected that they'd start the rotation over again by playing the A setlist in Newark Saturday night. But they instead decided to surprise everyone by playing a variation of their B setlist with one very special substitution - that same extra song they played in Toronto, but with a different guest musician. For all the details on this new E setlist, check out the SPOILERS in the Newark thread. So what will they have on tap for the New York crowd? Rumor has it that they will be playing that special song once again (likely with the same guest musician as Saturday night), but it's not clear whether they'll play the D, E or some other variation of the set. It's also possible that the band might pay tribute somehow to Yes bassist Chris Squire, who passed away over the weekend. For more discussion on the potential setlist along with a preview of the show, check out the pre-show SPOILER review below the fold. Tonight's show has an 8PM start time listed, so Rush will probably hit the stage at 8:15-ish. For everyone going to the show tonight, have fun, stay safe and be sure to share your reports, reviews, photos and video with us. Russhhhh!!!
*** WARNING ***
*** SPOILERS BELOW ***
...... click on Read More for the rest ......