UPDATE - 5/29@8:26AM: Here's a gallery of photos from Cygnus-X1.net.
UPDATE - 5/28@10:46PM: The show is over and the Version B setlist was played as expected. Good night Greensboro!
UPDATE - 5/28@6:37PM: The show should be getting underway in a little over an hour from now. Rush is expected to play their Version B setlist as shown here. If anything changes, I'll let everyone know. Have fun Greensboro!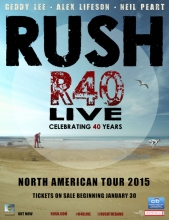 Date/Time: Thursday, May 28th @ 7:30PM
Show Number: 11
Venue: Greensboro Coliseum
Place: Greensboro, NC
Twitter: #R40GSO | #R40Live
Instagram: #R40GSO
YouTube: Greensboro Rush R40 Live Tour
Setlist: Version B
Photos: Cygnus-X1.net
Rush brings the R40 Live tour machine to the Greensboro Coliseum in North Carolina this evening for show #11 of the tour. After tonight the band will then finish off the first leg of the tour with a show in Bristow on Saturday night. They'll then take nine well-deserved days off before picking things up again on June 8th in Columbus. Rush is expected to play their Version B setlist for tonight's show, and I've entered that setlist into the Greensboro setlist page for now. I'll be sure to update it if anything changes, and finalize it once the show is over. Despite the expectations of the B set, there's always an outside chance that Rush will surprise us with something different. For more discussion on that along with a preview of the show, check out the pre-show SPOILER review below the fold. Tonight's show has a 7:30PM start time listed, so the band will probably hit the stage around 7:45-ish. For everyone going tonight, have fun, stay safe and make sure to share your reports, reviews, photos and video with us. RUUSSSHHHH!!!!!
*** WARNING ***
*** SPOILERS BELOW ***
...... click on Read More for the rest ......