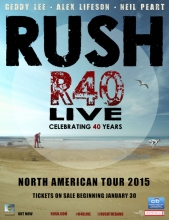 Date/Time: Saturday, May 30th @ 7:30PM
Show Number: 12
Venue: Jiffy Lube Live
Place: Bristow, VA (outside Washington D.C.)
Twitter: #R40DC | #R40Live
Instagram: #R40DC
YouTube: Bristow Rush R40 Live Tour
Setlist: Version C ???
Rush wraps up the first of 3 legs of the R40 Live tour this evening when they play the Jiffy Lube Live outdoor amphitheater outside Washington D.C. After tonight they'll take a well-deserved 9-day break before picking things up again in Columbus on June 8th. Rush is expected to play their Version C setlist for tonight's show, and I've entered that setlist into the Bristow setlist page for now. I'll be sure to update it if anything changes, and finalize it once the show is over. Despite the expectations of the C set, there's always an outside chance that Rush will surprise us with something different. For more discussion on that along with a preview of the show, check out the pre-show SPOILER review below the fold. Rush RatCon 2015 East is taking place this weekend in Severna Park, MD at Club Xanadu and will include a huge pre-show tailgate party at the venue in Bristow starting around 5PM - see the RatCon Facebook event page for all the details. Geddy Lee and Alex Lifeson relaxed for dinner and some wine at The Grill Room in Washington D.C. last night and were nice enough to take some time out for a photo with some fans as seen here (thanks Bob Renner). Tonight's show has a 7:30PM start time listed, so the band will probably hit the stage around 7:45-ish. The weather looks great for today and tonight, although it will be a tad on the hot side. For everyone going to the show, have fun, be safe and make sure to share your reports, reviews, photos and video with us. Rush on!!!!!
*** WARNING ***
*** SPOILERS BELOW ***
...... click on Read More for the rest ......