Friday, October 24, 2014
Part 2 of Phil Simon's Neil Peart interview now available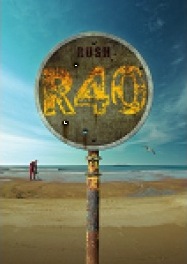 Several weeks ago Phil Simon interviewed Neil Peart for a Huffington Post piece that was posted online earlier this month. In the Huffington Post piece Neil talked about his new book Far and Near: On Days Like These, describing some of the themes contained in the book and compares writing to music. The Huffington Post piece focused specifically on Neil's new book, but Simon also spoke with Neil about several other topics, and was able to post part 2 of his conversation with Neil online at his personal website earlier today. He has the Huffington Post excerpts posted as part 1 here. In part 2 of his interview Simon spoke with Neil about Rush opening bands, what he's been doing with his time off from the band, and the upcoming R40 box set:
... one of the standout editions [in the R40 box set] was the Test for Echo Toronto show. ... It was a tremendously emotional memory-that particular show and that particular material. When I watched the way I played then ... just after I studied with Freddie Gruber, ... I played a certain way on that tour that I really liked to watch: real graceful and I was concentrating very much on technique. All of that was fresh and kind of unique to that tour and yet it had never been released. At the time it was filmed (that Toronto show) there were apparently some technical difficulties with audio and we were told it was useless. It just sat in the vault for all these years. So having that resurrected is important to us personally and autobiographically and also I still really like that body of work represented by Test for Echo album and what we presented on that tour too. The solo I was doing was interesting to me in terms of what I was doing and the evolution of myself as a soloist. For all of those reasons, I'm particularly glad that that saw the light of day again.
Part 3 of the interview should be posted by the end of next week and will include Neil's answers to the fan questions he collected via his website last month.