Friday, October 31, 2014
Updates and other random Rush stuff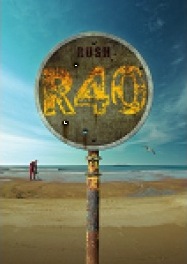 In one week from this coming Tuesday on November 11th Rush will release their R40 40th Anniversary Collectors Box Set (6 Blu-ray discs or 10 DVDs). The set will include Rush's 5 most recent live videos (Rush in Rio, R30, Snakes & Arrows Live, Time Machine, Clockwork Angels Tour) along with an R40 bonus disc, all contained in a 52 page hardback book measuring 305mm x 225mm (12" x 9"). The bonus disc will include the full Laura Secord Secondary School 1974 footage including the 2 unreleased tracks I've Been Runnin' and The Loser, along with their cover of Bad Boy. Radio.com recently sat down with Alex Lifeson to discuss the box set and also preview a clip of I've Been Runnin', which you can watch below or on YouTube. Here's what Alex had to say about the track:
... John [Rutsey] wrote the lyrics back then. Geddy and I would generally write the music. Sometimes we would have band rehearsals and it would be all three of us, but it was always difficult to work out songs like that. It was easier for us to work on the music together and then teach it to John and go from there. We still do that with Neil [Peart], in fact. John did write the lyrics in those days for the most part. It was so weird when he didn't want us to use his lyrics on the first album when we started to record it. It was a very strange time for us, just before he left the band. But to be honest with you, I'd totally forgotten about "I've Been Runnin'" until I saw it come up for this box set. That one was really lost to me. But it was a shuffle-y, Delta bluesy kind of song that we were inspired by via Led Zeppelin. ...
You can read the entire interview at Radio.com here. The bonus disc also contains the Passaic, NJ Capitol Theatre show from 1976, Lock and Key live from 1988, Rush at the Molson Amphitheatre in 1997, the I Still Love You Man video from 2011 and the Rush portion of the Rock & Roll Hall Of Fame Induction in 2013. For complete details of what's contained in the set, just read the Rush.com press release, and check out this 1:30-minute video trailer. You can pre-order the R40 box set on 6 Blu-ray discs or 10 DVDs.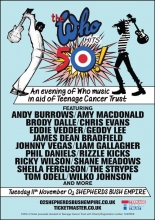 The Who will be celebrating their 50th anniversary with a The Who Hits 50! world tour that kicks off later next month and runs through next year. Prior to the start of the tour, a benefit concert of Who music in aid of the Teenage Cancer Trust will take place on November 11th at the O2 Shepherds Bush Empire in London, England. The Who's house band will be joined onstage to perform Who classics by a number of famous artists including Rush's Geddy Lee. Also appearing will be Pearl Jam's Eddie Vedder, Liam Gallagher, Ricky Wilson from the Kaiser Chiefs, Manic Street Preachers' James Dean Bradfield, The Strypes, Brody Dalle, Tom Odell, Amy Macdonald, Andy Burrows, Rizzle Kicks and more. Tickets went on sale earlier today via TicketWeb in the UK. The Who were a major influence on all 3 members of Rush, and the band covered The Seeker on their 2004 Feedback EP.
Speaking of major Rush influences, the rock world received some sad news this past weekend when legendary Cream bassist Jack Bruce passed away at the age of 71. Bruce was a huge influence on Rush's Geddy Lee, who posted the following message to Rush.com earlier in the week:
The sudden passing of Jack Bruce is terribly sad news. One of the greatest rock bassists to ever live and a true and profound inspiration to countless musicians. He was one of my first bass heroes and was a major influence on my playing and my music. My heartfelt condolences to his family and fans. - Geddy Lee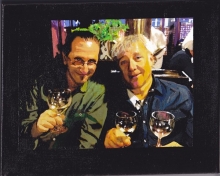 We learned earelier this week that Alex Lifeson will once again be participating in The Kidney Foundation of Canada's annual A Brush of Hope charity auction this year. As they have for several years running, Alex Lifeson along with dozens of other Canadian celebrities have donated paintings to be auctioned off to raise money for the charity. Alex has participated in the fundraiser a number of times in the past, including his contribution of a self-portrait that sold for $7600 last year. Alex's painting for this year is a photorealistic rendering of himself enjoying some wine with Geddy Lee that can be seen on the Brush of Hope Facebook page. The 2014 Brush of Hope Masquerade Gala and silent auction took place yesterday evening at the Fredericton Convention Centre in Fredericton, NB, and the live eBay auction kicked off earlier today. You can check out the listing for Alex Lifeson's painting here. The auction will run through Sunday, November 9th. For all the latest news and information be sure to follow A Brush of Hope on Facebook.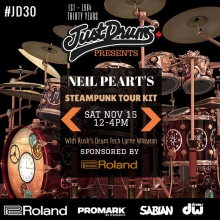 Roland Canada will be hosting an event at Just Drums in Toronto on Saturday, November 15 which will feature Neil Peart drum tech Lorne Wheaton showing off Peart's Time Machine hybrid drum kit. Fans will be able to get their picture taken with the kit, see an interactive presentation of the history of Neil Peart and V-Drums with Roland Canada's Darren Schoepp, get a detailed look at the technology of the Time Machine Kit from Lorne, and participate in a Q&A session with Darren and Lorne. For all the details visit the Just Drums website and check out the event on Facebook.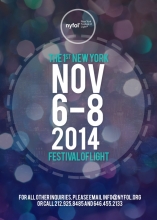 The first annual New York Festival of Light will take place in New York City next week from November 6-8th and longtime Rush lighting director Howard Ungerleider will be one of the featured artists. The Festival's goal is to enhance New York City's architecture through interactive, static and projected lighting installations. The New York Festival of Light Organization is raising funds via a Kickstarter campaign which you can learn more about here. To learn more about the Festival you can follow them on Facebook and Twitter, and visit the website at nyfol.org.
Speaking of light shows, there was a brief Rush Tom Sawyer reference in Jimmy Fallon's Tonight Show monologue this past Wednesday night. Jimmy talks about how CNN plans to project the results of next week's midterm elections onto the Empire State Building using colored LED lights. Jimmy explains how if the Republicans win, it will be colored red - they then cut to a picture of the building lit up in red. He then explains how if the Democrats win it'll be lit up blue. He then says, "... and when it gets hacked on election night it will look like this..." They then cut to a video of the building being lit up red, white and blue in different patterns while Rush's Tom Sawyer plays in the background. Maybe they anticipate that Howard Ungerleider will hack the display? :) You can watch the monologue online at the NBC website here - the Rush part comes in at about the 3:30 mark. Thanks to Andrew D for the heads up.
Io9.com posted their list of The Top 100 Science Fiction-Themed Songs Of All Time last Friday and 3 Rush songs made the cut with 2112 making it into the top 10 at #5:
This 20-minute long track by the Canadian prog-rockers chronicles the plight of "Anonymous 2112" - a protagonist caught in a dystopian world ruled by the Priests of the Temples of Syrinx. He initially believes everything he's told - but then he discovers a guitar from a time before the federation- "something that changed it all." But it's a dangerous tool that, according to the Priests, "Doesn't fit the plan."
Also on the list were Cygnus X-1 at #99 and Red Barchetta was #52. Speaking of which, the San Francisco Chronicle ran a story last week about a Red, 1950 Ferrari 166MM Barchetta that was recently found tucked away in a Tucson, Arizona barn where it had been for about 50 years. :)
Earlier this week Chris Zdeb of the Edmonton Journal took a retrospective look at a scathing review of Rush's first show in Edmonton back on October 25, 1976 by journalist Joe Sornberger, displaying how wrong rock reviewers can be and usually are. You can check it out online here.
CMT News posted a short article last week where they talk to country superstar Tim McGraw about some of his early rock musical influences including Rush (thanks RushFanForever):
... Like any good teenage boy in the early 1980s, McGraw admits he really loved Rush's 1981 Moving Pictures, calling it "probably an album that I just completely wore out." (How cool would it be if he covered the Canadian rock band's "Tom Sawyer" or "Limelight" someday?) ...
McGraw is a known Rush fan and can often be seen sporting a Rush t-shirt in his live shows.
WXPN in Philly ran a countdown last week of their 885 top songs as chosen by their listeners and 3 Rush songs made the cut; Subdivisions at #842, 2112 at #707 and Tom Sawyer at #247. You can check out the full list at this location (thanks Gabe).
Reader RushFanForever noticed a short, 1-page article in issue #42 of Prog magazine from earlier this year that we had missed. The article is part of the magazines My Prog Hero series and in it Ohio-based musician Joseph Arthur gives 5 reasons why Rush are his favorite prog rock band. You can read the article online here (thanks RushFanForever).
Here's the full preview clip of Rush performing I've Been Runnin' with John Rutsey back in 1974:
That's all for this week. I hope everyone has a safe and happy Halloween this evening and that you have enjoyed my annual RIAB Halloween theme. I have to thank the talented Eric at the Power Windows site for providing the Rush Starman pumpkin image. Several other readers provided some of the Halloween-themed Rush pics in the image rotator including Kurt K, hermy and lamb saag. And speaking of Halloween, RushCon is having a little Rush-themed jack-o-lantern Twitter contest. Just go check out the RushCon twitter feed for all the details. Have a great weekend and a happy Halloween everybody!!