UPDATE - 5/22@7:39PM: The show should get underway in about an hour from now. Rush is expected to play their Version B setlist as shown here. If anything changes, I'll let everyone know. Have fun NOLA Rush fans!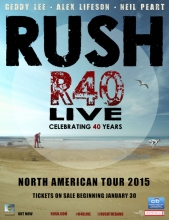 Date/Time: Friday, May 22nd @ 7:30PM
Show Number: 8
Venue: Smoothie King Center
Place: New Orleans, LA
Twitter: #R40NOLA | #R40Live
Instagram: #R40NOLA
YouTube: New Orleans Rush R40 Live Tour
Setlist: Version B ???
Rush rolls into The Big Easy tonight where they'll play the Smoothie King Center in New Orleans for show #8 of the R40 Live tour. After tonight's show they will make their way across the Southeastern US for 4 more dates to finish off the first leg of the tour. In his recent Classic Rock interview Alex Lifeson confirmed that the band has "three sets - A, B, C - which we'll be rotating throughout the tour". The band has already gone through 2 full rotations of these three setlists and started the third rotation Wednesday night in Houston by playing the Version A set. So for tonight's show we are expecting to see the Version B setlist that was played in Lincoln and Austin. I have entered the Version B setlist into the New Orleans setlist page for now, but will update it if anything changes, and finalize it once the show is over. Despite the expectations of the B set, Rush could always still surprise us with something new. For more discussion on that, check out my pre-show SPOILER review below the fold. If there are any deviations from the expected Version B setlist, I'll be sure to let everyone know about it. The show has been getting a good deal of local press including this article from The Times-Picayune's Keith Spera titled Whither Rush beyond the band's 'R40 Live' 40th anniversary tour?, and this article from The Advocate. The doors to tonight's show will open at 6PM, with a 7:30PM show start time, which means the band will likely hit the stage 7:45-ish. For everyone going to the show, have fun, be safe and make sure to share your reports, reviews, photos and video with us. RUSH!!!
*** WARNING ***
*** SPOILERS BELOW ***
...... click on Read More for the rest ......