UPDATE - 5/21@9:16PM: Here's a review from the Houston Press.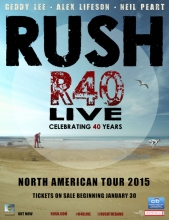 Date/Time: Wednesday, May 20th @ 7:30PM (doors open at 6PM)
Show Number: 7
Venue: Toyota Center
Place: Houston, TX
Twitter: #R40HOU | #R40Live
Instagram: #R40HOU
YouTube: Houston Rush R40 Live Tour
Setlist: Version A
Photos: Houston Chronicle | Cygnus-X1.net | KshipMedia.com
Reviews: Houston Chronicle | Houston Press
UPDATE - 5/21@10:50AM: Here are some great front row center shots from KshipMedia.com.
UPDATE - 5/21@9:41AM: Here's a growing gallery of photos from Cygnus-X1.net.
UPDATE - 5/21@8:38AM: Here's a review and photo gallery from the Houston Chronicle.
UPDATE - 5/20@11:28PM: Set 2 is about complete and also followed the Version A setlist. I'm assuming the encore won't be any different than the past 6 shows, so I'll go with this as the final setlist for now. If anything changes I will update things in the AM. A BIG thanks to Bob K and Chris B for texting in with the updates. Good night!
UPDATE - 5/20@9:49PM: It's intermission. Up until this point they have played the Version A set as expected with no surprises. Full setlist so far here.

UPDATE - 5/20@8:41PM: The show should start any minute now. A RIAB reader who is at the show got a look at the setlist posted by the soundboard, which confirms the Version A setlist - at least for set 1. If there's any deviation from that I will post an update here. Otherwise I'll update the setlist at intermission time at this location (or sooner if I am able).
UPDATE - 5/20@7:36PM: The venue is filling up and the show should get underway in a little over an hour from now. You can follow along as the setlist gets updated here.
Rush wraps up their 3-date stint across the state of Texas tonight where they'll play the Toyota Center in Houston for show #7 of the R40 Live tour. After tonight's show they will make their way across the Southeastern US for 5 more dates to finish off the first leg of the tour. In his recent Classic Rock interview Alex Lifeson confirmed that the band has "three sets - A, B, C - which we'll be rotating throughout the tour". The band has already gone through 2 rotations of these three setlists, so for tonight's show we are expecting to see the Version A set that was played in Tulsa and in St. Louis. That said, Rush could always still surprise us with something new. For more discussion on that, check out my pre-show SPOILER review below the fold. I'll post any deviations from the expected Version A setlist to this post. Otherwise, you can just follow along as I update the setlist here. The Toyota Center site says the doors to tonight's show will open at 6PM, with a 7:30PM show start time, which means the band will likely hit the stage 7:45-ish. For everybody going to the show tonight, have fun, stay safe and be sure to share your reports, reviews, photos and video with us. Rush on!!!!
*** WARNING ***
*** SPOILERS BELOW ***
...... click on Read More for the rest ......