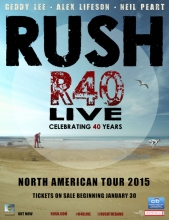 Date/Time: Sunday, May 24th @ 7:30PM
Show Number: 9
Venue: Amalie Arena
Place: Tampa, FL
Twitter: #R40TPA | #R40Live
Instagram: #R40TPA
YouTube: Tampa Rush R40 Live Tour
Setlist: Version C
Photos: Tampa Bay Times | Cygnus-X1.net
Reviews: Tampa Tribune | Tampa Bay Times
UPDATE - 5/25@8:22AM: Here's a review and photo gallery from the Tampa Bay Times, a review from the Tampa Tribune, and a huge photo gallery from Cygnus-X1.net.
UPDATE - 5/24@11:40PM: The show ended about an hour ago, and the Version C setlist was played as expected. Good night Tampa!
UPDATE - 5/24@6:37PM: The show will be getting underway in a little over an hour from now. Rush is expected to play their Version C setlist as shown here. If anything changes, I'll let everyone know. Have a blast Tampa Rush fans!
Rush takes the R40 Live tour machine into the Eastern timezone tonight, playing the Amalie Arena in Tampa, FL for the 9th show of the tour. They'll then finish off the 1st leg of the tour next week after 3 shows in Atlanta, Greensboro and Washington D.C. Rush should be completing their 3rd full rotation of their A-B-C setlists at tonight's show where they are expected to roll out their Version C set which was also played in St. Paul and Dallas. I have entered the Version C setlist into the Tampa setlist page for now, but will update it if anything changes, and finalize it once the show is over. Despite the expectations of the C set, there's always that outside chance that Rush might surprise us with something new. For more discussion on that, check out my pre-show SPOILER review below the fold. If there are any deviations from the expected Version C setlist, I'll be sure to let everyone know about it. Here's a preview article from the Bradenton Herald. The show has a 7:30PM start time, so The Holy Triumvirate should be hitting the stage around 7:45-ish ... Eastern time now. Today also happens to be the 24th of May - Queen Victoria's birthday and the historical basis for the Victoria Day holiday in Canada. The date holds special significance to Rush fans because of its mention in Caress of Steel's Lakeside Park:
Everyone would gather
On the twenty fourth of May
Sitting in the sand
To watch the fireworks display
Dancing fires on the beach
Singing songs together
Though it's just a memory
Some memories last forever
For everyone going to tonight's show, have fun, stay safe and be sure to share your reports, reviews, photos and video with us. Rush on!!
*** WARNING ***
*** SPOILERS BELOW ***
...... click on Read More for the rest ......