UPDATE - 5/28@9:29AM: Atlanta sportscaster Ben Bolton paid tribute to Rush on air before the show as seen in this video.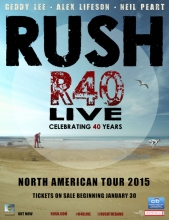 Date/Time: Tuesday, May 26th @ 8:00PM
Show Number: 10
Venue: Verizon Wireless Amphitheatre
Place: Alpharetta, GA (outside Atlanta)
Twitter: #R40ATL | #R40Live
Instagram: #R40ATL
YouTube: Atlanta Rush R40 Live Tour
Setlist: Version A
Photos: Cygnus-X1.net
Reviews: Gwinnett Citizen
UPDATE - 5/27@4:50PM: Here's a review from the Gwinnett Citizen.
UPDATE - 5/27@12:53PM:
There were a couple of celebrity sightings at the show last night. Blackberry Smoke keyboardist Brandon Still was at the show as seen in this Instagram post, and former Rush producer Peter Collins was also spotted as seen in this photo (thanks Josh Saunders). If you look closely, you can see John Roberts and Kyra Phillips of CNN in the background of that last photo!
UPDATE - 5/27@9:08AM: Here's a gallery of photos from Cygnus-X1.net.
UPDATE - 5/26@11:17PM: The show has wrapped up in Atlanta and the Version A setlist was played as expected. Good night!
UPDATE - 5/26@7:11PM: The show will be getting underway in a little over an hour from now. It's still raining and likely will keep raining for at least a couple more hours, so those on the lawn should be prepared to get wet. Rush is expected to play their Version A setlist as shown here. If anything changes, I'll let everyone know. Have fun Atlanta!
Rush will have Georgia on their minds tonight when they take the R40 Live tour to the Peach State to play the Verizon Wireless Amphitheatre outside Atlanta. It'll be the 10th show (can you believe it?!) of the tour, and only the second outdoor show. After tonight the band will finish off this first leg of the tour with shows in Greensboro and Washington D.C. in the coming week, then take a little over a week off before picking things up again on June 8th in Columbus. Rush is expected to play their Version A setlist for tonight's show, and I've entered that setlist into the Atlanta setlist page for now. I'll be sure to update it if anything changes, and finalize it once the show is over. Despite the expectations of the A set, there's always an outside chance that Rush will surprise us with something different. For more discussion on that, check out the pre-show SPOILER review below the fold. Tonight's show has an 8PM start time listed, so the boys will likely hit the stage around 8:15-ish. The parking lots open at 6PM and doors to the show at 6:30PM. The forecast is calling for the possibility of some rain, so keep an eye on the weather and be prepared. For everyone going to the show, have fun, stay safe (and dry) and make sure to share your reports, reviews, photos and video with us. RUUSSSHHHH!!!!!
*** WARNING ***
*** SPOILERS BELOW ***
...... click on Read More for the rest ......