Thursday, October 30, 2014
New Alex Lifeson interview and R40 preview clip of unreleased I've Been Runnin' track at Radio.com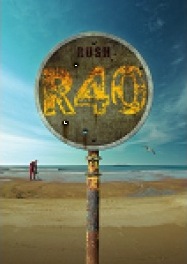 In less than 2 weeks on November 11th Rush will release their R40 40th Anniversary Collectors Box Set (6 Blu-ray discs or 10 DVDs). The set will include Rush's 5 most recent live videos (Rush in Rio, R30, Snakes & Arrows Live, Time Machine, Clockwork Angels Tour) along with an R40 bonus disc, all contained in a 52 page hardback book measuring 305mm x 225mm (12" x 9"). The bonus disc will include the full Laura Secord Secondary School 1974 footage including the 2 unreleased tracks I've Been Runnin' and The Loser, along with their cover of Bad Boy. Alex Lifeson recently sat down with Radio.com to discuss the box set and also preview a clip of I've Been Runnin', which you can watch below or on YouTube. Here's what Alex had to say about the track:
... John [Rutsey] wrote the lyrics back then. Geddy and I would generally write the music. Sometimes we would have band rehearsals and it would be all three of us, but it was always difficult to work out songs like that. It was easier for us to work on the music together and then teach it to John and go from there. We still do that with Neil [Peart], in fact. John did write the lyrics in those days for the most part. It was so weird when he didn't want us to use his lyrics on the first album when we started to record it. It was a very strange time for us, just before he left the band. But to be honest with you, I'd totally forgotten about "I've Been Runnin'" until I saw it come up for this box set. That one was really lost to me. But it was a shuffle-y, Delta bluesy kind of song that we were inspired by via Led Zeppelin. ...
You can read the entire interview at Radio.com here. The bonus disc also contains the Passaic, NJ Capitol Theatre show from 1976, Lock and Key live from 1988, Rush at the Molson Amphitheatre in 1997, the I Still Love You Man video from 2011 and the Rush portion of the Rock & Roll Hall Of Fame Induction in 2013. For complete details of what's contained in the set, just read the Rush.com press release, and check out this 1:30-minute video trailer. You can pre-order the R40 box set on 6 Blu-ray discs or 10 DVDs.
Related Posts:
[Rush R40 40th Anniversary Collectors Box Set official press release]
[Rush R40 Blu-ray box set now available for pre-order]
[R40 6-disc Blu-ray box set coming this November]