Friday, October 17, 2014
Updates and other random Rush stuff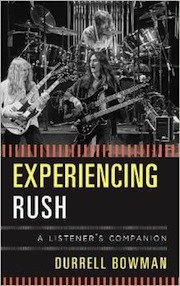 Music scholar Durrell Bowman's new book Experiencing Rush: A Listener's Companion was released earlier this month via Rowman & Littlefield Publishers and is now available for purchase. It had originally been slated for a November 16th release. From the book's editorial review:
In Experiencing Rush: A Listener's Companion, music scholar Durrell Bowman guides readers through Rush's long career, explaining through the artful combination of biography, history, and musical exegesis how to listen to this unique act. From Rush's emergence as an early blues-rock power trio of guitar, bass, and drums into the godfathers of progressive hard rock, Bowman marks the band's first breakthrough with its landmark, sci-fi/individualist album 2112. From there, readers explore Rush's movement from "prog rock" extended compositions into shorter, potential-radio-play "post-prog" songs, leading to Rush's most successful album Moving Pictures in 1981. In its later career, Rush adventurously mixed progressive hard rock and music technology, generating a new power trio sound that featured further stylistic evolutions. As Bowman makes clear, it is the band's stalwart path and many influences on fans, musicians, and others that resulted in Rush's induction into the Rock & Roll Hall of Fame in 2013.
Bowman is a cultural musicologist, musician, IT consultant and accomplished author who co-edited the 2011 book Rush and Philosophy: Heart and Mind United. You can order your copy of Experiencing Rush: A Listener's Companion at this location.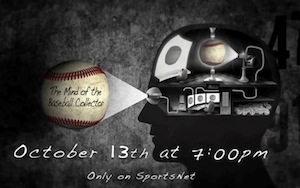 Geddy Lee was featured in a Sportsnet documentary titled The Mind of the Baseball Collector this past Monday, October 13th at 7PM on Sportsnet in Canada. A short, 15-second video trailer is available online with the following description:
The Mind of the Baseball Collector looks at the addictive world of sports memorabilia collecting. The past comes to life through the collections and stories of: rock legend Geddy Lee, eclectic collector and lawyer Allan Stitt and the Guinness Book of World Records holder of the most autographed baseballs, Dennis Schrader.
The documentary was the last in a series of baseball documentaries for Sportsnet produced by Fadoo Productions - the production company behind the last several Rush live videos and where Geddy Lee's brother Allan is the Head of Production. Geddy is well-known for being a huge baseball fan and collector of memorabilia; back in 2008 he donated over 200 autographed baseballs to the Negro Leagues Baseball Museum. For those of who might be wondering, according to Fadoo Productions this documentary had nothing to do with the Geddy Lee show/documentary that was mentioned in Neil Peart's last NeilPeart.net news update.
During his speaking appearance at RushCon this past summer, Clockwork Angels author Kevin J. Anderson broke the news that he is working on 2 new Rush-related writing projects. The first project is a new companion novel to Clockwork Angels titled Clockwork Lives (as in the plural of life) that he and Neil Peart are working on. The book will feature minor characters from Clockwork Angels and expand on their stories. The other project he's working on is an anthology of Rush-based stories that he'll be co-editing with John McFetridge for ECW Press (publisher of Clockwork Angels and Neil Peart's books). They have a team of award-winning and bestselling authors lined up to contribute short stories based on Rush songs, with Anderson himself contributing a novella titled 2113. Since then we haven't heard much news regarding either of these projects except for an occasional tweet from Anderson mentioning that their work is continuing. This past week, Anderson also tweeted out a cryptic note about yet another Clockwork Angels-related project:
I am compiling CLOCKWORK ANGELS: THE COMIC SCRIPTS to be published by WordFire Press in Nov. All the Easter Eggs explained!
This seems to be related to the Clockwork Angels graphic novel series, which will see the release of the sixth and final issue within the next few weeks. Wordfire Press is Anderson and his wife Rebecca's publishing company.
VH1 published their list of 15 Breakthrough Classic Rock Albums That Made The Bands Superstars this past week and Rush's Moving Pictures made the cut:
Though previous albums (and singles) like 2112 had brought the band some success, it was their eighth album that brought the band into the mainstream with huge radio-friendly singles like "Tom Sawyer," "Red Barchetta" and "Limelight." The LP was one of the first to be certified multi-platinum by the RIAA and it eventually went quadruple platinum.
As a follow-up to their 10 Best Drumming Moments article earlier this month, The Guardian posted a list of the 10 Best Drumming Moments as suggested by their readers this past week. Guardian readers Addicks123 and Rosvanian suggested tha Neil Peart joining Rush should make the list:
Regardless of how you feel about Rush, very much the Marmite of the rock genre, it's hard to argue that Peart isn't an influential drummer. Rosvanian claims that "whether you rate him or not, he is the foremost drummer of his generation". Addicks123 believes that "any list of the best drummers that doesn't include Neil Peart hasn't really been thought through".

There's a Rush 2112 sighting on the back cover of the 25th anniversary edition of Zig and Zag's The Fridge in a Denim Jacket!, which releases next week. Zig and Zag were an Irish puppet duo that were popular in the late '80s and early '90s, and were known for making reference to rock bands and music in their books and TV shows. You can check out a scan of the back cover here. Thanks to Micko for the heads up.
Last week consummate nerd-rockers Weezer's ninth studio album Everything Will Be Alright In The End was released. To celebrate, Huffington Post Canada posted an article titled Revenge Of The Music Nerds: From Buddy Holly To Michael Jackson To Weezer where they counted down 15 other nerdy rockers. Coming in at #3 on their list was Rush (thanks Ben S):
Classic Canadian prog rockers Rush are nerds, and you may not have even noticed. Geddy Lee and his pals have always written songs that have dealt with themes of fantasy, science fiction, history and philosophy. Not exactly the sex, drugs and rock and roll themes of most hard rockers. Their steampunk-y album "Clockwork Angels" was even turned into a novel written by "Star Wars" scribe.
Chicago-based prog rockers The Ents released their new digital EP Traveling Lights via bandcamp last month. The EP includes a great cover of Rush's Fly By Night which you can listen to here (thanks Eric at Power Windows).
There was an odd Rush reference in this unfortunate news story about some Utah police pulling over a school bus transporting 67 kids for DUI earlier this week. In the dash-cam video included with the story, the police officers are clearing listening to Rush's Working Man in the background. Thanks to Fred N for the heads up.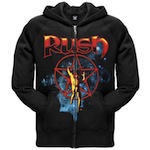 Autumn is firmly entrenched in most parts of the US and Canada by now, so in order to help Rush fans keep warm, Old Glory is offering this Rush Starman zip hoodie. You can purchase one of these for yourself at this location. There's also this Fly By Night hoodie available too.
A heavy metal all-star band called Metal Allegiance featuring members of Pantera, Megadeth, Anthrax and Testament played a set of classic metal songs including Rush's Tom Sawyer during Motorhead's Motorboat cruise last month. Tom Sawyer was performed by Joey Belladona (Anthrax) on vocals, Alex Skolnick (Testament) and Chris Broderick (Megadeth) on guitars, Frank Bello (Anthrax) on bass, and Mike Portnoy (Dream Theater, Winery Dogs) on drums. A bootleg video of the performance recently appeared online and can be seen below or on YouTube. You can check out the full Metal Allegiance set list from the cruise here.
That's all for this week. Have a great weekend!