Friday, April 6, 2012
Rush 2012 Clockwork Angels tour update: official announcement coming April 19th?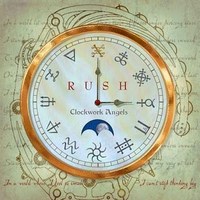 Yesterday we learned that the Headlong Flight single from Rush's upcoming Clockwork Angels album will be released digitally on Tuesday, April 24th, along with a radio release beginning Thursday, April 19th. There are also rumors of some kind of limited pre-release preview to occur next Wednesday, April 11th, but details regarding this are sketchy at the moment. I've also learned that we may be getting the first official 2012 tour announcement on April 19th to coincide with the radio release. If true and since the tour is not expected to begin until September, I speculate that this will be a general announcement of sorts that will include some of the dates and the general itinerary, but not a full announcement - much like what was done with the 2008 and 2011 tours. Neil Peart had confirmed a Fall tour in an interview last month. On Tuesday we got our first glimpse of what might be the cover art for the album, along with the possible tourbook cover. I was later asked by Rush's management to take down the artwork, but they still seem to be available for viewing on some other websites. The supposed tourbook cover has a distinctive Signals theme to it, which seems to indicate that the album will play a central role to the upcoming tour. The album celebrates the 30th anniversary of its release this coming September 9th. Knowing that Rush played Moving Pictures in its entirety on the last tour to celebrate that album's 30th anniversary, one can't help but speculate that this tourbook cover image may indirectly imply that Rush will be doing the same thing with their Signals album on the upcoming Clockwork Angels tour. Generally speaking, I've been hearing for some time now that the band will be hitting dates in the Midwest and Eastern Canada in September-October, and the Southeastern US in October-November. So far I've only heard of 3 firm dates though; one in Bristow, VA on Sunday, September 9th, one planned date at the Consol Energy Center in Pittsburgh, PA on Tuesday, September 11th, and another at the Klipsch Music Center in Noblesville, IN planned for Thursday, September 13th.
Related Posts:
[Rush 2012 tour update: Neil Peart confirms Fall tour]
[Rush Clockwork Angels, 2012 tour rumor update]
[Rush's Clockwork Angels album/tour most-anticipated of 2012]