UPDATE - 11/21@10:42AM: Here's the audience selfie from the National Harbor show. You can download all the full-size audience selfies yourself at Rush.com.
----- snip -----
UPDATE - 11/18@10:16AM: John at Cygnus-X1.net has posted a great gallery of photos from the evening's festivities at this location.
UPDATE - 11/17@9:58PM: Here are some photos courtesy @Rushfans on IG:
----- snip -----
UPDATE - 11/17@9:52PM: Tonight's guest interviewer is Canadian-American actor Eric McCormack - best known for his role as Will Truman in the NBC sitcom Will & Grace (thanks Wayne K).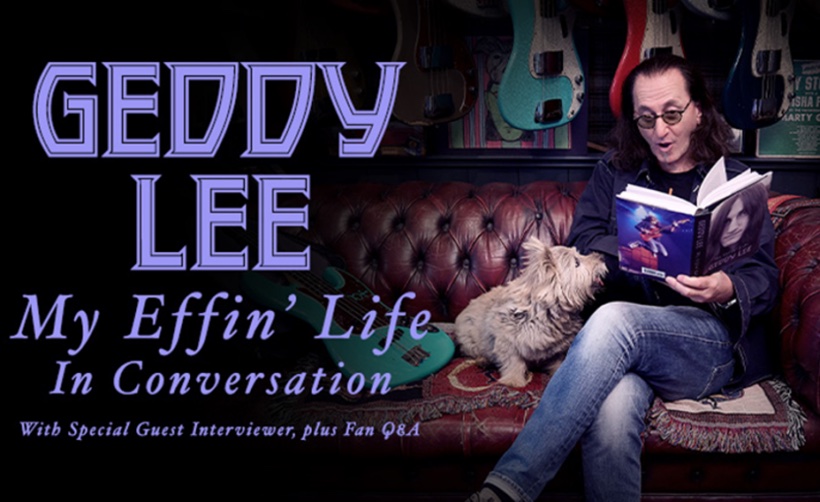 Geddy Lee's long-awaited memoir My Effin' Life was officially released earlier this week and Monday night Geddy kicked off his spoken word In Conversation book tour at the Beacon Theatre in New York City. The tour continued Wednesday night at The Met Philadelphia in Philly, and tonight will be show #3 at The Theater at MGM National Harbor. If you want to attend but don't have your tickets yet, tickets are still available at this location. Geddy will be joined onstage by a surprise guest interviewer; the opening night interviewer was Paul Rudd, and showrunner/producer Brian Koppelman and WMMR DJ Pierre Robert shared the duties in Philly. All attendees will receive a copy of Ged's book, along with a 16 page color tour book upon entering the venue. Rush has set up an online form where attendees can submit questions for Geddy prior to the show at this link. For a complete rundown of what went down on opening night, and how the show is put together, check out this post, along with this post from the Philly show. After tonight's appearance, Geddy will then hit another 11 dates across the US and Canada throughout late November and early December (see links below for tickets). The North American leg ends on December 7th at Massey Hall in Toronto before crossing the pond for the UK tour in Wolverhampton on Sunday, December 10th. You can get all the details and learn how to get tickets at Rush.com (North America, UK).
[Fri Nov 17 - National Harbor, MD - The Theater at MGM National Harbor]
[Sat Nov 18 - Boston, MA - Orpheum Theatre presented by Citizens]
[Sun Nov 19 - Cleveland, OH - State Theatre at Playhouse Square]
[Tue Nov 21 - Montréal, QC - Théâtre Maisonneuve]
[Thu Nov 23 - Vancouver, BC - The Centre in Vancouver
[Fri Nov 24 - Seattle, WA - Moore Theatre]
[Sun Nov 26 - San Francisco, CA - The Masonic]
[Tue Nov 28 - Los Angeles, CA - Orpheum Theatre]
[Thu Nov 30 - Denver, CO - Paramount Theatre]
[Sun Dec 03 - Chicago, IL - Auditorium Theatre]
[Mon Dec 04 - Detroit, MI - The Fillmore Detroit]
[Thu Dec 07 - Toronto, ON - Massey Hall]