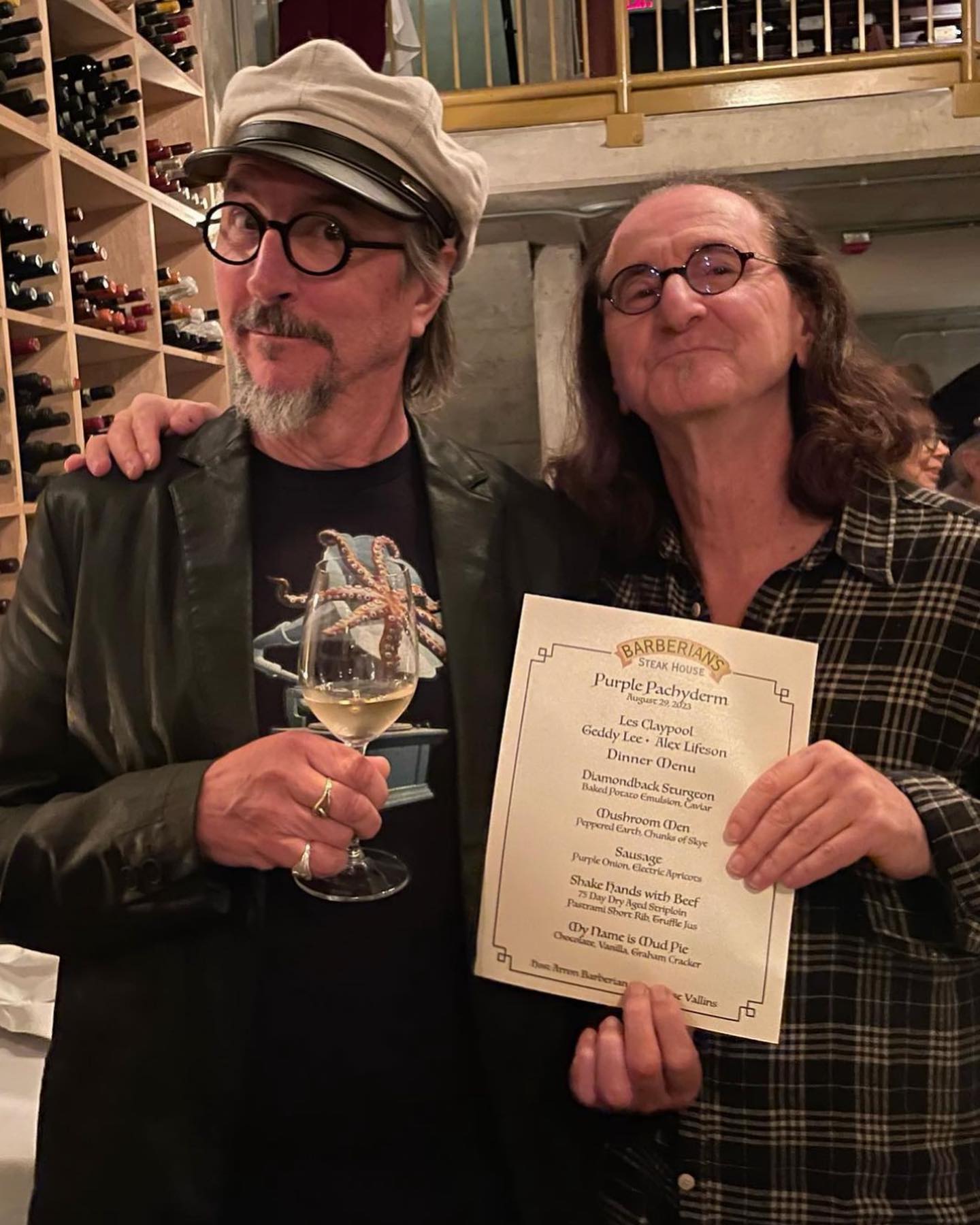 Grapes for Humanity is an organization that helps to raise funds to benefit humanitarian causes around the world with the assistance of the international wine community, and Geddy Lee is a member of the board of directors. As part of their 2022 Grapes for Climate Change online fundraiser auction last October, they auctioned off a dinner for 8 at Barberian's Steak House in Toronto hosted by Geddy Lee and Alex Lifeson along with Les Claypool and his wife. The dinner finally took place last week, and Les Claypool posted several photos from the evening's festivities to his Purple Pachyderm social media channels earlier this week, as seen in this Instagram post. A photo of the menu is included as well, where the courses were named after some of Les' songs (Shake Hands with Beef, My Name is Mud Pie, etc.), and Alex Lifeson can be seen in a couple of the included group shots.
Speaking of Les Claypool, the Primus frontman was recently interviewed for Paste magazine to discuss the latest Primus news, his Fearless Frog Brigade side project, paying tribute to Rush and more. Primus paid tribute to Rush on their A Tribute to Kings tour last year, and Les talked a bit about how he and his bandmates bonded over their mutual love of Rush:
... With Primus, Rush was such a big part of when we first jammed. The three of us, me and Ler [LaLonde] and Herb [Alexander], when we first jammed, that was our common ground-becayse we all had varied backgrounds. Ler's favorite guitarists in the world are Jerry Garcia, Frank Zappa and Eddie Van Halen. He came from the metal world, he was in Possessed. And Herb, Mr. Big, Giant Drum Kit, he came from the world of [Bill] Bruford and Neil Peart. And here I was, a guy who listened to all of this eclectic, odd music but, yet, had a bit strong R&B and soul background. So, the one thing that we had common ground on is we all knew little bits and pieces of Rush songs. Then, of course, touring with them years later, becoming good friends with them-it just seemed fitting. We actually did the Tribute to Kings notion before Neil passed. We were trying to do it before Neil passed, but it kept getting postponed because of different touring conflicts. But the notion came about prior to him passing, so it was more just a thing for our friends. And it's a fun departure for us, it breaks things up for us. Playing Primus songs is wonderful and fun, but it's always good to put on a different mask and attach someone else's material to you. ...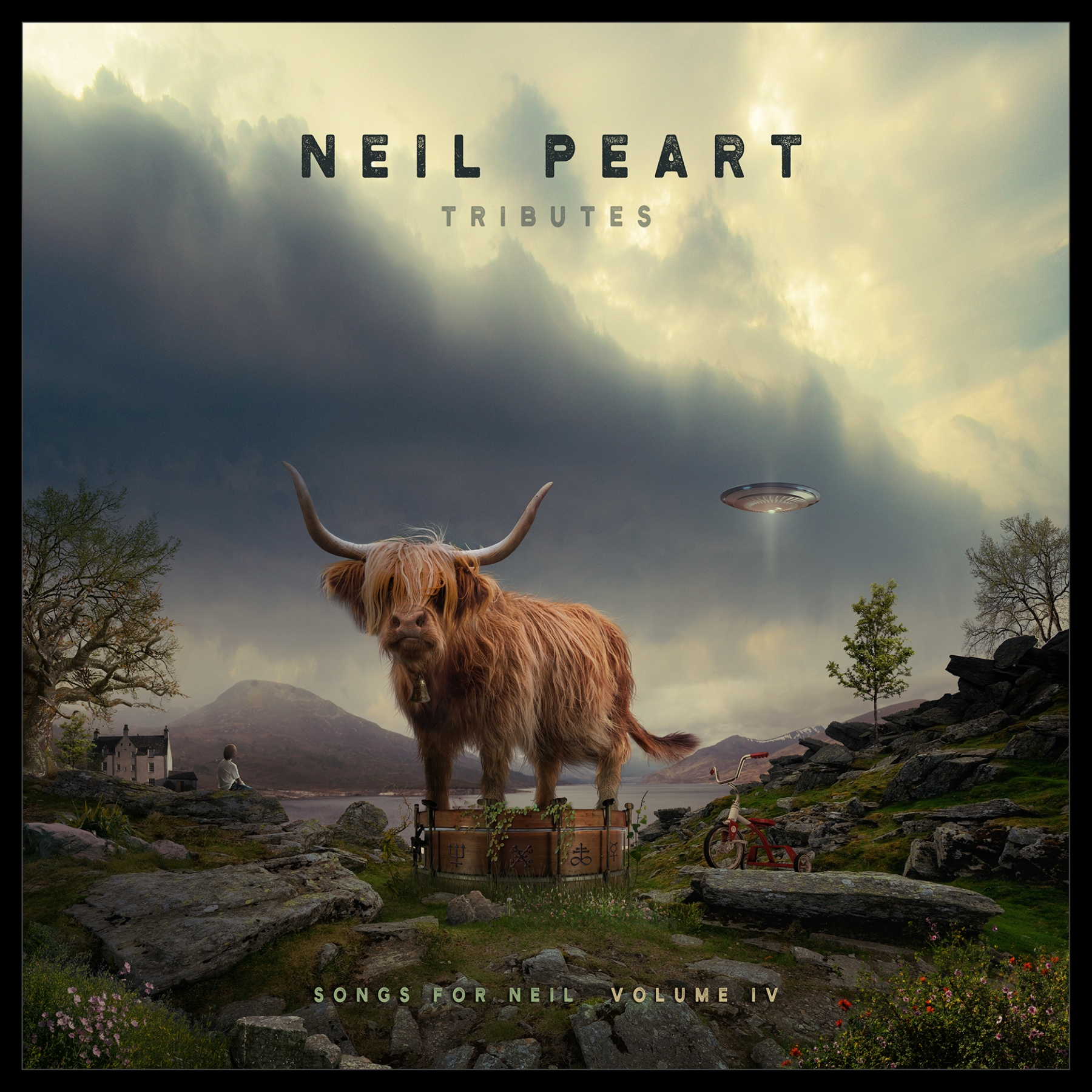 Neil Peart was tragically taken from us back on January 7, 2020 after a long battle with glioblastoma. For the past 3 years, on Neil's birthday, RUSHfest Scotland has sponsored the release of an album of Rush songs dedicated to the iconic drummer titled TRIBUTES - SONGS FOR NEIL, played by Rush tribute bands and musicians from around the world. Proceeds from sales of the albums were split equally between two charities - Glioblastoma Foundation Neil Peart Research Award in the USA and Cancer Support Scotland (registered charity SC012867). They are continuing the tradition this year with SONGS FOR NEIL VOL. 4, which will release this coming Tuesday, September 12th in celebration of what would have been Neil's 71st birthday. This fourth volume includes a special track titled Masterpiece which was written and performed by Neil's brother Danny Peart along with guitarist Brandon Dyke. Other tribute bands included on the album are Solar Federation from the U.S., Fleesh from Brazil, Scotland's Clockwork Angels, and even Ninja Sex Party, who added their rendition of Madrigal to the collection (full track listing here). Volume 4 is available in double-vinyl, double-CD, and/or digital download, and you can get all the details and secure your copy here.
This past Saturday, September 2nd, the University of Illinois Urbana-Champaign's Marching Illini marching band performed the music of Rush during the halftime show of their game vs. Toledo. The 8-minute show included renditions of Rush's YYZ and The Spirit of Radio as seen in this video.
American avant-garde metal band Imperial Triumphant have released their cover of Rush's Jacob's Ladder, which you check out below or via YouTube.
Las Vegas' X 107.5 posted their Labor Day playlist this past week, and Rush's Working Man was included:
Rush - "Working Man": Come for the rousing track; stay for Alex Lifeson's awesome solo. And sure, this was pre-Neil Peart, but "Working Man" still rules.
YardBarker.com posted an article on Notable music artists who play multiple instruments quite well this past week, and Rush's Geddy Lee is included:
Now, there were, and probably still, hardcore Rush fans still have not gotten over the band's "keyboard era" from the 1980s. For some, just mentioning that moment is enough to make one start to sweat. While Lee, one of the finest bass players of all time, started introducing keyboards into the mix with 1977's A Farewell to Kings, it was 1981's massively popular Moving Pictures ("Tom Sawyer") and the follow-up Signals ("Subdivisions"), one year later, that showed how Lee was making the instrument a major part of the band's sound.
Planet Rock posted their list of The 50 Greatest Rock Song Intros of All Time earlier this week, and Rush's The Spirit of Radio made the cut at #8:
The iconic opening riff on Rush's commercial smash 'The Spirit of Radio' showcases Alex Lifeson's guitar playing prowess. Commenting on the introductory guitar riff, Lifeson told Classic Rock in 2006: "I just wanted to give it something that gave it a sense of static - radio waves bouncing around, very electric. We had that sequence going underneath, and it was just really to try and get something that was sitting on top of it, that gave it that movement."
Far Out magazine posted their list of 10 iconic songs that were written by drummers this past week, and Rush's Scars came out on top at #1:
Neil Peart wrote 'Scars' to reflect a certain period in life that leaves a mark on you. Featured on Rush's album Presto, the song incorporates an intricate drum arrangement, integrating both acoustic and electronic drum elements. This intricate pattern drew inspiration from a tribal rhythm Peart encountered during a bicycle expedition across Africa. He seamlessly integrated this rhythm into his live drum solos, enhancing the song's dynamic. The track also employs a sequencer, a device frequently misconstrued for a bass guitar. ...
MusicRadar.com reported this past week that Neil Peart's DW piccolo snare drum is up for sale, with an asking price of just over £65,000. If you are interested, you can get all the details here.
Ultimate-guitar.com posted their list of the 25 Most Emotional Guitar Solos of All Time last Friday, and Alex Lifeon's Limelight solo was included at #15:
But now we travel back to the early 1980s and a guitar solo that Alex Lifeson called "sad and lonely" but also admitted that it's one of his favorites to perform live. While Rush aren't exactly known for making melancholic music, we get what he was trying to say. We can't explain really - when you listen to the solo, it's like you get this nostalgic feeling about something but you don't really know what it is.
On the latest episode of Rush Roundtable (#198) on the Rushfans YouTube channel, the panel continues their Counterparts song discussions with The Speed of Love: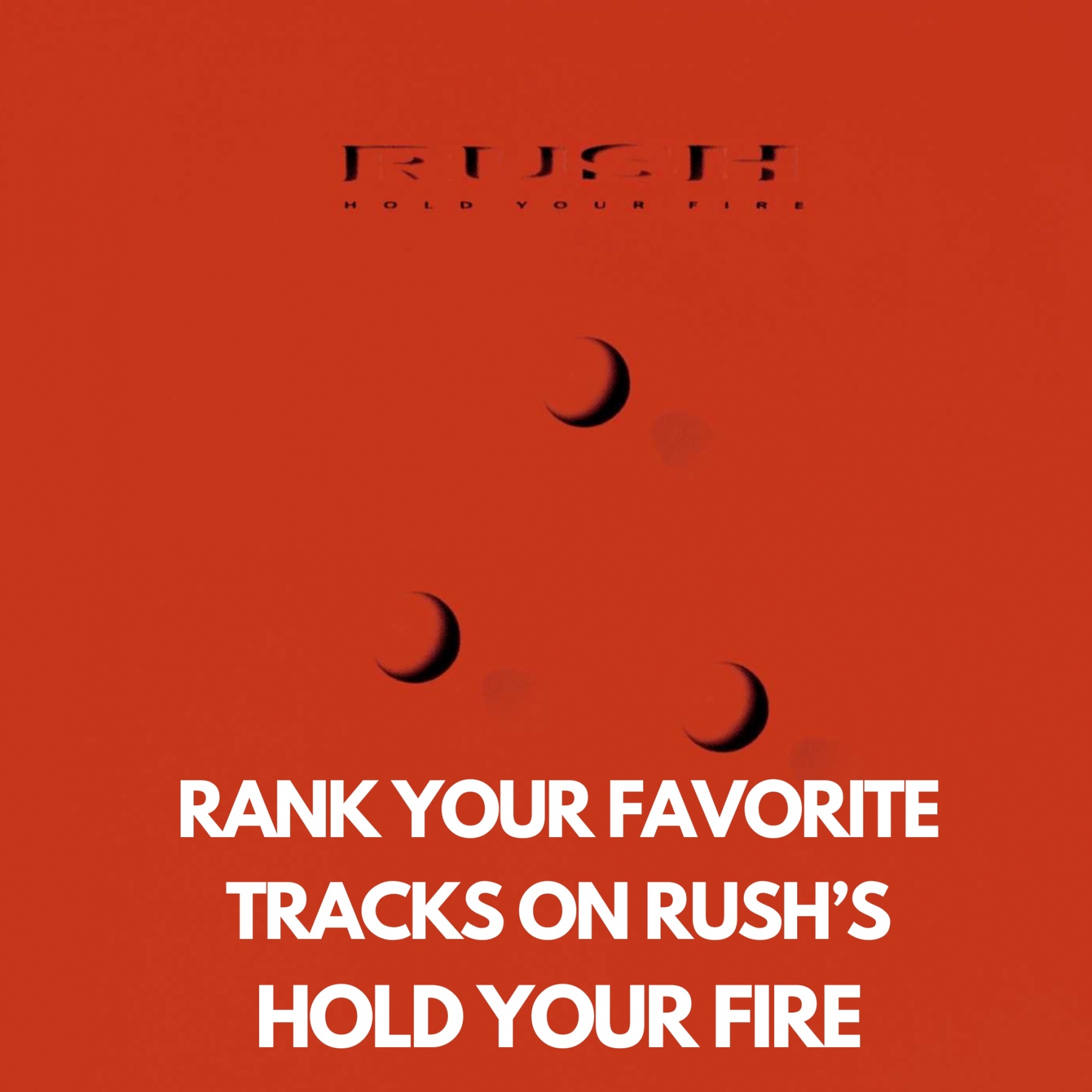 The month of September is now upon us, and fall is right around the corner. September was a HUGE month for Rush releases over the years so there are several recent and upcoming anniversaries to mention. Caress of Steel (September, 1975), A Farewell to Kings (September, 1977), Roll the Bones (September 3, 1991), Hold Your Fire (September 8, 1987), Signals (September 9, 1982), Test for Echo (September 10, 1996) and All the World's a Stage (September 29, 1976) all celebrate anniversaries this month. So since today is the 36th anniversary of the 1987 release of Hold Your Fire, we've created a Ranked Choice Voting poll to determine the best song on the album. Which of the 10 tracks is your favorite? Rank them all here, and we'll reveal the results next week. The late Neil Peart would have celebrated his 71st birthday this coming Tuesday, September 12. Happy early birthday Professor! That's all for this week. Have a great weekend everybody!!