UPDATE - 5/19@5:01PM: The allotment of tickets for the event for RIAB readers for the Signals Atmos event has been reached - exceeded actually! Thanks for participating everybody! The answer to question #2 was B.J. Pratt and Associates and the answer to question #3 was John Young and Robert Crippen. I accepted any answer that was even remotely close, so don't worry if you were off a little. I'll be sending along the list of invitees to Anthem over the weekend, and they'll then reach out to the invitees individually with a link to RSVP with further details. The exact timing of that is TBA, but I'll be sure to let everyone know when I have more information.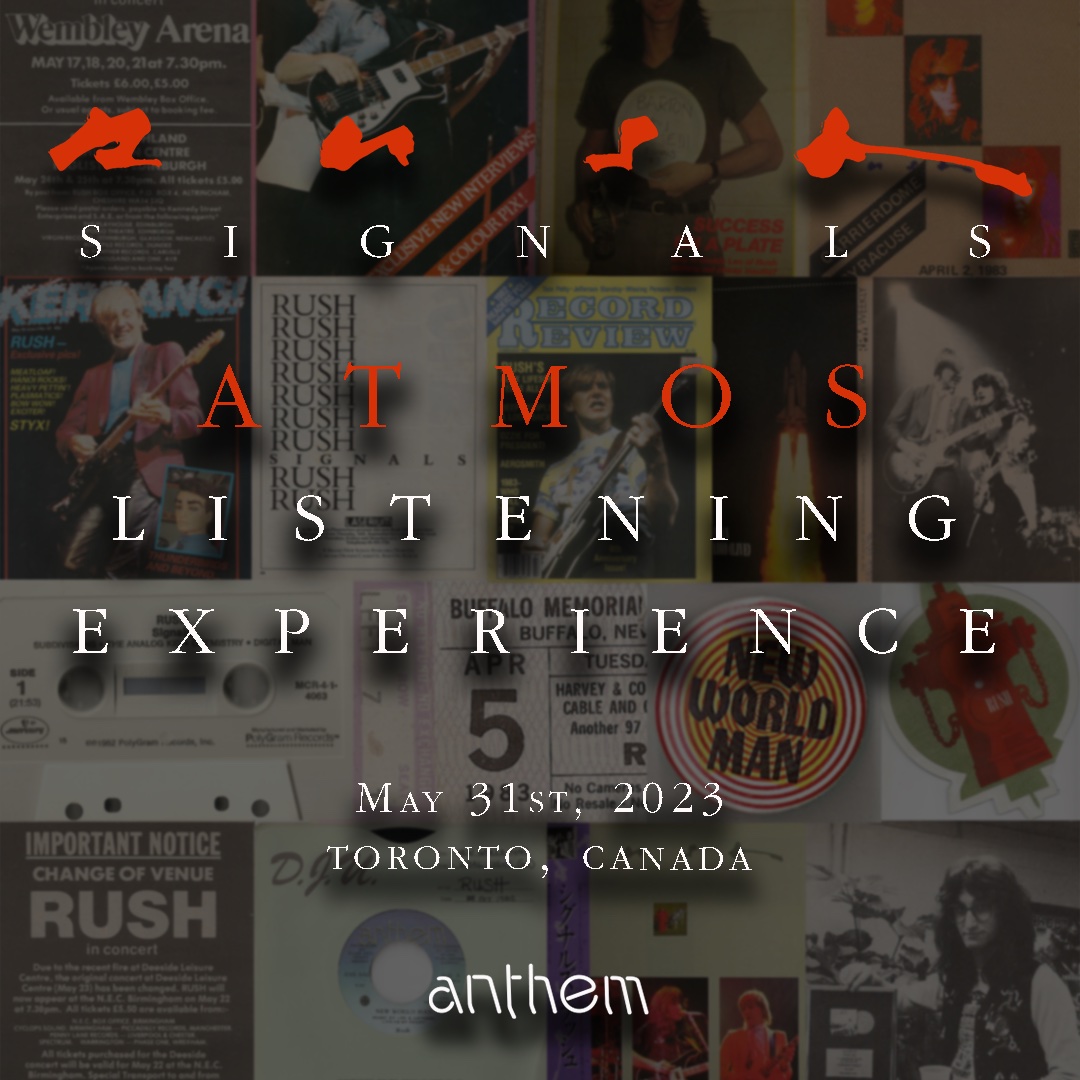 In honor of the recent release of Rush's Signals 40th anniversary box set, Rush and Anthem Records will be hosting an invite-only Signals Atmos Listening Experience event at Complex Cinemas (10 Dundas Street East #402 Toronto, ON M5B 2G9 Canada) in Toronto a week from this coming Wednesday on May 31st. The event will include pre-show giveaways and onscreen trivia at 6:30, the show itself at 7PM, and a post-show panel discussion with Rush insiders. Although this is an invite only event, Anthem Records was kind enough to provide a block of tickets for rushisaband readers. So if you'll be in the Toronto area on Wednesday, May 31st and would like a chance to go, just send an email to rushisaband@gmail.com with the subject SIGNALS ATMOS and include the following in the body of your email:
Full Name: (e.g. Geddy Lee)
Email Address: (e.g. rushisaband@gmail.com)
Hometown: (e.g. Toronto, ON)
Number of Tickets: 1 OR 2

1) What is your favorite Signals track? (any song on Signals is the "correct" answer here)

--- YOUR ANSWER HERE ---

2) What is the name of the fictional architectural firm that designed the blueprint depicted in the original Signals album art?

--- YOUR ANSWER HERE ---

3) What are the names of the 2 Space Shuttle astronauts mentioned in the Signals track Countdown?

--- YOUR ANSWER HERE ---
Tickets will be given out on a first come, first serve basis, but you must include the above information (full name, email, hometown AND number of tix) and correct answers to the 3 questions in your email to qualify. Invitees will then be notified by Anthem Records prior to the event (exact timing TBA) with a link to RSVP and more details. Once the allotment of tickets have been used up, I'll mention it here. By participating in the ticket giveaway, you acknowledge that attendees are solely responsible for arranging their own travel and accommodations. Invitees will be granted tickets exclusively for the listening party. These tickets are free, hold no cash value and cannot be transferred to others.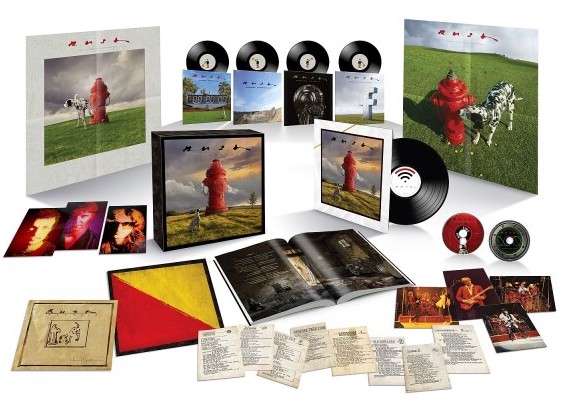 Rush's Signals 40th anniversary box set officially released a few weeks ago and is now available for purchase via this link, or via Amazon and other online retailers. The set is the latest in a string of 40th anniversary box sets offered up by the band over the past several years, beginning with a 2112 set back in 2016. It is available in three distinct configurations, including a Super Deluxe Edition, an LP Picture Disc Edition, and a Dolby Atmos Digital Edition. To compliment the two official videos for the album's bookend tracks (Subdivisions and Countdown), the band released visualizer videos for the remaining six tracks in the lead up to the release which you can check out on Rush's YouTube channel here. There's also an unboxing video which you can watch here, and John at Cygnus-X1.net has scanned all the artwork and made it available online here.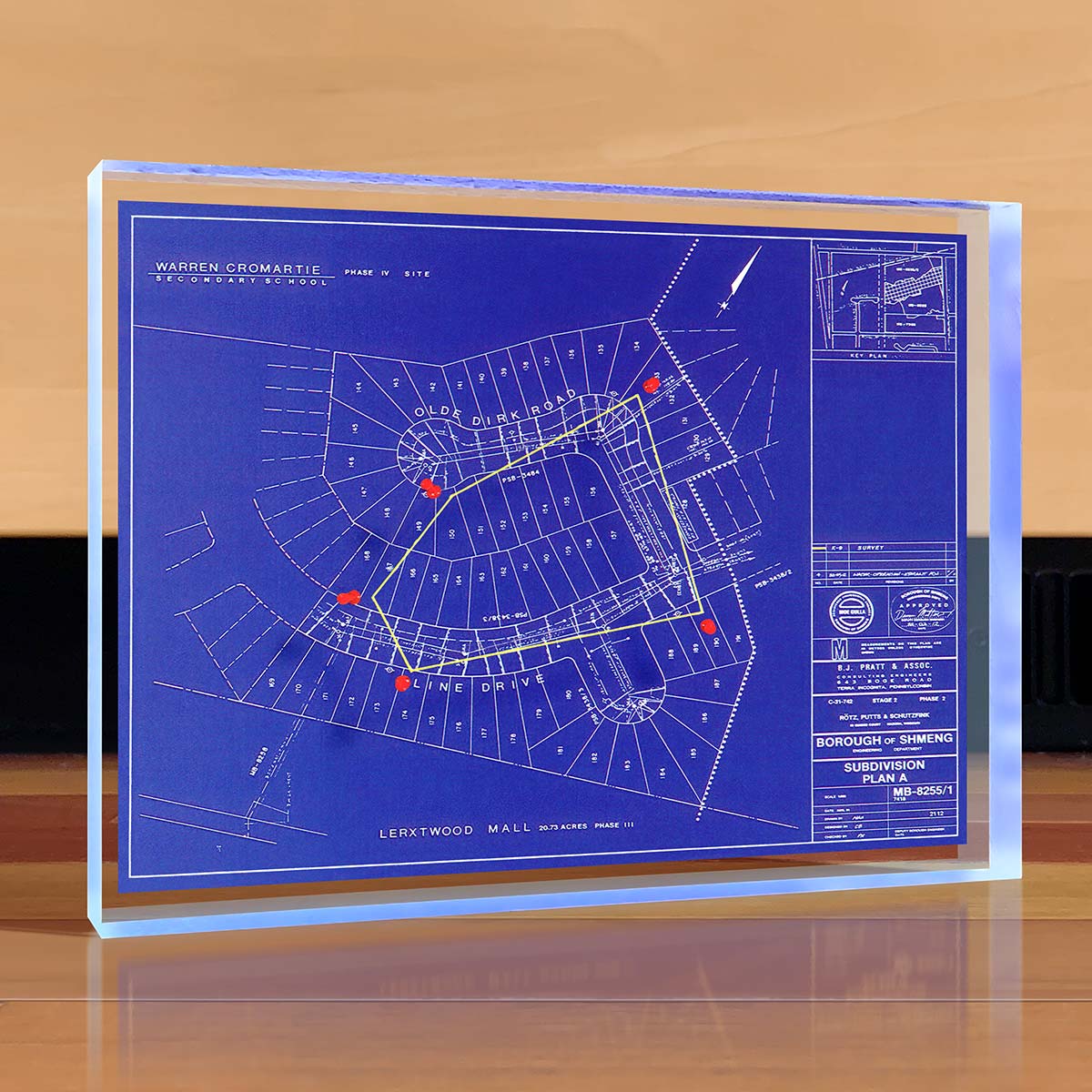 Artovision is a Wisconsin-based company that creates 3-dimensional collectable artwork inspired by popular culture, video games, food and Americana. In April of 2021 they released a set of officially-licensed pieces in celebration of the 40th anniversary of Rush's Moving Pictures album, and followed those up with a pair of pieces commemorating the 30th anniversary of Roll the Bones later that year, two more pieces celebrating Hold Your Fire's 35th anniversary last summer, and a pair of pieces celebrating the 40th anniversary of Signals back in October. Their latest piece builds on the Signals 40th anniversary celebration, and features the iconic Warren Cromartie Secondary School blueprint from the Signals album art as a collectible desktop art piece. From the product description:
Attention all citizens of the Warren Cromartie Secondary School district across from the Lerxtwood Mall in the Borough of Shmeng, behold Subdivision Plan A for your consideration thoughtfully designed by B.J. Pratt & Assoc. and breaking ground in the coming year. ...
The piece is printed on 3/4" thick optical-grade acrylic with vibrant UV cured inks and measures 4 1/2" x 6". You can purchase the Signals blueprint desktop art for $49 via this link. For more information on Artovision, and to see their complete line of officially-licensed Rush pieces, visit their website at artovision3d.com. You can also follow them on Facebook, Twitter and Instagram, and watch a YouTube video demonstrating the 3-D effect of their Shadowbox art here.
Easy Star All-Stars is a reggae collective founded in 1997 by Michael Goldwasser, Eric Smith, Lem Oppenheimer and Remy Gerstein of New York City-based Easy Star Records. The band is known for its reinterpretations of classic albums in reggae style, and they recently released their new album Ziggy Stardub, a reggae reinvention of Bowie's The Rise and Fall of Ziggy Stardust and The Spiders from Mars. The album features a reggae cover of David Bowie's Moonage Daydream which features Rush's Alex Lifeson which you can listen to via YouTube here. Rolling Stone magazine posted an article earlier this week where they list off The 25 Best Cover Songs by Reggae Artists, and the Ziggy Stardub cover of Moonage Daydream is included at #7:
This has been my favorite song on Bowie's Ziggy Stardust album since I was a kid. For our version, I decided to flip the script on the original and replace the aggressive guitar stabs with a consistent never-changing bass line, opting for smooth over jagged. My goal was to create something hypnotic, which at least worked on me because I think that I fell into a trance while laying down the bass. In homage to Bowie's classic, I employed a string quartet to emulate the original arrangement, which I emphasized even more on the dub version we included on the Ziggy Stardub album. And in tribute to Bowie guitarist Mick Ronson, I had Alex Lifeson from Rush lay down a guitar solo at the end of the track. Singer Naomi Cowan topped it all off with a Jamaican-centric interpretation - a little accent and patois, which was exactly what we were looking for.
Ziggy Stardub is now available to purchase at this location.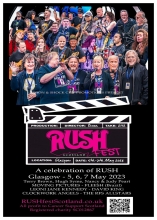 The annual RUSHfest Scotland Rush fan gathering took place a couple of weekends ago in Glasgow. The event featured games, performances from multiple Rush tribute bands, special guest appearances from Hugh Syme, Terry Brown, Judy and Nancy Peart, and more. Over the last couple of weeks, they've been posting a bunch of photos and videos from the event to their Facebook page, including this really cool poster featuring a photo collage. They also ended up raising over £23k for Cancer Support Scotland; £19k from this year's RUSHfest Scotland events, and the rest from some of the recent Songs For Neil album sales.
Comic book writer Alex DeLuca was recently interviewed for FlickeringMyth.com to talk about his current projects including his steampunk adventure comic Dragon Whisperer. When asked about why he decided to tell the Dragon Whisperer story as a comic book, he answered as follows:
Good question. 2012's Clockwork Angels album, the final one from my favorite band, Rush, is a steampunk concept album. I love the misty dark and romantic imagery conjured by the lyrics. The late Neil Peart, the band's drummer and primary songwriter, put it best: "Steampunk is a view of the future from the past." ...
Back on May 6th, 107.9 The Fox hosted the second annual Rock From The Heart concert in Fargo, ND featuring Sebastian Bach to help raise money and awareness for aortic health. The show took place at the Avalon Events Center and one of the cover songs Bach performed was Rush's Tom Sawyer as seen at the 41-minute mark of this fan-filmed video. Thanks to Brave Words for the news.
Ultimate-guitar.com posted their list of the 15 Worst Songs to Choose to Play as a Beginner Guitarist this past Friday, and Rush's La Villa Strangiato was included at #9:
While there's an abundance of crazy shred songs that we could list here, barely any of them compare to the craziness of what Alex Lifeson is doing in "La Villa Strangiato."
Far Out Magazine posted their list of 10 basslines that are better than the guitar part this past week, and Rush's YYZ took the #2 spot:
... Even with the millions of effects pedals that Lifeson might like to use during some of his atmospheric solos, Lee is holding down every minute of this song, only putting down the bass for a few seconds to man the keyboards before coming back in with some of the most rapid-fire licks he can think of. Rush's approach to music might have seemed too alien to be on the pop charts, but for an instrumental to capture this much energy and remain catchy is as pure a song as they can muster.
The popular StickHits YouTube channel posted a remastered 4K Ultra HD video of a live soundcheck recording of Limelight from a 2012 show in Dallas. You can check it out below or on YouTube here (thanks Ultimate-Guitar.com).
As most Rush fans know, Rush's Geddy Lee is a huge baseball fan, with his hometown Jays being his favorite team. He has season tickets and can usually be spotted right behind home plate at most home games, as he was earlier this week. During the broadcast of Wednesday's game, Geddy was shown on camera going into a commercial break while New World Man played in the background, as seen in this tweet:
@playazball Confirmed Geddy Lee sighting pic.twitter.com/XuiVsrVFsq

- Bobby Cologne (@BobbyCologne53) May 18, 2023
In this week's episode of Rush Roundtable (#180) on the Rushfans YouTube channel, the panel continues their Roll the Bones song discussion with Face Up and Where's My Thing?:
That's all for this week. Have a great weekend everybody!!