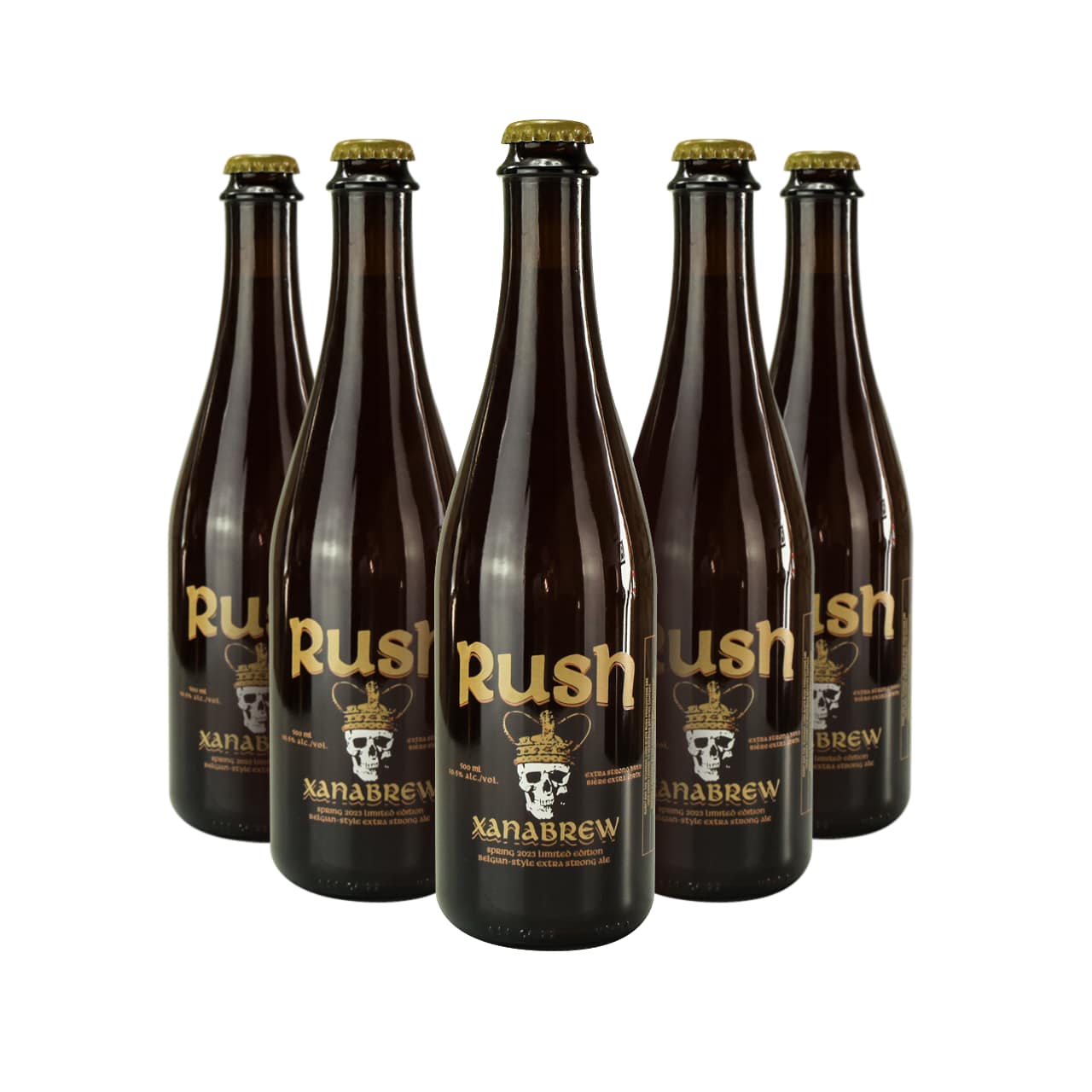 Back in August of 2021 Rush teamed up with Henderson Brewing Company to release their first Rush-branded beer - Rush Canadian Golden Ale - and followed that up with Moving Pictures Ale later that year, Moving Pitchers beer last March, and Signals 40th anniversary Belgian Ale back in October. Earlier this week they announced the newest addition to their line of Rush beers - Xanabrew. The beer is an extra strong Belgian-style beer which boasts a 10.5% alcohol content. You can purchase the beer in the USA from Halftime Beverage, and in Canada via Henderson Brewing. T-shirts are also available at RushBackstage.com.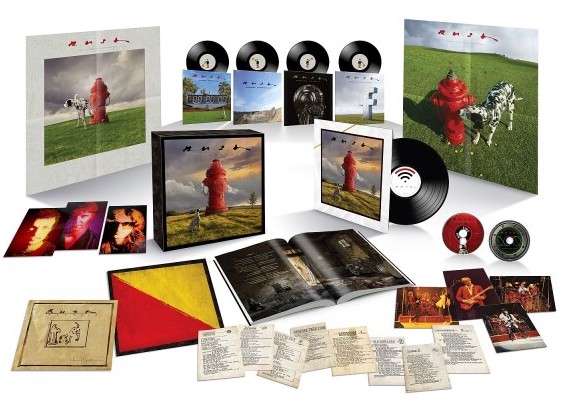 Rush's Signals 40th anniversary box set officially released a couple of weeks ago and is now available for purchase via this link, or via Amazon and other online retailers. The set is the latest in a string of 40th anniversary box sets offered up by the band over the past several years, beginning with a 2112 set back in 2016. It is available in three distinct configurations, including a Super Deluxe Edition, an LP Picture Disc Edition, and a Dolby Atmos Digital Edition. To compliment the two official videos for the album's bookend tracks (Subdivisions and Countdown), the band released visualizer videos for the remaining six tracks in the lead up to the release which you can check out on Rush's YouTube channel here. There's also an unboxing video which you can watch here, and John at Cygnus-X1.net has scanned all the artwork and made it available online here. To celebrate the anniversary, FANTOONS has released a Frosted Signals collectable cereal box which you can purchase here.
Neil Peart's Ludwig drum set from the Burning for Buddy sessions was recently auctioned off by Heritage Auctions for over $7800. The kit has an interesting history as detailed in the auction description (thanks Chuck):
This is the Ludwig kit Neil used while tracking the famed Burning for Buddy tribute recordings. Recreating the feel and licks of Buddy Rich, it was the beginning of his starting over with the use of a traditional grip on his sticks through the teachings of master drummer Freddie Gruber. ..."I don't know if you knew, but I believe the set was red sparkle originally, the kit I used on the Burning for Buddy sessions"... Neil in letter to the consignor, Kit Jarvis, from Chalet Studio, Claremont Ont., Dec. 6,1995. This is a 5-piece kit: kick drum, snare drum, two toms and a floor tom. Zildjian cymbals: 22" custom ride, 18" custom crash, 16" custom crash and 14" hi-hats. Hardware, throne and soft cases included. Please see photos for serial numbers. Condition excellent. Comes with multiple original letters from Neil to Kit referencing the tribute project, his Rush endeavors and family life. Included is the 4 page write up of the Burning for Buddy project in Neil's own words with an unopened CD of the recordings and the newspaper article (A Port Boy's Story June 1994) of his near-death drowning experience when they were boys growing up in Port Dalhousie at ages 10 and 11. This drum set was sent to Kit, his longtime childhood friend as a gift for saving his life that day..."I was glad to show my appreciation to him by sending him a brand-new set of Ludwig drums"... reference: Neil Peart, Travelling Music, Chorus One, Pgs. 62 and 69. ...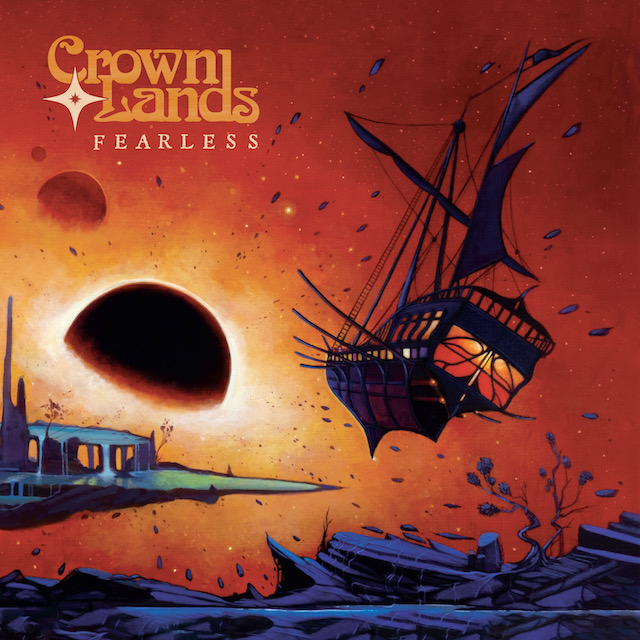 Toronto-based progressive blues-rock duo Crown Lands consists of drummer/singer Cody Bowles and guitarist Kevin Comeau, who bonded over their shared obsession with Rush several years ago and formed Crown Lands shortly after. The duo released their self-titled debut album in 2020, and were named Breakthrough Group of the Year at the 2021 JUNO Awards, with the album also being nominated for Rock Album of the Year. The pair make no secret regarding their obsession with Rush - the Crowns Lands album includes a 10-part song with sections referencing Rush's work titled Context: Fearless Pt. 1. They made a demo of the song with former Rush producer Terry Brown, and later worked on the track with Nick Raskulinecz, co-producer of Rush's last 2 albums, and David Bottrill (who remixed Rush's Vapor Trails album). The pair also joined Alex Lifeson and others as part of an ensemble performance of a Led Zeppelin medley at the 2021 Andy Kim Christmas show. The duo recently released their sophomore album Fearless, with the centerpiece of the album being an epic, 18-minute, 10-part, Rush-inspired (part 1 is titled Overture!) track titled Starlifter: Fearless Pt. II, which continues the story of Fearless from their 2021 single The Oracle. Guitarist Kevin Comeau was recently interviewed for Guitar World magazine and makes mention of Rush several times
.. it was the song Xanadu - the 11-minute epic from Rush's 1977 album A Farewell To Kings - that inspired [Comeau's] own grandiose and elaborate musical experimentations. ... he owes "everything to listening to Rush at the right time in life", which led to him going back to discover "the older, weirder side of prog like Yes, King Crimson, Genesis, Van Der Graaf Generator and Tangerine Dream instead of Dream Theater and more modern stuff." ... When Kevin talks about the first part of Starlifter - what he calls "the opening overture", which he says "represents a fight between good and evil" - he likens it to another classic Rush song from the '70s, By-Tor And The Snow Dog. He also acknowledges the influence of Rush in how he mainly works in DADGAD and open C tunings to help emulate keyboard voicings. "I like using texture and timbre to tell a story as effectively as lyrics. It's all very hopeful with the big suspended chords and then we do this chromatic shift into B flat, which suddenly makes you feel like we're in D minor. ... "We live in a Mixolydian world of always having that flat seven, and that's the sound of Rush, to the point where I'd say 90 per cent of Rush's music is in E Mixolydian. Xanadu is a perfect example, though the chorus is probably more like D Mixolydian. While a lot of classical musicians would frown upon that, we love those subtle modulations. Starlifter mainly sits in this modal D area which shifts between major and minor. Yeah, it's a bit of a gauntlet to play through it all!" ... "We did a charity gig with Alex a few years ago, he was the nicest guy," Kevin recalls. "We played Led Zeppelin's The Battle Of Evermore and then went into Stairway To Heaven. Alex lent me his white Gibson EDS-1275 to do the 12-string part while he ripped the solo. I had the guitar for a bit then he asked for it back when he did that charity auction. He felt bad, so ended up giving me this old Alvarez double-neck he wasn't playing much. I used it for most of the acoustic parts on the record." ...
Godsmack drummer Shannon Larkin was recently interviewed by Goldmine Magazine to talk about the 10 albums that changed his life, one of which is Rush's Hemispheres (thanks RushFanForever):
... this one was important to me. My interest in music because of KISS spurred my older sister to tell me to listen to this record. The drums grabbed my interest.
BraveWords.com tackled the difficult subject of danceable Rush songs in a recent article, listing off what they think are the 10 Best RUSH Songs You Can Dance To in no particular order. The 10 tracks favor Rush's synth period in the '80s with a few exceptions. The only pre-Signals track included is In the Mood:
... "In The Mood" is the second song of the second side of the album. With a smoother groove, fantastic guitar and percussion work, and a joyful, uplifting sound that leans more towards pop/rock, it was published as a single and is sure to get your feet tapping. From the band's beginnings until the "Roll the Bones" Tour in 1992, when it was officially dropped, it became a staple of their live performances. The track was played by the St. Louis Classic rock radio station KSHE each night at 7:45 due to the line "hey baby, it's a quarter to eight, I feel I'm in the mood..."
A new book titled How to be Perfect from The Good Place and Parks and Recreation creator Michael Schur was released last month, and according to one review of the audiobook, Rush's Geddy Lee makes a surprise guest reader appearance. The review appears in the Summer 2021 edition of Homewood Life magazine on page 20 as part of a Best Books for the Gen-Z Reader article. The review reads as follows:
.. Michael Schur is best known as creator of The Good Place, co-creator of Parks and Recreation and occasionally showing up on The Office as Dwight's cousin, Mose. Since The Good Place delved comedically into philosophical muddy waters, this book is the result of Michael Schur's exploration of moral philosophy around the time of creating the show. It's funny-especially for fans of The Office and The Good Place. The audiobook has the added treat of guest readers, like the cast from The Good Place and Geddy Lee-the front-man from the band, Rush. But it's not too funny-serious scenarios are explored with depth, humility and self-awareness.
There's no mention of Geddy in the audiobook description itself, although the print edition does use a line from Rush's Freewill on page 276. Thanks to RushFanForever for the heads up.
In this week's episode of Rush Roundtable (#180) on the Rushfans YouTube channel, the panel continues their Roll the Bones song discussion with the album's title track:
On this day back in 2008, original Rush drummer John Rutsey passed away at the age of 55. RIP John. That's all for this week. Enjoy your weekend everybody!