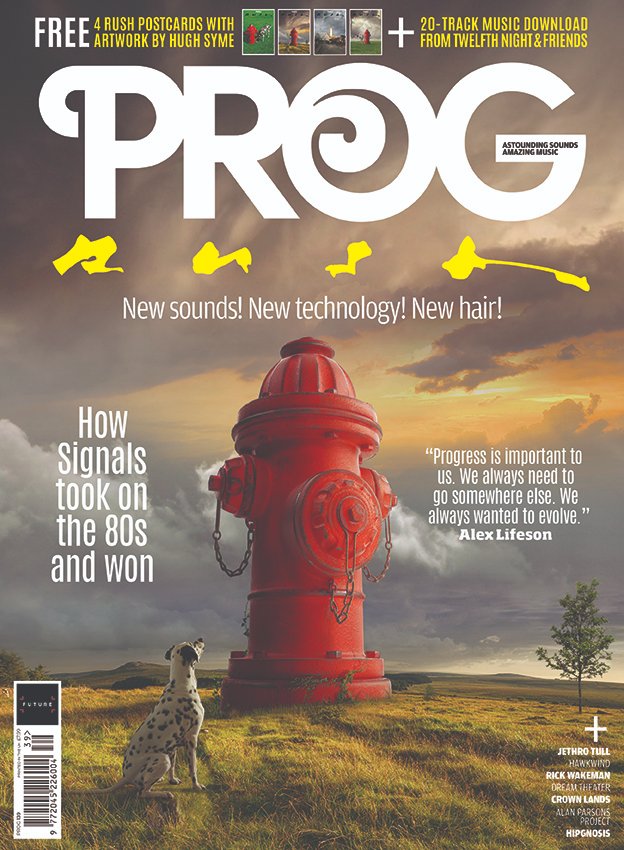 Rush will be releasing a Signals 40th anniversary box set in 2 weeks - the latest in a string of 40th anniversary box sets released by the band over the past several years, beginning with a 2112 set back in 2016. The set will be available in three distinct configurations, including a Super Deluxe Edition, an LP Picture Disc Edition, and a Dolby Atmos Digital Edition. There will also be a limited edition Super Deluxe box set edition featuring eight lithographs of Neil Peart's original hand-drawn lyrics for each song on the album. The latest edition of Prog magazine (Prog #139) goes on sale today in the UK (May 12 in the US) and includes a cover feature celebrating the 40th anniversary of Signals and previewing the upcoming box set release. The feature includes an extensive write-up on the history behind the album's recording, including several new interview snippets with Alex Lifeson. Here are some comments from Lifeson regarding Rush's progression through their keyboard era in the '80s (thanks RushFanForever):
"I guess I just fought for my guitar rights for years after Signals," says Lifeson. "Of course, on the albums that followed, we really developed the whole keyboard character. But it was a bit of a fight." Grace Under Pressure (1984) - co-produced by Peter Henderson after U2 associate Steve Lillywhite blew out Rush to work with Simple Minds - went some way to restoring the balance, bringing Lifeson's guitars further up in the mix. "There's something about the sound and the power and the songwriting quality that really strikes me," says Lifeson. "I really love that record." Lee's keyboard obsessions peaked on 1985's Power Windows, an album that, sonically at least, came over like a more refined, glossy version of Signals. Lifeson told Classic Rock that he found the record "a challenge - but I thought, 'Go with it, it will work out in the end.'" It would, but it took a few more albums. Despite featuring Lifeson in a more prominent role (and one of the all-time great Rush singles in Time Stand Still), 1987's Hold Your Fire has been written off by many fans as a bloodless misfire. The 1989 live album A Show Of Hands was a de facto end on the 'keyboard era', but Presto, released in the same year, felt like a continuation, though it was better received than its predecessor. "The 80s was tough for me at times as a guitarist," concedes Lifeson. "I missed the more direct hard rock approach. But I think we came back around to that for [1993's] Counterparts."
The feature also includes new interview snippets from Ben Mink, Terry Brown and Hugh Syme. The issue also comes with four Rush postcards designed by album cover artist Hugh Syme. The band has been releasing visualizer videos from the box set over the past few weeks in the lead up to its release, the latest of which is a visualizer for The Weapon which you can watch below or on YouTube here. There are also visualizers for Digital Man, The Analog Kid, and Chemistry along with an unboxing video which you can watch here. The Rush Backstage Club is also running an online sweepstakes where the winner will receive a Super Deluxe Edition of the box set. For all the details and to enter visit rushbackstage.com. The set is slated for release in 2 weeks from today on April 28th, and can be pre-ordered via this link, or via Amazon. All the details regarding the set can be found in the press release.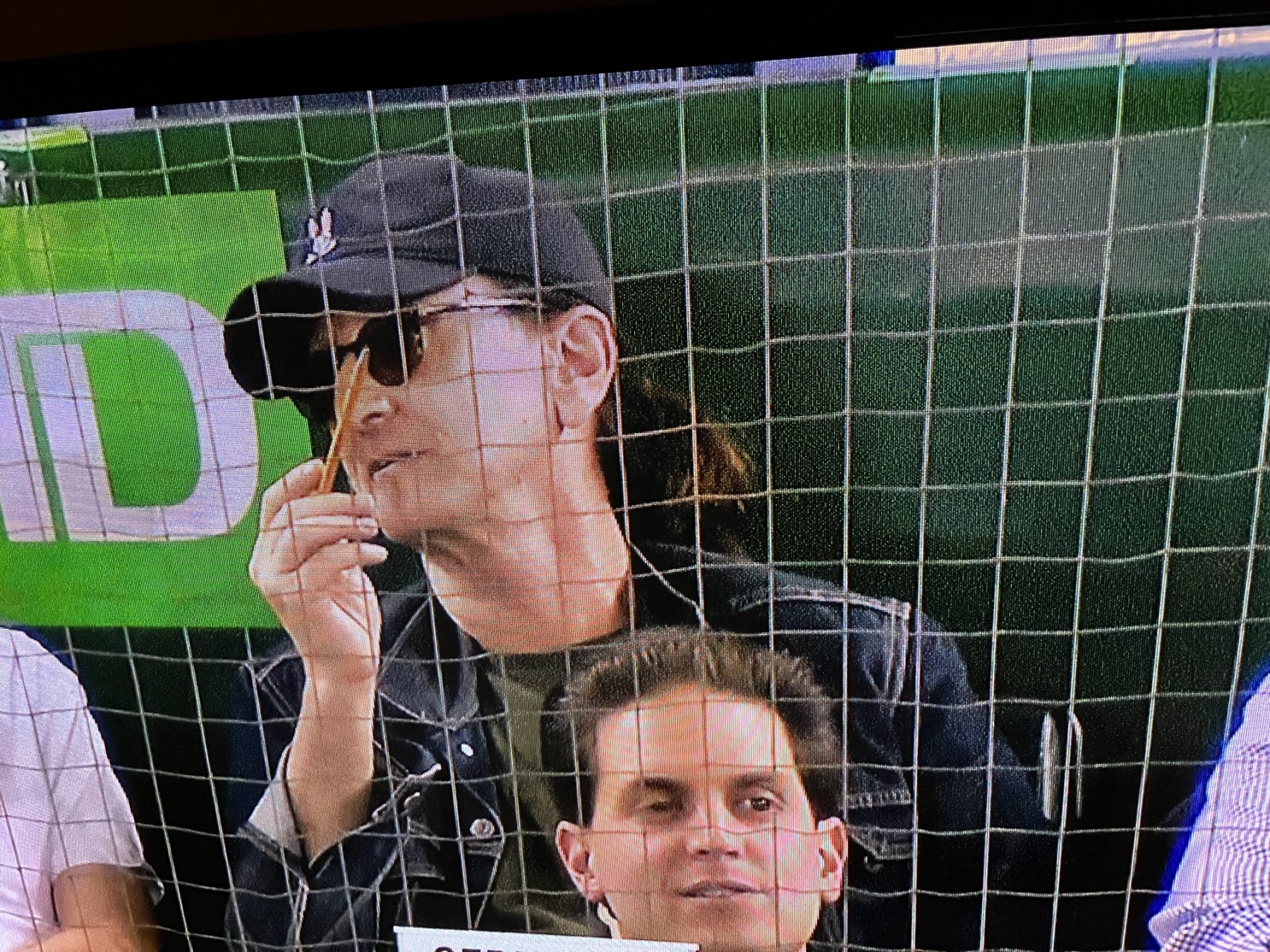 The Toronto Blue Jays welcomed baseball fans back to the newly-renovated Rogers Centre in Toronto earlier this week for their home opener against the Detroit Tigers. To celebrate the 2023 season and the new renovations, the Blue Jays and Sportsnet produced a new hype video for fans which uses Rush's Closer to the Heart as background music with Geddy Lee narrating. You can watch the video below or at this location. It's no secret that Rush's Geddy Lee is a huge baseball fan, and that his hometown Jays are his favorite team. He has season tickets and can usually be spotted right behind home plate at most home games, as he was at the home opener. 10 years ago he threw out the ceremonial first pitch at the Jays' 2013 home opener as described in this post, and in the shortened 2020 COVID season, the Jays put a cutout of Geddy in the stands at their temporary home in Buffalo.
Our house, our home. 🏠❤️

Watch the @BlueJays Home Opener at 7 PM/ET on Sportsnet

🎶 by @rushtheband pic.twitter.com/TOsI510IWA

- Sportsnet (@Sportsnet) April 11, 2023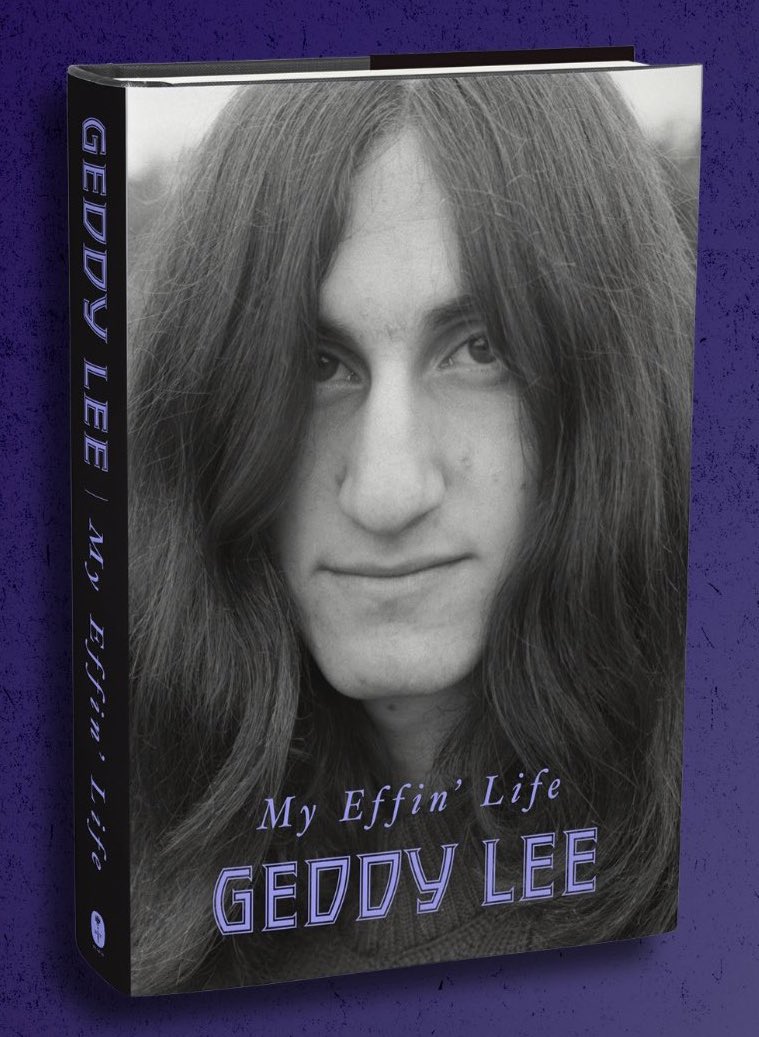 We learned last week that Geddy Lee's long-anticipated memoir will be titled My Effin' Life, and will release on November 14th. Since then the listing has been updated to include this description:
The long-awaited memoir, generously illustrated with never-before-seen photos, from the iconic Rock and Roll Hall of Famer, Rush bassist, and bestselling author of Geddy Lee's Big Beautiful Book of Bass.

Geddy Lee is one of rock and roll's most respected bassists. For nearly five decades, his playing and work as co-writer, vocalist and keyboardist has been an essential part of the success story of Canadian progressive rock trio Rush. Here for the first time is his account of life inside and outside the band.

Long before Rush accumulated more consecutive gold and platinum records than any rock band after the Beatles and the Rolling Stones, before the seven Grammy nominations or the countless electrifying live performances across the globe, Geddy Lee was Gershon Eliezer Weinrib, after his grandfather murdered in the Holocaust.

As he recounts the transformation, Lee looks back on his family, in particular his loving parents and their horrific experiences as teenagers during World War II.

He talks candidly about his childhood and the pursuit of music that led him to drop out of high school.

He tracks the history of Rush which, after early struggles, exploded into one of the most beloved bands of all time.

He shares intimate stories of his lifelong friendships with bandmates Alex Lifeson and Neil Peart-deeply mourning Peart's recent passing-and reveals his obsessions in music and beyond.

This rich brew of honesty, humor, and loss makes for a uniquely poignant memoir.
The next offering from Swedish rock band Ghost will be an EP of cover songs titled Phantomime, due out next month. Although it didn't make the EP's final cut, frontman Tobias Forge told NME in an interview that they also recorded a version of Rush's Distant Early Warning. Unfortunately here's no word on if/when the Rush cover might see the light of day.
Godsmack frontman Sully Erna was recently interviewed by Revolver magazine to talk about the band's third album Faceless, which turns 20 this year. He speaks extensively about how Neil Peart's Ghost Rider inspired the song Serenity, and recounts meeting his hero during the recording of the album:
... my fondest memory is I got to meet my idol on that record," Erna enthused. "It turned out that Rush was playing in Miami when we were down there living and recording that record. [Drummer] Neil [Peart's] assistant reached out to my assistant at the time. He's like, 'Hey, we're in town. We know you guys are fans of the band and Sully always talks about Neil [in interviews] and he'd love to have you guys at the show.' "So they invited us, and it was so ironic because I had just been reading his book Ghost Rider, and I was so moved by the book that it inspired me to write the song 'Serenity.' I had just demoed the thing and handwritten all the lyrics. And so we went to see them. Of course, we had a great time. They put us on the stage during the drum solo and me and Shannon sat there with our Rush hats and shirts and tour books looking like nerds. "And I get to meet Neil. I gave him the lyrics to 'Serenity' and even asked if he'd be interested in playing the drum track on that song, although he politely declined. He said, 'You'll see one day when you're well into your 50s that when you're on break, you're on break. And once this is done, I'm going to be taking some time off.' And now I get it because I'm in my 50s. But it still allowed me to establish a relationship with him, and over the years I got to know him really well and hung out with him a few times."
KISS guitarist Tommy Thayer was recently interviewed for Guitar World magazine to talk about 11 guitarists who shaped his sound, and Rush's Alex Lifeson was included at #9:
"Caress of Steel was the first Rush album that I had, and Bastille Day was the song I tried to learn first. Alex Lifeson played beautiful, loud, heavy guitar riffs, all churned into melodic songs with crazy sci-fi lyrics. Alex had the chords - I call them 'golden chords', with these droning, sustaining voicings that made his guitar playing symphonic. His sound was rich. "I saw Rush play at the Paramount Theater in Portland in the mid-'70s; you had me hanging on the edge of the stage, mesmerized by what I was hearing and seeing. Alex was regal with long shiny blond hair and bangs, rocking in front of a wall of Marshalls and Hiwatts. I realized then, 'That's what I want to do.'"
Far Out Magazine posted their list of 10 albums from the 1980s that changed rock history this past week, and Rush's Moving Pictures album is included:
Most of the progressive rock elite had a hard time adjusting to what the '80s would become. Although Genesis managed it all right, groups like Yes did take some damage in the MTV era, including a time when the core members split up into two separate acts. Rush was always going to press on, and a new decade just brought more opportunities for different sounds. When coming up with the material for Moving Pictures, Rush took to recording the tracks they were working on during their live set, yielding some of their catchiest singles yet. Although most fans are aware of songs like 'Tom Sawyer', some of the best cuts come when the trio blend their prog aesthetics with modern production, like on the ten-minute epic 'The Camera Eye'. Neil Peart is also his most personal on this album, writing lyrics about wrestling with fame and trying to find a way through the world of celebrity while still holding onto one's privacy. Of all the tracks available, the song 'YYZ' encapsulates the purest form of Rush. The band might not have been prepared for the whirlwind of success they got afterwards, but this is still one of the core starting points for anyone trying to get into progressive rock.
MusicGrotto.com posted their list of the 35 Best Songs About The Future earlier this week and Rush's 2112 made the cut at #6:
Rush: Rush is a huge name in the progressive rock genre, thanks in large part to their experimental sound and explorations into science fiction and philosophy. 2112: Overture is a 20-minute suite of music that took up an entire side of the album it served as the title track for. Full of futuristic musings, sounds, and conjecture, it was one of their best works.
Speaking of 2112, the album was also included on The Irish Times' list of 20 of the best hard rock albums of all time, coming in at #18.
StudyFinds.org posted an article this past week where they list off the 5 Best Drummers Of All Time according to music experts, with Rush's Neil Peart coming in at #2:
The late drummer of the Canadian rock band Rush, Neil Peart was known for his technical skill and complex drumming patterns. He was also a prolific lyricist and considered one of the greatest drummers in rock history.
WealthOfGeeks.com posted their list of the 12 Greatest Bands To Ever See Perform Live, and Rush made the cut at #3:
Rock band shows fuel their audience with amplified tracks and overflowing energy. Many live music fans say Rush put on the best shows of any band. One person says nothing will ever beat seeing Neil Peart (the drummer) live.
Far Out Magazine posted a story this past week on 10 forgotten debut albums by legendary artists, and Rush's eponymous debut was included:
No one had heard anything like Rush when they came out. Prog-rock had existed for years before the Canadian trio made it big, but Neil Peart's amazing drum fills and lyrics about the great unknown were more cerebral than the psychedelic sounds of Pink Floyd or the fantasy worlds of Genesis. However, there was a time before Peart joined the band, and Rush's debut is miles away from their later signature sound. Though this is still a solid collection of songs, Alex Lifeson and Geddy Lee are wearing their influences on their sleeve, especially Led Zeppelin. Half of the riffs sound like leftovers from a forgotten Zeppelin project, along with Lee attempting to be a high-end version of Robert Plant. Though there are some moments to enjoy, such as 'Working Man' and 'Here Again', most of them are the kind of bluesy jams that are expected from the glory days of hard rock. Although John Rutsey is definitely a decent drummer for this record, change was in the air from the start, with Lee and Lifeson pushing their music in a prog-rock direction while Rutsey wanted them to remain a more straight-ahead rock band in the vein of Bad Company. Though 'Working Man' remained a staple of their live set until the end of their days, this baby version of Rush had a lot of growing up to do.
Rush's Grace Under Pressure album celebrated its 39th anniversary this past Wednesday, April 12th and to recognize the occasion, we set up a Ranked Choice Voting poll to determine the album's best track. After nearly 600 ballots cast, and 6 runoff rounds, Between the Wheels came out on top. For the full results breakdown, visit this link:
On this week's episode of Rush Roundtable on the Rushfans YouTube channel, the panel discusses their top 5 Rush album closing tracks:
That's all for this week. Have a great weekend!!