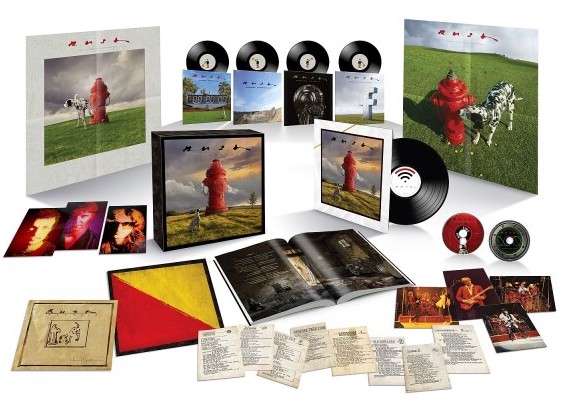 Rush will be releasing a Signals 40th anniversary box set next month - the latest in a string of 40th anniversary box sets released by the band over the past several years, beginning with a 2112 set back in 2016. The set will be available in three distinct configurations, including a Super Deluxe Edition, an LP Picture Disc Edition, and a Dolby Atmos Digital Edition. There will also be a limited edition Super Deluxe box set edition featuring eight lithographs of Neil Peart's original hand-drawn lyrics for each song on the album. Last week the band released a new visualizer video for The Analog Kid, and have followed that up with a visualizer for Chemistry as well, which you can check out below or on YouTube. There's also an unboxing video which you can watch here. The set is slated for release on April 28th, and can be pre-ordered via this link, or via Amazon. All the details regarding the set can be found in the press release.
Musichead Gallery in Los Angeles will be hosting a new exhibit from Rush album artist Hugh Syme this coming summer. Hugh Syme: Imagine This is a curated selection of music and creative work from the award winning album artist, including several of his Rush album cover art as well as a large assortment of original artwork from his portfolio. The exhibit will kick off on Thursday, June 1st with an invitation-only, VIP opening reception from 7-8PM followed by a ticketed reception from 8-10PM. The exhibit will then be on display for the public up through July 5th. Prints will be available for purchase, and the gallery will continue to include an ongoing assortment of works by Syme following the exhibition's end. A special collection of 4 limited edition prints will also be made available at entry level pricing at the Musichead Gallery. The LA gallery will mark the third in a series of gallery openings for Syme, having hosted stops in Indianapolis in 2019 and Austin in 2022. For more information and to purchase tickets, visit musichead.com.
SingersRoom.com posted a couple of lists this past week which included Rush. The first was their list of the 10 best Rush songs of all time, where they ranked New World Man as Rush's best song. The other article features a list of the 100 Best Long Rock Songs, and Rush's 2112 was included at #49:
2112 - Rush (20:35): "2112" by Rush is a 20-minute long progressive rock epic that tells a dystopian story of a future society controlled by priests and their oppressive regime. The song is divided into seven parts, each with its own unique sound and story. The opening instrumental section sets the stage for the powerful vocals and guitar solos that follow. The song is a showcase of the band's musicianship, with complex time signatures and intricate guitar work. "2112" is a classic example of the progressive rock genre and is often cited as one of Rush's greatest songs.
Far Out Magazine also featured a couple of Top 10 lists featuring Rush this past week. First off was their list of the 10 most overqualified musicians in classic rock bands, where they included Rush's Neil Peart:
... [Peart's] stamp on the music wasn't just in the rhythm, penning almost every lyric for the band after he joined and bringing a more sophisticated slant to their songs, looking to focus on the nature of humanity and more intellectual topics than tales of rock and roll decadence songs. Peart may have said that he always felt like the new guy in the band, but as for his legacy, it's safe to say that he settled into his role pretty well.
The second list highlighted 10 rock albums from the 1970s that changed music history, and Rush's 2112 is mentioned:
In the mid-70s, Rush were coming dangerously close to being dropped by their label. While Fly By Night may have put them on firm ground with the hard rock crowd, their love of prog wasn't the most radio-friendly in the world, and the higher-ups were breathing down their necks, telling them to start writing something that could get them on the radio. 2112 never made it to the top of the charts, but it marked the emergence of the world's most popular cult band. Not wanting to compromise their vision, Rush made a sprawling 20-minute-long song about following their heart, telling the story of a man who chooses to play music despite the naysaying of the high priests of Syrinx. This whole album should have been career suicide, but the message of not backing down from authority resonated with fans, leading to the record getting tons of exposure by word of mouth.
YES keyboardist Rick Wakeman was recently interviewed for Sonic Perspectives and spoke a bit about playing with Geddy Lee at YES' 2017 Rock Hall induction ceremony (thanks RushFanForever):
... I'm a big Rush fan. I've known the guys for quite a long time, quite a few years. So that was a lovely to have Geddy with us. He was the perfect choice to come and play that. He was great. ...
Looper.com posted an article this past week where they examine what they think are the 6 Best (and 6 worst) episodes of the Trailer Park Boys. One of the episodes they rank as best is Closer to the Heart (Season 3, Episode 5), which featured a guest appearance from Rush's Alex Lifeson:
... In the episode, Julian, Ricky LaFleur, and Bubbles are trying to scrounge up money to buy Rush tickets, but Jim Lahey foils their plans by buying all of the tickets and refusing to sell them. This leads the boys to don garbage-bag suits and sneak into the venue through the sewers, making it in but without any clothes. At another point, Ricky actually kidnaps Lifeson, duct-taping his mouth shut and leading him through his hotel lobby, hilariously telling everyone he's a cop and Lifeson is a "drunk male prostitute." The main theme, though, revolves around Bubbles' love for Rush and his desire to be Lifeson's roadie for the night. He is able to live his dream, briefly appearing on the big screen after successfully handling guitar changes. The episode ends with Bubbles and Lifeson playing a brief rendition of the Rush song "Closer to the Heart," with Bubbles on vocals. ...
Drummer Gregg Bissonette posted a video to his YouTube channel earlier this week where he talks about his good friend Neil Peart, and relates a story about the last time they got together to play double drums. You can watch the episode on YouTube here (thanks RushFanForever).
This past week's episode of Rush Roundtable (episode #173) on the Rush Fans YouTube channel features an all-female panel to celebrate International Women's Month, with each panelist sharing three songs that have deep meaning to them. Check it out below or on YouTube here:
That's all for this week. Have a great weekend everybody!