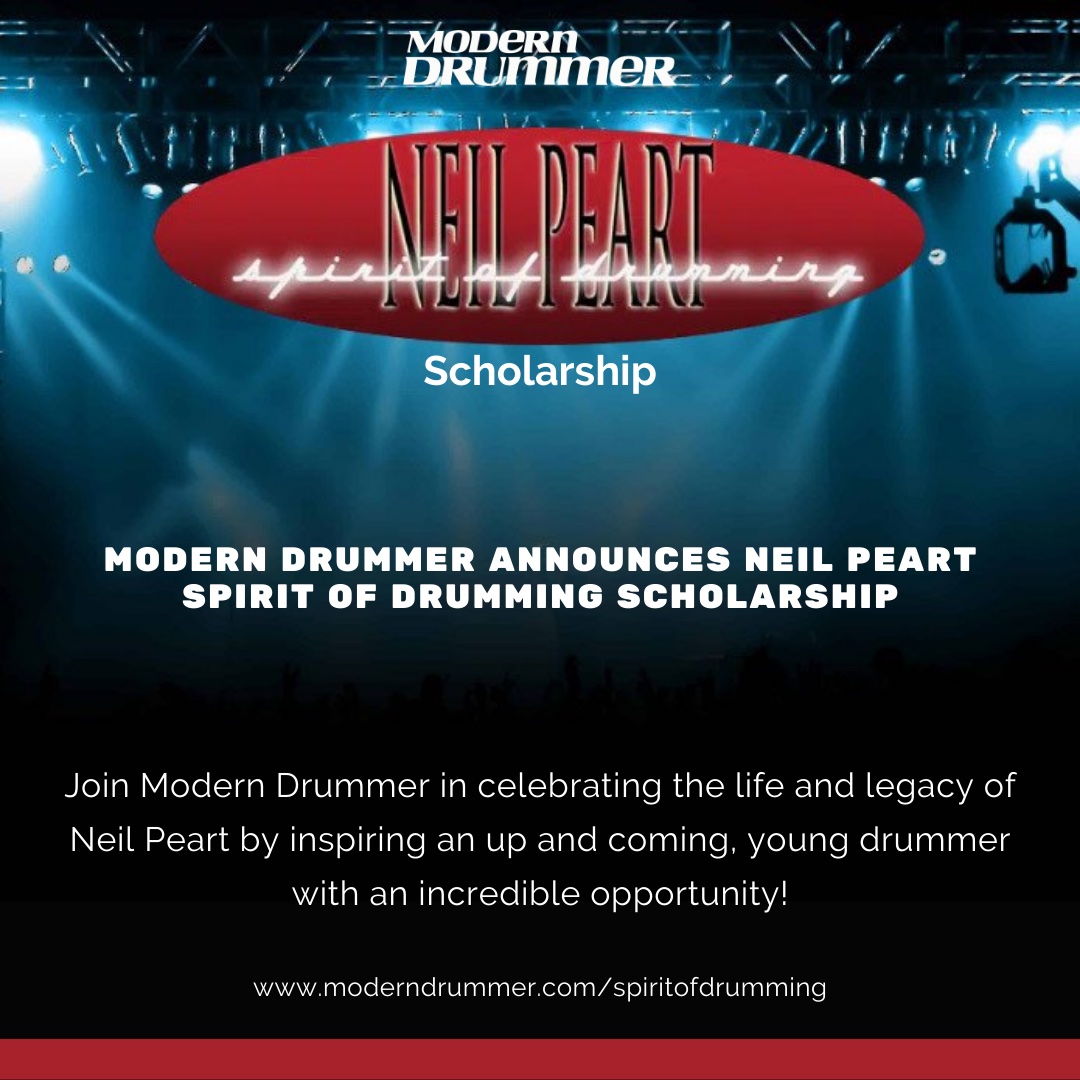 Back in late 2021, Modern Drummer magazine in partnership with the family of Neil Peart announced the creation of an annual Neil Peart Spirit of Drumming Scholarship for up-and-coming drummers. Last year's award went to Maxx Rinkus, who was presented with the scholarship back in March via video by Peart's widow Carrie Nuttall-Peart, Modern Drummer CEO David Frangioni, educator Dom Famularo and Dennis Wolfe of Universal Music. Earlier this week, Modern Drummer announced that the application for the 2023 Neil Peart Spirit of Drumming Scholarship is now open, and they will be accepting submissions up through March 28th. The scholarship provides the recipient with 52 weeks of free drum lessons, a 1-year subscription to Modern Drummer All Access, and a selection of Modern Drummer merchandise. Potential recipients have to submit up to a 2-minute video of their playing and a short essay describing why this scholarship will be significant to both their life and their drumming. For all the details, and to submit your application, visit the Modern Drummer website. Here's what Nuttall-Peart had to say about the award in last year's presentation video:
Education was a big thing for Neil - he did his educational videos - and I know that this particular award, out of a lot of other things, would mean such a great deal to him because he truly believed in passing on his knowledge and helping young people learn. It warms my heart and touches me because I know that he would love the fact that we're doing this.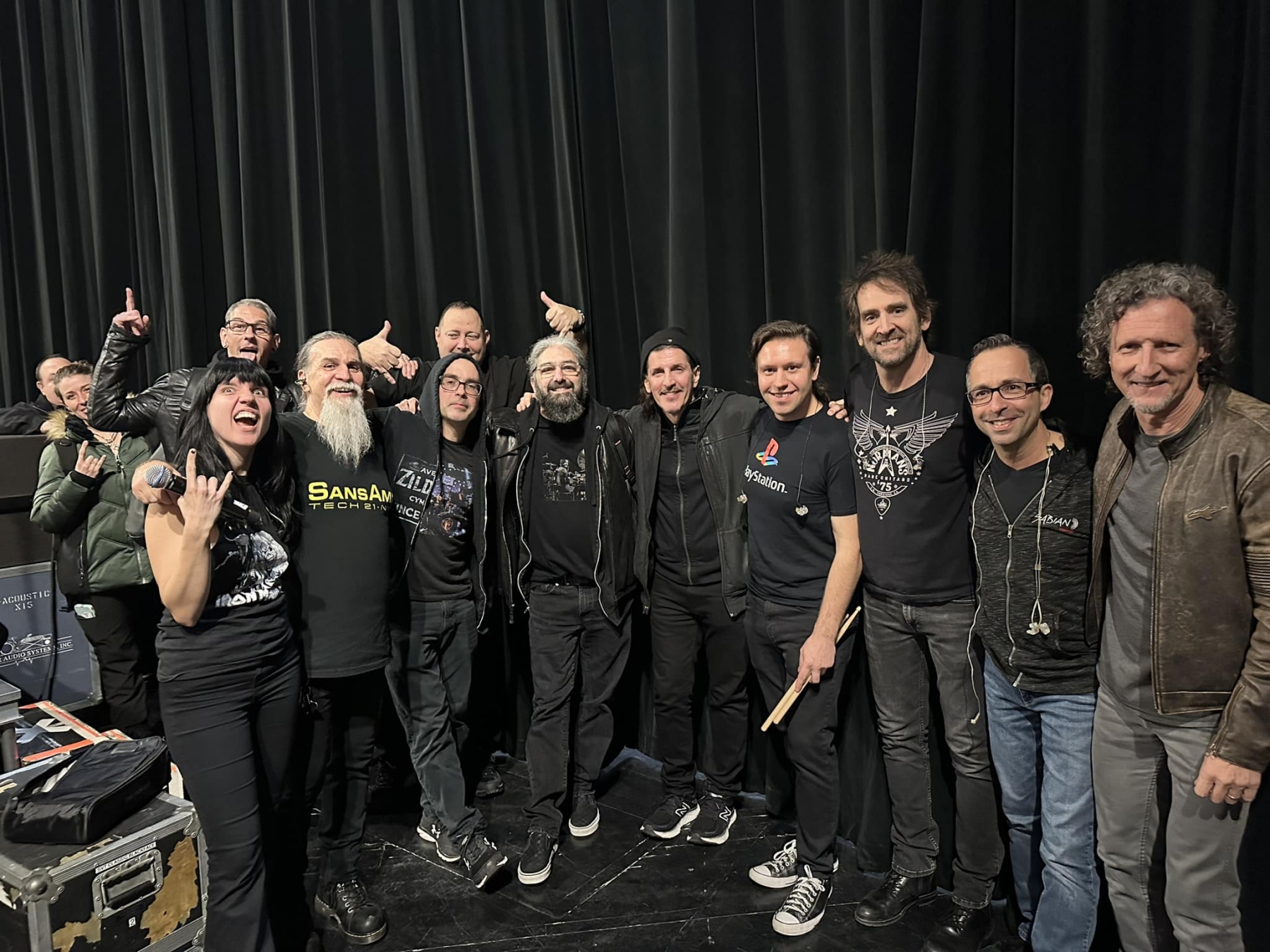 In commemoration of the 3-year anniversary of the passing of Neil Peart, Rush tribute band YYNOT hosted a charity concert last month on January 7th dubbed Bubba Bash 2023 at the Keswick Theatre outside Philly (Glenside, PA). The show featured YYNOT along with special guests Mike Portnoy (Dream Theater, etc.), Frank Bello (Anthrax), Jason Bittner (Shadows Fall, Overkill, etc.), Jon Dinklage (Clockwork Angels string ensemble), Joe Bergamini (drum instructor, author, etc.), John Wesley (Porcupine Tree), and Seven Antonopoulos (Opiate for the Masses). Loudwire.com posted this great summary of the concert earlier this month:
... YYNOT opened up the night running through some of the Rush classics such as "The Spirit of Radio," "YYZ" and more before starting to bring out the night's specials guests. Anthrax's Frank Bello and Porcupine Tree's John Wesley were first up, getting a chance to rock out "Tom Sawyer" and "Limelight," ... Bergamini joined the band for "Vital Signs," before Opiate for the Masses drummer Seven Antonopoulos took his spot behind the kit for "Freewill" and "Closer to the Heart." Overkill's Bittner took his turn behind the kit on "Natural Science" and "Red Barchetta," giving way to Dinklage for "Losing It." Portnoy then got the epic penultimate climax on drums for the night nimbly working his way through "2112 Part 1: Overture," "2112 Part 2: The Temples of Syrinx" and "La Villa Strangiato." YYNOT then closed out the night with "By-Tor & The Snow Dog / In the Mood / 2112 Part VII: Grand Finale." ...
The concert and associated fundraiser raised over $30K to benefit Cedars Sinai Hospital, and you can add to that total by sending along your donation here. YYNOT has been posting videos from the performance over the last few weeks, with the latest being this video of the epic instrumental La Villa Strangiato featuring Mike Portnoy on drums.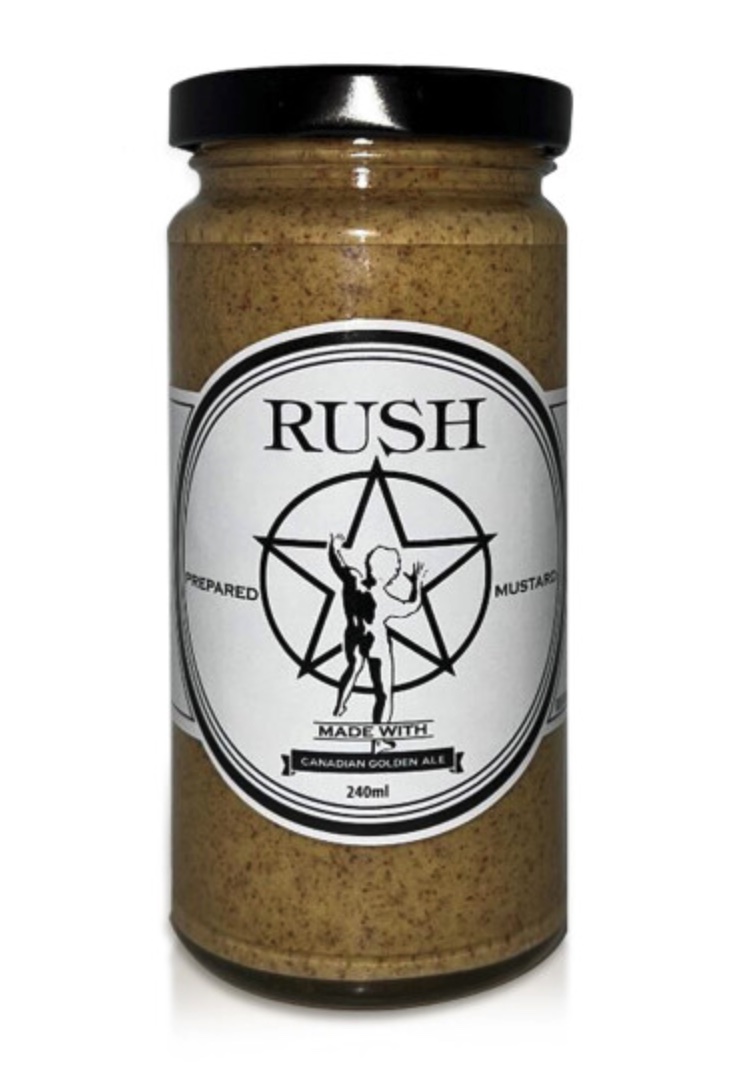 Back in August of 2021 Rush teamed up with Henderson Brewing Company to release their first Rush-branded beer - Rush Canadian Golden Ale. Since then they've released a few more varieties of Rush-branded beer including Moving Pictures Ale, Moving Pitchers beer, and Signals Belgian Ale. They recently made the original Canadian Golden Ale available for purchase in the US via HalfTimeBeverage.com, and they are currently accepting pre-orders, with items shipping out by mid-February. There are also several more unique items available in their Rush store, including a Rush Canadian Golden Ale Decorative Keg (NOTE: decorative only - no beer in it), a Canadian Golden Ale Mustard, and more. The mustard was first made available back in December, but garnered some renewed attention this past week when Geddy and Alex posted this hilarious new video promoting the mustard. For all the details, and to make a purchase visit shophendersonbrewing.com.
Pixies guitarist Joey Santiago was recently interviewed for Metal Edge magazine, and was asked to name his seven favorite hard rock and metal guitarists. One of the guitarists he mentioned was Rush's Alex Lifeson:
"The legend is the legend. He has a lot of chorusing. For a three-piece band, he really just fills everything up. He's melodic. I learned 'Red Barchetta' and that was really cool. I'm all about taste and playing with purpose. I like his weird solos too, it's one of those things that makes sense."
Reader Kayla noticed a quick Rush mention on Wednesday's episode of the popular, long-running game show The Price is Right. One of the contestants won a trip to Canada and the announcer said, time to break out your Rush albums ... it's a trip to Canada!.
Drummer Mike Portnoy recently sat down with Loudwire.com to talk about his favorite albums from when he was a teenager, and he mentions Rush's Moving Pictures:
... It was actually the album Moving Pictures that convinced Portnoy of Rush's greatness after not necessarily getting them for a while. "I lived, breathed, slept and shat Neil [Peart] and Rush," Portnoy remembers. "The main reason I never gave Rush the time of day was I would hear Geddy's voice on the radio and I just wrote them off as some kind of band like Supertramp or Styx - these high vocals - but I never realized the musicianship and the drumming. Then somebody played me 'YYZ' without the... I don't want to use the word distraction... but it didn't have Geddy's vocals. It forced me to listen to the drums, bass and guitar, and when I heard 'YYZ' I was like, 'Holy shit, these guys can play.'" ...
Speaking of Moving Pictures, EverythingIsNoise.net posted an article this past week which looks at some of the better music to come out of the year 1981, and Rush's Moving Pictures is featured:
... Rush was no doubt a wavemaker in the years prior - 2112, highly considered to be their magnum opus, was a Canadian chart topper; Fly By Night and Permanent Waves earned similar top ten positionings as well, along with very respectable places on the US charts, and there was always deeper cuts like Hemispheres that didn't fuck around on the prog for us weirdos (I say this metaphorically because I wasn't even close to being born yet). And while some of those weirdos say this album was their 'black album' moment of mainstream coddling, Rush would not be as big as they are now were it not for their meteoric smash breakthrough of Moving Pictures.
That's all for this week. Have a great weekend everyone!!