UPDATE - 12/16@11:47AM: FYI: Geddy Lee will be one of the "special guests" appearing at tomorrow's Hot Docs Cinema screening (thanks RushFanForever).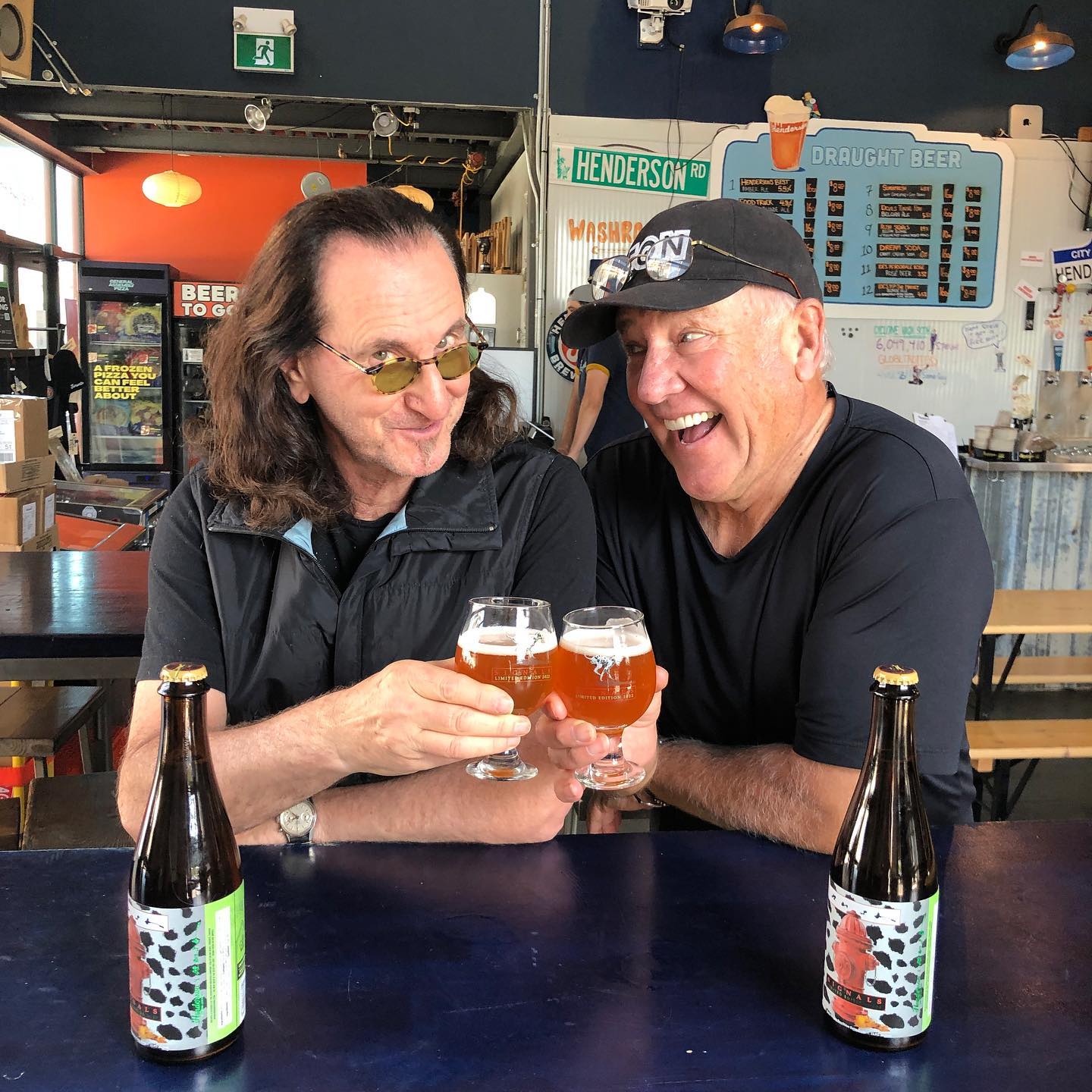 Back in August of last year Rush teamed up with Henderson Brewing Company to release their first Rush-branded beer - Rush Canadian Golden Ale - and followed that up last October with Moving Pictures Ale, and Moving Pitchers beer in March. A couple of months ago they announced the release of Signals Belgian Ale in celebration of the 40th anniversary of Signals. Signals Belgian Ale is a classic Belgian blonde with Riesling must and cold pressed apples, and is now available in Canada at Henderson Brewing or through your local LCBO. Earlier this week, Rush announced via this Facebook post that the beer will soon be available in Quebec as well. Rush also recently made the original Canadian Golden Ale available for purchase in the US via HalfTimeBeverage.com, and they are currently accepting pre-orders. They had originally expected the packs to ship out this month, but are now anticipating that they won't ship out until February. The beer will be available as a 4-pack, 12-pack and case, with a two 4-pack minimum. Every purchase of a 12-pack comes with a limited-edition, numbered poster, and 24-pack orders also include a Rush bottle opener. For all the details, and to make a purchase visit HalfTimeBeverage.com. Henderson was also offering a new limited-edition Holiday 4-pack of Rush Canadian Golden Ale but they have now SOLD OUT of these.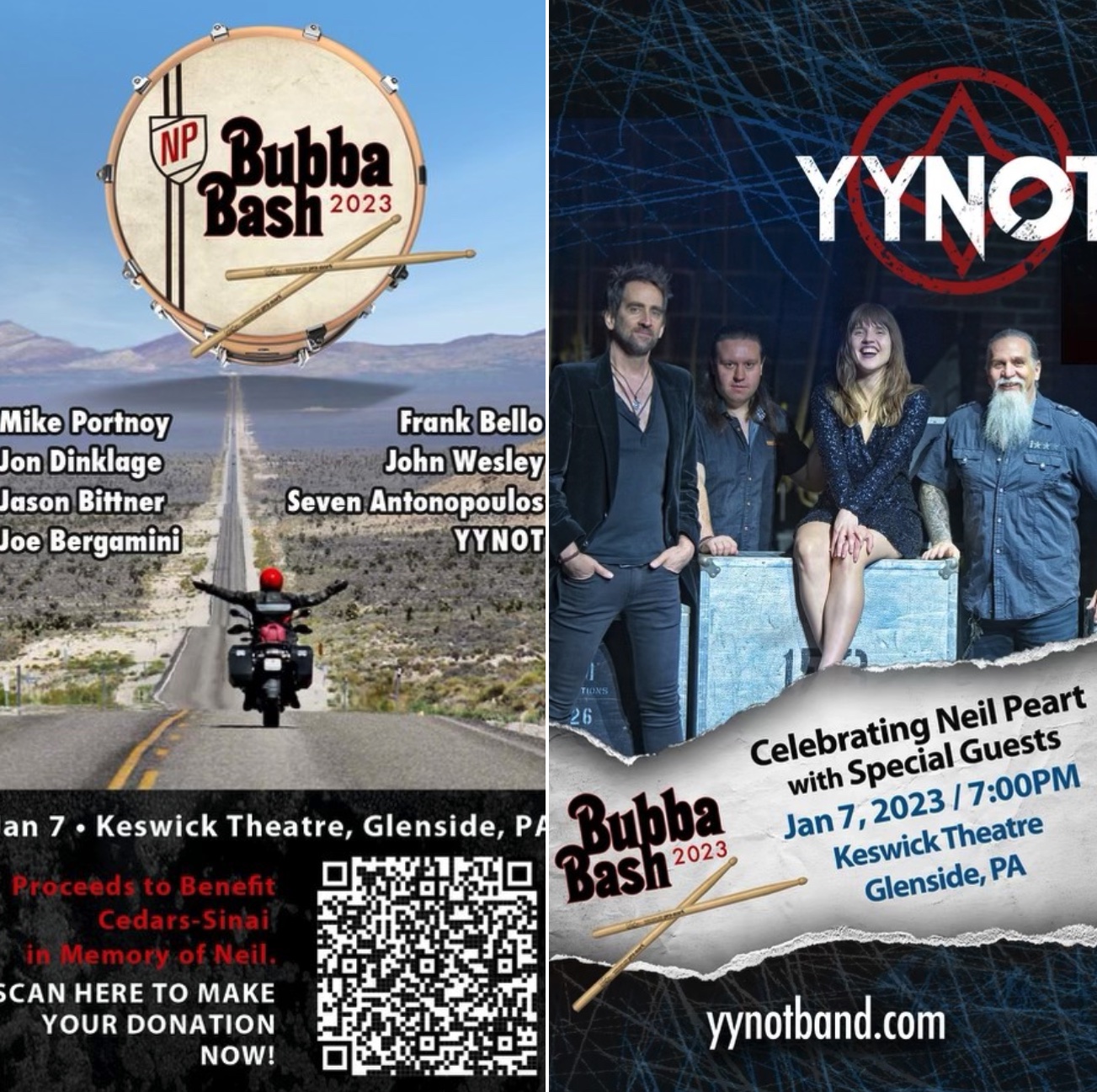 A couple of weeks ago Rush tribute band YYNOT announced a charity concert dubbed Bubba Bash 2023 that will take place on Saturday, January 7th (3rd anniversary of Neil Peart's passing) at the Keswick Theatre outside Philly (Glenside, PA). YYNOT has made a name for itself in recent years for being one of the premier Rush tribute bands, as well as a great prog-rock band in their own right with 3 albums of original material under their belt. The show will be "In Celebration of Neil Peart", and feature YYNOT along with special guests Mike Portnoy (Dream Theater, etc.), Frank Bello (Anthrax), Jason Bittner (Shadows Fall, Overkill, etc.), Jon Dinklage (Clockwork Angels string ensemble), Joe Bergamini (drum instructor, author, etc.), John Wesley (Porcupine Tree), and Seven Antonopoulos (Opiate for the Masses). All proceeds from the show will go to benefit Cedars Sinai Hospital, and you can send along your donation here. For tickets and more information visit the Keswick Theatre website here. It will also be professionally videoed with Executive Producers Michael Mosbach and Tim Starace.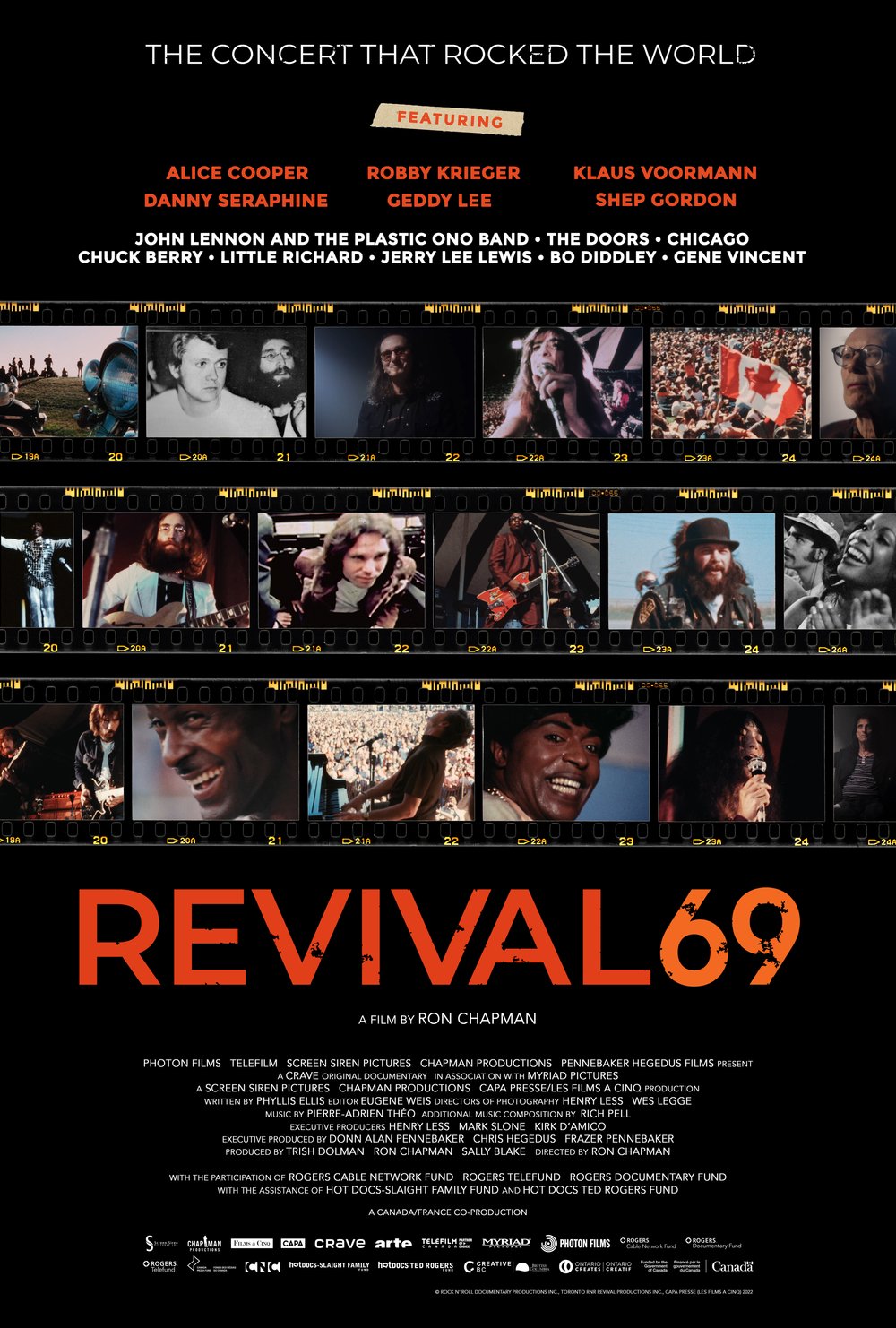 A new documentary from filmmaker Ron Chapman titled Revival 69: The Concert That Rocked the World was released in September and is currently making the film festival rounds. The film chronicles the events behind the Toronto Rock & Roll Revival - an iconic Toronto music festival that took place at the University of Toronto back in 1969. From the film's synopsis:
In 1969, there were three music festivals that changed the world. "The second most important event in rock & roll history" was a one-day event held at the University of Toronto's 20,000 seat Varsity Stadium called the Toronto Rock & Roll Revival. An incredible back-door story of how - against all odds - a life-changing concert came together. Director Ron Chapman reveals a series of colourful characters, murky deals and broken promises, culminating in John Brower, a young struggling promoter, putting his life on the line (literally) in order to achieve his goal. Included in the lineup were Chuck Berry, Little Richard, Jerry Lee Lewis, Bo Diddley, Gene Vincent, The Doors, Alice Cooper, and John Lennon with The Plastic Ono Band.
A young Geddy Lee attended the concert, and he makes an appearance in the documentary as seen in the film's trailer at about the 40-second mark. FYI Music News recently sat down with the filmmakers for an interview which you can check out here. The movie will be screened in several theaters across Canada starting this weekend, including a couple that will also include a Q&A with director Ron Chapman. You can get the full list of upcoming Canadian screenings in this article.
In this past week's episode of the Something for Nothing podcast, hosts Steve and Gerry discuss the Clockwork Angels Tour
setlist. You can listen to the show below or wherever you get your podcasts:
Rush's Moving Pictures 40th anniversary box set made Metal Edge magazine's list of the 10 best box sets of 2022:
The roll Rush were on in the late '70s and early '80s hit its apex with their eighth full-length, the groundbreaking Moving Pictures, where the Canadian prog-rockers delivered the hits - and future classic rock radio staples - "Tom Sawyer" and "Limelight," alongside fan favorites "Red Barchetta," "YYZ" and "Vital Signs." The slightly-delayed 40th anniversary edition of the 1981 record came out earlier this year in various configurations, with a beast of a super deluxe edition leading the pack. Featuring three CDs, a Blu-ray and five 180-gram black vinyl LPs, the set has an array of extras like 44-page hardcover book with liner notes from Soundgarden's Kim Thayil, Les Claypool of Primus, the late Taylor Hawkins and others. Collectibles include a Red Barchetta model car, Neil Peart signature MP40 drumsticks, two metal guitar picks - each with Geddy Lee and Alex Lifeson's signatures engraved - concert posters, handwritten song lyrics, a lithograph and more. Musically, in addition to the 2015 remaster of Moving Pictures, there's a previously-unreleased and freshly-restored live show from 1981 at Toronto's Maple Leaf Gardens mixed from the original analog live multi-tracks. The Blu-ray Audio disc sees the core album newly mixed from the original multi-tracks in Dolby Atmos, Dolby TrueHD 5.1 and DTS-HD Master Audio 5.1 surround sound as well as four bonus videos.
The Foo Fighters hosted two tribute concerts for their late drummer Taylor Hawkins back in September; the first having taken place at Wembley Stadium in London on September 3rd, and the second at the Kia Forum in Los Angeles. That London concert included reunions of the James Gang, The Pretenders, and Them Crooked Vultures, along with performances from members of Van Halen, AC/DC, Queen, Oasis, The Police and - most importantly for Rush fans - Rush's Geddy Lee and Alex Lifeson. Geddy and Alex made a return appearance for the LA concert, performing the same 3 songs they performed in London, albeit with a couple of different drummers. Dirk and Lerxst took the stage towards the end of the show after an introduction from Jack Black, and then performed 2112: Overture with Dave Grohl on drums just as they did at the London show, but for Working Man they swapped in drummer Chad Smith of the Red Hot Chili Peppers (Grohl played on this song in London), then finished off with YYZ with Tool's Danny Carey having a turn behind the kit (Omar Hakim performed the song in London). Classic Rock Magazine's Best of 2022 issue came out last week, and it includes an article on 11 Things That Made The Taylor Hawkins Tribute Shows Amazing, one of which was Rush's performance (thanks RushFanForever):
The Rush Reunion We Thought Would Never Happen Did

Similarly, Geddy Lee and Alex Lifeson got to pay tribute to their own departed hero after the death of Rush drummer Neil Peart in 2020. Lifeson claimed only last year that without Peart there could be no Rush, so there was a sense of meaning and warmth that he and Geddy Lee could find a way, playing a storming three-song set at both shows, with Grohl, Chad Smith, Danny Carey and Omar Hakim filling in ably for Peart.
Smashing Pumpkins frontman and founder Billy Corgan was recently interviewed for Rick Beato's YouTube channel (thanks Thomas P), and talks about how the Smashing Pumpkins song Cherub Rock borrowed elements from Rush's By-tor and the Snow Dog. At around the 6:30 mark he says:
... A song like "Cherub Rock", that would be more like ... that's basically us doing Rush or something. Basically the beginning of "Cherub Rock" is ripped off from "By-tor and the Snow Dog" by Rush (air drums the first part of the song). It's a straight rip-off of Rush ...
Classic Rock Magazine posted their list of the 20 of the greatest rock duets ever this past week, and Max Webster's Battle Scar featuring Rush made the cut (thanks RushFanForever):
Rush & Max Webster - Battle Scar (1980): It was not so much a conventional duet as two bands facing off and rocking out. The guys in Max Webster - a band, not a person - were old friends of Rush. And for the album Universal Juveniles, Max Webster's last, the two bands set up in the same room to record Battle Scar live off the floor. The song is a real shit-kicker, with a slow, grinding tension. And the combination of two unique voices - Kim Mitchell's groan, Geddy Lee's yelp - adds to the spaced-out vibe. It's the ultimate Maple Leaf Mayhem jam.
It's going to get COLD in the US over the Holidays, so it's a perfect time for some celebrity winter advice from Geddy Lee:
That's all for this week. Have a great weekend everybody!