UPDATE - 10/14@3:00PM: The new Funko Pop! Exit ... Stage Left figurine is now available for pre-order via Amazon.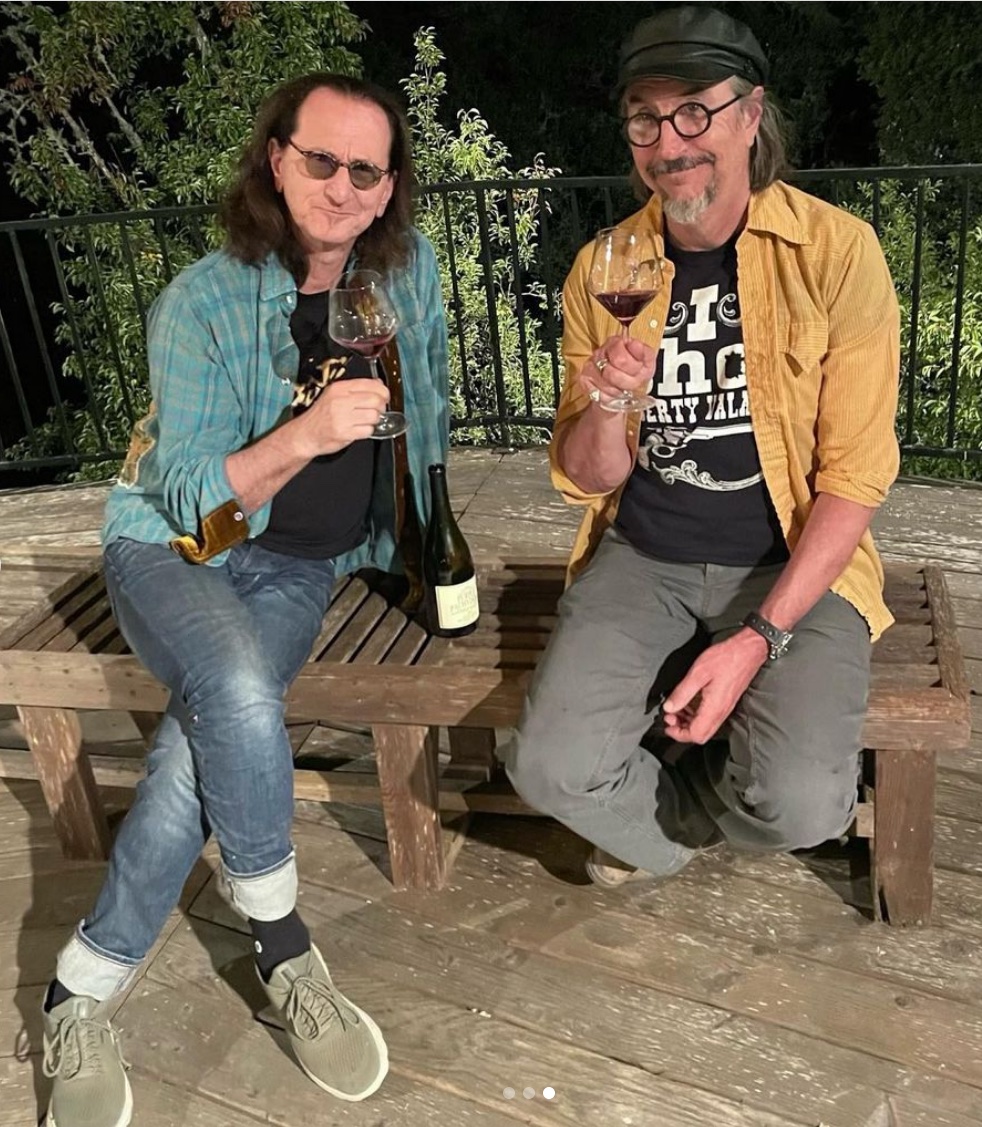 Grapes for Humanity is an organization that helps to raise funds to benefit humanitarian causes around the world with the assistance of the international wine community, and Geddy Lee is a member of the board of directors. This week the charity is hosting their 2022 Grapes for Climate Change online fundraiser auction to raise funds to aid in the battle against the threat of climate change. The proceeds will benefit Nature Conservancy Canada, and Tree Canada, along with global communities in need. The auction kicked off this past Wednesday evening via Waddington's, and will run through next Wednesday, October 19th. The auction includes several items of interest for Rush fans including autographed bottles of wine from Geddy Lee's personal cellar, a Geddy Lee autographed Fender Jazz Bass, an Alex Lifeson autographed Epiphone Les Paul, and dinner for 8 at Barberian's Steak House in Toronto hosted by Geddy and Alex along with Les Claypool and his wife. From the Rush Instagram page:
"Both Alex I are once again pleased to be able to donate instruments and rare wine to help raise money for these urgent needs. I am particularly proud of my long association with Grapes for Humanity Canada and the good work we've been able to achieve together." - Geddy Lee
For all the details and registration information, visit Waddington's at this location.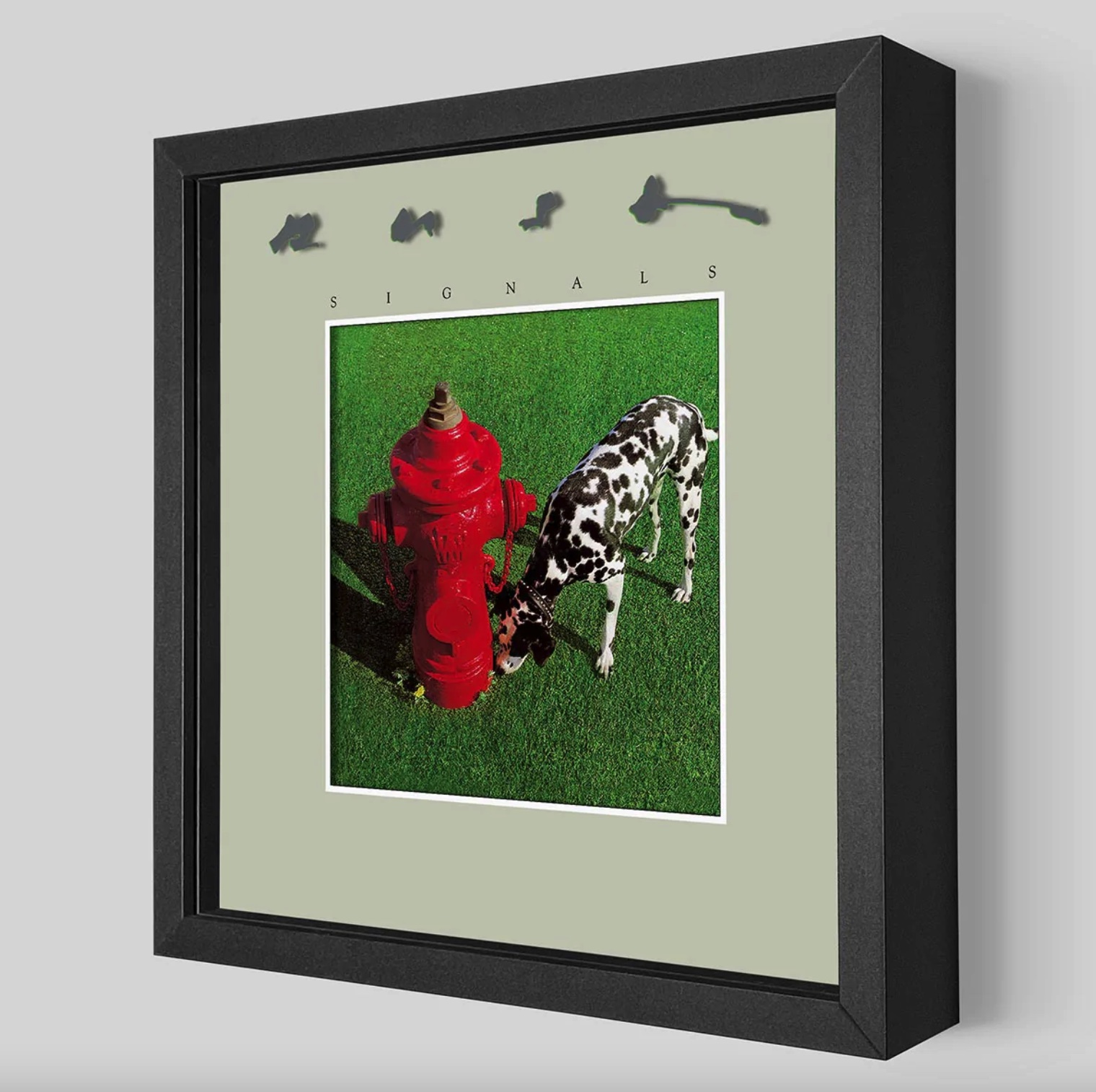 Artovision is a Wisconsin-based company that creates 3-dimensional collectable artwork inspired by popular culture, video games, food and Americana. In April of last year they released a set of officially-licensed pieces in celebration of the 40th anniversary of Rush's Moving Pictures album, and followed those up with a pair of pieces commemorating the 30th anniversary of Roll the Bones last October, and 2 more pieces celebrating Hold Your Fire's recent 35th anniversary earlier this year. Their latest offering is a pair of pieces celebrating the 40th anniversary of Signals, highlighted by a shadowbox art piece depicting the Signals album cover and measuring 14"x14"x2.5" as described here:
This collectible shadowbox art piece measures 14" x 14" x 2 1/2" and comes ready to hang with an official Rush Certificate of Authenticity (COA). Each piece is printed on 1/8" thick optical-grade acrylic with vibrant UV cured inks and set in a high quality finished MDF wood frame, our shadowbox art pieces are handcrafted in Eau Claire, Wisconsin. Officially Licensed by Rush - SRO/YYZ Under License to Merch Traffic
You can purchase the Signals shadowbox piece for $159 at this location. The second piece is a desktop art piece depicting the album cover printed on 3/4" thick optical-grade acrylic with vibrant UV cured inks and measureing 6"x6". You can purchase the desktop piece for $49 at this location. For more information on Artovision, and to see their complete line of officially-licensed Rush pieces, visit their website at artovision3d.com. You can also follow them on Facebook, Twitter and Instagram, and watch a YouTube video demonstrating the 3-D effect of their Shadowbox art here. On a related note, the Rush Backstage Club has just released a new line of Signals 40th anniversary merchandise which you can check out here.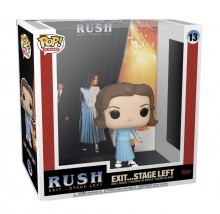 According to the Funko Pop Hunters Facebook page, Funko is releasing a Rush Exit ... Stage Left-themed Funko Pop! figurine, depicting the Permanent Waves cover model as shown on the Exit Stage ... Left album cover. The figurine is slated for release on October 29th, and you can check out a photo of it in the box here. Rush already has a line of Funko Pops! figurines depicting all 3 band members which you can purchase as a set online here.
The 33rd annual SOCAN Awards will take place in Toronto this coming Monday, October 17th, and will honor the outstanding achievements of Canada's top songwriters, composers and music publishers. The theme of this year's event is inspired by Tom Cochrane's iconic hit song Life is a Highway, and the ceremony will include a special performance of the song by Bill Bell, Dala, Davide Direnzo, Molly Johnson, Jeff Jones, Sam Roberts, Julian Taylor, and Rush's Alex Lifeson. Cochrane will also be presented with the SOCAN Cultural Impact Award. The show will also include live performances by Nonso Amadi, Alicia Creti, Drezus, High Valley, La Zarra, Lifehouse, Snotty Nose Rez Kids, a tribute to OZ by DJ TLO. For all the details, check out the press release here.
A Night for Neil: The Neil Peart Memorial Celebration concert and charity fundraiser will finally take place next Saturday, October 22nd at the Meridian Centre in Neil Peart's hometown of St. Catharines, Ontario. The event had originally been planned to take place in May of 2020, but was postponed several times since due to the uncertainty surrounding travel restrictions in Canada brought on by the Pandemic. For all the details and to purchase tickets, follow the event on social media (Facebook, Twitter, Instagram) and/or subscribe to the email list at this location.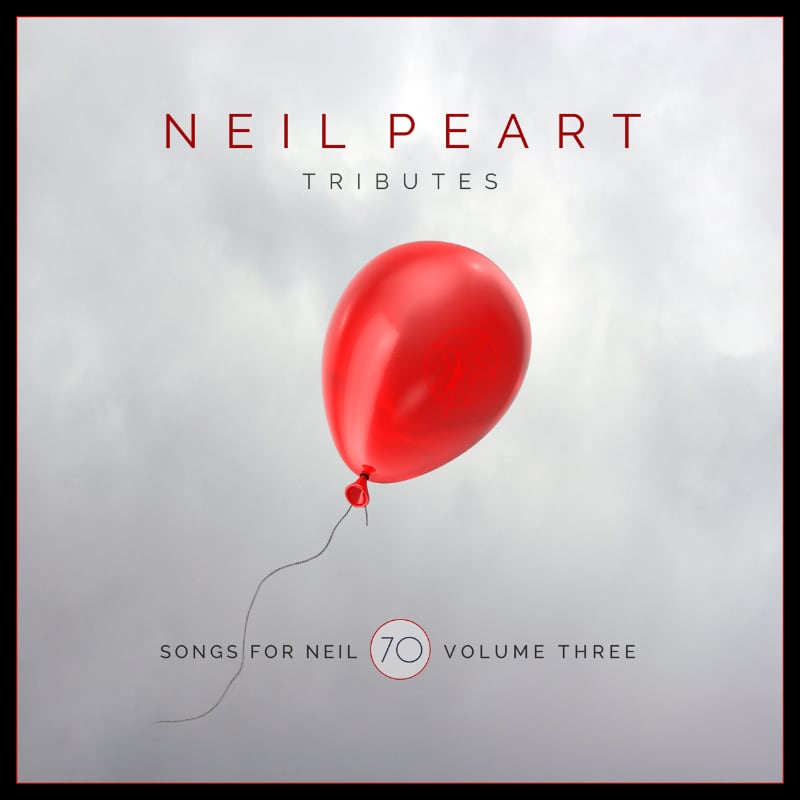 Neil Peart was taken from us back on January 7, 2020 after a long battle with glioblastoma, and this past Monday would have been his 70th birthday. For the past 2 years, on Neil's birthday, RUSHfest Scotland has sponsored the release of an album of Rush songs dedicated to the iconic drummer titled TRIBUTES - SONGS FOR NEIL, played by Rush tribute bands and musicians from around the world. Proceeds from sales of the albums were split equally between two charities - Glioblastoma Foundation Neil Peart Research Award in the USA and Cancer Support Scotland (registered charity SC012867). They continued the tradition this year with SONGS FOR NEIL VOL. 3, which released back on September 12th in celebration of Neil's 70th birthday, and features a unique cover design and gatefold from longtime Rush album artist Hugh Syme. The album includes 23 Rush songs covered by artists from around the world including - Clockwork Angels (Scotland), David Barrett (Canada), Leoni Jane Kennedy (England), Lotus Land (USA) and featuring special guest appearances by Terry Brown and Darren Redick (Planet Rock). As before, all profits from sales of this album will be going to Cancer Support Scotland in the UK and the Glioblastoma Foundation Neil Peart Research Award in the US. The album is available as a red vinyl double LP, CD, and digital formats. Prints of the album artwork are also available, along with copies of the Songs for Neil tributes from the past 2 years. Visit the RUSHfest Scotland website for all the details and to order your copy. Leoni Jane Kennedy's contribution to the album was a beautiful acoustic cover of Kid Gloves, and the British musician was this past week's guest on the Something for Nothing podcast. Leoni talks about the Kid Gloves cover, her love of Rush, being awarded the Freddie Mercury Scholarship, and seeing Geddy and Alex playing at the recent Taylor Hawkins memorial concert in London. You can listen to the episode below or wherever you get your podcasts:
Reader Joe A let me know that Marc Maron told a funny story about running into Stewart Copeland and Geddy Lee at the Toronto airport in the "preamble" to the October 3rd episode of his popular WTF with Marc Maron podcast, as detailed here:
... A woman came over and said something to [Copeland]. He got up and she walked him over to someone. A little-ish man with a bucket hat, mask and sunglasses on with a little man bun poking out of the back of the hat. He had a guitar case with him. They hugged and took selfies but I couldn't make out who the guy was.

While waiting to get on the plane at the gate I realized the guy in the hat was Geddy Lee of Rush. Now, I grew up with Rush. There was no way to avoid Rush in my teen years. I was not a Rush guy. I have said as much for years. Though after I watched the doc about them there was really no way for me to not, at the very least, respect them. True originals.

So, again. I was in an awkward position. I didn't want to say anything to him because it would be disingenuous. I didn't want to take a selfie because I don't really do that. So, I just looked at him when I got on the plane and watched two flight attendants try to strap his bass into a seat. Yes, it has its own seat. We were both in first, as was the bass.

He was directly in front of me walking off the plane so I took a pic of the back of his head. After thinking about it hard and wondering if it was intrusive and wrong I decided it was funny and I posted it on IG with a somewhat snarky paragraph about it. I did give Mr. Lee the praise and respect he deserved. He responded in the comments! I shared a story with him about the time I worked for a caterer that catered the Rush show in Albuquerque in the late seventies. Alex requested a fan for his dressing room so my boss sent me a half hour away to his house to get him a fan. I resented the whole band since.

Geddy responded again and thanked me for Alex. It was all very funny. ...
Here's the Instagram post that Maron refers to:
Ultimate-guitar.com posted their list of 20 Backing Musicians From Famous Bands and Artists That Never Get Enough Attention last Friday and Rush's Alex Lifeson made the cut at #14.
Rolling Stone posted their list of The 50 Greatest Concept Albums of All Time earlier this week, and Rush's 2112 was included in the top 10 at #7:
The Concept: In a dystopian, collectivist future, a guy finds a guitar and begins to dream of a better world - but when he brings it to his society's rulers, they reject it.

The Execution: Technically, 2112 is only half a concept album - the first side is a seamless song suite, but the six songs on the second side are unrelated. But it wins its spot on this list for the sheer power and influence of that first side, where Geddy Lee, Alex Lifeson, and Neil Peart perfect their band's initial innovation - fusing the prog of Yes and Genesis with heavy metal. The furious instrumental interplay of the song's overture alone expresses the concept better than words ever could - as the bass, guitar, and drums alternately interlock and gallop past one another, Rush embodies everyone yearning for freedom, from the suburban kids listening at home to the band's own futuristic protagonist. It's all so undeniably powerful that everyone - including, eventually, Peart himself - can agree to ignore the story's Ayn Randian roots. -B.H.
American Songwriter posted a story this past week on The Meaning Behind the Band Name: Rush, where they explore the origins of Rush's moniker:
... Formed in the Willowdale neighborhood of Toronto, Ontario, in August of 1968, the band was born out of another, The Projection (formerly known as The Lost Cause), which Lifeson and Rutsey were a part of together. After that group broke up, the two stuck together and brought in Jones to form a new band. This group's first gig was in September of that year at the Coff-Inn, a youth center in the basement of St. Theodore of Canterbury Anglican Church in North York. At the time of that booking, the band had not named themselves. But it was Rutsey's brother Bill who helped, saying the group needed a name that was short and to the point. Impactful. He suggested Rush and the band, well, went with it. Similarly, the band's lead singer enjoyed a name change. When Jones, the original singer, decided to attend a party hours before the band's second gig, Lifeson recruited his school friend Gary "Geddy" Weinrib to step in on lead vocals and bass. Jones did not return, so Gary became the frontman, taking the name "Geddy Lee." ...
WhatCulture.com posted their list of 10 Perfect Rock Songs Written At The Last Second this past week and Rush's YYZ was included at #10:
... When the band would come back home to Toronto Airport while on tour, the rhythm of the Morse Code ended up sticking with Neil Peart, who started jamming on that rhythm one day while Geddy Lee was still warming up his fingers on bass. Originally starting off as just a simple drum and bass jam session, the riffs on here were too good to just spend on noodling, with Alex Lifeson doubling Geddy's lines throughout the song and putting in different extensions as well, like his Eastern inspired guitar solo and reggae scratches happening throughout the breakdown. For all of the hooks that they cram into one song, there's no real way to call this a pop hit by any stretch. A lot of songs have to spend years to find just the right mix, but this kind of jamming among friends is about as pure as you can get in the world of rock.
Alex Lifeson's Envy of None project with Andy Curran, guitarist Alfio Annibalini and vocalist Maiah Wynne released their self-titled, debut album back in April, and it's currently available for purchase and streaming worldwide via several different online retailers and services, including Amazon and the official Envy of None merch store. The band has no touring plans as of right now, but vocalist Maiah Wynne is currently on tour with her solo act and is performing a few Envy of None tracks as part of her set. On one of her recent tour stops in northeast Ohio, she sat down with Asif Khan (aka @SpyConvention) for a half-hour interview to chat about her musical background, how Envy of None came about, and more. You can watch that interview below or on YouTube at this location, and keep up with Maiah by following her via her website, on Facebook, Twitter and Instagram. You can also check out where Maiah will be playing next by following her tour schedule on her website.
That's all for this week. Have a great weekend!!