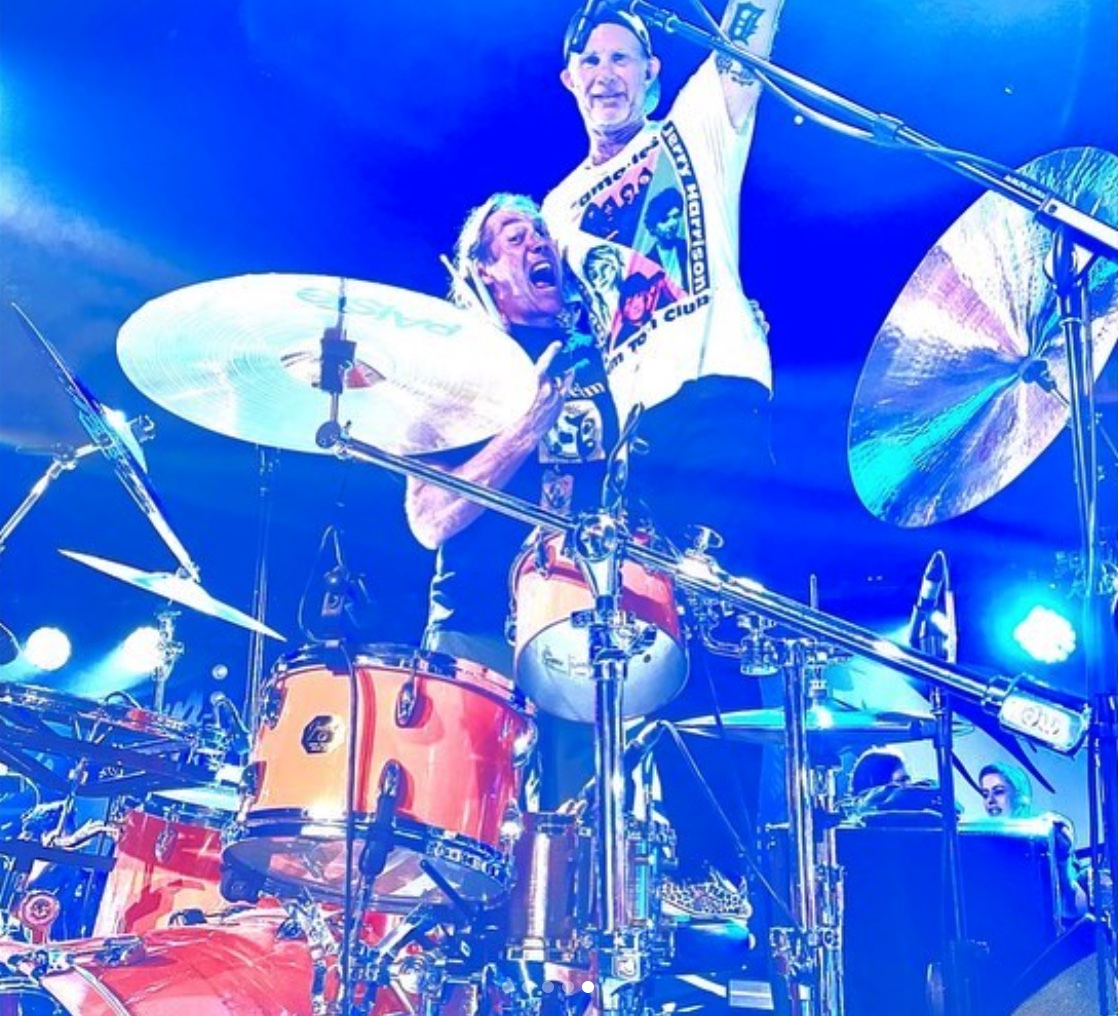 Last Tuesday evening The Foo Fighters hosted the second of two tribute concerts for their late drummer Taylor Hawkins; the first having taken place at Wembley Stadium in London back on September 3rd. This second concert was held at the Kia Forum in Los Angeles, and served as the US-based counterpart to the epic, 6-hour London-based event. That London concert included reunions of the James Gang, The Pretenders, and Them Crooked Vultures, along with performances from members of Van Halen, AC/DC, Queen, Oasis, The Police and - most importantly for Rush fans - Rush's Geddy Lee and Alex Lifeson. Geddy and Alex made a return appearance for the LA concert, performing the same 3 songs they performed in London, albeit with a couple of different drummers. Dirk and Lerxst took the stage towards the end of the show after an introduction from Jack Black, and then performed 2112: Overture with Dave Grohl on drums just as they did at the London show, but for Working Man they swapped in drummer Chad Smith of the Red Hot Chili Peppers, then finished off with YYZ with Tool's Danny Carey behind the kit. Both Geddy and Alex took to Instagram this morning to post some photos and personal reflections on the show. Geddy posted a total 6 photos along with the following message:
For my bestie Lerxst and I, it was a genuine privilege to be two among the many fine musicians gathered together once again to honour the memory of Taylor Hawkins. Another display of love and talent coming from an incredibly diverse array of performers. On this night in LA at the Forum, after sharing his heartfelt memories of Taylor, the inimitable Jack Black launched into a rousing introduction to our set. Which, over the course of these two shows allowed us the good fortune to play with four absolutely spectacular drummers. "Super" Dave Grohl, Omar Hakim, Chad Smith and Danny Carey.... All I can say is effin wow! Thank you all for sharing your talent and genuine wonderfulness. Rest In Peace Hawk. I know that both you and our own lost brother would have dug the hell out of it.
Alex also posted a few photos, with a much shorter/goofier statement (as to be expected) briefly commenting on each of the 4 photos:
1. Here's me playing the right notes...mostly
2 & 3. I'd smile like Danny, too if I had those guns.
4. I told Ged, 'put the Krazy Glue down'!
Unfortunately the show was not streamed live like the Wembley show, but was instead filmed for a later release. Despite that, several fan-shot videos of Rush's performance have popped up over the past few days with this one being one of the better ones. Rush also shared a 1.5-minute pro-shot clip of their performance of Working Man to social media:
The concert also featured Joan Jett, Chevy Metal and the Coattail Riders, The James Gang, Them Crooked Vultures, Wolfgang Van Halen, Def Leppard with Miley Cyrus, Motley Crue's Niki Sixx and Tommy Lee, The Cars' Elliot Easton with Josh Homme, Nancy Wilson and Pink, The Police's Stewart Copeland, Alanis Morissette, Black Sabbath's Geezer Butler with Lars Ulrich and Sebastian Bach (who sported a Rush tanktop), Soundgarden's Matt Cameron and Kim Thayil with Krist Novoselic and Taylor Momsen, Queen, and - of course - The Foo Fighters. Check out this post for more coverage of the event, including photos, videos and more.