UPDATE - 10/5@2:30PM: Geddy posted an Instagram photo of himself and Alex performing with Danny Carey along with the following statement:
For my bestie Lerxst and I, it was a genuine privilege to be two among the many fine musicians gathered together once again to honour the memory of Taylor Hawkins. Another display of love and talent coming from an incredibly diverse array of performers. On this night in LA at the Forum, after sharing his heartfelt memories of Taylor, the inimitable Jack Black launched into a rousing introduction to our set. Which, over the course of these two shows allowed us the good fortune to play with four absolutely spectacular drummers. "Super" Dave Grohl, Omar Hakim, Chad Smith and Danny Carey.... All I can say is effin wow! Thank you all for sharing your talent and genuine wonderfulness. Rest In Peace Hawk. I know that both you and our own lost brother would have dug the hell out of it.
Alex also posted a few photos, with a much shorter/goofier statement (as to be expected) briefly commenting on each of the 4 photos:
1. Here's me playing the right notes...mostly
2 & 3. I'd smile like Danny, too if I had those guns.
4. I told Ged, 'put the Krazy Glue down'!
----- snip -----
UPDATE - 10/2@12:05PM: Rush has shared a 1.5-minute pro-shot clip of their performance of Working Man to social media:
----- snip -----
UPDATE - 9/30@10:41AM: Here's a short video of Sebastian Bach in his Rush t-shirt while performing some Black Sabbath with Geezer Butler and Lars Ulrich:
Nice shirt @sebastianbach!! https://t.co/XjunjGYhsD

- Rush is a Band (@rushisaband) September 30, 2022
----- snip -----
UPDATE - 9/30@10:38AM: Drummer Chad Smith apparently suffered a minor leg injury after performing with Rush and jokingly posted this photo of Alex inspecting the wound after the concert:
This is what happens when you play with Rush pic.twitter.com/bLfXs1w8qu

- Chad Smith (@RHCPchad) September 28, 2022
----- snip -----
UPDATE - 9/29@12:22PM: Here's another nice video of the entire Rush set, making good use of the jumbotron monitors:
----- snip -----
UPDATE - 9/28@10:52PM: Here's a nice, multi-angle video of Geddy, Alex and Danny Carey performing YYZ:
----- snip -----
UPDATE - 9/28@9:53AM: Here's a report from Prog magazine detailing Jack Black's intro:
... [Rush] were introduced by comedian/actor/musician Jack Black, who told stories of his two encounters with Taylor Hawkins, both at The Forum.

The first was at Dave Grohl's star-studded birthday show in 2015, where the Foos men were joined onstage by the likes of Lemmy, David Lee Roth, Alice Cooper, Slash and others. The second occasion was at Rush's final show, where Hawkins wasn't onstage.

"He wasn't blowing minds," says Black. "He was in the audience, just like you. And he was watching one of the best fucking shows of all time. You know what I'm talking about? They're about to come out right now. It is my honour to introduce one of Taylor's favourite bands, of all time. Ladies and gentlemen, give it up... for Rush!" ...
----- snip -----
UPDATE - 9/28@7:53AM: Not many surprises with Rush's 3-song set - it was the same as in London with the only differences being that the introduction was from Jack Black rather than Dave Grohl, Chad Smith played drums on Working Man, and Tool's Danny Carey played on YYZ. Here's some fan-shot video (thanks Thomas P):
----- snip -----
UPDATE - 9/27@7:51PM: The Foos launched a website at taylorhawkinstributeconcert.com ahead of tonight's show that lists all the performers along with quotes about Taylor. Here are Geddy and Alex's quotes:
"I shall never forget Taylor's super-charged excitement on that day in 2013 when both he and Dave inducted Rush into the Rock and Roll Hall of Fame. There was such unbridled JOY coursing through his veins coupled with that megawatt grin...I thought he was going to jump right out of his shoes! That was the Taylor I knew. First and foremost, a deeply passionate music lover to his very core. Despite his own obvious monster talents and tremendous success, he never lost that youthful enthusiasm - and I loved and admired him all the more for it." - Geddy Lee

"I first met Taylor at Nick Raskulinez's home in Los Angeles in early 2007. We were all invited to watch the Super Bowl and celebrate Nick's birthday. As is often the case with casual encounters, they can be fleeting but Taylor had that special ability to make you feel like an old friend. He had such an easy smile and his eyes truly sparkled when he spoke about his love of being a musician and the joy of performance. Over the years, our paths would cross and each time it was like connecting with an old, dear friend; the warmth, the smile and the generosity of spirit that marked the man he was. It was my privilege to be his friend." - Alex Lifeson
----- snip -----
UPDATE - 9/27@4:00PM: IMPORTANT: Despite a number of news outlets reporting that the event will be streamed live just like the Wembley show, I have learned straight from Rush management that this IS NOT THE CASE. The show WILL NOT be streamed live, but will instead be filmed for a later release. Sorry to be the bearer of bad news. I've updated the post below to reflect this new information.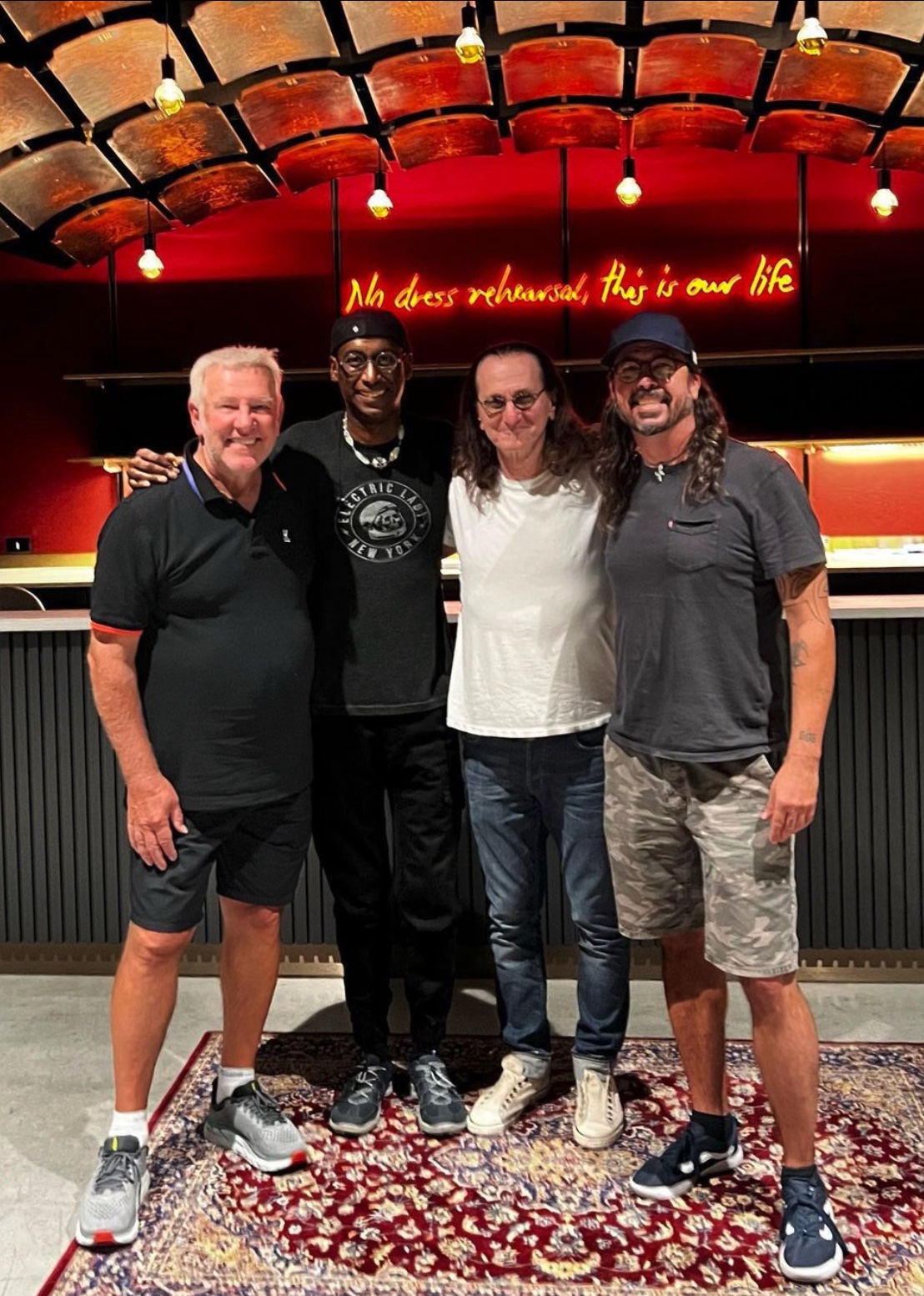 The Foo Fighters will be hosting a second tribute concert for their late drummer Taylor Hawkins this evening at the Kia Forum in Los Angeles with doors opening just a few hours from now and a showtime of 7PM PST. They will have quite the challenge in attempting to top the epic, 6-hour London-based event that took place earlier this month at Wembley Stadium. That concert included reunions of the James Gang, The Pretenders, and Them Crooked Vultures, along with performances from members of Van Halen, AC/DC, Queen, Oasis, The Police and - most importantly for Rush fans - Rush's Geddy Lee and Alex Lifeson. Alex and Geddy took the stage about half-way into the show, and played 2112: Overture and Working Man with Dave Grohl on drums, then finished off with YYZ with Omar Hakim on the sticks. Unfortunately the show WILL NOT be streamed live, like the Wembley show. Instead it will be filmed for a later release. Both Geddy Lee and Alex Lifeson will be reprising their appearance from the London show tonight, along with Queen's Brian May and Roger Taylor, the reunited James Gang, Josh Homme, John Paul Jones, Stewart Copeland, Travis Barker, Chris Chaney, Chevy Metal, Josh Freese, Omar Hakim, Shane Hawkins, Greg Kurstin, Mark Ronson, Luke Spiller, Rufus Taylor, Lars Ulrich and Wolfgang Van Halen. There will also be many new faces added to the mix, such as Sebastian Bach, Geezer Butler, Miley Cyrus, Danny Carey, Joe Elliott, Joan Jett, Alanis Morrisette, Pink, Leann Rimes, Gene Simmons, Nikki Sixx, Chad Smith, Brad Wilk, Nancy Wilson and many others. Geddy and Alex were spotted rehearsing for the event with Dave Grohl and drummer Omar Hakim at 80A Studios in Toronto last week, which makes it seem likely that they'll be repeating their 3-song set from the London show, but there's always a chance they'll change things up. It also looks like longtime Rush lighting director Howard Ungerleider is helping out with the event; he posted an Instagram photo of himself with Ged and Al backstage at the Forum yesterday - presumably from the dress rehearsal - as seen here.