UPDATE - 9/13@9:14AM: Geddy and Alex both posted about the concert to their Instagram yesterday, with Geddy saying the following:
What a week it was in London. An incredible gathering of diverse and brilliant musicians from so many branches of the tree of rock and roll. Bonded by a single goal, to honour Taylor Hawkins. Led by the immeasurable talents and generous soul of "Super" Dave Grohl, who wrapped us all in the welcoming warmth of the Foo's and Hawkins' family, despite the obvious pain that they are understandably still enduring.

And for Alex and myself, it was also an important moment to reflect on the loss of our own brother Neil.

Truly an experience I shall never forget.

Looking forward to the LA tribute on Sept 27.
And Alex had this to say:
The London tribute to Taylor Hawkins was such a beautiful celebration of the power of music. Performing onstage with Dave Grohl, Omar Hakim, Greg Kurstin and especially my brother, Geddy, lightened the burden of our losses. Facing off with Dave on the opening note and knowing how much he loved Neil as well as Taylor was such a joy for us both, as you can see. Looking forward to the LA tribute show on Sept 27.
----- snip -----
UPDATE - 9/9@9:47AM: The original Internet Archive video of the entire concert was removed, but another one (better quality) is now available here:
----- snip -----
UPDATE - 9/6@9:40AM: Here's a CBS video news story about the concert, where they interview Ged/Al backstage starting at about the 2:55 mark (thanks Alex M).
----- snip -----
UPDATE - 9/5@12:42PM: The Internet Archive has the entire concert available here (link was removed).
UPDATE - 9/4@10:17AM: Alex posted a photo of himself and Ged backstage warming up before the show:
----- snip -----
UPDATE - 9/3@10:18PM: Huge photo gallery of Geddy and Alex's performance from the show over at Cygnus-X1.net.
UPDATE - 9/3@10:11PM: The live stream video has been removed from YouTube. Hopefully they'll be releasing clips over the next several days, and make the entire show available eventually.
UPDATE - 9/3@3:24PM: Geddy and Alex came out a little after 3PM EST and played 2112: Overture and Working Man (Ged's voice sounded great) with Dave Grohl on drums, then finished off with YYZ with Omar Hakim on drums as a tribute to their 2008 performance in Toronto with Taylor Hawkins (including a nice little nod to the Professor before the song).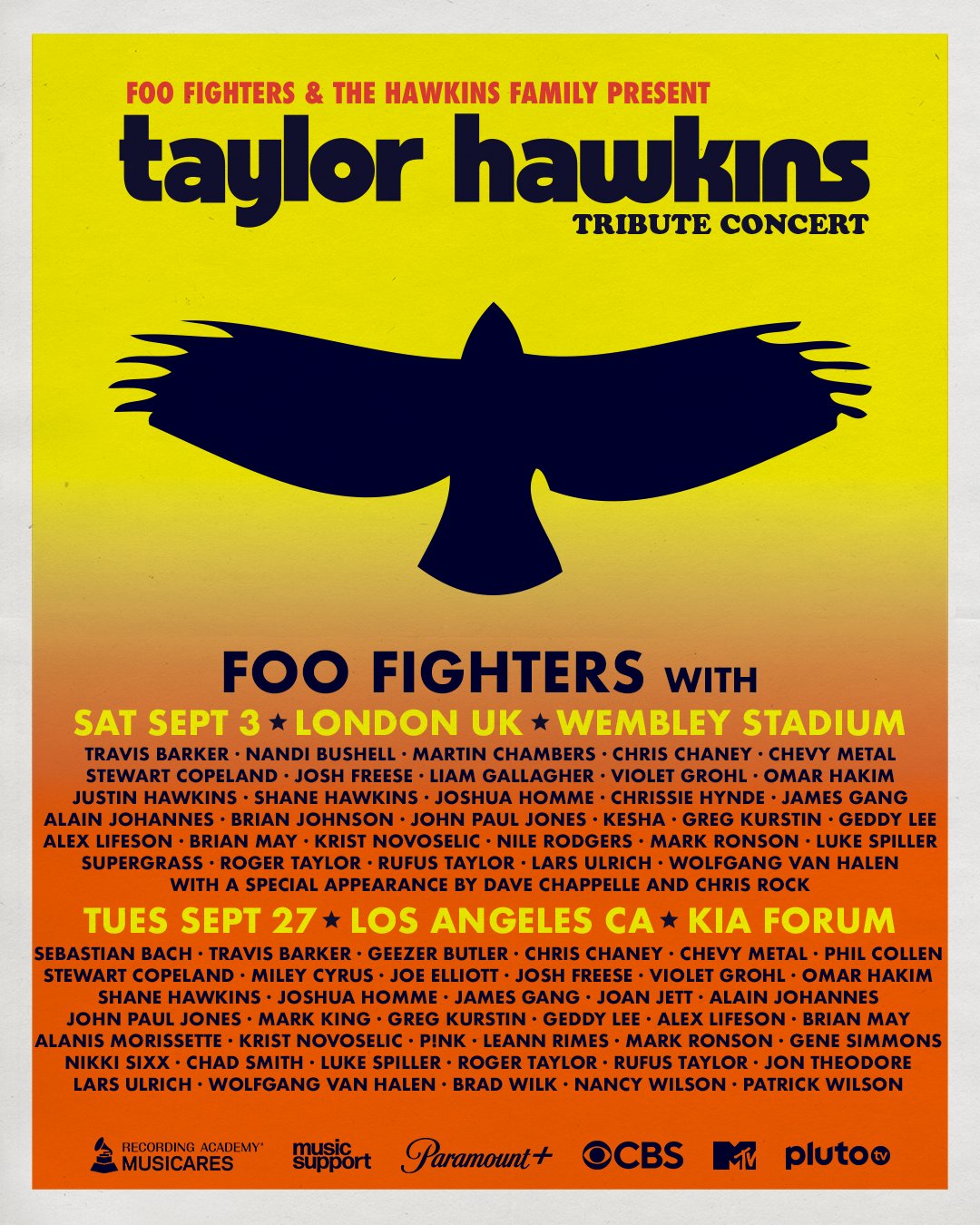 Rush's Geddy Lee and Alex Lifeson will be one of the many members of rock royalty to perform at today's Taylor Hawkins Tribute Concert in London at Wembley Stadium beginning just minutes from now at 11:30AM EST (5:30PM CEST). Today's show will be available for streaming worldwide on Paramount+ (US only), MTV YouTube channels (Globally), and Pluto TV internationally, with the YouTube link already live at this location. There will also be a 1-hour TV special edit of the show airing on CBS in the US at 9PM EST this evening, along with a 2-hour TV edit airing later in September on MTV globally. Also appearing at today's concert will be Travis Barker, Nandi Bushnell, Omar Hakim, Stewart Copeland, Liam Gallagher, Justin Hawkins, Chrissie Hynde, Brian Johnson, John Paul Jones, Krist Novoselic, Brian May, Lars Ulrich, Josh Homme, Dave Chappelle, Chris Rock and many others. For the complete guest lineup and all the details, visit foofighters.com, and watch it LIVE below or at this link. There will also be a second concert taking place in Los Angeles at the Kia Forum on September 27th.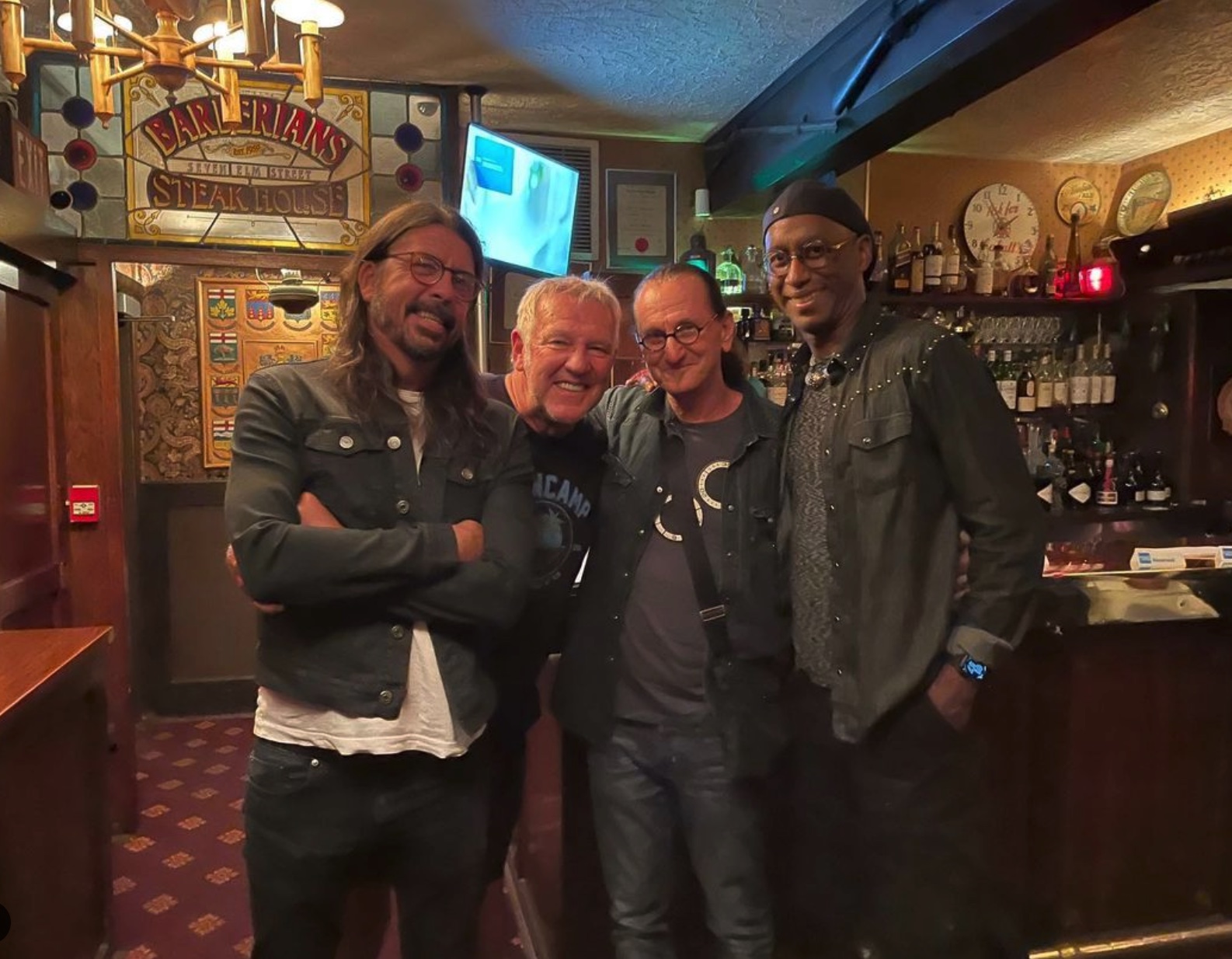 Geddy and Alex have been quietly preparing for the tribute shows over the summer, and the duo made a surprise appearance at the South Park 25th anniversary concert in Colorado last month, playing Closer to the Heart with Primus and South Park co-creator Matt Stone on drums; the first time the pair had played Rush music together on stage in over 7 years. Alex spoke about that appearance and the Taylor Hawkins tribute shows in a couple of recent interviews, saying the following in his BBC interview with Craig Charles:
... We're gonna play in London at the Taylor Hawkins tribute on September 3rd. So we're looking forward to that. Then we're gonna reprise that at the end of September in Los Angeles. So we're joking [about this] being our new tour. It started with the South Park thing - that was the first leg. The second leg is in a month from now, so we have 3 weeks off to rest after this last difficult gig of doing one song. So we're having fun with it. It's in our blood, but I don't know where it goes from here. ...
Last week, Geddy and Alex were spotted at Barberian's Steakhouse in Toronto with Dave Grohl and well-renowned drummer Omar Hakim, who posted this photo to Instagram with the following caption:
Getting ready for the first Taylor Hawkins Tribute Show in London! So FUN for Dave and I to rehearse with Geddy and Alex of RUSH!!
What were they rehearsing? We'll find out soon enough!