UPDATE - 10/2@12:06PM: Rush has shared a 1.5-minute pro-shot clip of their performance of Working Man from Tuesday's show to social media:
----- snip -----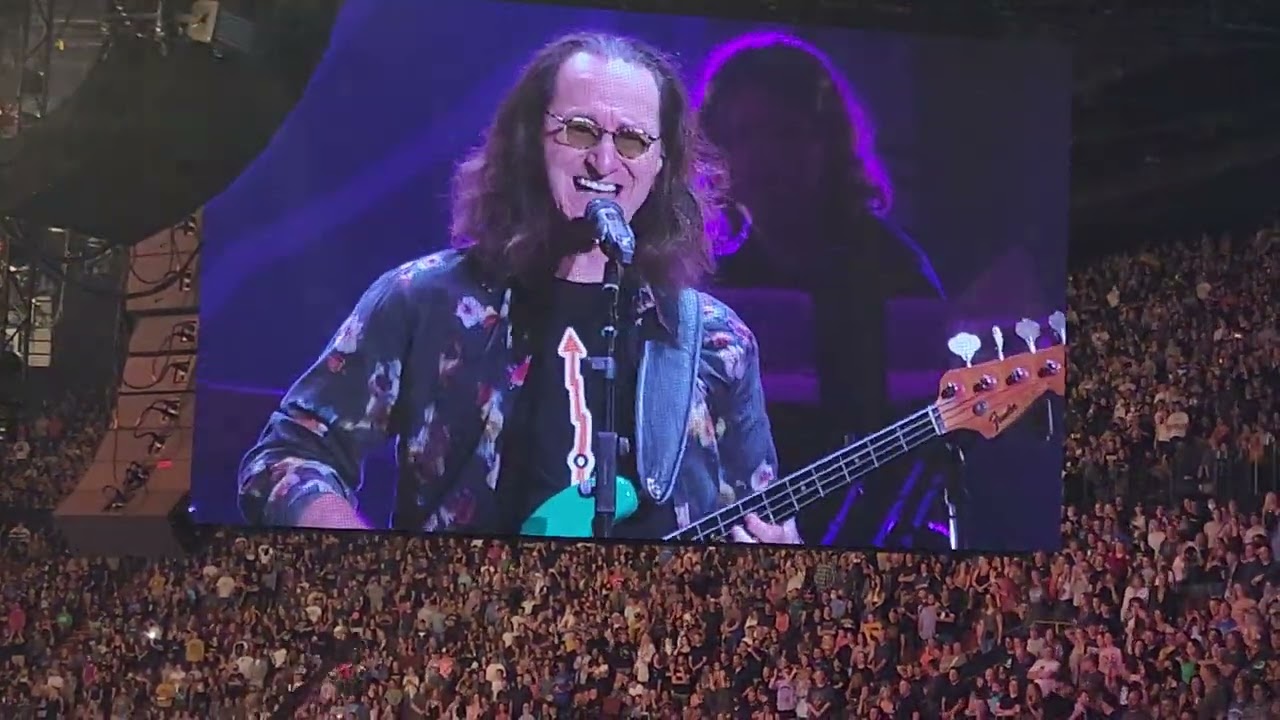 This past Tuesday evening The Foo Fighters hosted the second of two tribute concerts for their late drummer Taylor Hawkins; the first having taken place at Wembley Stadium in London back on September 3rd. This second concert was held at the Kia Forum in Los Angeles, and served as the US-based counterpart to the epic, 6-hour London-based event. That London concert included reunions of the James Gang, The Pretenders, and Them Crooked Vultures, along with performances from members of Van Halen, AC/DC, Queen, Oasis, The Police and - most importantly for Rush fans - Rush's Geddy Lee and Alex Lifeson. Geddy and Alex made a return appearance for the LA concert, performing the same 3 songs they performed in London, albeit with a couple of different drummers. Dirk and Lerxst took the stage towards the end of the show, after an introduction from Jack Black as reported by Prog magazine and seen in this video:
... [Rush] were introduced by comedian/actor/musician Jack Black, who told stories of his two encounters with Taylor Hawkins, both at The Forum.

The first was at Dave Grohl's star-studded birthday show in 2015, where the Foos men were joined onstage by the likes of Lemmy, David Lee Roth, Alice Cooper, Slash and others. The second occasion was at Rush's final show, where Hawkins wasn't onstage.

"He wasn't blowing minds," says Black. "He was in the audience, just like you. And he was watching one of the best fucking shows of all time. You know what I'm talking about? They're about to come out right now. It is my honour to introduce one of Taylor's favourite bands, of all time. Ladies and gentlemen, give it up... for Rush!" ...
They then performed 2112: Overture with Dave Grohl on drums just as they did at the London show, but for Working Man they swapped in drummer Chad Smith of the Red Hot Chili Peppers, then finished off with YYZ with Tool's Danny Carey behind the kit. Unfortunately the show was not streamed live like the Wembley show, but was instead filmed for a later release. Despite that, several fan-shot videos of Rush's performance have popped up over the past few days with this one being one of the better ones. The concert also featured Joan Jett, Chevy Metal and the Coattail Riders, The James Gang, Them Crooked Vultures, Wolfgang Van Halen, Def Leppard with Miley Cyrus, Motley Crue's Niki Sixx and Tommy Lee, The Cars' Elliot Easton with Josh Homme, Nancy Wilson and Pink, The Police's Stewart Copeland, Alanis Morissette, Black Sabbath's Geezer Butler with Lars Ulrich and Sebastian Bach (who sported a Rush tanktop), Soundgarden's Matt Cameron and Kim Thayil with Krist Novoselic and Taylor Momsen, Queen, and - of course - The Foo Fighters. Check out this post for more coverage of the event, including photos, videos and more.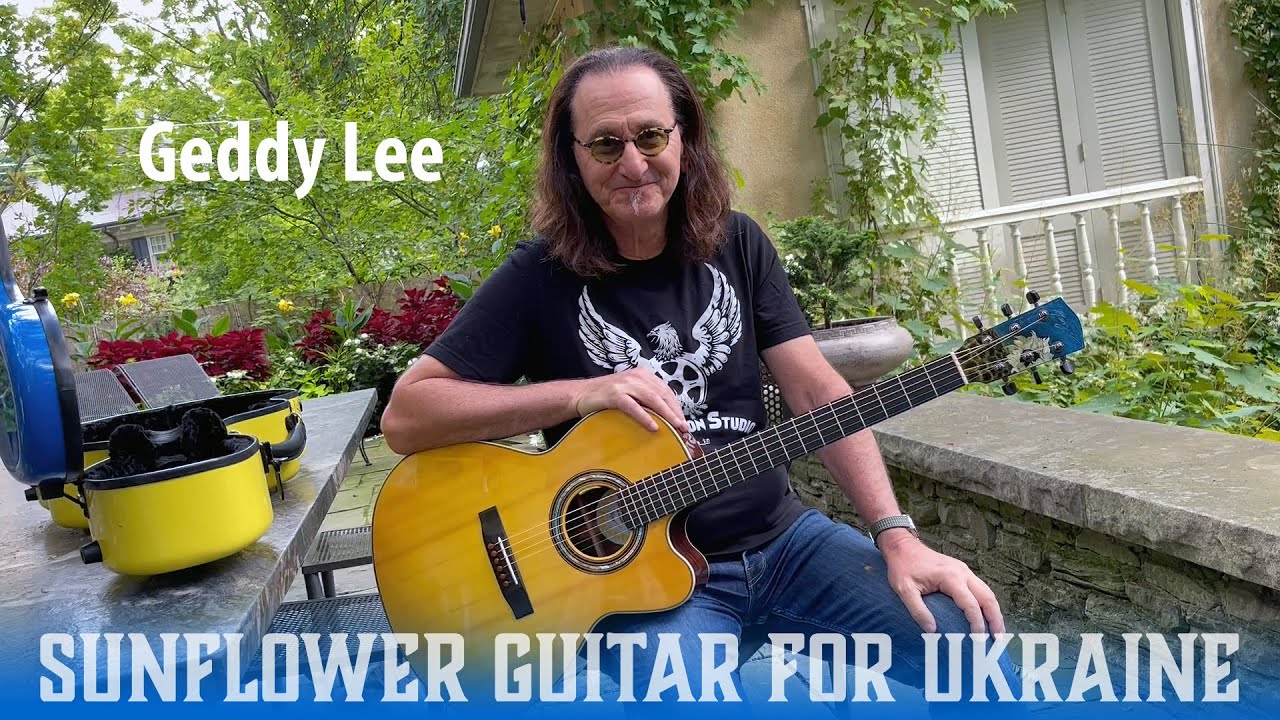 Guitar maker Linda Manzer created the Sunflower Guitar to give to the people of Ukraine, and to inspire people to donate vital humanitarian aid to the beleaguered nation. On its journey to Ukraine, the guitar is passing through the hands of many wonderful people who support the cause, including Rush's Geddy Lee, who offered his message of support via this video.
Hi there. I'm Geddy Lee playing this incredible instrument made by Linda Manzer in honor and in support of Ukraine and the terrible fight that they are enduring. So I stand with Ukraine and with Linda, and with all those great musicians who have held this beautiful instrument in their own hands. And I ask you too to donate and help. Let's fight the good fight. Thank you.
You can learn more about the Sunflower Guitar Project and make a donation yourself at sunflowerguitar.com.
A Night for Neil: The Neil Peart Memorial Celebration concert and charity fundraiser will finally take place next month on Saturday, October 22nd at the Meridian Centre in Neil Peart's hometown of St. Catharines, Ontario. The event had originally been planned to take place in May of 2020, but was postponed several times since due to the uncertainty surrounding travel restrictions in Canada brought on by the Pandemic. For all the details and to purchase tickets, follow the event on social media (Facebook, Twitter, Instagram) and/or subscribe to the email list at this location. Overtime Angels' Lance Kasten (and longtime RIAB reader) was this past week's featured guest on the Something for Nothing podcast and spoke at length about the concert and what fans can expect. You can listen to the interview below or wherever you get your podcasts:
A new book on Rush's seminal Moving Pictures album is slated for release early next year. Author Will Romano's 300-page Moving Pictures: How Rush Created Progressive Hard Rock's Greatest Record will release via Backbeat publishing on January 2, 2023 and can now be pre-ordered at this location. Thanks to John at Cygnus-X1.net for the heads up.
Speaking of Moving Pictures, The Daily Trojan posted an article this past week where they highlight a few classic rock albums and pair them with some recent modern favorites. One of the albums featured is Moving Pictures, which they compare with The Slow Rush by Tame Impala:
Kevin Parker of Tame Impala is one of the most interesting acts in music today. His precision and complete dedication to his music makes each and every album an entrancing listening experience from beginning to end. His latest effort, "The Slow Rush," is no different. Songs such as "One More Hour" give listeners a fantastic seven-minute run full of drops and crescendos that feel like they belong in the final scene of the best movie you've ever seen rather than closing an album.

The clarity and thoughtfulness of Parker's work feels reminiscent of one of the most precise bands of all time, Rush. Their 1976 stunner "2112" begins with the 20-minute-long song of the same name that moves with such intense vision through a winding, undulating story that leaves the listener breathless by the end.

The other tracks are filled with similar passion for precision and reflection, such as "Lessons" which recalls the contemplative tone of "On Track." Both Rush and Tame Impala have captured the ups and downs of life and great music, and it's so interesting to see how genre and time can interplay to have both bands achieve such massive success from their dedication to the craft.
Loudwire posted their list of 10 Prog Rock Bands That Went Pop this past week and Rush was included:
Rush also couldn't resist pop. As longtime Rush fans are aware, 1980's Permanent Waves finds the combo exploring new wave and reggae; the album spawning a knowing hit with "The Spirit of Radio." They followed it the next year with the congenial Moving Pictures - it opens with Rush's most enduring popular song, "Tom Sawyer."
Adventure travel blog The Planet D recently posted an article outlining the 13 Best Adventure Travel Books to Inspire Wanderlust and Neil Peart's Ghost Rider: Travels on the Healing Road made the cut at #5:
Neil Peart had a devastating 10-month period where he lost both his wife and his daughter. Overcome with sadness and grief, he isolated himself from the rest of the world in his home by a lake.Feeling lost and without direction, he decided to embark on an epic motorcycle journey across North America, Mexico, and Belize, covering a distance of 55,000 miles. This inspiring book follows Neil as he recounts his journey, he describes not only the memorable landscapes but the people who helped him back on the right emotional path. This is a personal odyssey of one man's quest for self-discovery and healing. It reminds us that adventure is not just a way to explore off-the-beaten-path locations, but to find communities that teach us something, whether that's how to deal with grief or learn a new meaning to life.
Epiphone posted a video this past week demonstrating their Alex Lifeson Signature Les Paul Axcess Standard guitar (thanks RushFanForever).
Classic Rock History posted an article earlier this week on Bands And Artists That Released Six Great Albums In A Row and Rush's 6-album period from Caress of Steel up through Moving Pictures is included.
Rolling Stone magazine posted their list of the 100 Best Songs of 1982 this past week and Rush's Subdivisions made the cut at #84 (thanks RushFanForever):
A key part of the Rush legend: when Geddy Lee, Alex Lifeson, and Neal Peart hit the big time with Moving Pictures, they took it as a license to experiment. With "Subdivisions" and the rest of Signals, Geddy Lee heavily into synthesizers, a divisive move for sure. (As you can see in the great doc Beyond The Lighted Stage, fans LOVE to argue over this phase.) "Subdivisions" was the first keyboard-based song the Canadian trio wrote. But even with all this machinery making their modern music, it still felt open-hearted. Rush condemn suburban monotony, with the warning, "Conform or be cast out"-the same dilemma as 2112, for a new kind of Megadon.
That's all for this week. Have a great weekend!!