UPDATE - 5/20@1:13PM: The Alex Lifeson portion of the auction has completed, and ended up raising over $3 million (thanks ChapelHeel66)! As expected, the biggest ticket item was Whitey, which sold for $384K (including the auction house's 25% fee and 3% processing fee, so actually $300K). You can check out all the items and their winning bids at the Julien's website here.
UPDATE - 5/20@11:56AM: Several of Alex's guitars have already been sold at auction. Follow @JuliensAuctions on Twitter for all the latest updates.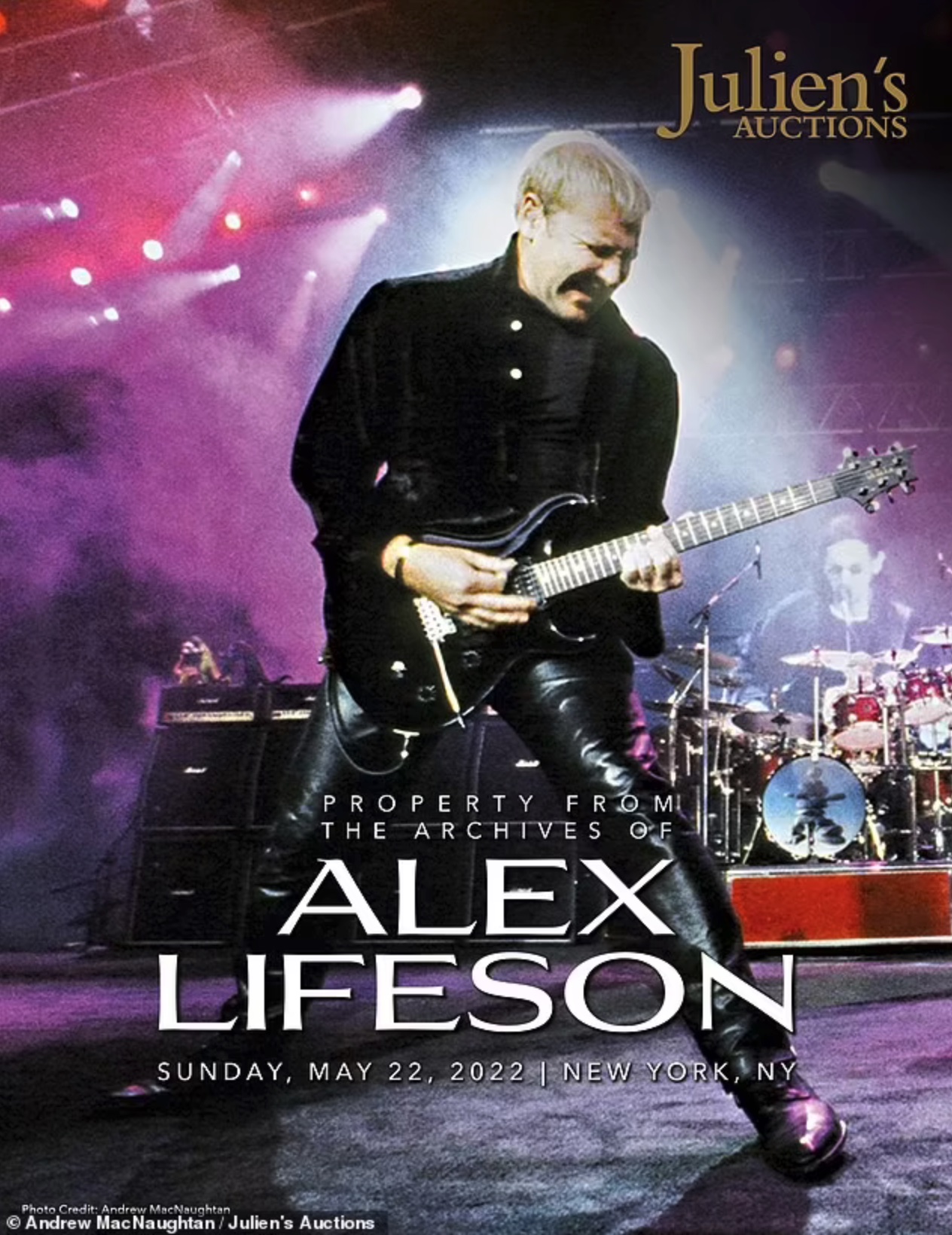 This weekend may prove to be a very emotional one for Alex Lifeson and his fans, as Lerxst will be auctioning off a large portion of his legendary guitar collection via Julien's. Property From the Archives of Alex Lifeson features over 60 vintage guitars and other career memorabilia, and is the centerpiece of Julien's Music Icons event taking place live from New York City's Hard Rock Cafe and online at JuliensAuctions.com this weekend. Here's what Alex had to say about why he decided to part with his collection in an interview with Guitar magazine's Darran Charles:
... my wife and I, we're at a stage in our life where we just feel like we have too much stuff and we're trying to get a little leaner. I'm auctioning off the bulk of my guitar collection for charity. I'm looking forward to that. It was probably one of the most difficult things I've ever done in my life; it was so emotionally difficult packing those guitars up. I cleaned them, polished them, did string changes. I made sure every single one was in tune when it went back in the case, and then I kissed it goodbye. ... [the 1976 Gibson ES-355] was the last one that was left. I was sitting in our mudroom, just off our garage, while the removal truck was waiting. I sat there with that case in between my legs and, maybe it sounds a little corny, but I was talking to it. I was reminiscing about gigs that we did together and kissing the bubble wrap. But I know that, with the funds I'm hoping to raise, it gives it all another life and helps other people, and in some cases gives people another chance at life. Why wouldn't you do that? ...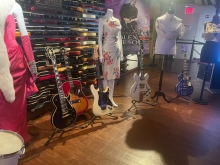 A few weeks ago Julien's posted several videos to their Vimeo channel which offer up a 3-D look at the guitars along with voice-overs of Alex Lifeson giving some background on each one, including his aforementioned, legendary 1976 custom-built Gibson ES-355TD, better known as Whitey. You can watch that video along with several others of Alex discussing the guitars on the Julien's Vimeo channel here (you'll have to scroll down on the page to find Alex's guitar videos). The auction will also include concert and tour ephemera, passes, and photographs as well as original lyric sheets. You can get all the details and learn how you can be a part of the auction via the Julien's website here. Additional photos can also be seen in this Daily Mail article, and via Julien's social media accounts on Twitter/IG. In the latest edition of the Something for Nothing podcast, hosts Steve and Gerry welcomed in Morgan Woolsey, the specialist at Julien's Auctions who researched and catalogued the items for the Alex Lifeson auction. Morgan talks about the months of research that went into writing the catalog descriptions and finding photos and video stills of Alex with the guitars. You can listen to the interview below or via your favorite podcast service: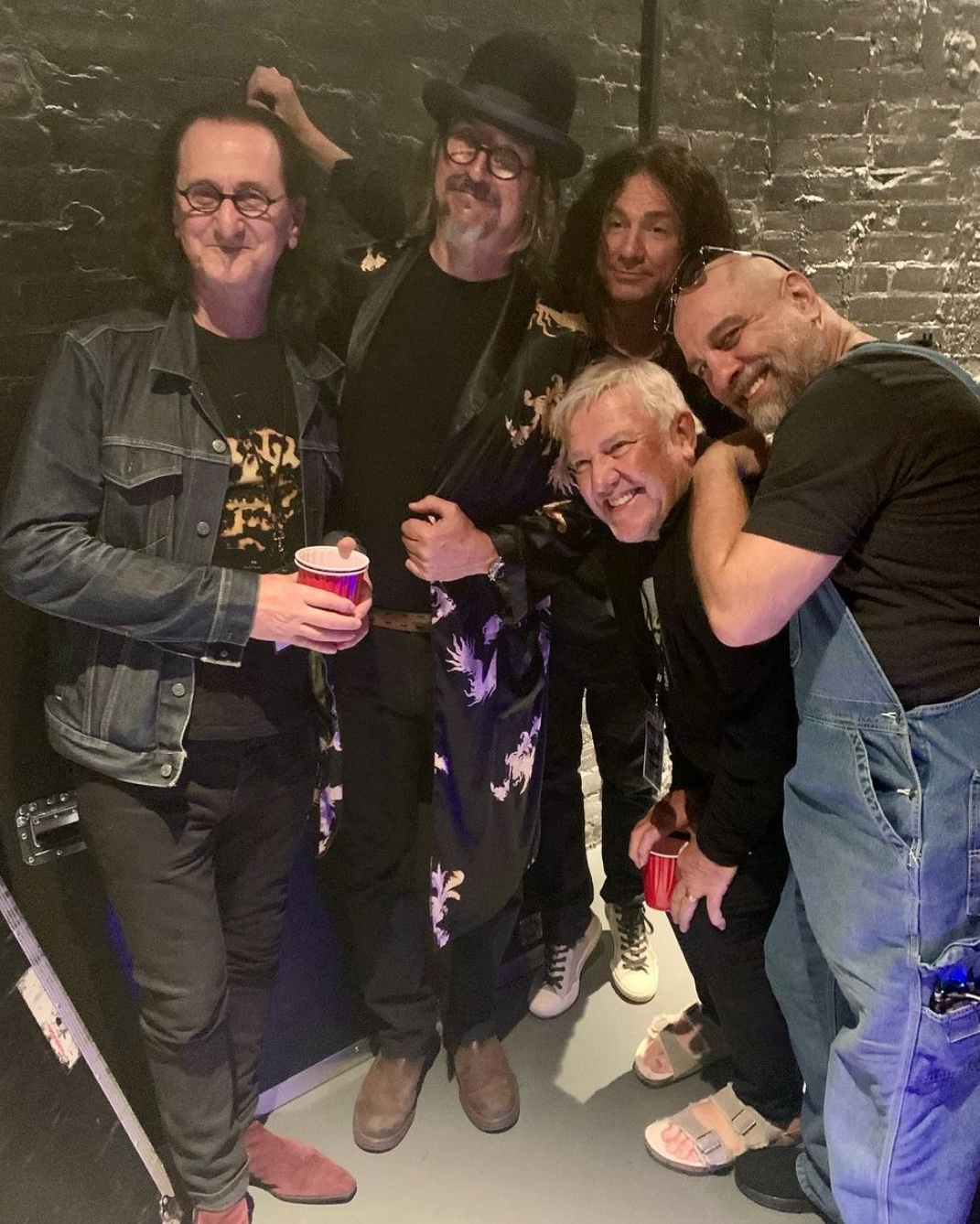 The 2022 leg of Primus' A Tribute to Kings Rush tribute tour made its way to the Great White North this past week, starting off with 2 shows at the newly-renovated Massey Hall in Toronto last Friday and Saturday night. Rush's Geddy Lee and Alex Lifeson attended Friday night's show and Geddy shared a photo of the 2 bands hanging out backstage to his Instagram account earlier this week, along with the following caption:
On Friday night we had the joyful experience of reuniting with our grand pals from Primus... Les, Ler, Herb and their gang... We sat side stage as they immaculately worked through a cool selection of classic Primus tunes which brought back fond memories of our touring together back in the early 90's and then we were treated to the weird and wonderful experience of watching them perform our music: A Farewell to Kings in it's entirety. Totally nailed it! They did us proud and we thank them deeply for the tribute and the lasting friendship.
Primus also posted this photo to their Twitter/IG:
Kings pic.twitter.com/nQDUxYzWUf

- Les, Ler and Tim (@primus) May 15, 2022
The tour features the band paying tribute to their musical heroes Rush by covering the A Farewell to Kings album in full, mixed in with a couple sets of Primus classics. The tour will continue across North America through August before heading across the pond for 16 shows in Europe, beginning in Sweden on September 9th, and making its way across the mainland before finishing off with 3 shows in the UK and one final show in Dublin on October 1st. For all the details and to purchase tickets visit primusville.com. Primus frontman Les Claypool was interviewed for Goldmine magazine and spoke about the reaction of fans to the Rush set (thanks RushFanForever):
... There are definitely a lot of "Rush" T-shirts at the shows. But there are people who are there to hear the Primus songs as well. If we went out there and just did the Rush thing people would be upset. Every now and then though you get that individual, and it's usually a guy that's right up front singing every word, getting teary-eyed. That's when I get emotional about the whole thing. Remember, Rush was my favorite band when I was a teenager. It was a huge part of my youth and it was the seeding of my original musical garden. So seeing people react like this is really amazing, it's wonderful. And then you've got the kids who attend who really don't know much about it and maybe got the record just before the show. That's very cool, too. And for us, it's just so much fun to play it. It's almost like having a little vacation every night during the show. ... Back in the day [Closer to the Heart] was a huge part of their set. Everyone would be singing along, getting the lighters going. There aren't as many lighters being held up today as there are cell phones, but it's cool. And I need the singing help. The Geddy (Lee) vocals are hard man, (laughs) But the big powerhouse songs are "Xanadu" and "Cygnus X-1, Book l: The Voyage." Those songs are just monsters. It's a real sense of accomplishment just playing those two. ...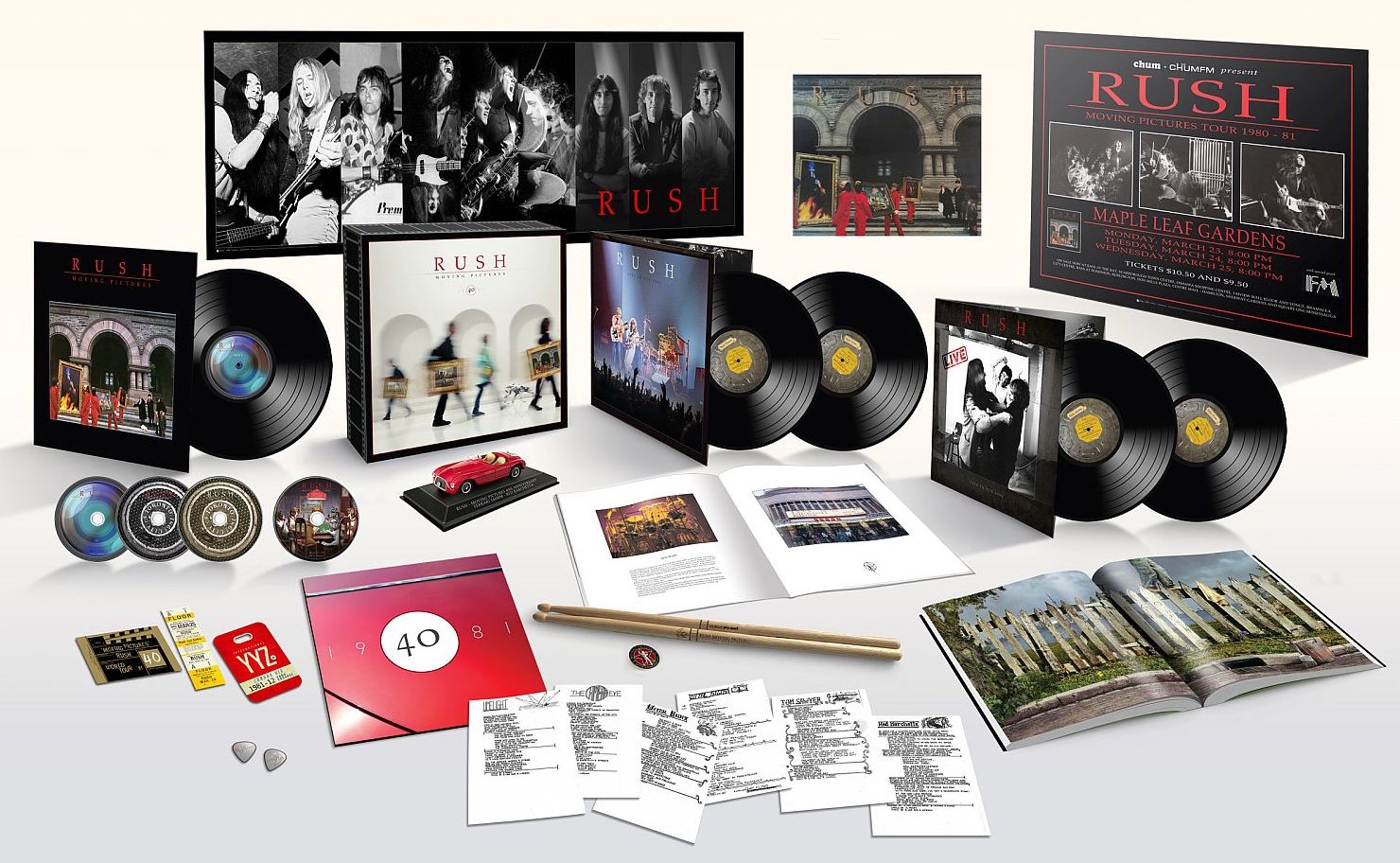 Rush's long-anticipated Moving Pictures 40th anniversary box set officially released last month, and is currently available for purchase as a 3-CD set, a Deluxe vinyl edition, and a Super Deluxe Edition. Initial sales from the 40th anniversary edition propelled the album back to a #11 position on The Billboard 200, but it has since dropped off the charts completely. John at Cygnus-X1.net has transcribed the liner notes and scanned all the images from the set and made them available online here. You can get all the details regarding the box set via the press release at Rush.com and order your copy today via Amazon (Super Deluxe, Deluxe vinyl edition, 3-CD edition) and other retailers. A couple more reviews trickled in over the past week, including a short, 5-star review in the June issue of Mojo magazine (thanks RushFanForever), along with this review from Cashbox magazine:
.. The Super Deluxe Edition is stacked with the requisite superficial goodies (extensive liner notes, lavish box, multiple audio formats on Blu-ray) aimed at the nerdiest among us. But the crux of this package is a rattling, previously unreleased 1981 live album, captured in Toronto and spread across two discs. It captures an unvarnished, warts-and-all aesthetic, all jagged edges in contrast to the main LP's smooth contours. It's always fascinating to hear Rush go ragged, with Lee straining to hit the high chorus of "Limelight" or the full band failing to grasp a solid tempo on the soft-to-soaring "Closer to the Heart." And several of these live tracks are almost punishing in their intensity: Peart's ringing toms during the big-band jazz section of "La Villa Strangiato," the dynamic shift into hard rock on "Natural Science," the heavy reggae switch-up on "Working Man" amid the multi-track medley. For die-hards starved for swag, this 40th-anniversary set is worth investigating. But some may selfishly wish Rush had been a bit sloppier back in the day - the band's gain in quality was our (future) loss in quantity.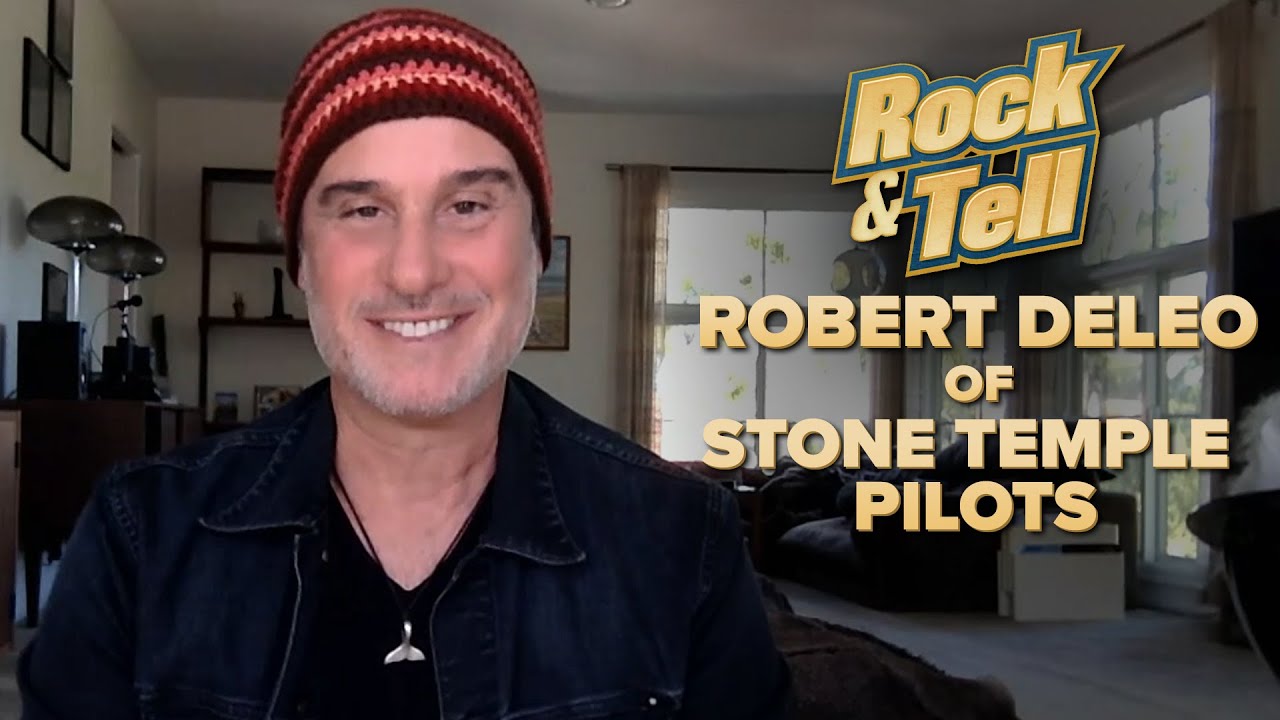 Stone Temple Pilots bassist Robert DeLeo was a recent guest on AXS TV's Rock & Tell, where he showed off the Big Book of Bass Deluxe Edition that he received as a gift from Rush's Geddy Lee. He also chatted with hostess Katie Daryl about his Rush fandom for a few minutes, before showing off some of his other prized rock memorabilia. You can watch the entire episode below or on YouTube at this location:
... I'm a huge fan of Rush and Geddy Lee as a bassist. Geddy sent me his Big Beautiful Book of Bass which is a great book of his collection. And this is quite an honor getting this from one of the people that literally pointed the direction to where I am today. And I'm grateful for this. Thank you Geddy ...
Toronto Life posted an article this past week highlighting the work of Toronto-based rock photographer Richard Beland in his own words, and one of the featured photos is a shot of Rush's Neil Peart at Metalworks Studios in 2005:
I've always been a massive Rush fan and seen every single tour since Grace Under Pressure in 1984. This was right after the 2004 tsunami and my friend and photographer Andrew MacNaughtan was directing the video for the Canada for Asia benefit show. Rush was recording "Closer to the Heart" with Bubbles (a.k.a. Mike Smith from Trailer Park Boys) and Ed Robertson out at Metalworks. Andrew needed a still photographer to cover the day, and in this particular moment, Neil is looking at Alex Lifeson, Geddy Lee, Bubbles, and Ed-they're horsing around and joking. I was sitting right beside Neil, observing him observing them, and discreetly snapping photographs.
The White Label Auction in Aid of The BRIT Trust will take place on Tuesday, June 7th and include over 170 rare white label pressings from a number of prog rock bands, including a pressing of Rush's A Farewell to Kings. You can get all the details in this Prog magazine article (thanks RushFanForever).
Rush's collaboration with Aimee Mann on Time Stand Still was featured in the latest installment of Ultimate Classic Rock's Odd Couples video series:
... Once the song's foundation was in place, Lee sang lead on the track, but the band felt what it needed was a female voice. Aimee Mann, singer and bassist for the new wave band 'Til Tuesday, came to mind. Mann's band had just released its second album, Welcome Home, for which she had written the majority of songs. The LP was a commercial disappointment, so Mann had little to lose when Rush called her to ask if she was available to sing on "Time Stand Still." ...
American Songwriter posted their list of 11 Bass Players You Didn't Know Were Also Lead Singers, and Rush's Geddy Lee is included at #8. Speaking of the number 11, Ultimate Classic Rock posted their list of Rock's 40 Best 11th Albums this past week and Rush's Power Windows was included at #27:
With each '80s Rush LP, bassist Geddy Lee pushed his synthesizers higher and higher in the mix - a creative choice that alienated not only the band's early fans but also guitarist Alex Lifeson. That tension inevitably led to a pendulum swing back to harder sounds ... but not yet. Power Windows found the prog-rock trio at their keyboard crest, embracing fizzy sequenced runs on "The Big Money" and chiming arpeggios on "Grand Designs." Hardcore followers still debate the album's sonic merits, but Power Windows is among Rush's catchiest, most stylishly crafted LPs, brimming with New Wave hooks and typically philosophical lyrics on anthems like "Manhattan Project" and "Mystic Rhythms." (Ryan Reed)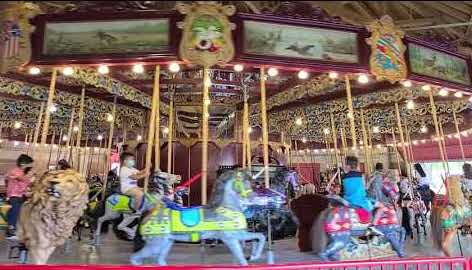 The late Neil Peart grew up in the St. Catharines, Ontario community of Port Dalhousie, the lakefront home of Lakeside Park which inspired the lyrics to the 1975 Rush song of the same name. One of the lines from those lyrics mention a "merry-go-round wheezing the same old melody", referring to the century-old Lakeside Park Carousel which will re-open this weekend for Victoria Day after having been mostly shut down since 2019. Park visitors can still ride the carousel for only a nickel as described in this article:
... Celebrating its 101th anniversary in the park, there were several occasions where St. Catharines nearly lost this completely wood-carved piece of history. In 1950, Sid Brookson, who had managed Lakeside Park since 1928, purchased the park from the Canadian National Railway. However, by the 1960s, the effects of pollution in the lake were becoming more evident and eventually made the beach unusable. In 1970, Brookson closed the midway and planned to auction off all the rides, including the carousel. However, a local antiques dealer, Dorothy Crabtree, recognized the importance of the carousel and wanted to see it kept in Lakeside Park. That same year, she wrote a letter to the local paper, asking simply, "How many people really care what happens to the merry-go-round in Port Dalhousie?" The response from the public was overwhelming. So the City of St. Catharines agreed to maintain the carousel as city property if the asking price of $25,000 could be raised by the public to purchase it. Crabtree was able to raise $20,000 by the deadline and Brookson lowered his asking price. On July 13, 1970, Crabtree donated the merry-go-round to the citizens of St. Catharines but it came with a big request. The City had to keep the price at a nickel per ride with that price maintained to this day some 52 years later. During 2019, the beachfront at Lakeside Park was seriously flooded and the ride had to be shut down. COVID-19 completely shut it down in 2020 and it was open only sporadically last year. However, 2022 is looking good for the carousel which will be open on weekends from this weekend until Thanksgiving and daily from July 1 to September 5. ...
In addition to riding the carousel, folks who visit the Park this weekend can also check out the Neil Peart Pavilion. Back in 2020 the St. Catharines City Council, with the full support of the community, voted to name the newly rebuilt pavilion at Lakeside Park the Neil Peart Pavilion at Lakeside Park in honor of the hometown icon who passed away in January of 2020. The Council also established the Neil Peart Commemorative Task Force, with the objective to commission a public work of art commemorating Peart's life and legacy. Last January the Task Force officially began welcoming artists to submit requests for pre-qualification via the city's website, and revealed the seven finalists back in September along with the launch of a fundraising campaign for the Memorial. In an interview with the Something for Nothing podcast back in October, Task Force chair David DeRocco indicated that the Task Force had planned on making a decision on the final artist by March of this year. That obviously did not come to pass, so it's assumed that they are still in the process of making that final decision. In the meantime, fans can still make a donation towards the Neil Peart Memorial at Lakeside Park at www.EngageSTC.ca/Neil-Peart. Here's Rush performing Lakeside Park live at the Capitol Theater in New Jersey back in 1976:
That's all for this week. Happy Victoria Day weekend to all of my Canadian readers!!