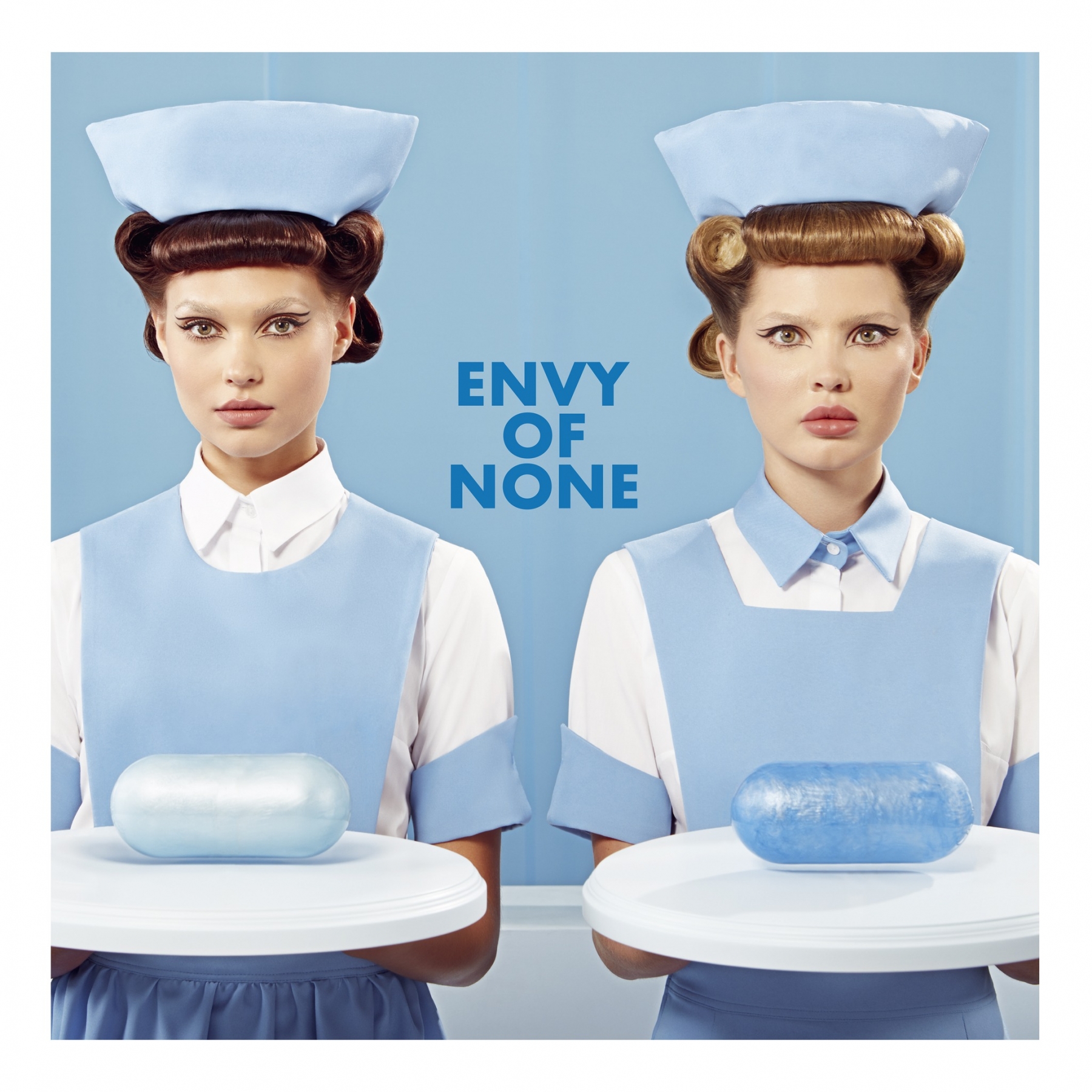 Alex Lifeson's Envy of None project launched an official, online merchandise store at visionmerch.com/envy-of-none earlier this week, which includes autographed copies of the debut album, t-shirts, hats, hoodies and more. The store launched with 100 copies each of the white vinyl and deluxe versions of the album signed by all the members of the band. You can purchase the autographed deluxe edition here while supplies last, but the white vinyl edition is now SOLD OUT. There are also several EON shirts and other apparel available, along with an Envy of None license plate. Envy of None will be releasing their self-titled debut album just one week from today on April 8th, and have already released 2 singles from the album - Liar and Look Inside. You can stream both songs via all the major streaming platforms here, and watch the official music video for Look Inside on YouTube at this location. Envy of None consists of Lifeson, Andy Curran, guitarist Alfio Annibalini and vocalist Maiah Wynne. The band's self-titled 11-track debut album will arrive on April 8th from KScope Music on black, white and blue vinyl (the latter is exclusive to North America) and also on CD. A limited-edition deluxe version of the release will feature a five-track bonus CD and a 28-page booklet with exclusive content. You check out all the available purchase options here, and follow the Project via their website, on Facebook, Twitter and Instagram for all the latest news. More interviews with the band were posted this past week, including a short, 2-page interview with Alex Lifeson from the April issue of Next magazine. Here's what Alex had to say about losing his musical drive after the passing of Rush drummer Neil Peart 2 years ago, and how Envy of None revitalized him:
... through this process [of making Envy of None], I just realized this is who I am; this is what I love. I love playing, I love writing music. I came to recognize that I had a hole in my soul - the loss of Neil, the loss of this important part of my life that was central for 40 years. Then this project reinforced what I'm all about in terms of music and what music means to me. I just felt there was so much great stuff she was doing and that I could get inspired by," ... "I started writing around her vocals in a more camouflaged way for the guitar. I wanted my guitar parts to be less traditional guitar parts and more interesting tones and coloring and atmospherics, and that's the real fun for me and the real joy to write those kind of guitar parts that don't sound anything like the guitar. I wasn't the guitarist, I was just one of four on this project, and my job was to make every thing sound richer, more interesting and more mysterious. That was the challenge, and that's what drove me and made me happy every day that I spent there." ... "Maybe it's because my attitude had changed, maybe because I thought I was just some old fart that was over it and I became this old fart that wasn't quite over it."...
Andy Curran was also interviewed for Montreal Rocks to talk about the project, and spoke a bit about the inspiration for the track Western Sunset - an instrumental tribute to the late Neil Peart (transcript via UG):
... [Maiah] says to Alex, 'I'm having a real problem with 'Western Sunset'. Can you tell me what inspired you to write that song?' And that's when the story about Neil came out. ... [Ged and Al] were going down [to visit Neil] quite a lot. So this one particular visit, Alex told me he was out on at Neil's house in Santa Monica, and they were on the balcony, and they were overlooking the ocean. They were laughing and giggling, and probably smoking joints and drinking whiskey, which they always loved to do. ... So there was a very close connection between Alex and Neil and their sense of humor. So he walked away with that moment, as a very special moment [where] he was with his buddy that he didn't know how long was going to be around for they were having some laughs on the, on the balcony and just the sun was setting in the West. And he was in Santa Monica. So he told that to Maiah and I had never heard that story [before]. She tried to write lyrics for it... And they both agreed at the end, that it would be best served as an instrumental. It just wasn't coming out how they wanted it to be... And then Alex came up with a great idea to close the record with it." ...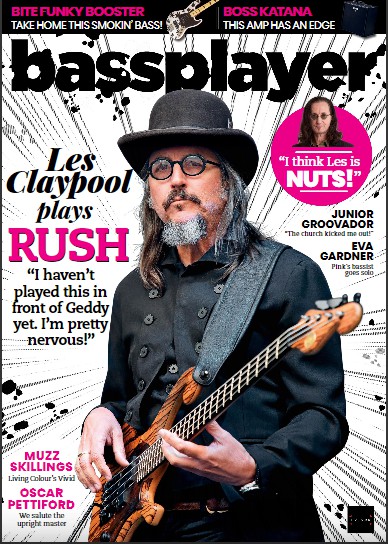 The 2021 leg of Primus' A Tribute to Kings Rush tribute tour finished off in Phoenix back in October, and - despite a few cancellations along the way due to COVID-19 - the tour was a huge success. The tour saw the band paying tribute to their musical heroes Rush by covering the A Farewell to Kings album in full as seen in these fan-shot videos (part 1, part 2), mixed in with a couple sets of Primus classics. The band will be continuing the tour into 2022, starting with an extensive, 46-date, coast-to-coast extension, including several Canadian dates which kicks off in Oklahoma City in 2 weeks on April 15th and will conclude in Las Vegas on June 25th. They have also added a European leg to the tour this coming September which will begin in Sweden on September 9th, and make its way across mainland Europe before finishing off with 3 shows in the UK and one final show in Dublin on October 1st. For all the details and to purchase tickets visit primusville.com. Primus frontman Les Claypool and Rush's Geddy Lee were interviewed regarding the tour for a cover feature in the latest issue of Bass Player magazine (issue 421). You can check out a 13-page sampler of the issue which includes the cover and first 2 pages of the feature at this location. The issue hit newsstands today and here's what Claypool had to say about Geddy Lee's original reaction to the tribute tour:
... I actually asked him about it quite a while ago. We originally planned on doing this thing a while ago, but then we ended up taking the Slayer tour which postponed it, and then COVID hit and postponed everything. When we originally talked about doing it, Neil Peart was still on the planet. I just texted Geddy and said, 'Hey, we're thinking about doing this. What do you think?' He said, 'Oh, that would be great'. He was stoked on the idea. And Alex [Lifeson, Rush guitarist] has been very supportive too. Lor [Larry LaLonde, Primus guitarist] will call him and say, 'What the hell chord are you playing in this one section?' Alex has been very helpful with that, and he loaned him some guitars as well. So they've both been extremely supportive. We've yet to play it in front of them, and I'm all nervous about that. ... I imagine they'll show up at some show. ...
Geddy was also asked the same question:
... I was very complimented, of course, and then I thought he was a little bit nuts, but by all accounts it's quite an impressive performance and a real tribute, performed by an awesome band. ...
And here was Claypool's reaction to that statement:
... Well, I think it is - on all fronts. It's definitely nuts, and I get to wear a satin robe every night on stage, which is pretty spectacular. That's another sprinkle on the cupcake of this project. Every now and again I think, 'Geddy Lee's a good friend of mine'. If I'd known that when I was 14, I would have ejaculated in my pants to even think of the notion. With my career, I'm most proud that I've been able to meet, befriend and oftentimes work with a lot of my heroes - and it's been a wonderful, wonderful thing.
Geddy was coy when asked whether he might sit in with Primus for one of their upcoming shows, saying, "Ha ha! Now there's a random suggestion! Primus will be playing back-to-back shows at Toronto's Massey Hall next month ...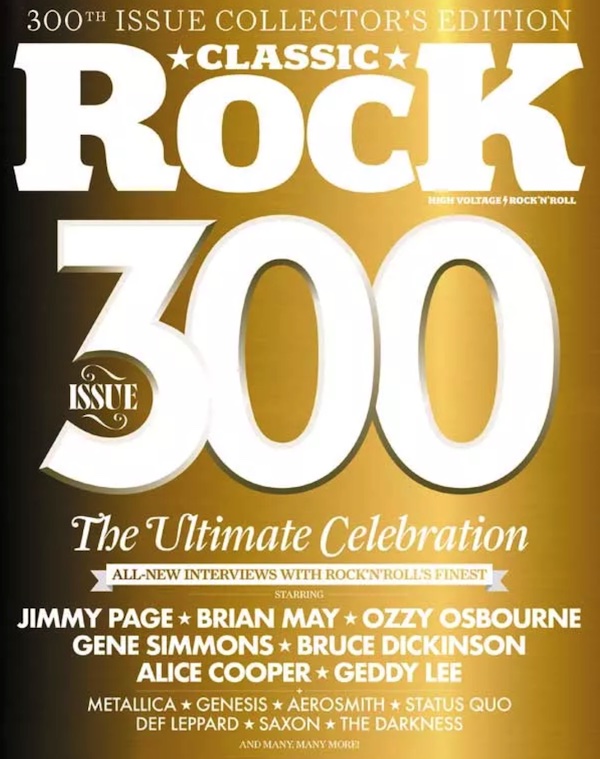 Classic Rock magazine released a special Collector's Edition today celebrating their 300th issue, which features dozens of new interviews with rock celebrities, including Rush's Geddy Lee. In the short interview, Philip Wilding chats with Geddy about a number of subjects including his 2000 solo album My Favorite Headache, the band's resurgence in the wake of Neil Peart's late-90s tragedies, and more. Here's what Geddy had to say about what it was like to get back together as a band after their 5-year hiatus to record Vapor Trails:
... Oh, it was awesome. Within minutes we're laughing and gabbing. Whenever we saw each other, it was like yesterday. Within five minutes we're razzing each other and laughing and catching up. Everybody had been through a lot. No one more than Neil. But it was just like getting back on the bike. ... That first tour back as a band, different world. We took a different attitude on that tour; we were much more open and appreciative of the opportunity. Five years away from it took a lot of cynicism out of our behavior. When we did our first gig after all those years, and were welcomed back so strongly, I think everyone was taken aback: "Wow, these people waited for us." ...
Geddy also comments on his relationship with Alex Lifeson:
... [Alex and I] recently went out to dinner, just the two of us, and we sat down, looked at each other and we did a high five. And it was just like I was sixteen again, driving my mother's car with Al next to me. We were laughing in seconds. I don't have another friend like that in my life. That'll never change.
The article's introduction also mentions that Geddy is working on his memoir and that it is due out in the spring of 2023 - it had originally been slated for release later this year. You can read the entire interview in the special Classic Rock 300th issue, which hit newsstands today.
In the latest episode of the Something for Nothing podcast, hosts Steve and Gerry chat with some of their listeners about their Rush origin stories. You can listen to the discussion below or via your favorite podcast service:
WhatCulture.com posted their list of 10 Albums That Will Make You Love Prog Rock this past week, including Rush's Moving Pictures at #3:
... As Rush were coming off of albums like Hemispheres, they were getting a little too burned out on the epic material they were writing and tried to scale things down on their next records. While Permanent Waves was definitely a step in the right direction, Moving Pictures was where they started to really pair down the formula and make something that could get played on stations without losing that prog mindset. There's also a lot of heart between the songs on here, with Neil Peart getting a lot more introspective on songs like Limelight or painting the archetype for the modern rebel with Tom Sawyer, with one of the single greatest drum breaks in rock history. Even YYZ, a song that has absolutely no lyrics, is one of the most celebrated tracks on the album, with many fairweather rock fans being able to sing along to it without really trying too hard. Prog rock always had its fair share of competent musicians, but you're on another level when you're able to switch time signatures and your fans don't even realize it.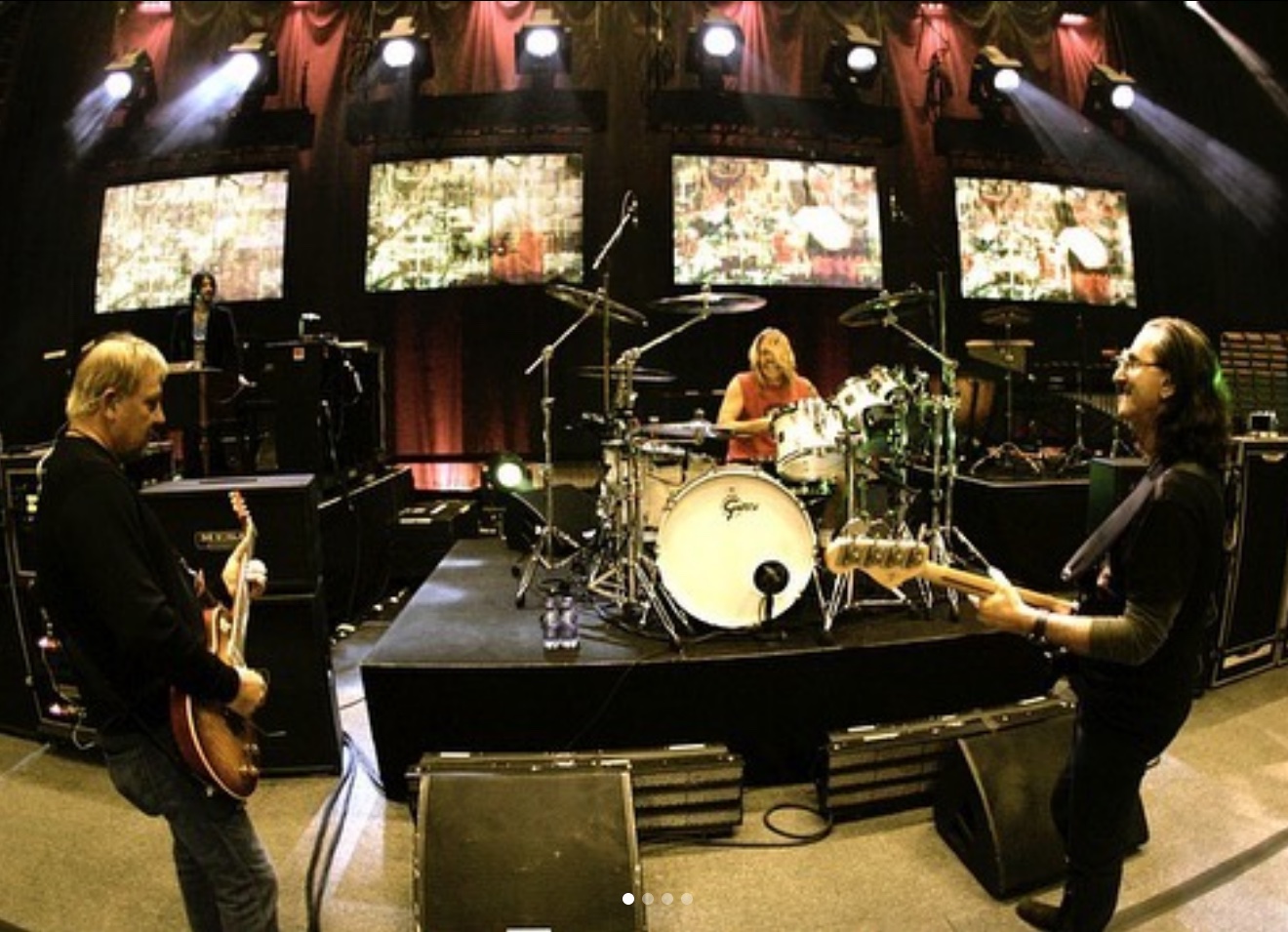 Foo Fighters drummer Taylor Hawkins tragically passed away earlier this week while on tour in South America, and his death sent ripples throughout the rock world. Geddy Lee and Alex Lifeson reacted to the heartbreaking news via this Instagram post:
We are so very shocked and saddened to hear the devastating news of the sudden passing of our musical brother Taylor Hawkins. He was such an incredibly positive source of music, energy and love, and a true artist to his very core...there are simply no words to adequately express just how much he will be missed by all - including Alex, myself and the entire Rush family. Our hearts, love and sympathy go out to Taylor's family as well the Grohls, and the extended Foos family...

Rest In Peace brother...
Geddy and Alex
The post also includes a few photos of Rush with Hawkins over the years. There's one photo of the guys rehearsing with Hawkins ahead of their live appearance playing YYZ at a Foo Fighters show in Toronto back in 2008 (video here), along with a backstage photo of all the Foos with Geddy and Alex. There's also a photo of Rush and the Foos rehearsing ahead of Rush's 2013 Rock Hall induction, where Hawkins and bandmate Dave Grohl inducted Rush as seen here. Geddy Lee also posted a separate IG tribute to his personal IG saying the following:
My heart is truly breaking at the news of Taylor's passing. A sweetheart of a man that radiated good vibes, a love of music, and a total monster on the drums. He was so, so happy the night Alex and I came up onstage to play YYZ with him during the Foos show at the Air Canada Centre on March 23rd, 2008... His excitement was almost impossible for him to contain.

Brother, you left us way, way too soon... rest in peace my friend... 💔
RIP Taylor. We will miss you.
That's all for this week. Have a great weekend, and be careful out there - it's April Fool's Day!!