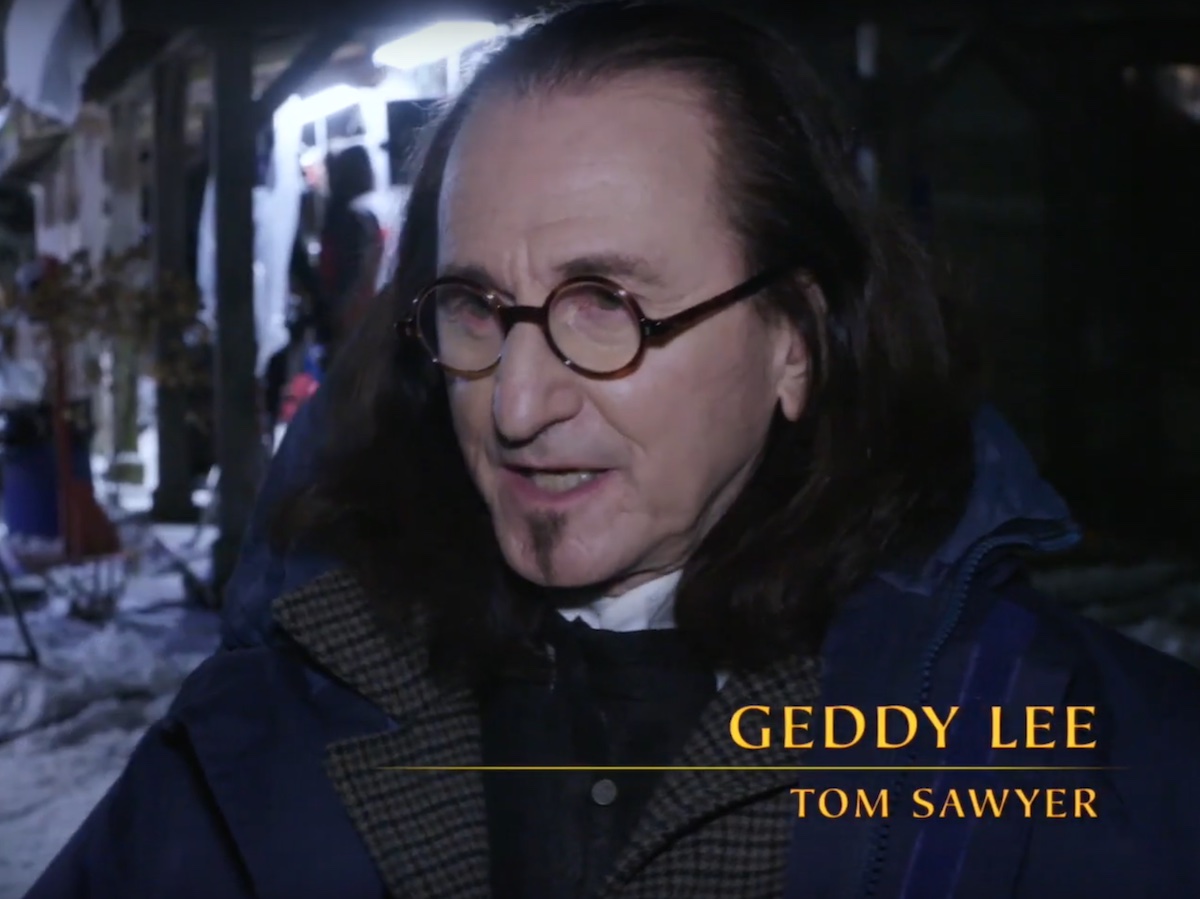 Rush's Geddy Lee will be making a guest appearance in the next episode of the long-running CBC mystery drama Murdoch Mysteries (Season 15, Episode 21 - Devil Music). We first learned about the appearance via some social media posts from the show earlier this week, and have since learned more details about Geddy's involvement. Apparently Geddy met the show's star Yannick Bisson (Detective Murdoch) at a fundraiser event (photo here, thanks RushFanForever), and Yannick invited Geddy to make a guest appearance on the show. Geddy plays a carriage driver named Tom Sawyer (of course!!) who escorts Detective Murdoch and an expecting Dr. Julia Ogden for a relaxing retreat in Muskoka. After a minor accident along the way, Geddy's character suggests the couple take shelter in a nearby cabin and is present for the show's most anticipated event of the season - the birth of Julia's child. The show's producer Shaftesbury Films posted a 1-minute, behind-the-scenes video about the episode and Geddy's involvement earlier this week, where they show several clips of Geddy's appearance in the show and on set, and also talk to the man himself. Geddy also posted this photo of himself on the set of the show to his Instagram:
The episode will premiere this coming Monday, March 21, and you can watch the show in Canada on the CBC or stream it on CBC Gem. It also seems to be available on Acorn TV (subscription required).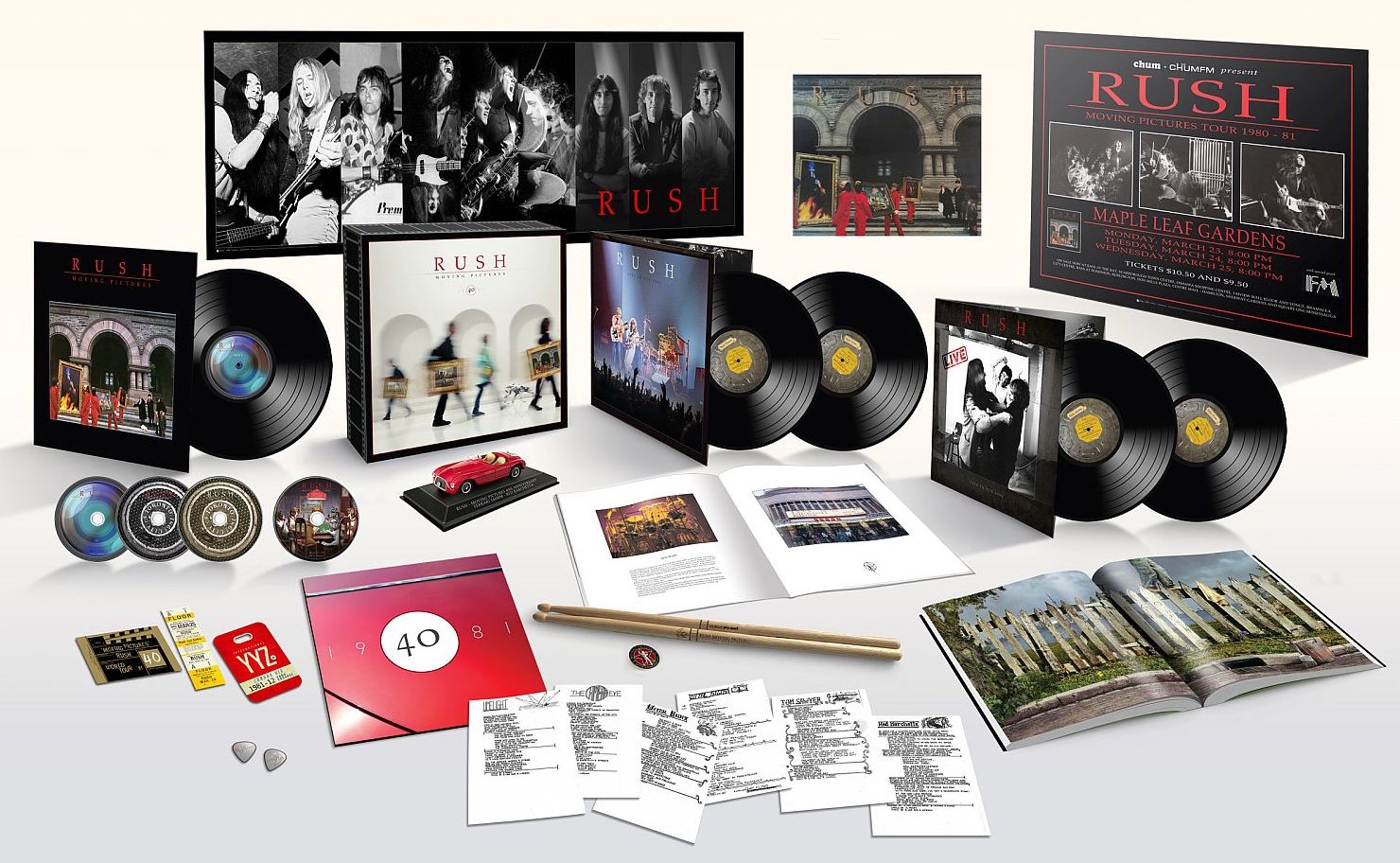 Rush's long-anticipated Moving Pictures 40th anniversary box set is slated for release on April 15th and a number of purchase options/combinations will be available, including a Super Deluxe Edition which will contain three CDs, one Blu-ray Audio disc, and five high-quality 180-gram black vinyl LPs. The CDs include the Abbey Road Mastering Studios 2015 remastered edition of the album, along with two discs of previously unreleased and newly restored bonus live content titled Live In YYZ 1981. These 2 discs are newly mixed from the original analog live multi-tracks by Rush's original producer, Terry Brown, and feature the band's complete, unreleased Toronto concert from Maple Leaf Gardens in Toronto on March 25, 1981. The Blu-ray Audio disc includes the core album newly mixed from the original multi-tracks by producer/engineer Richard Chycki in Dolby Atmos (a Rush catalog first), Dolby TrueHD 5.1, and DTS-HD Master Audio 5.1 surround sound, alongside the previously available PCM Stereo mix. Also included on the Blu-ray are four bonus videos: a brand-new video for YYZ plus three remastered vintage promo videos for Tom Sawyer, Limelight and Vital Signs. Additionally, all of the vinyl in the Super Deluxe Edition has been cut via half-speed Direct to Metal Mastering (DMM) (another Rush catalog first) on five 180-gram audiophile LPs. The Super Deluxe Edition is housed in a premium lift-top box and also contains several exclusive items, including a 44-page hardcover book with unreleased photos and new artwork by original album designer Hugh Syme, a Red Barchetta model car mounted on a black perch with an MP40 nameplate, two Neil Peart signature MP40 branded drumsticks, two metal-embossed guitar picks, a replica of the Moving Pictures 1981 official tour program, an MP40 logo enamel pin, a 3D lenticular Moving Pictures in motion lithograph, an 18×24-inch Toronto 1981 concert poster, a replica concert ticket from the 1981 Maple Leaf Gardens show, a 12×36-inch Rush Through The Years 1973-1981 poster, a YYZ luggage tag, and an All Access World Tour '81 insert. Earlier today, Rush released the official streaming audio for Limelight from the Live in YYZ 1981 bonus disc. You can listen to the track below or on YouTube here. You can also watch the official streaming audio for Vital Signs from the bonus disc on YouTube here, along with a Super Deluxe Edition unboxing video here. Last week they released an official, FANTOONS-produced animated video for YYZ which you can check out here. You can get all the details regarding the box set via the press release at Rush.com and pre-order your copy today via Amazon and other retailers.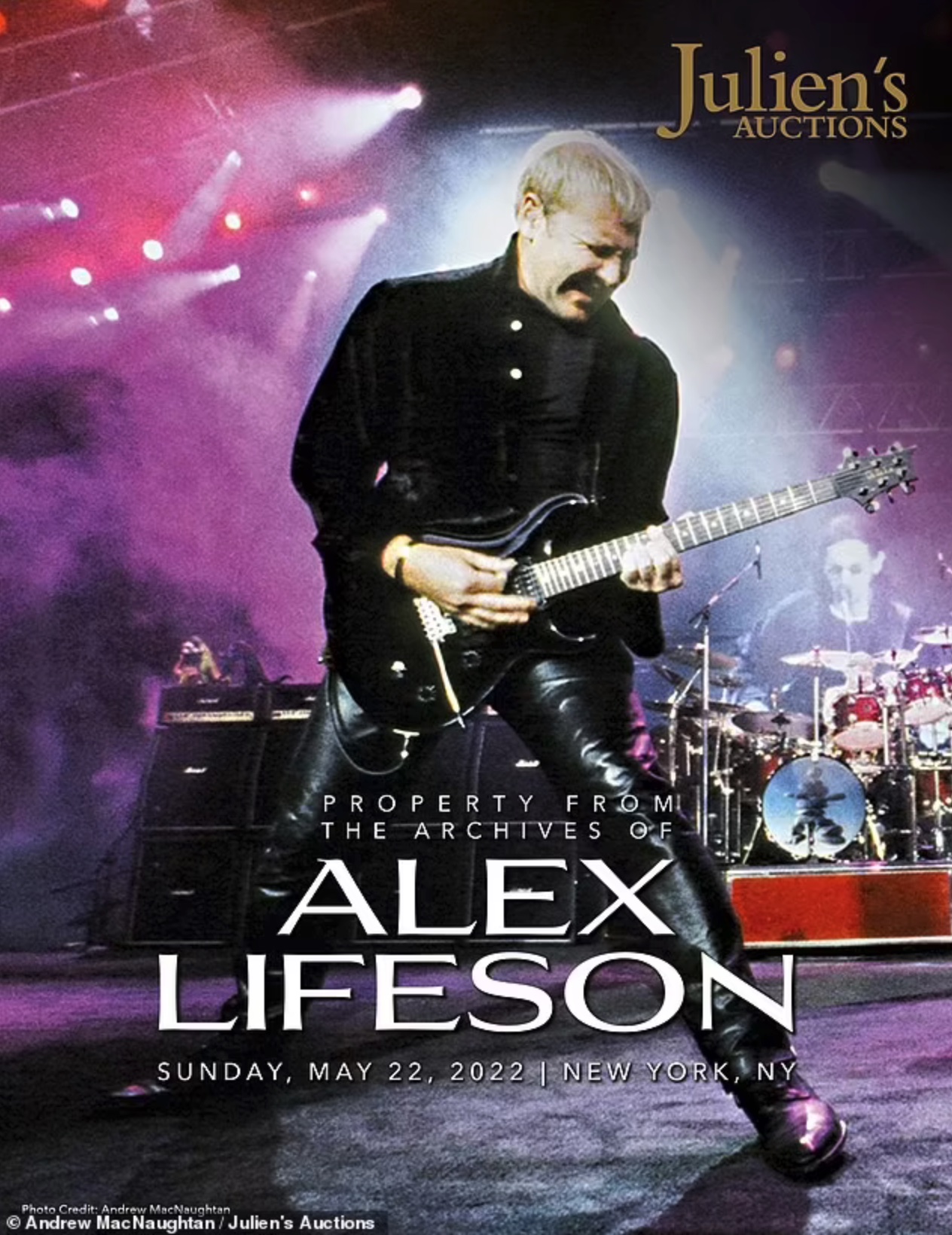 Rush fans with deep pockets will soon have a chance to own a part of Alex Lifeson's legendary guitar collection, as Lifeson will be auctioning off a large portion of his collection via Julien's this coming May. Property From the Archives of Alex Lifeson will be the centerpiece of Julien's Music Icons event in 2 months during the weekend of May 20-22. Lifeson's collection features over 60 vintage guitars and other career memorabilia, and will be auctioned off live from New York City's Hard Rock Cafe and online at JuliensAuctions.com on May 22nd. Here are some of the highlights from the collection, as outlined on the Julien's website:
* A 1976 custom-built Gibson ES-355TD, aka "Whitey, played by Lifeson throughout most of his career with Rush. "Whitey" is featured on all albums from "A Farewell to Kings" to "Test for Echo," and can be seen played by Lifeson on stage during all Rush tours from 1977 to 2015 as well as in many of the band's music videos. This splendid guitar was part of Rush's most explosive era of creativity. Alex Lifeson: "I purchased this guitar in 1976, it was custom-built in Kalamazoo just for me. It has been my main guitar and is the iconic Alex Lifeson guitar."

* A 1970 Gibson Les Paul acquired by Lifeson during Rush's inaugural tour and played extensively on all Rush albums and tours from "Fly By Night" and "2112" to "Hemispheres."

* A 1971 Jose Ramirez acoustic guitar used by Lifeson to record all classical-style tracks on the album "Hemispheres," including "The Trees" and "La Villa Strangiato."

* A 1976 Gibson Dove acoustic guitar played on numerous tours and used by Lifeson to write "Closer to the Heart" and other songs from the 1977 Rush album "A Farewell to Kings."

* A 1976 Gibson J-55 acoustic guitar used by Lifeson to compose Rush's platinum-selling album "2112" as well as "A Farewell to Kings" and served as the main acoustic guitar on "Natural Science" and "Camera Eye" from "Permanent Waves" and "Moving Pictures."

* A 1980 custom Hentor Sportscaster played by Lifeson on most Rush albums since "Moving Pictures," and was the main guitar used on the recording of the album "Grace Under Pressure." This guitar was favored by Lifeson as his primary instrument for soloing - in particular the solo for the band's hit single "Limelight," and can be seen in the music videos for "Vital Signs," "Countdown," and "Enemy Within." The Sportscaster's heavy yet versatile sound embodies Rush's bold sonic explorations of the 1980s and Lifeson's growth as a soloist during this time.

* A 1981 Gibson Howard Roberts fusion guitar that served as Lifeson's main guitar during the "Moving Pictures" tour.
The auction will also include concert and tour ephemera, passes, and photographs as well as original lyric sheets. You can get all the details and learn how you can be a part of the auction via the Julien's website here. Additional photos can also be seen in this Daily Mail article. Alex first mentioned that he might be selling off his collection for charity back in early 2021 during an interview with Make Weird Music. Then in his AlexLifeson.com video newsletter update a couple of months ago, Lifeson confirmed that the auction was going forward and that he had already packed up the guitars:
... I'm having a guitar auction thing going on this year. I'm gonna auction off my guitars. So save up your pennies... make that dollars. You know I love those guitars a lot. When I was packing them up it was sad. I thought I was very brave and courageous and strong, but no... no.... I'm a weak chicken. Mmmm... I could go for some chicken right now ... It was so hard packing them up, but I polished them and kissed them and hugged them and put them in their cases. And now they're gonna do a lot of good once they're in other homes ...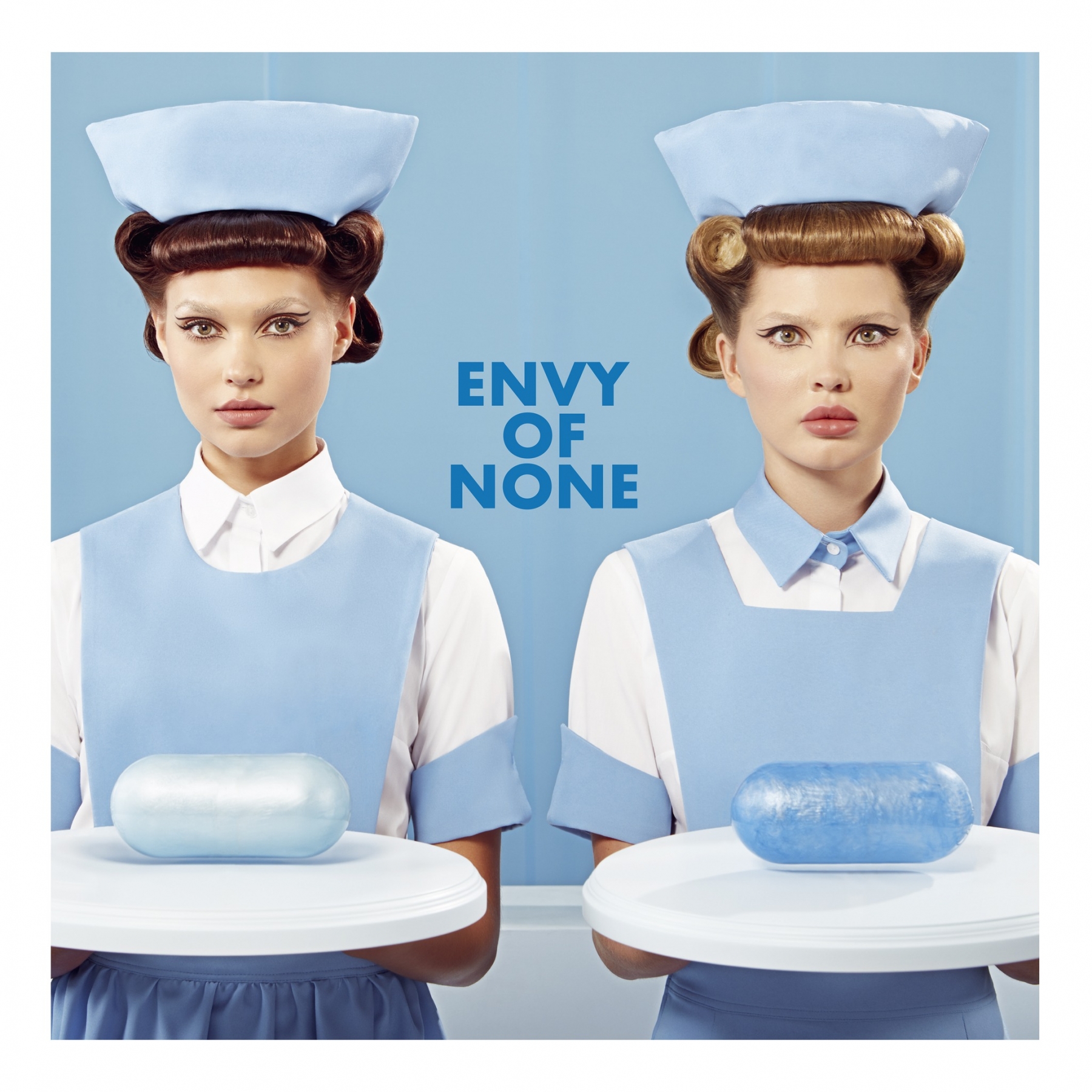 Alex Lifeson's Envy of None project will be releasing their self-titled debut album next month, and have already released 2 singles from the album - Liar and Look Inside. You can stream both songs via all the major streaming platforms here, and watch the official music video for Look Inside on YouTube at this location. Envy of None consists of Lifeson, Andy Curran, guitarist Alfio Annibalini and vocalist Maiah Wynne. The band's self-titled 11-track debut album will arrive on April 8th from KScope Music on black, white and blue vinyl (the latter is exclusive to North America) and also on CD. A limited-edition deluxe version of the release will feature a five-track bonus CD and a 28-page booklet with exclusive content. Last month Envy of None and Epiphone announced a contest where they will be giving away an Alex Lifeson Signature Les Paul Axcess Standard electric guitar. To enter the contest, fans need to scan the QR code hidden inside the Deluxe Edition of the forthcoming album. You can get the full details regarding the contest on the KScope website here, and check out all the available purchase options, including the Deluxe Edition, here. You can also follow the Project via their website, on Facebook, Twitter and Instagram. Velvet Thunder posted one of the first reviews of the album this past week, breaking down each individual track and saying the following:
... There's a mix of styles throughout the 11 tracks that make up Envy Of None, from angry to wistful to sly to eerie; from pulsing electronic to gritty alt-rock to intoxicating soundscapes. Leadoff single Liar was met with surprise by some listeners who may have been hoping the project would be a showcase for Lifeson's 'We're not worthy!' guitar solos. But while he could have taken that easy route, his focus here is on exploring styles dissimilar to those of his old band. It would be naive to think he'd form a different project just to play the same kind of music. ... At 42 minutes, Envy Of None does not overstay its welcome. In fact, it goes by in a flash like the best albums do. It's a compelling listen; modern, vibrant, and loaded with memorable melodies, groovin' rhythms, and stirring vocals. And it's a joy to hear Lifeson so energized at this stage of his life (and ours). I hear something new in it every time, and I presume I will for years to come. This album is not at all what I was expecting... yet somehow it's everything I hoped for.
Headbanger's Lifestyle also posted their review of the album, calling it a must listen and coming to a similar conclusion:
... The album displays a synergy of styles molded together in a sonic rendition of musical expertise. Very cinematic. Emotions run high as the musical pastry unravels in fine art. Balanced on the top of tech, the experienced artists seize the moment and reveal a beating heart and soul in this mesmerizing musical expedition. Over all this musical creativity it is however the young and talented Maiah Wynne who distinguishes their sound with her emotive and attractive vocals. She manages to capture the right vibe constantly in this musical journey. Orbiting into full spiritual mode, Envy Of None releases a captivating debut shooting Wynne's star over our stratosphere. Get mesmerized now, HEADPHONES required!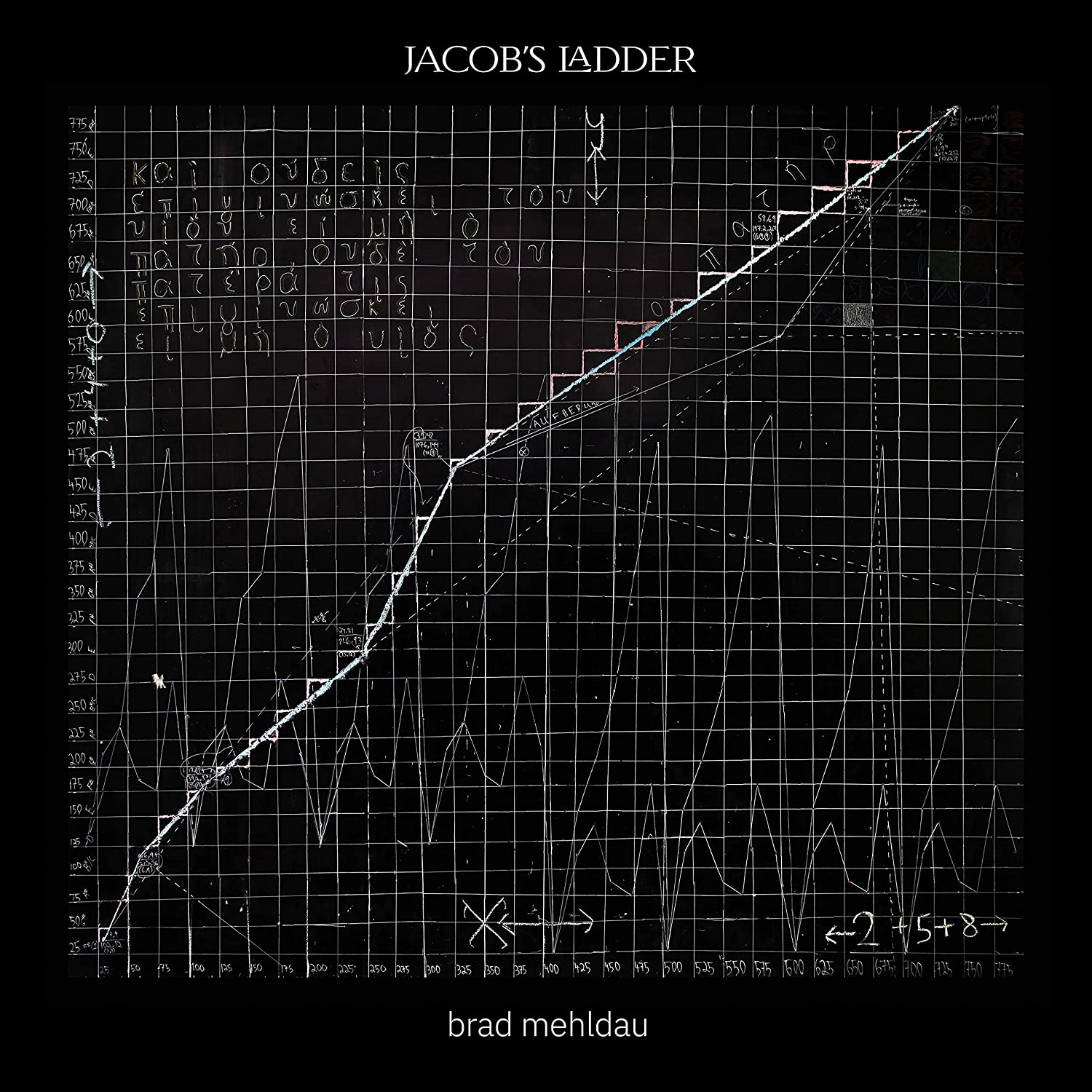 Jazz pianist Brad Mehldau pays tribute to his prog rock heroes with the release of his new album Jacob's Ladder today. The music is inspired by the prog rock Mehldau loved as a young adolescent, which was his gateway to the fusion that eventually led to his discovery of jazz. The album's first single is available for listening on YouTube here. That track is titled maybe as his skies are wide, and builds off an interpretation of one portion of Rush's Tom Sawyer. The album also includes a full cover version of the Rush classic which can be heard on YouTube here. In addition to the Rush cover, Jacob's Ladder includes covers of songs by Gentle Giant and Emerson, Lake and Palmer. PopMatters.com posted a review of the album this past week, saying the following:
... Technically, Rush are represented three times, including a nod to their 1980 song "Jacob's Ladder" and a full-blown cover of "Tom Sawyer". Thile's lead vocal for "Tom Sawyer" is quite the distracting mismatch through no fault of his own. While the band take things to a spaced-out rock 'n' roll edge during the section that is usually Alex Lifeson's guitar solo, Thile's soft and polite delivery makes it sound like he just wandered into the wrong studio. ...
You find out more about the album and see the complete tracklist at bradmehldau.com. The album is currently available on both CD and vinyl in addition to streaming, and can be ordered via Amazon here.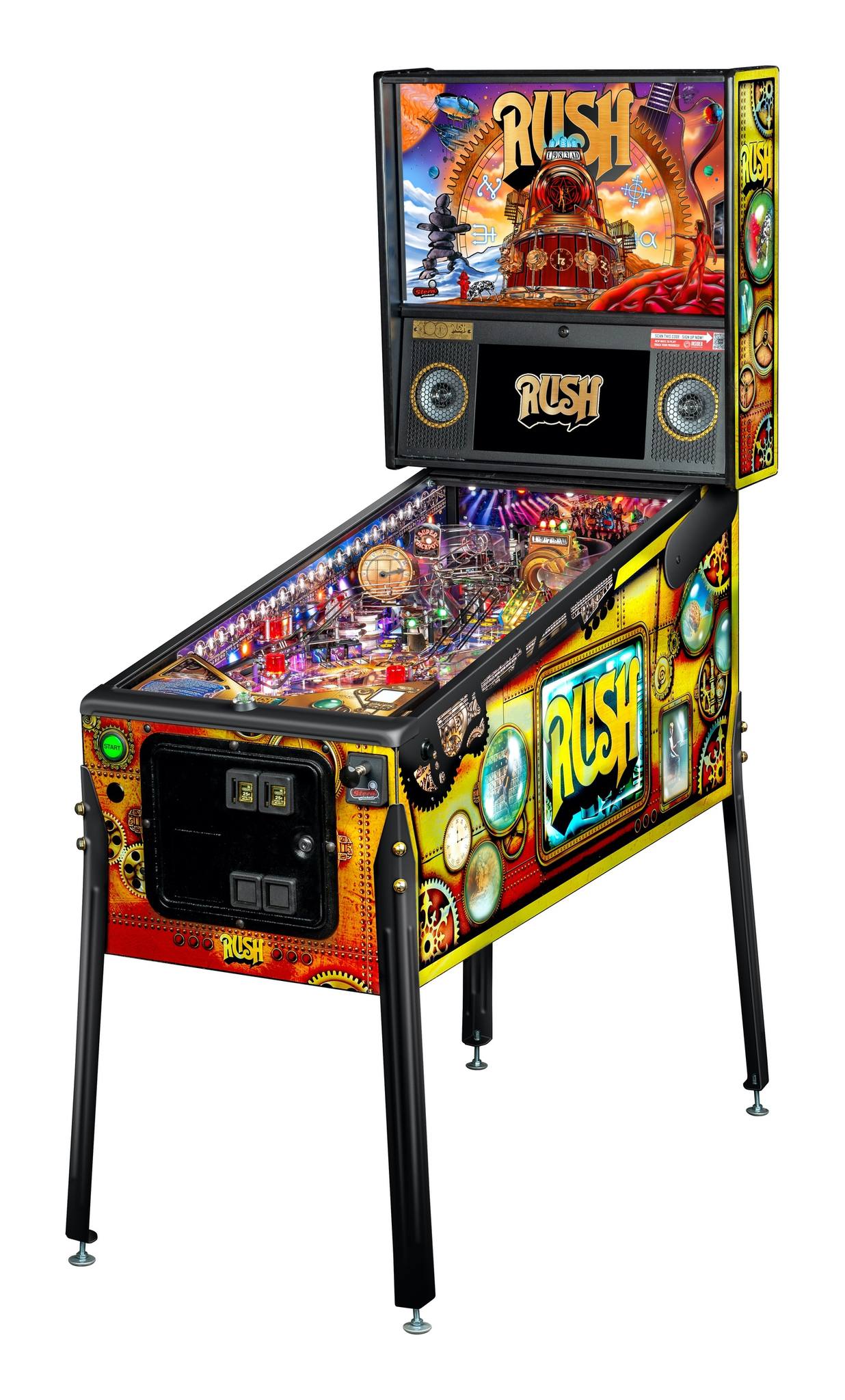 Back in January, Rush and Stern Pinball released a line of Rush pinball machines as detailed in this official announcement from the band and this video trailer giving a first look at the pinball machines. The machines are available in Pro, Premium, and Premium Limited Edition models, and include Rush music, concert footage and custom speech from Alex Lifeson and Geddy Lee. Stern Pinball's website also features dozens of photo's of the machines, videos of the specific model features, and a hilarious 4-minute, behind-the-scenes video of Alex Lifeson, Geddy Lee, and Ed Robertson of the Barenaked Ladies in the studio recording voice-overs. Robertson is an avid pinball machine collector and directed Ged and Al's voice-overs in the studio. The Daily Herald posted an article this past week on Stern Pinball and how the company is making a splash in the pinball machine market. The Rush machines are featured in the article, which also includes some interview snippets from Ed Robertson:
... "I think the fun thing about pinball is that it looks like checkers, but it's actually chess," said Robertson, taking a break from touring the world with his guitar to talk about the new Stern table that he helped bring to life. "The more you learn the game, the more it opens itself up to you." Robertson's been collecting machines since the late 1990s and jumped at the chance to help a fellow Canadian rock legend: Rush frontman Geddy Lee emailed Robertson for advice when presented with the possibility of a pinball game featuring the band. Robertson, alongside lead designer John Borg and lead programmer Tim Sexton, would ensure the game be "Closer To The Heart" for Rush fans, and not a "Fly By Night" cash-in. ...
The Rush pinball machines and accessories are available to order now through authorized Stern Pinball distributors and dealers around the world, and are already available to play at a number of locations across the country as seen at pinballmap.com (just search "Rush").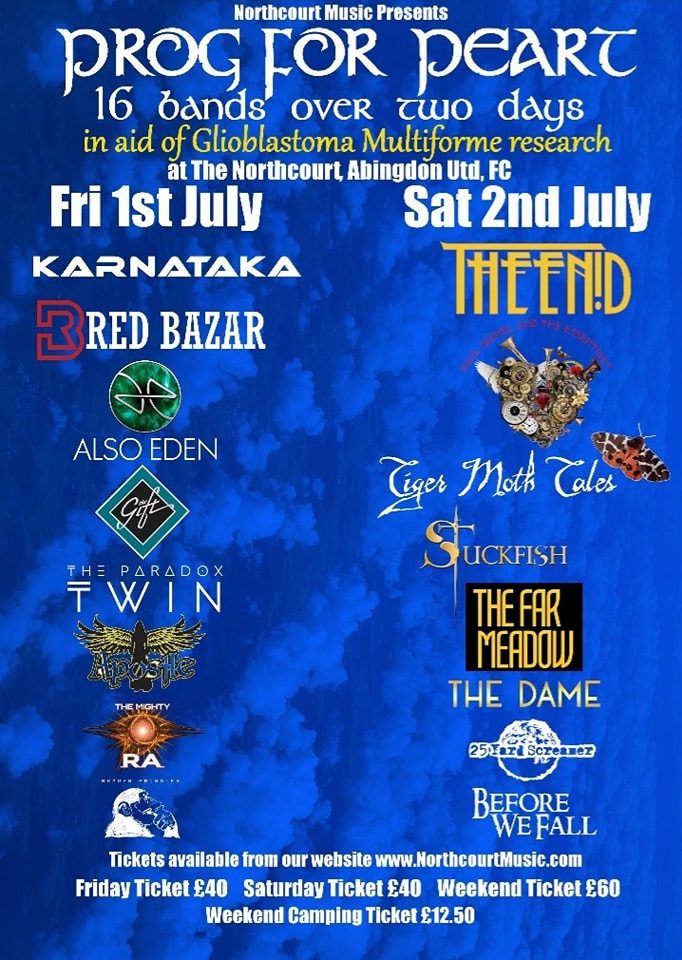 The 2nd annual Prog For Peart charity concert will take place this summer at The Northcourt in Oxfordshire, England the weekend of Friday, July 1 and Saturday, July 2. Sixteen prog rock bands will take the stage to celebrate the life of Neil Peart and raise money for brain cancer research. From the event listing:
... Eight bands will perform each day between 12midday and midnight, and we are delighted to name Karnataka as headliners for Friday and the legends that are The Enid as headliners on Saturday night.

The Enid, Karnataka, Tiger Moth Tales, Paul Menel (IQ), Red Bazar, Also Eden, The Far Meadow, The Gift, The Paradox Twin, Apostle, Stuckfish, The Dame (Netherlands), The Mighty Ra, 25yd Screamer, Shaven Primates, Before We Fall

There will be food concessions, CD and vinyl stalls as well as rock and prog art on sale. There is limited camping on site with room for several motorhomes as well a pitches for around 35 two man tents. Camping is only 100m from the venue entrance. A choice of cooked breakfasts as well as cereals & fruit will be available for campers. There are also 24hr "real" WCs. Showers will be available from 7-30am until 10-30am. Bars in the main venue room and a lounge bar additionally there is a large outdoor beer garden. Bars open until late. Tickets are available for Weekend, Friday, Saturday & Weekend Camping. There are also streaming tickets so if you simply cannot be there, you can watch from afar. ...
For more information and to purchase tickets, visit the website at northcourtmusic.com/progforpeart.html. There's also this review of last year's inaugural Prog For Peart event.
In the latest episode of the Something for Nothing podcast, hosts Steve and Gerry do a deep dive into Alex Lifeson's one and only solo album - 1996's Victor. You can listen to the episode below or via your favorite podcast service:
MySanAntonio.com posted an interesting article this past week regarding an incident that took place at a San Antonio Rush show back in 1983, and which involved a feud between two local San Antonio politicians - Van Archer, an anti-weed, social conservative Republican San Antonio City Councilman, and fellow councilman Bernardo Eureste - who were at odds over how police were handling drugs and crowds at local shows:
... Eureste finally invited Archer to attend a rock concert to see how events play out first hand. Originally, the pair were meant to attend together, and even asserted that they would pull up to the rock show "in disguise" to better investigate the state of affairs between officers, concert goers, and marijuana. ... Archer told the Express-News that they would likely wear "jeans and dark glasses" as to not be recognized. At the time, many scoffed at the prospect of the highly visible and vocal councilman making a spectacle a the Rush show, so much so that reporters were on site. ... Ultimately, Archer, who typically favored "country and mariachi music" arrived alone, wearing the not-so-clandestine blue sweater and slacks. ... Archer surprisingly enjoyed the opening act, Golden Earring, and generally appeared unfazed by the well-behaved Frisbee-throwing crowds. "But you could smell some marijuana though, couldn't you?" Archer asked a reporter on site. As the concert progressed, Archer continued to observe the sights and scenes. "As the pulsating strobe light played off of Archer's white hair and glasses he got into the music - as much as could be expected by someone who admittedly enjoys softer strains," wrote a reporter. "It does give you a true appreciation for Tchaikovsky," Archer said. He stayed about 20 minutes into Rush's set, before being escorted out. ...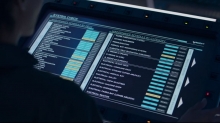 This past season of the Amazon sci-fi show The Expanse included a series of short webisodes as a supplement to the main show titled The Expanse: One Ship, one of which included a Rush reference. During the webisode Night Watch (aired December 31, 2021), the character Clarissa Mao (Nadine Nicole) is looking at a maintenance schedule for the Rocinante, and there are three drones listed as R. Drone #1 (Peart), R. Drone #2 (Lee), and R. Drone #3 (Lifeson) as seen in this screenshot. The webisodes are included as bonus content to the main show, and you can access them via Amazon's X-ray feature as described here. Thanks to Eric at Power Windows for the heads up and screenshot.
The StickHits YouTube channel remastered a 2012 soundcheck video of Rush playing Limelight prior to their show in Dallas, and posted it to their channel last week. You can check out the video on YouTube here.
Rick Beato posted a video to his popular YouTube channel this past week where he spends over a half hour discussing Rush's greatest song, which he believes is Xanadu (thanks RushFanForever).
Ultimate-guitar.com posted an article this past week where they list off the Top 10 Iconic Albums That Are Turning 40 in 2022, one of which is Rush's Signals album, which will turn 40 on September 9th:
Rush was among the first progressive bands to adopt a more pop-oriented, synth-laden approach, and 1981's "Moving Pictures" is largely hailed as the crowning jewel of that particular Rush era. Nevertheless, its 1982 follow-up continued Rush's mean streak of dance-like pop-prog with melodious tracks such as "Subdivisions", "The Analog Kid", and "Countdown". Although Alex Lifeson's guitar work wasn't as prominent as on some of Rush's previous records, the tasteful arrangements and the airy interweaving of Geddy Lee's vocals and intricate synth-work more than made up for it.
Here's a behind-the-scenes look at the upcoming episode of Murdoch Mysteries featuring Geddy Lee, along with a video of Limelight from the Moving Pictures box set bonus disc:
That's all for this week. Have a great weekend!!