UPDATE - 3/17@2:07PM: The show's producer Shaftesbury Films posted a 1-minute, behind-the-scenes video about the episode and Geddy's involvement, where they show several clips of Geddy's appearance and talk to the man himself. Apparently Geddy met Yannick Bisson at a fundraiser event, and Yannick invited Geddy to come on the show as a guest. Geddy plays a carriage driver named Tom Sawyer (of course!!) who escorts Detective Murdoch and an expecting Dr. Julia Ogden for a relaxing retreat in Muskoka. After a minor accident along the way, Geddy's character suggests the couple take shelter in a nearby cabin and is present for the most anticipated Murdoch event of the season.
----- snip -----
UPDATE - 3/17@1:39PM: Geddy also posted this photo of himself on the set of the show to his Instagram:
----- snip -----
UPDATE - 3/16@12:21PM: The show has posted a photo of Geddy in costume with Murdoch Mysteries star Yannick Bisson, who plays Detective Murdoch:
CELEBRATE THE MOMENT. 🎶 🤟 Next week the one and only #GeddyLee steps into the LIMELIGHT as a guest star on #MurdochMysteries! 🤩 What role do you think this WORKING MAN will play? Find out Monday at 8/8:30 NT only on @cbc and @cbcgem. pic.twitter.com/52BnXnk5Pj

- Murdoch Mysteries (@CBCMurdoch) March 16, 2022
----- snip -----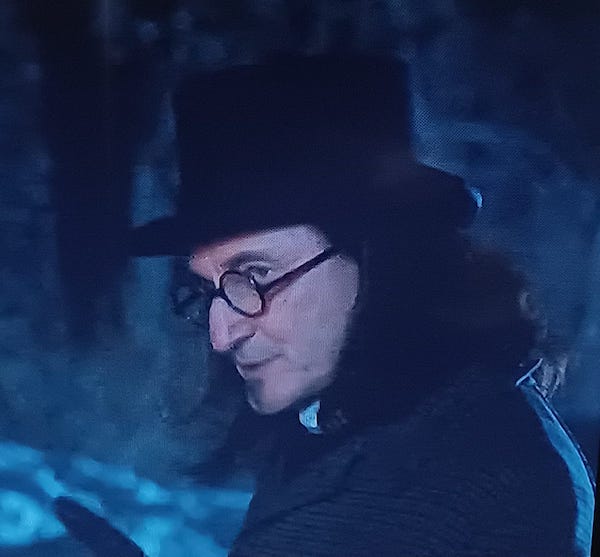 Rush's Geddy Lee will be making a guest appearance in the next episode of the long-running CBC mystery drama Murdoch Mysteries (Season 15, Episode 21 - Devil Music) according to this Tweet from the show's offical Twitter feed, which includes a 15-second video showing Geddy towards the end:
THIS IS NOT A DRILL! Next week's episode is going to have you RUSHING to your screen, so make sure to clear your schedule. 😏 With big things happening and a familiar face, you don't want to miss this one!
In the short clip, Geddy seems to be giving Detective Murdoch directions. He points down the road and says, "there's a cabin down the road". It's not clear if that's the extent of his involvement, or if the character will show up in any other scenes. The episode will premiere this coming Monday, March 21, and you can watch the show in Canada on the CBC or stream it on CBC Gem. It also seems to be available on Acorn TV (subscription required).
🚨THIS IS NOT A DRILL🚨 Next week's episode is going to have you RUSHING to your screen, so make sure to clear your schedule. 😏 With big things happening and a familiar face, you don't want to miss this one! 🍼🎶 pic.twitter.com/pnpXudNILS

- Murdoch Mysteries (@CBCMurdoch) March 15, 2022