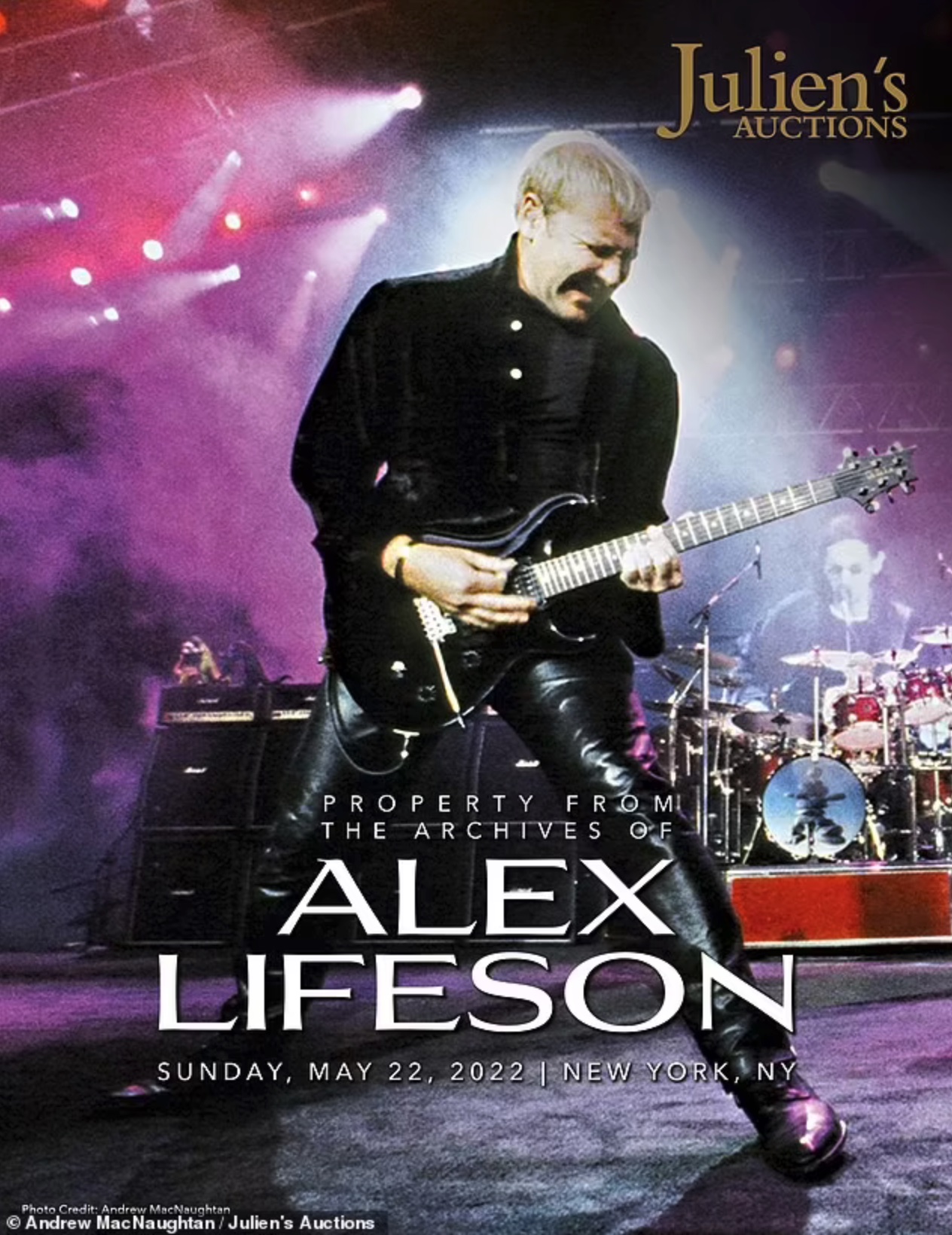 Rush fans with deep pockets will soon have a chance to own a part of Alex Lifeson's legendary guitar collection, as Lifeson will be auctioning off a large portion of his collection via Julien's this coming May. Property From the Archives of Alex Lifeson will be the centerpiece of Julien's Music Icons event in 2 months during the weekend of May 20-22. Lifeson's collection features over 60 vintage guitars and other career memorabilia, and will be auctioned off live from New York City's Hard Rock Cafe and online at JuliensAuctions.com on May 22nd. Here are some of the highlights from the collection, as outlined on the Julien's website:
* A 1976 custom-built Gibson ES-355TD, aka "Whitey, played by Lifeson throughout most of his career with Rush. "Whitey" is featured on all albums from "A Farewell to Kings" to "Test for Echo," and can be seen played by Lifeson on stage during all Rush tours from 1977 to 2015 as well as in many of the band's music videos. This splendid guitar was part of Rush's most explosive era of creativity. Alex Lifeson: "I purchased this guitar in 1976, it was custom-built in Kalamazoo just for me. It has been my main guitar and is the iconic Alex Lifeson guitar."

* A 1970 Gibson Les Paul acquired by Lifeson during Rush's inaugural tour and played extensively on all Rush albums and tours from "Fly By Night" and "2112" to "Hemispheres."

* A 1971 Jose Ramirez acoustic guitar used by Lifeson to record all classical-style tracks on the album "Hemispheres," including "The Trees" and "La Villa Strangiato."

* A 1976 Gibson Dove acoustic guitar played on numerous tours and used by Lifeson to write "Closer to the Heart" and other songs from the 1977 Rush album "A Farewell to Kings."

* A 1976 Gibson J-55 acoustic guitar used by Lifeson to compose Rush's platinum-selling album "2112" as well as "A Farewell to Kings" and served as the main acoustic guitar on "Natural Science" and "Camera Eye" from "Permanent Waves" and "Moving Pictures."

* A 1980 custom Hentor Sportscaster played by Lifeson on most Rush albums since "Moving Pictures," and was the main guitar used on the recording of the album "Grace Under Pressure." This guitar was favored by Lifeson as his primary instrument for soloing - in particular the solo for the band's hit single "Limelight," and can be seen in the music videos for "Vital Signs," "Countdown," and "Enemy Within." The Sportscaster's heavy yet versatile sound embodies Rush's bold sonic explorations of the 1980s and Lifeson's growth as a soloist during this time.

* A 1981 Gibson Howard Roberts fusion guitar that served as Lifeson's main guitar during the "Moving Pictures" tour.
The auction will also include concert and tour ephemera, passes, and photographs as well as original lyric sheets. You can get all the details and learn how you can be a part of the auction via the Julien's website here. Additional photos can also be seen in this Daily Mail article.
Back in early 2021 during an interview with Make Weird Music, Alex Lifeson mentioned his desire to possibly sell off some of his extensive guitar collection for charity:
... what I'd like to do sometime in the near future is to sell my collection. Would keep a handful of instruments but I'd love to sell my collection for some charities that I'm involved with. I think that would be really a great way for these fabulous instruments that have been so sweet and dear to me to carry on and do something very powerful and positive for the world. That's something that I've been exploring in fact in the last few days. ...
Then in his AlexLifeson.com video newsletter update a couple of months ago, Lifeson confirmed that the auction was going forward and that he had already packed up the guitars:
... I'm having a guitar auction thing going on this year. I'm gonna auction off my guitars. So save up your pennies... make that dollars. You know I love those guitars a lot. When I was packing them up it was sad. I thought I was very brave and courageous and strong, but no... no.... I'm a weak chicken. Mmmm... I could go for some chicken right now ... It was so hard packing them up, but I polished them and kissed them and hugged them and put them in their cases. And now they're gonna do a lot of good once they're in other homes ...