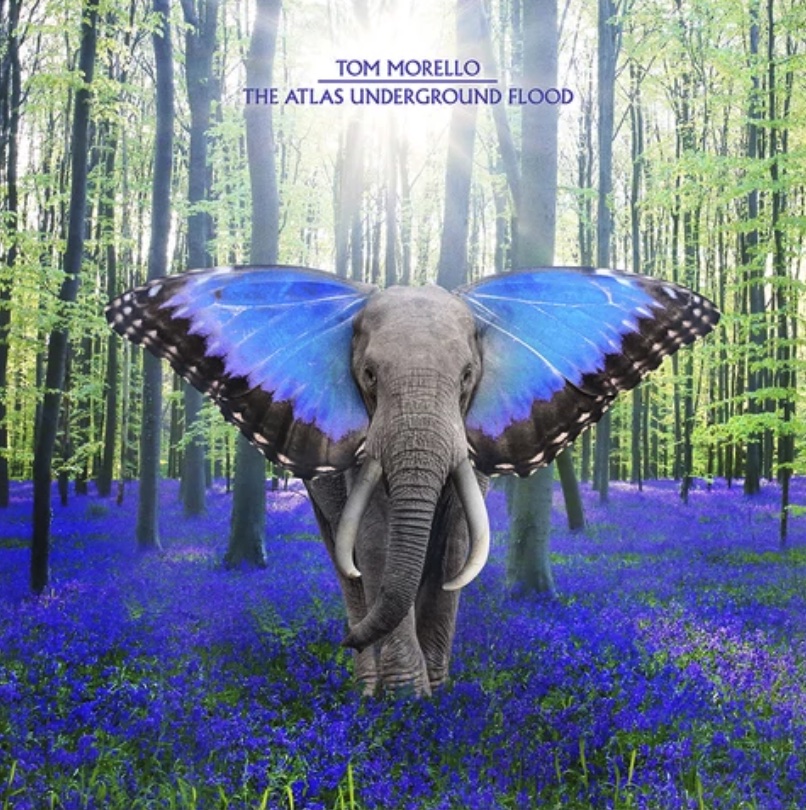 Back in June Rage Against the Machine guitarist Tom Morello recorded a new track with Alex Lifeson and Metallica's Kirk Hammett, and hinted that the track would be appearing on a future project that he was putting together. Earlier this week Morello revealed more details about the project, titled Atlas Underground Flood, which will also feature Nathaniel Rateliff, Jim James, IDLES, Ben Harper, X Ambassadors, Barns Courtney, Manchester Orchestra, Andrew McMahon in the Wilderness and more. The album is the sister project to Morello's recently-released Atlas Underground Fire album, and is slated to release on December 3rd via Mom + Pop Music. The track which Lifeson and Hammett appear on is titled I Have Seen the Way. Lifeson had the following to say about the recording back in June:
... Morello kept things simple for his new project, sending over a couple of different riffs as a starting point for Lifeson. "He said, 'Put whatever you want on it - the more the merrier,'" Lifeson recalls. "He was going to give it to Kirk Hammett, and Kirk was going to do the same thing." Still, Lifeson didn't stick to his usual playbook for his contribution. "Being the contrarian, I did all of [these other styles], not just heavy rock stuff," he says. "We were all talking to each other while we were doing it, and we just had such a riot. I sent my stuff in and it went to Kirk then, and he sent his stuff in." Lifeson recently heard an early mix of the track and was thrilled with the result. He thinks fans will dig it, too. "It's really some fun music," he notes. "It's so Tom Morello, his parts. I just smiled the whole way through listening to it. I thought it was really, really cool the way it turned out." And even though Morello most likely meant the song to be a one-off collaboration for the trio, Lifeson, for one, is up for more. "I'm hoping that he might have something else to send along," he says.
The album is currently available for pre-order via Amazon at this location.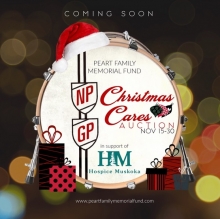 The Peart Family Memorial Fund's Christmas Cares online charity auction is now underway and open for bidding through November 30th. The auction features dozens of unique Rush and Neil Peart related items, several of which are signed by Peart's family members, along with some photos signed by Alex Lifeson. From the auction website:
Thank you for joining us! We are raising funds for Hospice Muskoka, where our Father passed away on June 12, 2021. We hope to have something for everyone! You can also donate directly in memory of a loved one. Thank you so much for your support!
To check out all of the items, and place your bids or make a donation, visit trellis.org.
Speaking of Neil Peart, the legendary drummer was posthumously honored with the Lifetime Achievement Award at this year's Percussive Arts Society International Convention (PASIC) in Indianapolis this past weekend. The late Peart's wife Carrie Nuttall and daughter Olivia accepted the award on his behalf, where they were joined by Chris Stankee, global director of artist relations for Sabian cymbals. Drummer Dave Stark shared a photo of Nuttall giving her acceptance speech, with Olivia and Chris standing nearby, to his Facebook page as seen here, and a photo of the award can be seen here.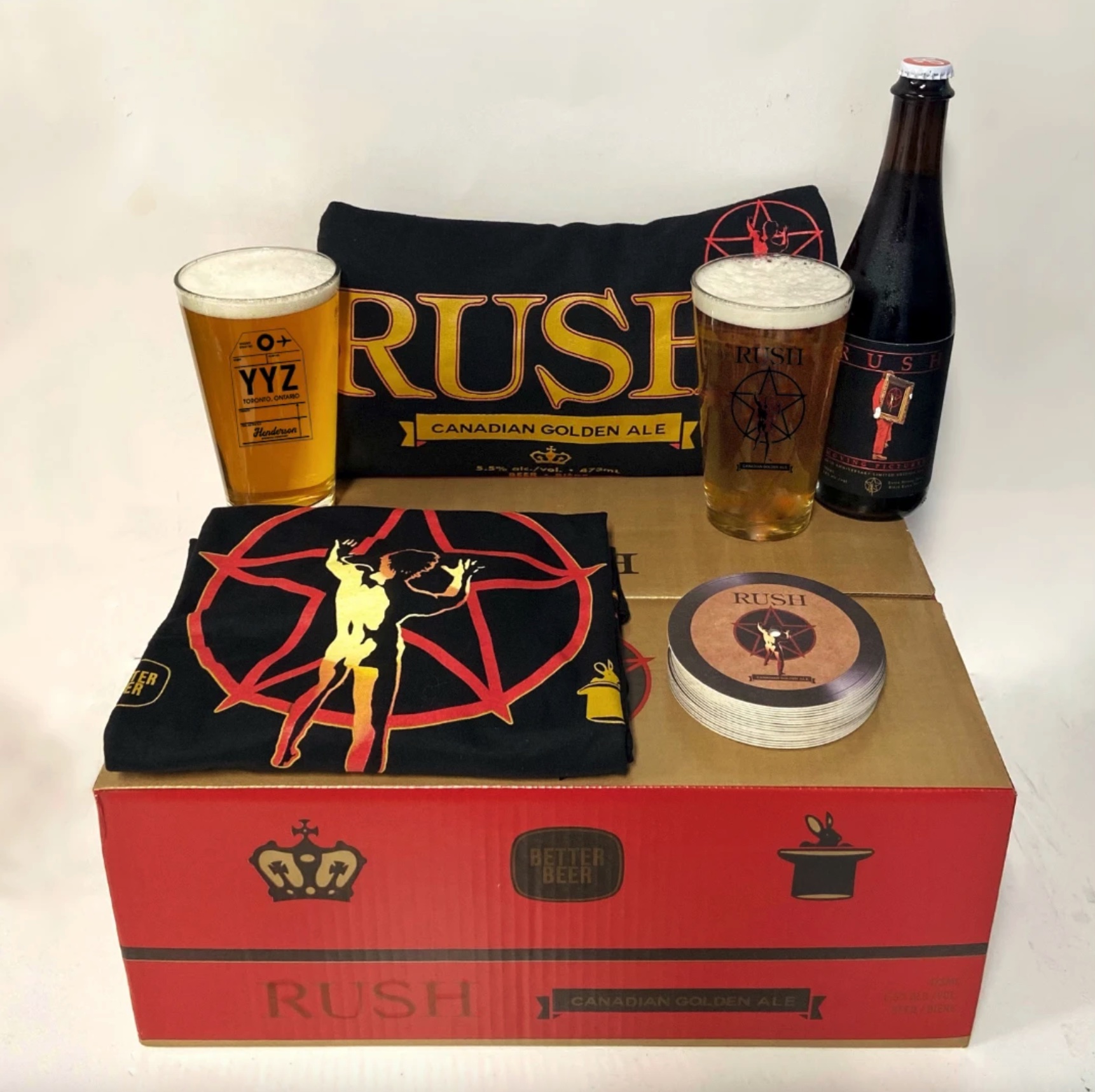 Back in August Rush teamed up with Henderson Brewing Company to release their first Rush-branded beer - Rush Canadian Golden Ale - and followed that up last month with Moving Pictures Ale. Yesterday they announced the release of a number of Rush beer holiday packs and began taking pre-orders. The packs available include a limited-edition Rush Starman 6 Pack Carrier made of baltic birch plywood and pine. The carriers can be purchased as a standalone item, or full of a 6-pack of Rush Canadian Golden Ale, and also as a bundle including a pair of YYZ pint glasses. There's also an Ultimate Rush x Henderson Holiday Pack which includes 24 cans of Rush Canadian Golden Ale in special case box, 4 YYZ Rush Pint glasses, 100 pack of Rush x Henderson coasters, Rush Golden Ale, Rush Golden Ale T-shirt, and 1 Moving Pictures Belgian Ale bottle. Please note that bundles containing alcohol cannot be shipped to the USA or Quebec. All of the Rush beer packs are currently available for pre-order here and will begin shipping out on December 6th.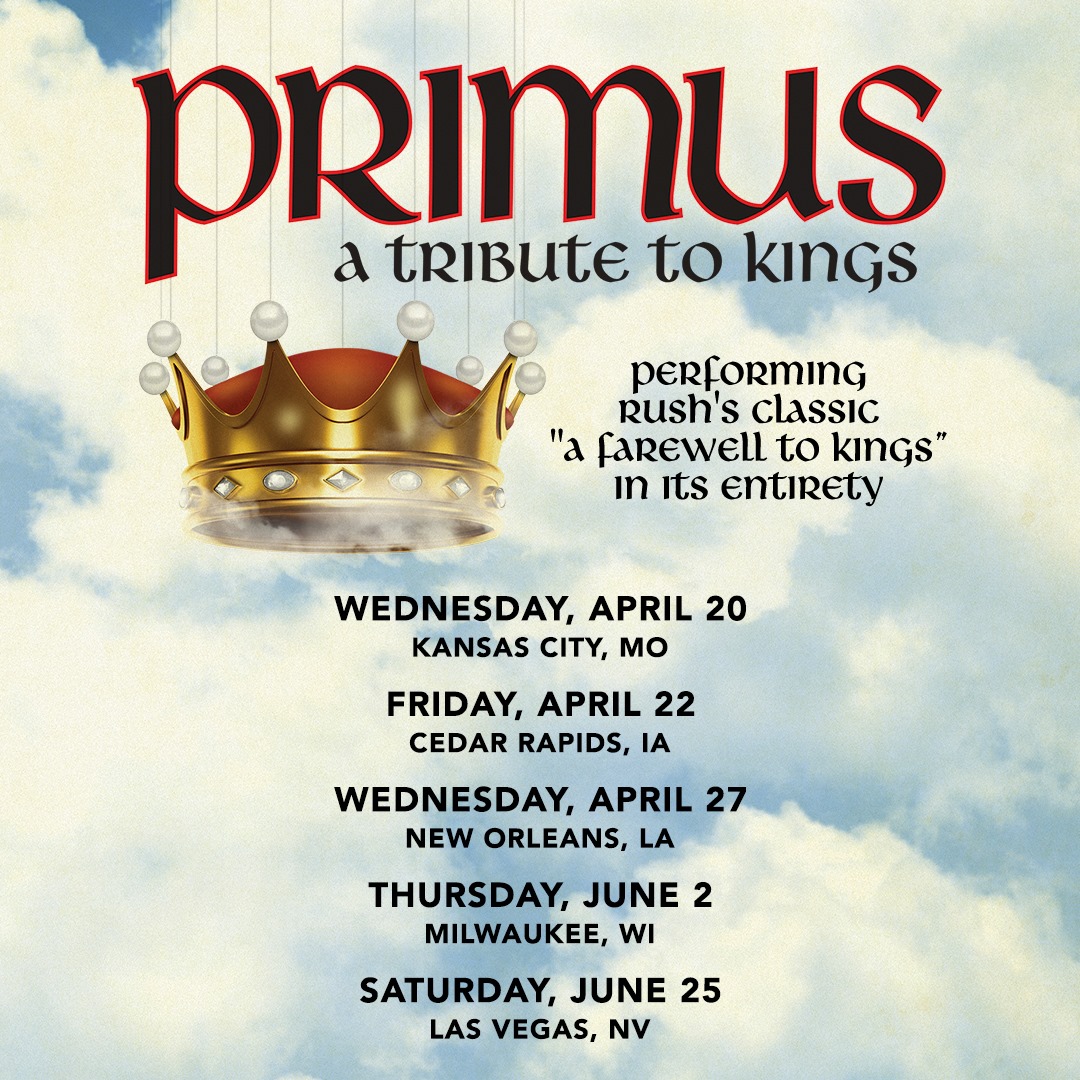 The 2021 leg of Primus' A Tribute to Kings Rush tribute tour finished off in Phoenix a few weeks ago, and - despite a few cancellations along the way due to COVID-19 - the tour was a huge success. The tour saw the band paying tribute to their musical heroes Rush by covering the A Farewell to Kings album in full as seen in these fan-shot videos (part 1, part 2), mixed in with a couple sets of Primus classics. Earlier this week the band posted rescheduled dates in 2022 for the 5 cancelled shows, and also promised that more dates (including several Canadian cities) would be announced soon. From the Primus Instagram page:
Happy to announce NEW dates in 2022 for the postponements in Kansas City, Cedar Rapids, and Milwaukee, along with already confirmed New Orleans & Las Vegas shows. All previously purchased tickets will be honored. We're also excited to let you know that we will be announcing more "Primus - A Tribute To Kings" tour dates shortly including several Canadian cities. Tickets for the new dates are available now at www.primusville.com
For all the details and to purchase tickets visit primusville.com.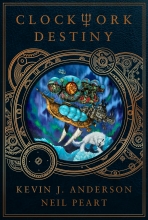 Kevin J. Anderson and Neil Peart's Clockwork Destiny - the 3rd and final novel in the Clockwork Angels trilogy - is slated for release in April of 2022, and is now available for pre-order via Amazon. Anderson is also now accepting pre-orders for signed copies via his WordFire Press website.
Andy Curran was recently interviewed for the Thunder Bay Arena Rock-Scotch On The Rocks! YouTube channel to discuss his involvement with the Unison Fund - a non-profit charitable organization that provides counseling, emergency relief, and benefit programs for those in the Canadian music community. Andy first learned about the organization via his role as AR rep with Anthem (Rush's management/record label) early last decade. Rush helped seed the charity back in 2011, and also donated a portion of their Clockwork Angels tour ticket sales to the organization as described in this post. In the latter half of the interview, Curran discussed some other projects he's been working on, including his Little Book of Bass Instagram posts, and his Envy of None collaboration with Alex Lifeson. Curran has been featuring a Bass of the Week on his Instagram feed, and at around the 34-minute mark he tells the story of the Fender Jaco Pastorius Bass that Geddy used on Malignant Narcissism that Geddy gave to Andy afterwards. Curran also gives a brief update on the Envy of None project at about the 42-minute mark, saying that they are essentially done and are currently mixing the last track. He also promises some more news on that front will be coming in the near future. You can listen to the entire interview via YouTube at this location (thanks RushFanForever).
On the latest episode of the Something for Nothing podcast, hosts Steve and Gerry discuss Rush's February 20, 1978, Hammersmith Odeon concert. Part of that show was the third disc of Rush's Different Stages live compilation, and the full concert was included on the 40th anniversary A Farewell to Kings box set. You can listen to the show below or via your favorite podcast service:
In the latest episode of the 2 Guys Talking Rush podcast, hosts John and Dan continue their conversation with award-winning Polish filmmaker/innovator Zbigniew "Zbig" Rybczyński, who was responsible for Rush's iconic music video for Hold Your Fire's Time Stand Still. You can listen to part 2 of the interview below or via your favorite podcast service:
Motley Crue bass player Nikki Sixx released his new book The First 21 last month, and in the following excerpt he mentions his dislike of Rush (thanks RushFanForever):
... It was around that same time that I moved in with Angie, who was writing and singing In a band called Tripper and studying journalism at USC. I had auditioned for hipper, driving dawn to Hawthorn with my Fender bass and all my gear, only to find that I disliked the guitarist. He had curly hair, and I was firmly of the opinion that curly hair had no place in rock and roll. Worse than his hair, he liked Rush-he wanted that thin, bury, Rickenbacker-ish bass sound. I hated Rush. I liked a bass sound that was fat and thick, with tons of bottom. Actually, I hate Rush to this day. I get that they're talented guys. But I might ask you. "Do you like Rush?" If I do, you should say, "No." Otherwise, we're probably not going to have much of a relationship. But Angie and I hit it off. We hated the same bands. We liked the same bands. We liked the same clothes. We teased our hair the same way. ...
Sixx recently appeared on the Eddie Trunk podcast to promote the book, and Trunk - a huge Rush fan - asked him about the excerpt and his dislike of Rush. Sixx passed it off as an example of his sarcasm and went on to profess his love of Rush's debut album, and the song Working Man in particular:
... That comes to that round table I do with my friends, that's the kind of stuff. I was like, I'm sarcastic by nature first, and then a bass player. It comes first, sarcasm comes first. Gets me in trouble online, gets me in trouble with my wife all the time, and you know, I wrote that in there, and then Alex, my co-writer and the editor thought it was funny, and I'm like, 'I know Eddie's going to bring this up...' So I put it in the book. ... I saw Rush, it was Kansas headlining, it was either Queen or Rush next, so it's the three of them, and Rush's first album was out, and that song 'Working Man,' that song's so great, [I] loved that record ...
Earlier this week Ultimate-Guitar.com posted their list of 10 Iconic Rock and Metal Albums Turning 10 Next Year, one of which is Rush's 2012 Clockwork Angels album:
One of the defining bands of Prog Rock, Rush's final album had to be worthy of the band's name. Their 19th studio effort, "Clockwork Angels" saw the band embarked for the first time on a full concept album. With a story influenced by alchemy and Steampunk elements, the record saw the band at its most ambitious lyrically and musically. An incredibly diverse release, "Clockwork Angels" had enough technical prowess to impress any Prog fans while keeping a melodic heart that could also appeal to the Mainstream audience. Top-notch performances from Neil Peart, Geddy Lee, and Alex Lifeson associated with great plot-driven lyrics that didn't get too goofy made the album an incredible swan song for one of Rock's all-time greats.
The CBC's Cross Country Checkup with Ian Hanomansing recently sat down with Canadian comedian and TV personality Rick Mercer to talk about his recently-released memoir Talking to Canadians (thanks RushFanForever). At around the 20:42 mark he fondly reflects on the time he had Neil Peart on the Mercer Report (video of that episode here).
Former Rush producer Terry Brown was recently interviewed for Rock Talk with Mitch Lafon, and spoke a bit about working with Rush, focusing on the band's classic live album, 1981's Exit... Stage Left. Ultimate-guitar.com transcribed much of the conversation and made it available online here.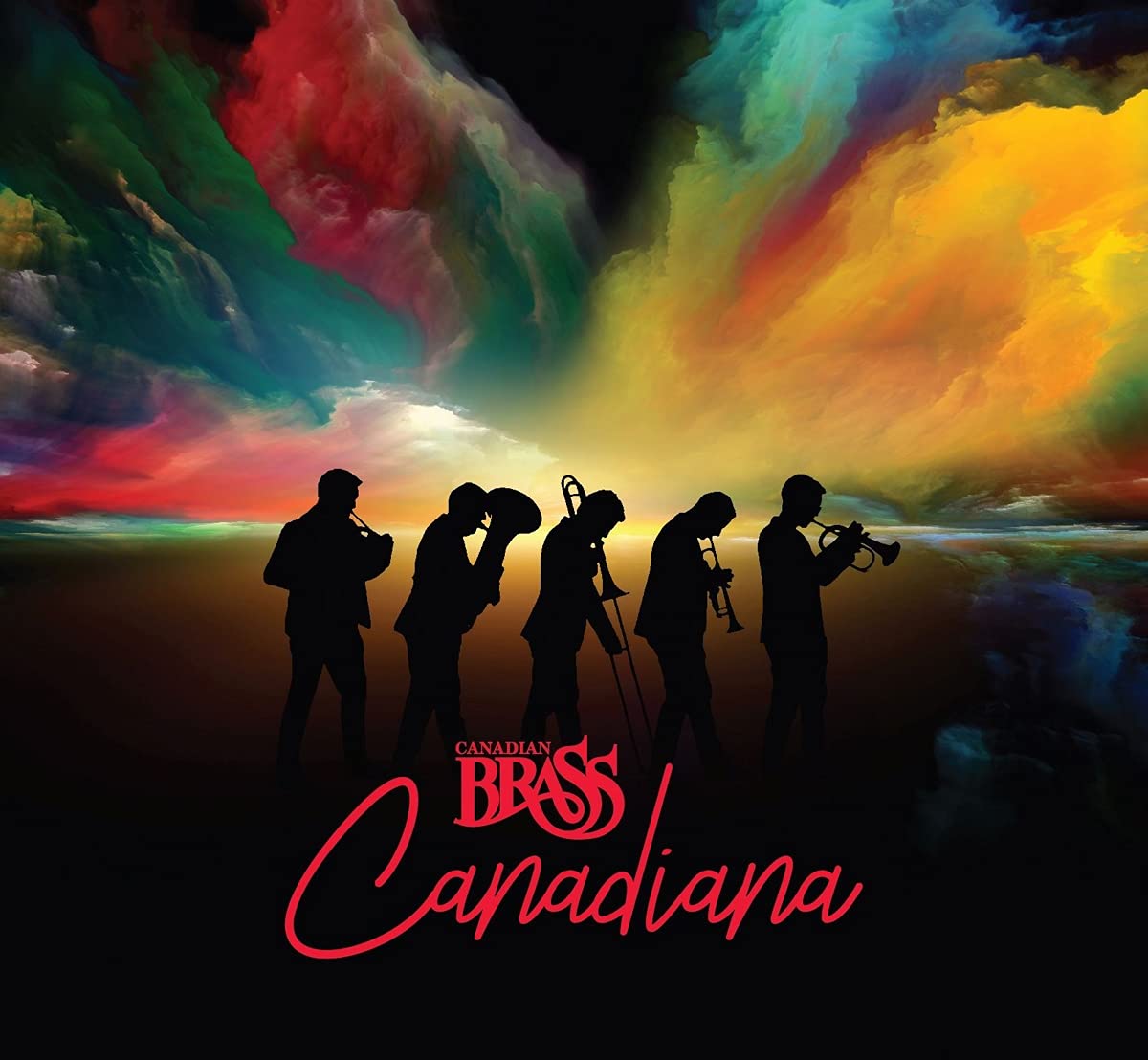 Celebrated Canadian brass quintet Canadian Brass released their new, all-Canadian, 11-song collection Canadiana last week via Linus Entertainment, and one of the songs featured is a horn-laden cover of Rush's 2112: Overture. For the Rush cover, they also enlisted the help of guitarist Sean Kelly and percussionist Tim Timleck, and you can listen to the track below or via YouTube at this location. In addition to Rush, the collection includes covers of tracks from Joni Mitchell, Drake, Daniel Caesar, Shawn Mendes, Bruce Cockburn, Deadmau5, k.d. lang, Lara Fabian, and Leonard Cohen. The quintet's legendary French horn player Jeff Nelsen was interviewed by the Hamilton Spectator to talk about the album and how it came together:
... Nelsen says every band member brought in their own suggestions, which were arranged by trumpeter Ridenour, whom he calls "a freakin' genius." "The order came together pretty well because of how each piece clearly fits in in the way we approach concert programming. I think each of us brought a few our favourites to the table. We had to have Rush on there and Joni Mitchell, Leonard Cohen were the obvious ones." ...
You can purchase Canadiana via Amazon at this location, and also find it on most streaming music providers.
That's all for this week. I hope all of my fellow American readers have a safe and happy Thanksgiving next week. Have a great weekend!!