To the delight of beer-drinking Rush fans everywhere, last week Rush announced a partnership with Toronto-based microbrewery Henderson Brewing Company to release a Rush-branded beer. Rush Canadian Golden Ale will officially launch this coming Monday, August 30th across Canada, with distribution primarily in Ontario to start. However, several fans have reported that it's already available in some Ontario stores, as seen here. As part of the launch, Rush produced a couple of hilarious videos of Beer Scientist Alex Lifeson and Beer Drinker Geddy Lee sampling the product on location at the brewery, as seen here (What's Vat?) and here (HOPS!). The Rush Backstage Club is also producing this Rush Golden Ale t-shirt to commemorate the release. From the announcement:
... In the summer of 2020 Rush and Henderson began taste testing many prototype brews and early in 2021 the band and the brewery both felt they had come up with a brew they could stand behind. Subtlety complex, refreshing and satisfying and uniquely Canadian, as the beer gets its taste from Canadian ingredients, including Rye. "Rush Canadian Golden Ale is golden in colour with a dense ivory head. It has an earthy aroma with hints of orange-peel, pine and spicy rye. While the emphasis is on refreshment, there are elements of pine, rye spice and a citric hop flavour that add to the subtle complexity of the beer," remarked Alex Lifeson, the band-proclaimed Beer Scientist.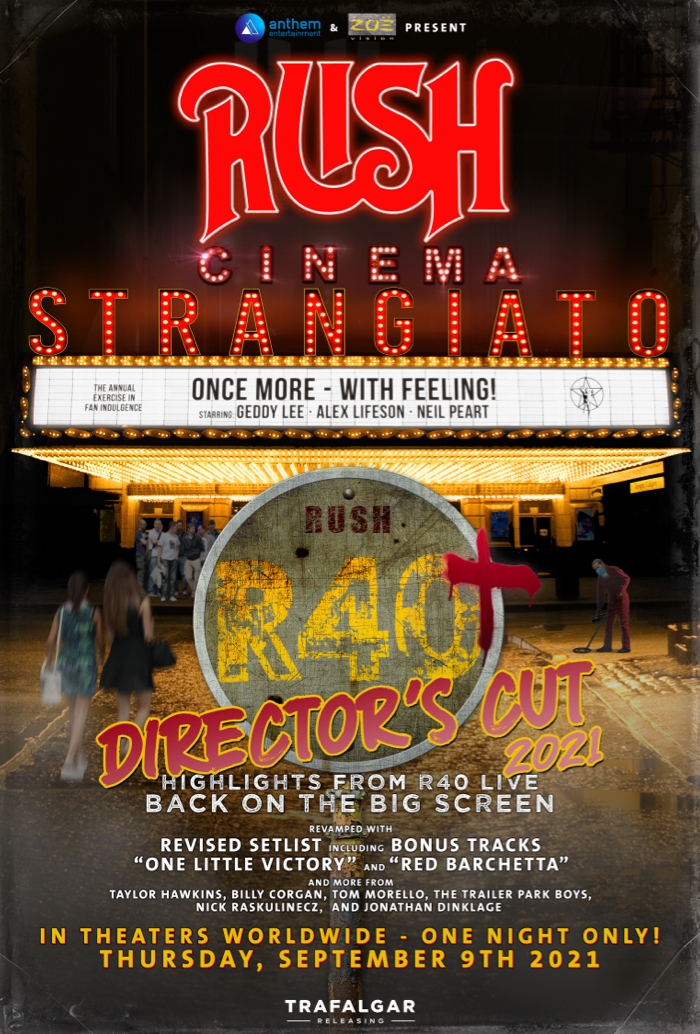 Rush's Cinema Strangiato theatrical film experience first hit theaters 2 years ago, premiering on August 21, 2019. The film brought Rush fans together for a special look into Rush's R40 Live tour, with new backstage footage, special guests, and performances. A few weeks ago, Rush announced that a new Director's Cut of the film would be coming to theaters worldwide on Thursday, September 9th in celebration of the 40th anniversary of Moving Pictures. You can view the film's trailer here along with live video excerpts of Red Barchetta and Cygnus X-1/The Story So Far. For all the details and to purchase tickets, visit CinemaStrangiato.com.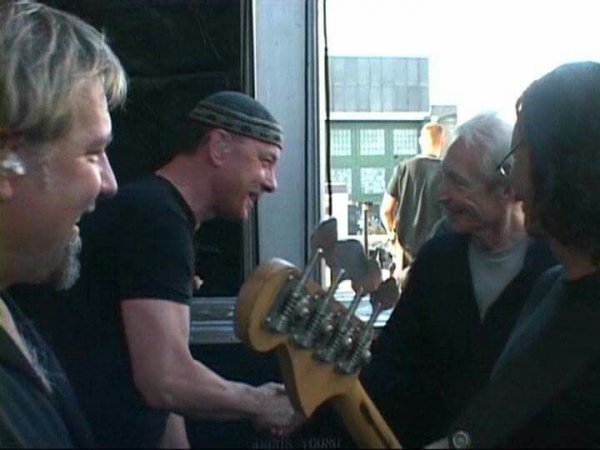 The sad news broke earlier this week that legendary Rolling Stones drummer Charlie Watts had passed away at the age of 80. Watts was a huge influence on multiple generations of drummers, including Rush's Neil Peart. Peart once met Watts backstage at the 2003 SARS benefit show in Toronto and described the experience in his 2004 book Traveling Music:
... A short, older man stepped up to me, sticking out his hand and saying something I couldn't hear. Thinking "Now who's THIS?" I took out one of my ear monitors and said "Sorry, I couldn't hear you."

He spoke again, smiling, "Hello, I'm Charlie Watts."

"Oh!" I said, taken aback, "Hello." And I shook his hand.

He asked if we were going on soon, and I said yes, any minute, and he said, with a twinkle, "I'm going to watch you!"

I suppose if I could have felt more pressured, that might have done it, but I was already at maximum intensity - there was no time to think of Charlie Watts and the Rolling Stones, watching them on The T.A.M.I Show or Ed Sullivan when I was twelve-and-a-half, hearing Satisfaction snarling down the midway at Lakeside Park, Gimme Shelter at the cinema in London, listening to Charlie's beautiful solo album, Warm and Tender, so many times late at night in Quebec, or any of the other million times Charlie Watts and his band had been part of my life.

Geddy e-mailed me later and mentioned that scene:

"BTW, I will never forget that moment before we went onstage when Charlie Watts came over to shake your hand (at the worst possible moment!) and watching your face go through all the motions of... a. who is this old guy? b. what does he want? c. oh for god's sake it's Charlie Watts!" ...
There's a short video snippet of this encounter included in the Toronto Rocks documentary which you can watch below or on YouTube here. Rush also posted a photo of the above-described experience to their official Instagram earlier this week with the following caption, "Sad day for rock and roll...RIP Charlie Watts. He was much loved. ...".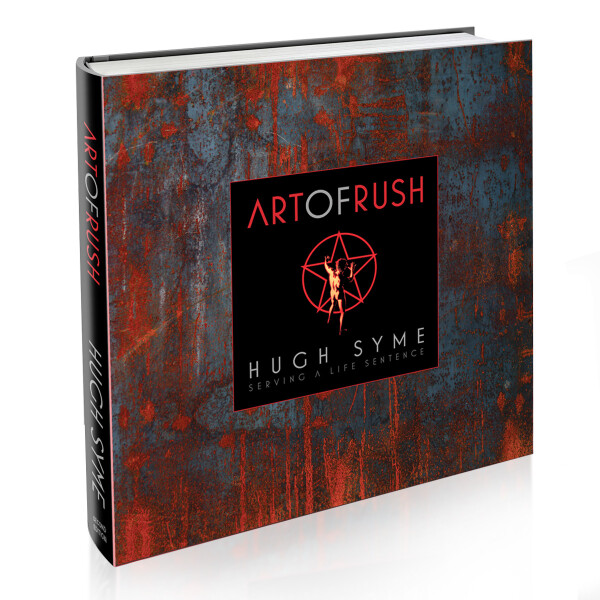 A newly expanded and updated second edition of Hugh Syme's The Art of Rush will be released this coming October via IDW Publishing (the original edition was released back in 2015). This updated edition will include a newly designed cover along with an additional 20-page section featuring the artwork of Rush's 40th anniversary box set releases from recent years, along with a sneak peek at some of the artwork from the upcoming Moving Pictures box set. From the product description:
... Containing original illustrations, paintings, photography, and the incredible stories behind each album that Hugh Syme has designed with the band since 1975. The book's narration was written by music journalist Stephen Humphries and includes in-depth interviews with each Rush band member and the artist. The Art of Rush also contains entertaining anecdotes and commentary from a wide array of notable musicians, actors, athletes, writers, radio personalities, and Rush insiders about their favourite Rush album covers, which clearly reveals how vital and impactful the visual representation of their music has been through the years. One of the hallmarks of Rush releases is the considerable care and consideration that goes into each one-including the conceptual artwork. Readers may be surprised to discover just how much effort went into each concept and the execution for every album cover! ...
The book is currently available for pre-order via Amazon here.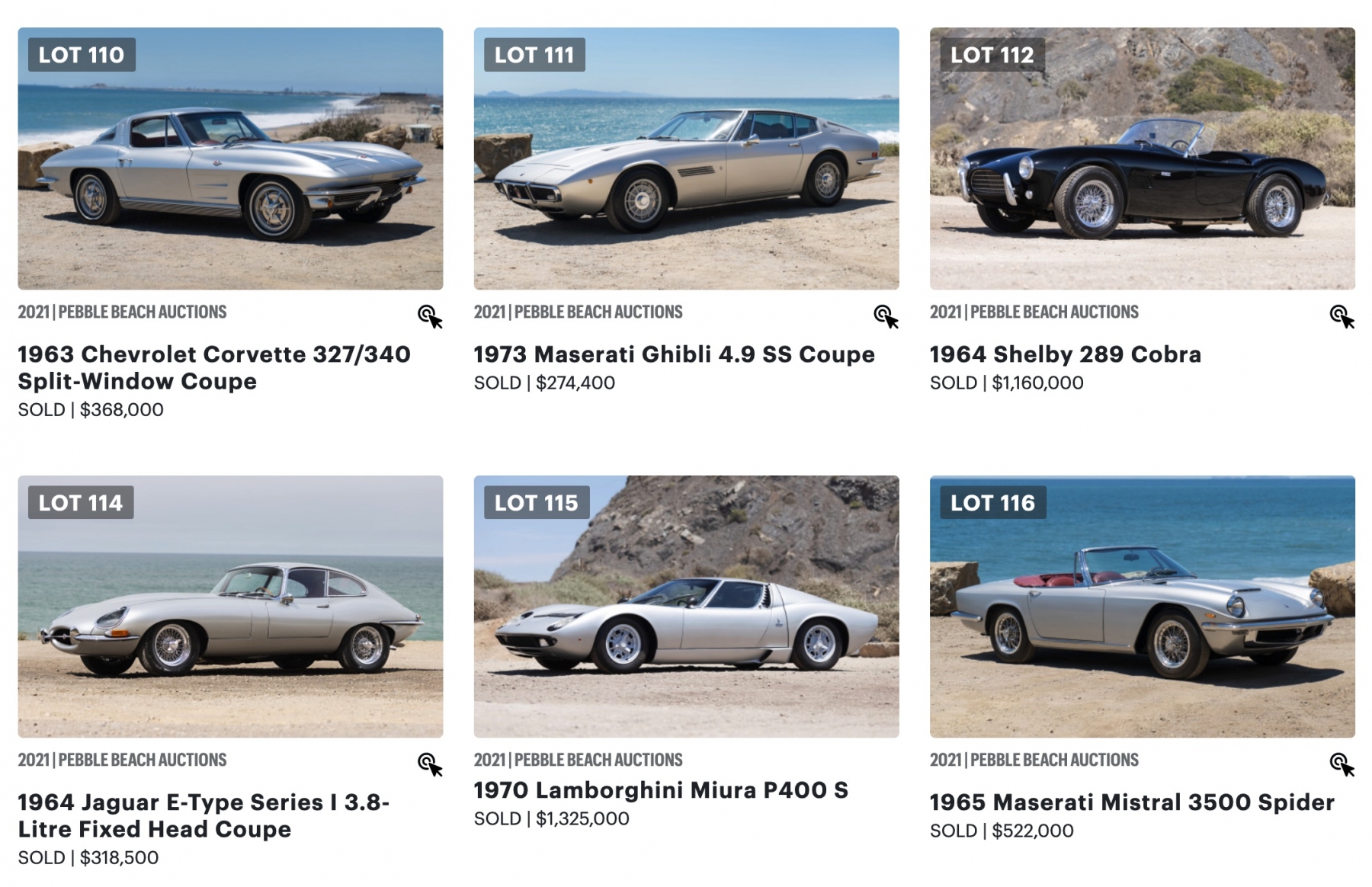 Neil Peart's extensive classic car collection - dubbed the Silver Surfers by Neil himself - went up for auction at Gooding & Company's 17th annual Pebble Beach Auctions a couple of weekends ago. Of the seven cars up for auction, all were sold that weekend except for the 1964 Aston Martin DB5, which failed to reach reserve. However, it looks like that car finally sold as well, garnering another $625,000 for the collection, and bringing the total amount for all 7 cars to around $4.5 million. You can view the complete auction results online here - lots 110-116. As we learned back in June, this collection of classic cars were the subject of a coffee table book that Neil Peart was working on prior to his untimely passing last year. Here's a passage from the upcoming book from Rush.com:
... The title Silver Surfers for my collection of cars occurred to me while driving my DB5 up and down the Pacific Ocean. Because it felt right to me, I guess - the idea that I was just one of the wave riders.... In search of natural peace, I often drove out that way and up in to the Santa Monica Mountains. Out past Malibu to Ventura County, I'd weave along barren ridges of rock and vegetation, the ocean always on one big side. The waves were slow and gentle, or churned out a powerful, rolling rhythm ...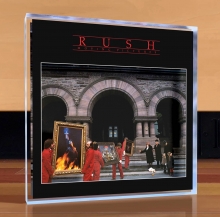 Artovision is a Wisconsin-based company that creates 3-dimensional collectable artwork inspired by popular culture, video games, food and Americana. Back in April they released 2 officially-licensed pieces in celebration of the 40th anniversary of Rush's Moving Pictures album. The first was a shadowbox art piece depicting the Moving Pictures album cover as seen here, and the second piece was a desktop art piece depicting the album cover movers carrying either the Joan of Arc or Starman painting (2 options available) as seen at this location. Earlier this week they added to their Rush collection with a desktop art piece depicting the Moving Pictures album cover itself, as seen here. Just like the previously-released movers desktop art piece, this new piece is printed on 3/4" thick optical-grade acrylic with vibrant UV cured inks. You can see Artovision's entire Rush collection here, and watch a YouTube video demonstrating the 3-D effect of their Shadowbox art here.
The latest episode of the Something for Nothing podcast features hosts Steve and Gerry discussing another round of Rush cover songs. This episode continues their cover song discussions from episodes 71 and 90 of the podcast, and features 10 more artists' takes on classic Rush tracks. You can listen to the show below or via your favorite podcast service:
This past week's episode of the 2 Guys Talking Rush podcast features the first part of an interview with pioneer video director Tony Van Den Ende, who directed the video for Rush's Lock and Key off of 1987's Hold Your Fire. You can listen to the interview below or via your favorite podcast service:
This past week uDiscoverMusic.com posted their list of 73 of The Best Albums Of 1977 and Rush's A Farewell to Kings made the cut at #51 (thanks RushFanForever):
Stretching out to play a vast array of instruments, A Farewell to Kings saw Rush take their sound in unexpected new directions.
Famed rock groupie Connie Hamzy passed away earlier this week at the age of 66. She was best known for having been immortalized in the lyrics to Grand Funk Railroad's 1973 hit We're an American Band, and claimed to have had relations with members of dozens of bands, including Rush. In the 2013 book Louder Than Hell: The Definitive Oral History of Metal Connie claimed to have given oral sex to both Geddy and Alex. She was also featured in a VH1 documentary special on rock groupies back in 2010 called Let's Spend the Night Together, and while promoting the doc, she made an appearance on Howard Stern's radio show and also made mention of having done the members of Rush except for Neil.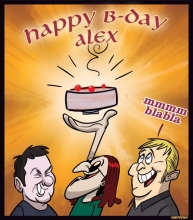 On this day back in 1953, our favorite guitarist - Alexandar Zivojinovich (aka Alex Lifeson) - was born in Fernie, British Columbia to Serbian immigrants, Nenad and Melanija Zivojinovich. He turns 68 years young today which catches him up with his bandmate Geddy Lee; Alex is the youngest member of Rush, being born about a month after Geddy Lee and just under a year after the late Neil Peart. Geddy took some time out to wish his best bud a happy birthday via Instagram:
It's time to celebrate the birth of my BFF, that charming, handsome and multi-talented idiot, Mr. Lerxst Lifeson Esq. Long may he roam this messed up planet making me laugh!!
I love you Lekey!!
Happy birthday Lerxst!! May you have many more, blah, blah, blah. That's all for this week. Have a great weekend everybody!