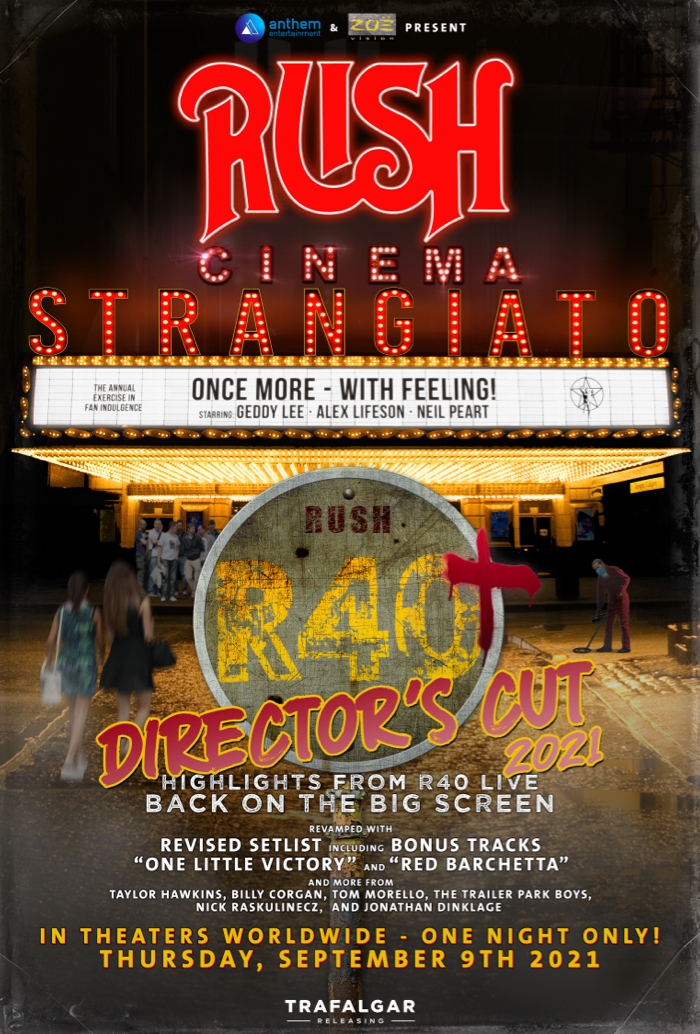 Rush's Cinema Strangiato theatrical film experience first hit theaters 2 years ago, premiering on August 21, 2019. The film brought Rush fans together for a special look into Rush's R40 Live tour, with new backstage footage, special guests, and performances. The event didn't return to theaters last year due to COVID-19 restrictions, but a new Director's Cut of the film will be coming to theaters worldwide on Thursday, September 9th in celebration of the 40th anniversary of Moving Pictures. The new director's cut features a revamped setlist, including new performances of One Little Victory and Red Barchetta as well as Cygnus X-1/The Story So Far, which includes the late Neil Peart's final recorded drum solo. You can watch a snippet of that performance below or via YouTube. Tickets for the US and other countries will go on sale this coming Tuesday, August 3rd, while the Canadian on-sale date will be September 1st. For all the details, including ticket information and participating theaters, visit cinemastrangiato.com.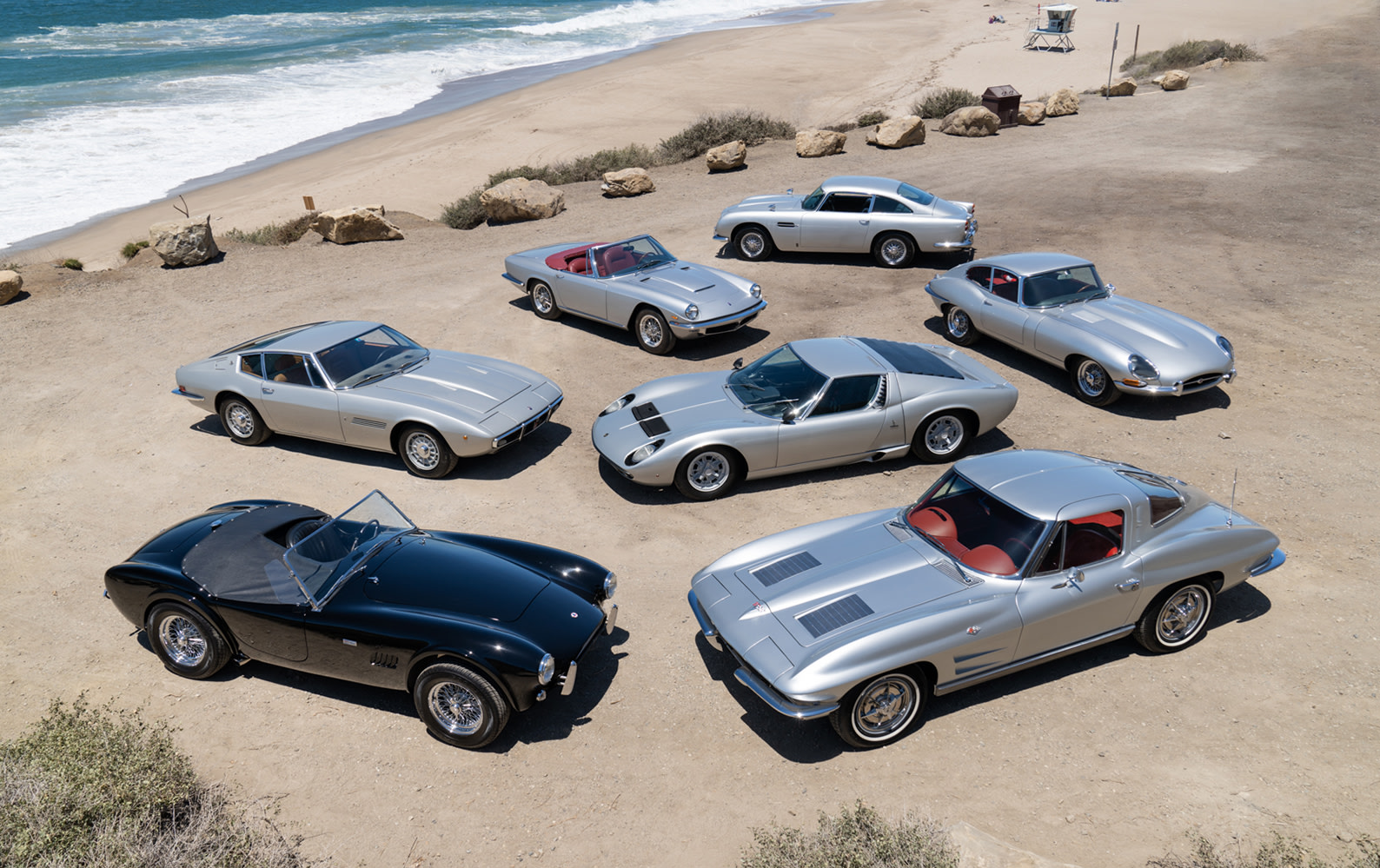 Last month we learned that Neil Peart's extensive classic car collection - dubbed the Silver Surfers by Neil himself - will be going up for auction at Gooding & Company's 17th annual Pebble Beach Auctions next month on August 13 and 14. It turns out that this collection of classic cars were the subject of a coffee table book that Neil Peart was working on prior to his untimely passing last year. From Rush.com:
... Neil's love of classic cars was a lifelong passion, and prior to his passing, he was extremely proud to have completed his final book titled, "Silver Surfers." The following passage from his first coffee table book explains, in his own words, how the collection name came about:

"The title Silver Surfers for my collection of cars occurred to me while driving my DB5 up and down the Pacific Ocean. Because it felt right to me, I guess - the idea that I was just one of the wave riders.... In search of natural peace, I often drove out that way and up in to the Santa Monica Mountains. Out past Malibu to Ventura County, I'd weave along barren ridges of rock and vegetation, the ocean always on one big side. The waves were slow and gentle, or churned out a powerful, rolling rhythm..."

We are happy that his wish to see this book published will be fulfilled, with a release date to be announced. This will certainly be a loving homage to the man and one of his true passions.
You can watch a local TV news story on the Silver Surfers, including an interview with Gooding & Company President David Gooding here.
Spin magazine's Ryan Reed recently sat down with Alex Lifeson for an interview to talk about his Envy of None project, recent foray into social media, the upcoming Moving Pictures 40th anniversary reissue and more. Last month Alex surprised fans by releasing two new instrumental tracks via his newly-minted official website at AlexLifeson.com - Kabul Blues and Spy House - both of which are available for listening online here. These 2 tracks were the first glimpses of the above-mentioned Envy of None collaboration with Andy Curran, guitarist Alfio Annibalini and vocalist Maiah Wynne. The project has recorded a total of 10 songs and are hoping to release an album in the fall. Although Alex has spoken at length about the 2 above-mentioned tracks in recent interviews, he hasn't said much about any of the other tracks, other than in general terms. In his recent Gearfest interview he mentioned that one of the songs has a country feel, and Reed asked him to elaborate on that:
... The country thing is called "Western Sunset," and it started out as something I was feeling when I heard about [the death of] Neil [Peart]. It's a very thoughtful, very calming arrangement and song. It's very, very different for me. That was a cool thing. [Envy of None's] Maiah Wynne's going to do some vocal musings - no lyrics, just sounds - that I think will enhance what's already there. Andy [Curran] played bass on it, and David [Quinton Steinberg] played drums on it. It's more traditional country and western - it's not modern country or anything like that. It has a very lonesome big-sky feel to it. ...
Alex also addresses the planned Moving Pictures 40th anniversary reissue:
... there are a lot of plans that have been developing. A lot of stuff floats to us for approvals and comments, but yes, there is a package and it's quite extensive. From what I've seen, it looks really, really cool. Can you believe it's been 40 years? I feel so old. All of the stuff is really, really cool. ...
You can read Alex's entire Spin magazine interview online here. On a related note, Alex's Envy of None partner-in-crime, Andy Curran, was recently interviewed for Montreal Rocks and spoke a little his collaboration with Lifeson. You can listen to that interview on YouTube here (thanks RushFanForever).
In addition to Alex Lifeson's website launch and song release last month, Lerxst also released his new Epiphone Les Paul Axcess Standard signature guitar, and Guitar World posted this review of the guitar earlier today.
Yesterday Geddy Lee celebrated his 68th birthday! Back in 1974, Geddy got an especially significant birthday gift in drummer Neil Peart; Geddy's 21st birthday happened to also be the day that Peart joined Rush. Author and former fitness writer James Fell interviewed Alex Lifeson for his daily Facebook column On This Day in History, Shit Went Down, to talk about that fateful day in 1974 when Neil Peart auditioned for and ultimately joined Rush. You can read the entire interview on Facebook or on Substack. Here's an excerpt:
... Sarcastically, Alex referred to himself and Geddy as "hip and cool" with waist-length hair and satin pants. Neil showed up driving his mom's Pinto. "He was a very nerdy looking guy with short hair," Lifeson said. "But when he set up his drums and started playing, we were just blown away." The connection went beyond Peart's drumming prowess. "He arrived at noon and stayed until 11 at night and we just jammed and then sat around, and we talked and laughed a lot. That was the thing that stood out, that we had camaraderie. We talked about books and social issues and then we'd jam for another hour then maybe smoke a joint and talk about more stuff. It was just an instant connection with him." Singer and bassist Geddy Lee turned 21 on July 29, 1974. For a gift, he got a new band member. At the time, Alex didn't understand how much Neil's joining would change the direction of Rush. "We were just excited to be on tour in America," he said. "It wasn't until we started writing material for Fly by Night (Rush's second album, the first with Neil) a couple months after he joined" that Lifeson realized the band was on a different path. That album, Alex explained, was written using acoustic guitars in the backs of cars. He described Neil as "very intelligent and well read" and so was given the job of penning lyrics while they composed the tunes "bounding down highways on the way to the next gig." ...
James has the distinct honor of having interviewed all 3 members of Rush; he interviewed Neil Peart about his fitness regimen back in 2011, and Geddy four years later for a piece that ran on the day of their final show. You can follow James on Facebook and Twitter.
Barenaked Ladies bassist Jim Creeggan was recently interviewed for the September 2021 issue of Bass Player Magazine to talk about the band's new album Detour de Force among other subjects. When asked about which bass players he was influenced by he mentions Geddy Lee and how he indirectly contributed to the album (thanks RushFanForever):
... Geddy Lee was the first guy that I was air-bassing to, before I even played bass, you know. Actually, Geddy's gear is on [Detour de Force]. We asked him if we could use his Taurus pedals, and he was generous enough to give them to us. On the song 'Big Back Yard' I'm actually playing his pedals and playing bass at the same time. ... he was very generous to us when we were coming up as young players. Rush gave us a bottle of champagne when we sold out this big concert venue in Toronto, Massey Hall. You know, here's Rush giving us a bottle of wine, saying 'Way to go!' And Geddy inducted us into the Canadian Hall Of Fame. He didn't have to do that, but he really cares. I remember watching him play, and I noticed that he threw in this little triplet. I couldn't figure out how he did it, so I emailed him and he got back right away, saying 'I hold my hand like this, and sometimes that triplet happens, and sometimes it doesn't!' That was so cool to hear. ...
Louder posted their list of The 20 best classic rock albums to own on vinyl this past week and Rush's Moving Pictures made the cut.
Last week the Cleveland Indians baseball team announced that they were changing their nickname to Guardians after mounting pressure over the years from Native American groups. Former Marlins President David Samson was interviewed by CBS Sports via Zoom to discuss the name change, and a copy of Rush's Moving Pictures can be seen in the background where he was giving the interview. You can watch it on YouTube at about the 2-minute mark (thanks Eric at Power Windows).
Ultimate Classic Rock posted their list of the Top 50 Progressive Rock Songs this past week and 2 Rush tracks were included; La Villa Strangiato came in at #24, and Tom Sawyer at #13:
"Tom Sawyer" isn't the proggiest Rush song - it's just the best Rush song in pure prog mode. ("Closer to the Heart" is a jam, but it couldn't qualify here.) Part of what makes the song stand out is its restraint, like how Geddy Lee initially sings the verse hook over only Neil Peart's heartbeat drum pattern and a faint synth drone - when the fidgety riffs kick in, it's only that much more satisfying. The track's tale of rebellion - developed by Peart from a poem by lyricist Pye Debois - only add to the mystique. "'Tom Sawyer' is a real trademark song for us," Alex Lifeson told Classic Rock. "Musically, it's very powerful, and lyrically, it has a spirit that resonates with a lot of people. It's kind of an anthem."
One year ago this past Tuesday, July 27th, Tool's Danny Carey, Primus' Les Claypool, Coheed & Cambria's Claudio Sanchez, Mastodon's Bill Kelliher and Mutoid Man's Stephen Brodsky teamed up for a video cover tribute of Rush's Anthem for the Two Minutes To Late Night YouTube channel to help raise money for the Cancer Research Institute. In celebration of the anniversary, the channel has posted a Snyder Cut of the video which you can check out below or on YouTube (thanks @RushFamTourneys).
That's all for this week. Have a great weekend!!