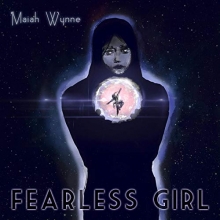 Portland-based singer/songwriter Maiah Wynne recently released her new single Fearless Girl, which features the Portland Cello Project and Rush's Alex Lifeson. The song is about the battle to find inner strength in the aftermath of sexual assault, and 10 percent of all proceeds from sales of the track will go to Missing and Murdered Indigenous Women USA, which seeks to stop violence against Native women. You can listen to the song below or on SoundCloud, and purchase the track via Amazon or other streaming channels. Here are more details on the song and Alex Lifeson's involvement from a recent Vortex Magazine article (thanks RushFanForever):
... An expertly crafted song with a powerful message, the all-star lineup masterfully executed Wynne's vision. Laying down tracks at Sorcery Studio in Oregon with producer Aliephant, "We recorded the song in pieces over a six-month period between work and touring," Wynne says. In addition to arranging the song and writing the lyrics, she also played piano, guitar, synth and bass, while Portland Cello Project's Douglas Jenkins provided the "absolutely stunning" string arrangement, which also features cellists Skip vonKuske, Kevin Jackson and Lauren McShane. "It was powerful singing with eight cellos," she recounts, "and we laid down so many layers that we are talking about a second release down the road that is just a 'cello and vocals' version of 'Fearless Girl.'"

As for the contributions of Rush's Alex Lifeson, Wynne's mentor Andy Curran of Anthem Entertainment connected her with the legendary progressive rock guitarist. So Wynne boldly asked if he'd play on "Fearless Girl" "and within a few days he sent me tracks that he recorded at his own studio," she says. "They were absolutely amazing, and I loved the textures and depth they brought to the track."

"Maiah's ability to fuse her evocative vocal arrangements with the haunting narrative of 'Fearless Girl' is a testament to her skills as a strong songwriter who can deliver an emotive soundscape as a platform to lyrics both personal and universal," Lifeson says. "I was touched deeply when I first heard 'Fearless Girl' and felt any guitar arrangement required a delicate but resolute approach to echo the sentiment of this moving song. I feel very fortunate to be able to collaborate with Maiah on her music as well as mine." ...
Wynne also sang vocals on a recent collaboration between multi-instrumentalist Marco Minnemann and Alex Lifeson titled Lover's Calling. The lengthy 7-minute piece was made available as a limited collector's edition of 500 physical units only, and is currently being sold exclusively at merch tables on the Aristocrats tour.