It's JUNOs week in Canada, with the 50th JUNO Awards (virtual) ceremony happening this weekend. A string of virtual events have been taking place over the past few days and will continue throughout the weekend, ending with the TV broadcast of the main ceremony this coming Sunday evening. Tonight the bulk of the award winners will be named at the virtual Opening Night Awards, hosted by CBC's Angeline Tetteh-Wayoe, where longtime Anthem/SRO (Rush's original record company/management) Vice President Pegi Cecconi will finally receive her Walt Grealis Special Achievement Award. At the main ceremony on Sunday, 15-time JUNO Award-winning band and Canadian Music Hall of Fame inductees The Tragically Hip will perform with singer-songwriter Feist. The Hip will be without their iconic front-man Gord Downie, who passed away back in 2017. The Hip will also be receiving the 2021 Humanitarian Award from Canadian Music Hall of Fame inductees Geddy Lee and Alex Lifeson of Rush. The Humanitarian Award recognizes outstanding Canadian artists or industry leaders whose humanitarian contributions have positively enhanced the social fabric of Canada and beyond. The Hip's performance from Toronto will be broadcast on Sunday, June 6th at 8PM EST on CBC TV, CBC Gem, CBC Radio One, CBC Music and streaming globally on CBCmusic.ca/junos. The Hip were interviewed earlier this week by CBC Music's Tom Power to talk about the Award and the band's legacy. They talk a bit about Rush at the 27 and 54 minute marks, and you can watch the interview on YouTube here (thanks RushFanForever). Power concluded the interview by asking each member how they'd like The Hip to be remembered and drummer Johnny Fay replied as follows:
... Ray Danniels - who's Rush's manager - I was talking to him one night and he said, "there are three things that are Canadian - beer, hockey and The Tragically Hip. And I manage Rush - do you know how hard that is for me to say that?" Ray's a beautiful man and an incredible manager. And I'd never really heard it put that way, and that was beautiful to hear that ...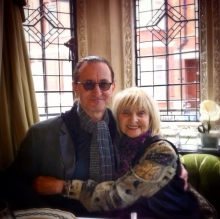 This coming Thursday, June 10th, Geddy Lee and his mother Mary Weinrib will be featured in the season finale of From Cradle to Stage - the Paramount Plus docu-series from Dave and Virginia Grohl, based on Virginia's 2017 book of the same name. The show released a new trailer for the episode yesterday featuring several preview clips of Geddy and his mom which you can watch online here. From Cradle to Stage: Stories from the Mothers Who Rocked and Raised Rock Stars contains a chapter on Geddy Lee's mother Mary Weinrib, where Mary talks about what influenced Geddy to choose a musical career, and the prevalence of music in their family home. If you haven't read From Cradle to Stage yet, you can order your copy at this location.
Former Judas Priest drummer Les Binks was recently interviewed for The Metal Voice podcast and spoke a little about opening for Rush back in 1978. Binks was a member of the band in the late 70s and performed on 1978's Stained Class and Killing Machine. Priest opened for Rush at a couple of shows back in 1978 on the A Farewell to Kings tour, and Binks recalls the following about the experience:
... Well, you know, I wasn't familiar with Rush's material at that time. It was an earlier part of their career. We had been on first, I was standing at the side of the stage watching a show, and I only caught a short portion of the show. I noticed all these big banks of Marshall stacks that they had on stage, which looked very impressive, but when I stood at the side of the stage, I could see that behind the Marshall stacks there was a Fender Twin Reverb miked up. That's what the guitar player [Alex Lifeson] - so, the guitar player was actually playing through a Fender Twin Reverb, but all the Marshall stacks were there just for show. ....
Binks was also asked about Neil Peart:
... I was so sad to hear the news of him passing away, but he was a fantastic drummer, very well respected. What can I say? One of the best....
You can listen to the interview at this location with the Rush bit coming in at around the 24:15 mark.
This past week's episode of the 2 Guys Taking Rush podcast features the Women of Rush, where hosts John and Dan talk to a wonderfully diverse group of professional women who happen to also be huge Rush fans. You can listen to the show below or via your favorite podcast service:
The latest episode of the Something for Nothing podcast features an in depth discussion of Rush's 4th live album Different Stages. You can listen to the discussion below or via your favorite podcast service:
This past week uDiscoverMusic.com posted their list of 100 Songs About Cars And Driving, and Rush's Red Barchetta made the cut (thanks RushFanForever):
Rush spin a vivid tale about a young man sneaking out to the country to drive his uncle's well-preserved, decades-old Ferrari Barchetta. The song, off 1981's Moving Pictures, was inspired by Richard Foster's A Nice Morning Drive - a short story set in a futuristic era, in which smaller, sporty vehicles have been replaced by giant, militaristic vehicles.
Tone Deaf posted an article this past week where they list off 10 Bass Guitarist Heroes That Show Four-Stringers Deserve Respect, one of which is Rush's Geddy Lee:
I felt duty-bound to include the late Lemmy on this list as the best bass guitarist-frontman in history, but in the end it's another Rickenbacker player that takes the gong. That Lee's bass playing consistently shines through on songs that also feature the best drummer in history (Neil Peart) is impressive in its own right. That he manages to do it while also handling keyboards and vocals (and what vocals) is on another level entirely.
10 years ago this coming Sunday, June 6, Neil Peart taped a drum solo performance for an appearance on Drum Solo Week on the David Letterman show. The performance was then aired 3 days later on June 9 as seen in this video:
That's all for this week. Have a great weekend everyone!!