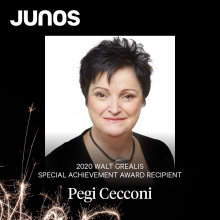 The Canadian Academy of Recording Arts & Sciences (CARAS) announced earlier this afternoon that they will be canceling the 2020 JUNO Awards due to Coronavirus concerns. Longtime Anthem/SRO Vice President Pegi Cecconi was to be presented with the 2020 Walt Grealis Special Achievement Award at the JUNO Gala Dinner & Awards this coming Saturday, and Rush fans were anticipating a possible Neil Peart tribute of some kind. From Billboard:
... (CARAS) announced on Thursday it was canceling Juno Week in Saskatoon, Saskatchewan, set to begin tonight, including the Juno Awards on Sunday night. The cancellation also includes Saturday's Juno gala dinner and awards, a private industry event for about 1,000 people, at which the majority of the awards are presented, including the Walt Grealis Special Achievement Award to Pegi Cecconi. Sunday night's Juno Awards was to be hosted by Alessia Cara and held at the SaskTel Centre arena with a live audience of roughly 10,000. The awards air on CBC. "We are devastated to cancel this national celebration of music, but at this time of global uncertainty, the health, safety and well-being of all Canadians must stand at the forefront of any decisions that impact our communities," CARAS and Saskatoon officials said in a joint statement. "We know this is the right decision based on the information we currently have and are continuing to receive. The situation surrounding COVID-19 continues to evolve rapidly and we urge everyone to follow the guidelines and protocols put forth by public health officials. We salute and appreciate all the 2020 nominees." Officials added, "CARAS will continue to explore options to coordinate an alternative way to honour this year's JUNO Award winners and Special Award Recipients and support the creators and participants that so greatly benefit from the work done by CARAS and the JUNOS." ...
Billboard published an interview with Cecconi just yesterday which included the following comments from Geddy Lee:
... "Pegi understood the laws and copyrights that needed to be protected for the artist," Rush singer/bassist Geddy Lee tells Billboard. "She was at the forefront of creating those deals in those early days and was an integral part of what made our management company work." Cecconi's knowledge of the intricacies of music publishing and licensing helped distinguish her from peers - as did her inimitable laugh. "It didn't matter what country, what sized venue, when Pegi was in soundcheck, you could hear her laughing from the back of the venue," adds Lee. "She is a tough negotiator, but she won over people that should have been adversaries with her personality." ...
In her multiple roles as part of Rush's management company and record label over the past 50 years, Cecconi was an instrumental part of the band's development and success. The Walt Grealis Special Achievement Award recognizes individuals whose work has significantly impacted the growth and development of the Canadian music industry, and is named after Walt Grealis, legendary Canadian publisher and co-founder of the JUNO Awards. Billboard asked Cecconi to talk about her proudest accomplishments from her long career:
... The Walt Grealis Award [laughs]. Bob and Doug [McKenzie, the fictional Canadian hoser brothers played by Rick Moranis and Dave Thomas]. That was the only signing I did and it was seven grand or eight grand and I thought we could afford it at the time. We could afford to laugh [The 1981 album, The Great White North, sold more than a million copies in North America and peaked at No. 8 on the Billboard 200]. And getting Rush back to Europe was good for their 30th anniversary [2004]....