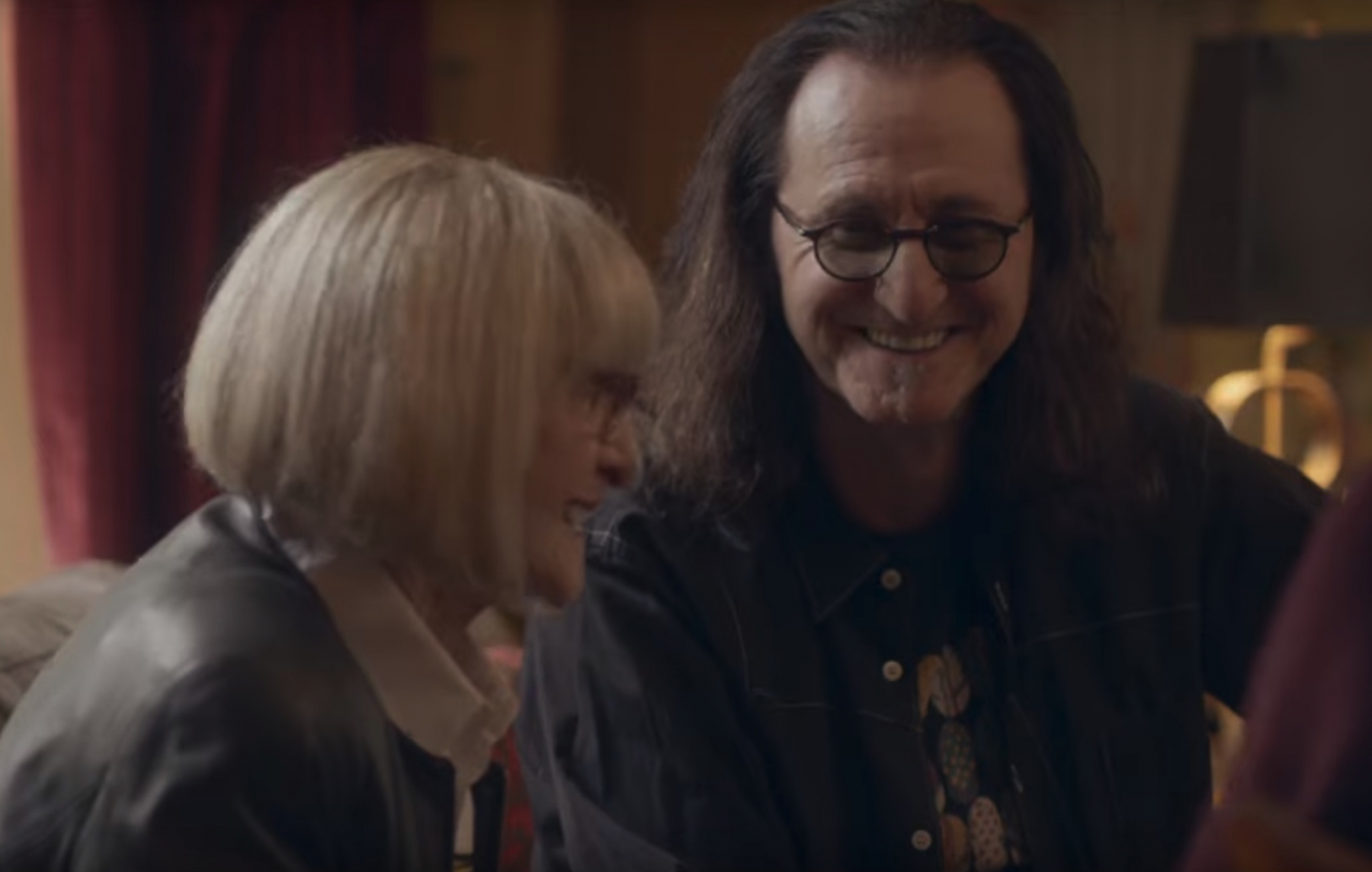 Foo Fighters frontman Dave Grohl's mother Virginia released her book From Cradle to Stage: Stories from the Mothers Who Rocked and Raised Rock Stars back in 2017. The book contains a chapter on Geddy Lee's mother Mary Weinrib, where Mary talks about what influenced Geddy to choose a musical career, and the prevalence of music in their family home. In late February we learned that Paramount+ (formerly CBS All Access) would be releasing a new, non-scripted docu-series based on the book and co-hosted by Dave and Virginia Grohl. Earlier this week the network released some more details about the show along with a 20-second trailer. The first episode will air on May 6 and feature Imagine Dragons frontman Dan Reynolds and his mother Christine. Subsequent episodes will feature Pharrell and Dr. Carolyn Williams on May 13; Miranda and Bev Lambert on May 20; Brandi and Teresa Carlile on May 27; Tom and Mary Morello on June 3; and - most importantly to Rush fans - Geddy Lee and Mary Weinrib on June 10. If you haven't read From Cradle to Stage yet, you can order your copy at this location.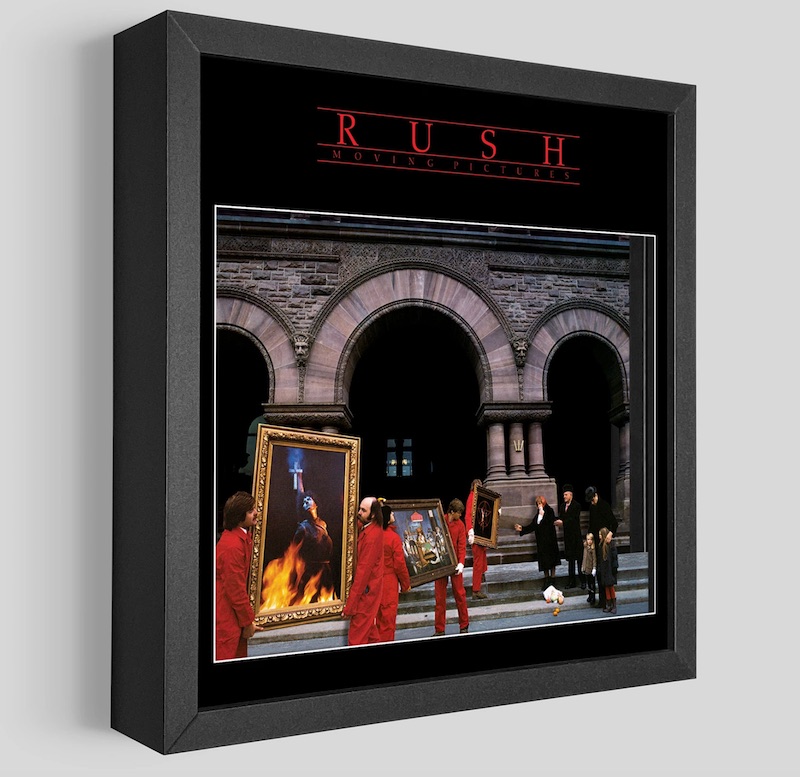 Earlier this week on Monday, April 19th, the RIAA awarded Rush's Moving Pictures album 5X Multi-Platinum status, meaning 5 million units have been sold to date. The album was last certified 4X Multi-Platinum back in 1995. It was originally given Gold and Platinum certification shortly after its release in 1981, then 2X Multi-Platinum status on October 12, 1984. It's been a long time since any Rush studio album was given a Gold or Platinum certification by the RIAA, with the last one being Roll the Bones' Platinum certification 20 years ago back in 2001. Speaking of Moving Pictures, the album celebrated its 40th anniversary earlier this year, and in recognition of the occasion, Artovision has released 2 new, officially-licensed pieces inspired by the album's iconic artwork. Artovision is a Wisconsin-based company that creates 3-dimensional collectable artwork inspired by popular culture, video games, food and Americana. The first piece is a shadowbox art piece depicting the Moving Pictures album cover and measuring 12"x15.5"x2.5" as described here:
... This collectible shadowbox art piece measures 12" x 15 1/2" x 2 1/2" and comes ready to hang with an official Rush Certificate of Authenticity (COA). Each piece is printed on 1/8" thick optical-grade acrylic with vibrant UV cured inks and set in a high quality finished MDF wood frame, our shadowbox art pieces are handcrafted in Eau Claire, Wisconsin. ...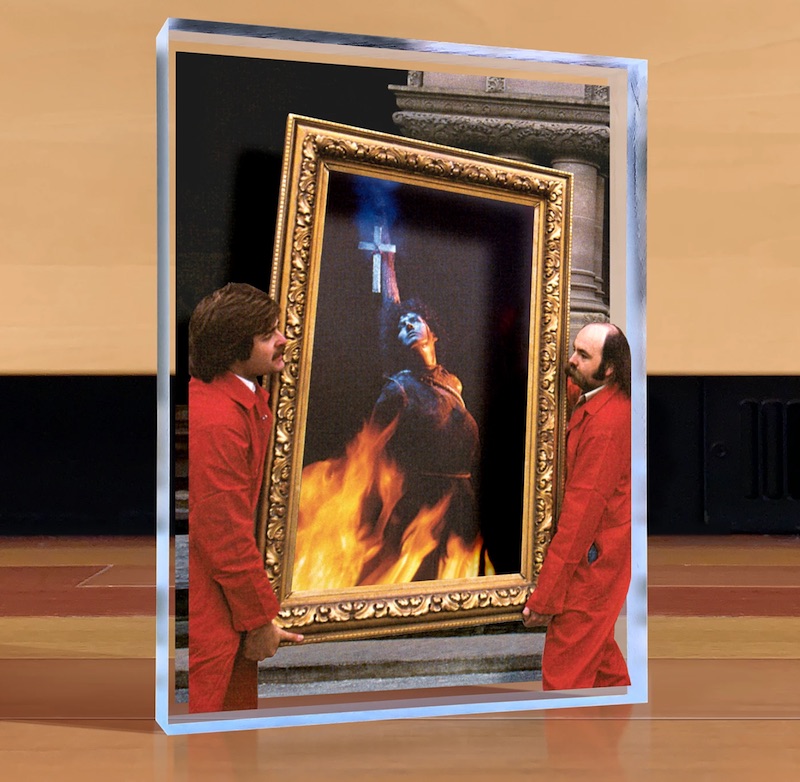 You can purchase the Moving Pictures shadowbox piece for $149 at this location. The second piece is a desktop art piece printed on 3/4" thick optical-grade acrylic with vibrant UV cured inks and measureing 4.5"x6". The artwork is available in 2 options, depicting the album cover movers carrying either the Joan of Arc or Starman painting. You can purchase the desktop piece for $49 at this location. For more information on Artovision, visit their website at artovision3d.com and follow them on Facebook, Twitter and Instagram. On a related note, Moving Pictures gets a mention in a recent article from Thom Jennings on the 40th anniversary of a great year for classic rock.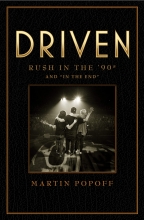 Music writer Martin Popoff's Driven: Rush in the '90s and 'In the End' - the third and final book in his 3-part Rush Across the Decades series - releases this coming Tuesday, April 27th and can be pre-ordered via Amazon and other online retailers. The first book in the series was Anthem: Rush in the '70s, which released last May, and the second book was Limelight: Rush in the '80s, which officially released back in October. The imitation leather bound book will come in at 424 pages. From the book's description:
In this conclusion to his trilogy of authoritative books on Canada's most beloved and successful rock band, Martin Popoff takes us through three decades of "life at the top" for Rush's Geddy Lee, Alex Lifeson, and Neil Peart. Though this era begins with the brisk-selling Roll the Bones and sees throngs of fans sell out international tours, there is also unimaginable tragedy, with Peart losing his daughter and his wife within the space of ten months and, two decades later, succumbing to cancer himself. In between, however, there is a gorgeous and heartbreaking album of reflection and bereavement, as well as a triumphant trip to Brazil, a Rock and Roll Hall of Fame induction, and ― some say surprisingly ― the band's first full-blown concept album to close an immense career marked by integrity and idealism.
Megatropolis is a comic from Kenneth Niemand (Judge Dredd) and Dave Taylor (Judge Dredd, Batman) which re-imagines the world of Judge Dredd and the iconic Mega-City One as an art deco retro-future variation. The eighth and final part of the comic appears in the latest Judge Dredd Magazine (#431) which came out earlier this week. Although not explicitly named, what appears to be an alternate universe version of Rush appears in one of the comic's preview panes shown online here and on Instagram. The preview pane shows the Dredd vigilante crashing onto the stage of the Megatropolis mayoral charity ball where a band - unmistakably Rush - is playing. The entire, 8-part Megatropolis series will be made available as a hardcover book due out on October 12th which can be pre-ordered here.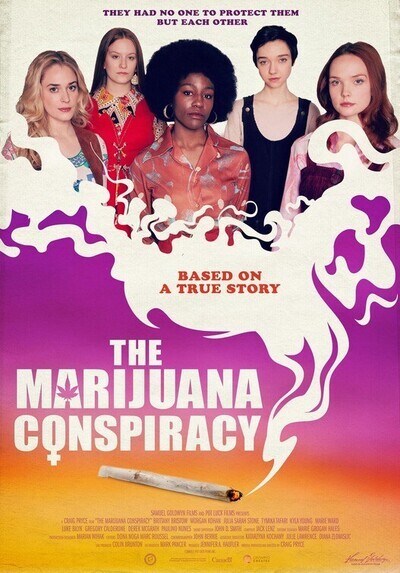 Geddy Lee was busy on Instagram this past week. On Sunday, April 18th Geddy took to the 'Gram to wish his wife Nancy a happy birthday. The pair met via Nancy's brother Lindy (who was in an early incarnation of Rush for a short time) and were married back in 1976. They have 2 children - Julian and Kyla. Speaking of Kyla, Ged and Nancy's daughter is a budding actress and stars in the new film The Marijuana Conspiracy. The film was released this past Tuesday, April 20th to coincide with 4/20 Day, and Geddy put up a post promoting the film and his daughter's involvement. He also gives a shout out to his BFF Alex Lifeson who he refers to lovingly as the Pothead of the Universe. Here's what Ged had to say:
I don't usually post things about my kids on social media, but today I'm making an exception to shamelessly promote a film in which my daughter Kyla Young is a member of the ensemble cast. It's called The Marijuana Conspiracy and it comes out today, 4/20 a.k.a Marijuana Day, which is also my BFF Alex's *favourite* day of the year because, well, he is the Pothead of the Universe and effin proud of it! So congrats to my lovely daughter @kyla.wy , on her film debut!! You go girl! ...
The film itself is based on the true story of a group of young women who took part in a 98-day human experiment studying the effects of marijuana on females back in 1972. Geddy's daughter Kyla (billed as Kyla Avril Young) plays the role of Janice Trent in the film and can be seen on the movie's poster (second from the left) and in the trailer (watch below). She can also be seen in several of the movie stills posted at imdb.com, and in this short interview segment from the 2019 Canadian premiere of Dumbo where she discusses the film. Rush fans probably remember Kyla from her role as Kugel in the opening video for Rush's Time Machine tour - Ged includes a photo of himself and Kyla from that video shoot in his Instagram post. The film was first released last year at the Santa Barbara International Film Festival but just went into wide release earlier this week on 4/20 (appropriately), and is now available on-demand and via multiple streaming services.
Speaking of 4/20 Day, KLAQ.com posted a list of 11 Fitting Rock Songs To Include In Your 4-20 Playlist this past week, one of which was Rush's A Passage to Bangkok:
With songs like The Fountain of Lamneth or By-Tor & The Snow Dog included in their repertoire, is it obvious that Rush used to experiment back in the day? And I think the most obvious proof was "A Passage to Bangkok" back on 2112.
KLAQ.com also posted an article this past week where Daniel Paulus lists off his 12 Favorite Guitarists For International Guitar Month, one of which is Rush's Alex Lifeson:
Of course it wouldn't be my list without mentioning my favorite band of all time. What I love about Alex Life is that he always knew what to play for every song, he knew what chords to play, what riffs sounded good, the right tones. I don't think anyone could've played what Alex has done for years NOR have the brotherhood he did with Geddy Lee or Neil Peart. I also had the pleasure of seeing Rush LIVE in concert back in 20212 in Phoenix. Seeing my musical heroes live will ALWAYS be one of my favorite concert memories.
Paul Beaulieu (The Canadian Music Scene) and Rodrigo Altaf (Sonic Perspectives) will be interviewing Rush friend and collaborator Ben Mink in the near future, and are asking fans to submit questions for Ben. They've set up an online form to do so at this location.
This past week's edition of the 2 Guys Talking Rush podcast features part 2 of an interview with Ralph Chapman, who was the story consultant for the 2010 Rush documentary Beyond the Lighted Stage. You can listen to the interview below or at this location:
The latest episode of the Something for Nothing podcast features a great interview with metalhead and broadcasting legend Eddie Trunk. Trunk hosts the weekly syndicated show "Eddie Trunk Rocks," the daily "Trunk Nation" show on SiriusXM, and the "Eddie Trunk Podcast". He's also a huge Rush fan who has interviewed the members of Rush on several occasions. You can listen to the interview below or via your favorite podcast service.
The Hamilton Spectator posted a story this past week on local granny and Jays fan Audrey Teal, whose cardboard cutout was selected to appear in the stands at Toronto Blue Jays home games (thanks RushFanForever). Not only did her cutout get placed in the stands, but it ended up in the second row close behind the cutout of Rush's Geddy Lee. Audrey's son Steve is a huge Rush fan and really got a kick out of this:
... Steve is a massive Rush fan who started playing guitar years ago because of the Canadian rockers. They are his all-time favourites. So he couldn't miss the two-dimensional superstar sitting in front of her. "I said, 'My mother's sitting directly behind Geddy Lee,'" he says. There are a lot of faces in the shot. It wasn't a close-up. Was he sure it was the legendary band's lead singer and dedicated Jays fan? "He is closer to my heart," Steve quips. Forever the Rush disciple. As for Audrey, she didn't know the others. Does she know who Geddy Lee is? "No," she chuckles again. "I have no idea." ...
Earth Day took place this past week, and in recognition of the holiday uDiscoverMusic.com posted a list of the 20 best Earth Day songs, one of which was Rush's The Trees at #12 (thanks RushFanForever):
Rush lyricist Neil Peart once commissioned some drum makers to build him an entire kit from a 1,500-year-old piece of Romanian wood. Peart recalled that he wrote his song "The Trees" in "about five minutes," after seeing a cartoon picture of trees "carrying on like fools." He said: "I thought, What if trees acted like people? So I saw the song as a cartoon, really, and wrote it that way."
Drumming News Network's Mike Jueneman posted an article/interview with Rush fan and drummer Danny de Hoyos earlier this week. Danny describes his quest to create an exact replica of Neil Peart's R30 drum kit, and shows off the kit with some included photos and videos which you can check out here.
Guitar.com's Charley Ruddell posted an article this past week on the history of the multi-neck guitar. Rush is mentioned and a photo of Geddy Lee and Alex Lifeson live with their respective double-necks is featured. You can check out the article online here
Here's the short video trailer for the previously-mentioned From Cradle to Stage docu-series which will feature Geddy Lee and his mother Mary Weinrib:
That's all for this week. Have a great weekend everybody!!