UPDATE - 2/27@12:08PM: On a related note, reader Jennifer M discovered recently that Geddy's mother gave an oral history interview to the US Holocaust Memorial Museum back in 2006 that was put online in late 2019. You can listen to her 3-part interview online here.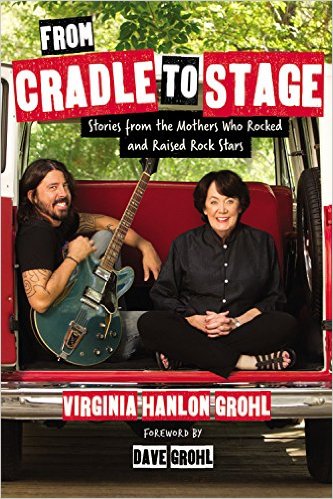 Foo Fighters frontman Dave Grohl's mother Virginia Hanlon Grohl released her book From Cradle to Stage: Stories from the Mothers Who Rocked and Raised Rock Stars back in 2017. The book contains a chapter on Geddy Lee's mother Mary Weinrib, where Mary talks about what influenced Geddy to choose a musical career, and the prevalence of music in their family home. Earlier this week at a launch event for the newly-minted Paramount+ (formerly CBS All Access), MTV Entertainment Group President Chris McCarthy announced that the network would be premiering a new, non-scripted docu-series based on the book and co-hosted by Dave and Virginia Grohl. From Deadline:
... The six-part series, directed by Dave Grohl, will tell stories of the special relationship between successful musicians and their moms. Each episode features a famous performer and his or her mother as well as Dave and Virginia. It comes from Live Nation Productions and Endeavor Content. ...
Although nothing's been confirmed yet, it seems quite likely that Mary Weinrib and Geddy could be featured in one of the episodes. In a 2017 interview with Rolling Stone, Virginia Grohl spoke about her background as a rock mom and how she got the idea to write the book:
... [Grohl] was always surprised how rarely she ran into other moms out on the road. So she decided to track some down, and ended up interviewing 18 mothers of famous musicians for her book ... "They all said, 'Oh, there's nothing interesting about me except for my son or daughter.' And then it turned out that wasn't true at all." In Texas, Virginia met Miranda Lambert's mom, Bev, who used 
to be a private investigator (including on the Paula Jones case
 against Bill Clinton). In Toronto, she talked to Geddy Lee's mom, Mary Weinrib, a Holocaust survivor who raised a family alone after her husband died. "Mike D's mom, Hester Diamond, is a very high-powered woman in the art world," Virginia says. "When Mike wanted to be a Beastie kind of boy, she was totally accepting." ...
If you haven't read From Cradle to Stage yet, you can order your copy at this location.