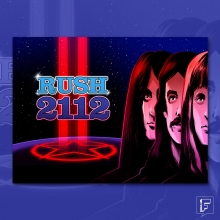 Yesterday FANTOONS released a new, officially-licensed, limited-edition poster celebrating the 45th anniversary of Rush's 2112 album, which released in March, 1976 (although April 1st is incorrectly cited by many online sources). The 18"x24" poster is printed on
Lasal Fine Art paper and is limited to 200 hand-numbered copies. You can order yours via the official FANTOONS shop here. Be sure to follow FANTOONS on Facebook, Twitter and Instagram for all their latest updates, and shop their complete line of official Rush merchandise at Fantoons.shop.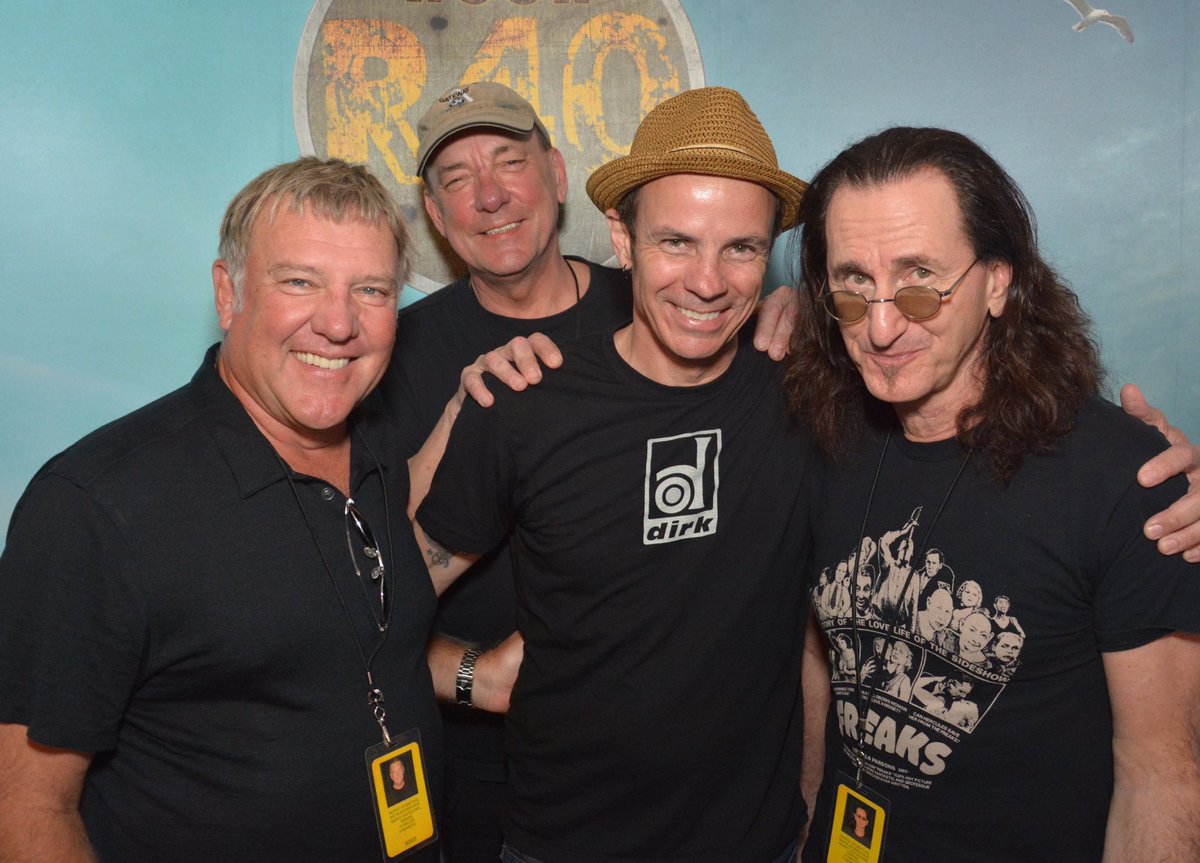 Coney Hatch front-man and former Anthem AR rep Andy Curran recently spoke with Bass Magazine for a new interview to check-in about what he's been up to during lockdown and some current projects he's working on. He mentions a new studio project with Alex Lifeson and Portland-based singer/songwriter Maiah Wynne:
... I'm also excited about a new studio project that features Maiah Wynne, a young vocalist from Portland, Oregon. I played some of the songs Maiah and I wrote together for Alex Lifeson, and he asked if he could be involved. I had to pinch myself during that call! We have seven songs completed and Alex played on pretty much every one. One song was already featured in the Netflix series Tiny Pretty Things, and we're planning a release-maybe a cool NFT bundle. The band is called Envy of None and it has a trippy, moody, ambient, sometimes evil, pop vibe. ...
Alex Lifeson has collaborated with Wynne on a couple of past projects. Back in 2019 she released a single called Fearless Girl, which featured Lifeson and the Portland Cello Project. Wynne also sang vocals on a May, 2019 collaboration between multi-instrumentalist Marco Minnemann and Lifeson titled Lover's Calling which Alex spoke about in his recent Make Weird Music interview.
The Fore Batten Foundation is a charity with the goal of raising awareness and funding for increased research into Juvenile Batten Disease - an ultra-rare, fatal, inherited disorder that primarily affects the nervous system. The Foundation was founded 4 years ago by Scottsdale-based golf course architect David Kahn and his wife after learning that their twin daughters both suffered from the disease. The Foundation sponsors a silent auction each year with most donations coming from the greater golfing community, and this year's auction included a day of golf with Rush's Alex Lifeson. The auction ended this past week and the day of golf with Alex ended up raising $16,500 for the charity!
The latest edition of Prog magazine is a special issue dedicated to prog rockers YES (thanks RushFanForever). In the My Prog section they speak with bass player Lee Pomeroy (Rick Wakeman, ARW, ELO), and when asked to name a proggy album to get you in a good mood he chooses Rush's Moving Pictures:
Moving Pictures by Rush. It's got Geddy, Taurus pedals, crunchy Rickenbacker bass, and Alex and Neil. It immediately makes me want to rip me shirt off and run up the road really fast ...
Speaking of which, Ultimate-Guitar.com posted their list of the 25 Best Albums of the '80s last Friday and Moving Pictures came in at #5:
Is there even such a thing as a subpar Rush album? For this list, we're bringing their 1981 record "Moving Pictures." "YYZ" alone is a reason enough to put the record so high.
Long-running Toronto music club the Orbit Room, which was co-founded by Alex Lifeson and Tim Notter back in 1994, closed its doors for good this past summer after initially shutting down due to COVID-19 last March (Alex actually gave up his interest in the club in 2019). The venue was a must-see stop for any Rush fan visiting Toronto, and played host to several RushCon parties and gatherings over the years. Alex himself would often show up and sit in with the band as seen in this post covering the venue's 16th anniversary party back in 2010. Tim Notter recently launched a GoFundMe campaign to help him pay off debts related to the club's closing. Notter was interviewed for FYI Music News this past week to talk about the Club's history and the fundraising campaign (thanks RushFanForever).
Clutch frontman Neil Fallon was a recent guest on the Hardcore Humanism podcast. At one point Fallon talked about Rush, and explained a similarity between the two bands with regards to their fanbase (transcript via UG):
... "I think there's some parallels that I've kind of thought about over the years with us and Rush in some ways. Rush - we may be very musically different on the spectrum of rock 'n' roll, but there's a sense - and I heard Geddy Lee say this, or I think it was Geddy Lee - that Rush fans have a sense of ownership in the band. Almost like they're shareholders - emotional shareholders. Sure, Rush has had hits. We've had a couple of things that might have remotely resembled a hit, but not played on radio or anything like that. And I think because of that, it took a lot longer to build up a fanbase, mostly because of word of mouth. And I've said this before in other interviews - I think one of the worst things that can happen to any artist or band is a huge hit right out of the gates. More often than not, it destroys a band, because the bar gets so high, and then they wanna meet that, and more often than not, they never do. ...
The latest edition of Classic Rock magazine is a special issue on the 100 most influential guitar heroes, and one of the featured guitarists is Rush's Alex Lifeson (thanks RushFanForever):
Lauded as an inspiration by artists from Paul Gilbert and John Petrucci to Voivod and Faith No More, the Rush guitarist has a blend of imagination, power and skill that's resulted in music that appeals not just to the progosphere but also way beyond.
I recently had the honor of being interviewed for the 2 Guys Talking Rush podcast, and the episode was made available for listening online earlier this week. I speak with hosts John and Dan about the origins of rushisaband.com, the site's future, how I became a Rush fan, my love for Caress of Steel and more. You can listen to the episode below or via your favorite podcast app/service.
In the latest edition of the Something for Nothing podcast, hosts Steve and Gerry wrap up their 3-part discussion centering around Rush's 2007 Snakes & Arrows album. You can listen in to part 3 below or via your favorite podcast service.
The Toronto Blue Jays kicked off their 2021 season yesterday with a win over the New York Yankees at Yankee Stadium. Due to COVID-19 restrictions, the Jays will be playing their regular season home games at their spring training ballpark in Dunedin, Florida, through at least the first two months of the season. Since fans won't be able to attend, the Jays once again will be placing cutouts of several Canadian celebrities in the stands, including Rush's Geddy Lee, whose cutout also appeared at home games last season. Speaking of opening day for the Blue Jays and Geddy Lee, on this day back in 2013 Geddy had the honor of throwing out the first pitch for the Jays as seen in this video. Ged threw a strike of course.
That's all for this week. Happy Easter to those who celebrate. Have a great weekend everybody!!