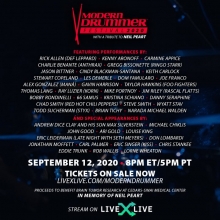 Tomorrow, September 12th would have been the late Neil Peart's 68th birthday. Fans across the globe are planning a multitude of tributes in remembrance of the legendary drummer, including Modern Drummer magazine, whose 20th annual Modern Drummer Festival will include an all-star tribute to Peart. The tribute will include several prominent drummers such as Taylor Hawkins, Chad Smith, Mike Portnoy and many more. The virtual, livestreamed, pay-per-view event will be produced by LiveXLive and air tomorrow at 8PM EST. Tickets for the event are now on sale with packages starting at $12.99. VIP and Special-Offer Bundles will include merchandise, tickets, and subscriptions to LiveXLive and Modern Drummer. You can get all the details and purchase tickets via the LiveXLive website.
Also in tribute to Neil on his birthday, RUSHfest Scotland is sponsoring the release of an album of Rush songs dedicated to Neil Peart titled TRIBUTES - SONGS FOR NEIL VOL.1, played by Rush tribute bands and musicians from around the world. The album officially releases tomorrow and the following bands and musicians are included on the album; 3 Snow Dogs (Brazil), Clockwork Angels (Scotland), Fleesh (Brazil), Jacob Moon (Canada), La Villa Strangiato (Italy), Lotus land (USA), Moving Pictures (Scotland), New World Men (Canada), The Rush tribute Project (USA), The Rushians (Netherlands) and Bravado (England). All profits from the album will be split equally between two charities - Glioblastoma Foundation Neil Peart Research Award in the USA and Cancer Support Scotland (registered charity SC012867). RUSHfest Scotland founder Steve Brown was interviewed on the Something for Nothing podcast this past week to talk all about the project and how fans can participate. The project has also released a video of Scottish Rush tribute band Moving Pictures playing their own arrangement of the Rush classic Afterimage, which you can view below or on YouTube. You can get all the details and order your copy via the crowdfunding page at this location.
Earlier this week Geddy Lee was trending on Twitter due to his cardboard cutout once again being spotted behind home plate at a Toronto Blue Jays game. This caused some fans who were oblivious to the reasoning to speculate that this meant that Geddy had passed away! Thankfully that was not the case, and Geddy decided to have some fun with it all via this tweet from the Rush Twitter feed:
"Even I gulped when I saw I was trending on Twitter, but I asked my dogs and apparently I'm a bit boring but otherwise fine..." - #GeddyLee

- Rush (@rushtheband) September 8, 2020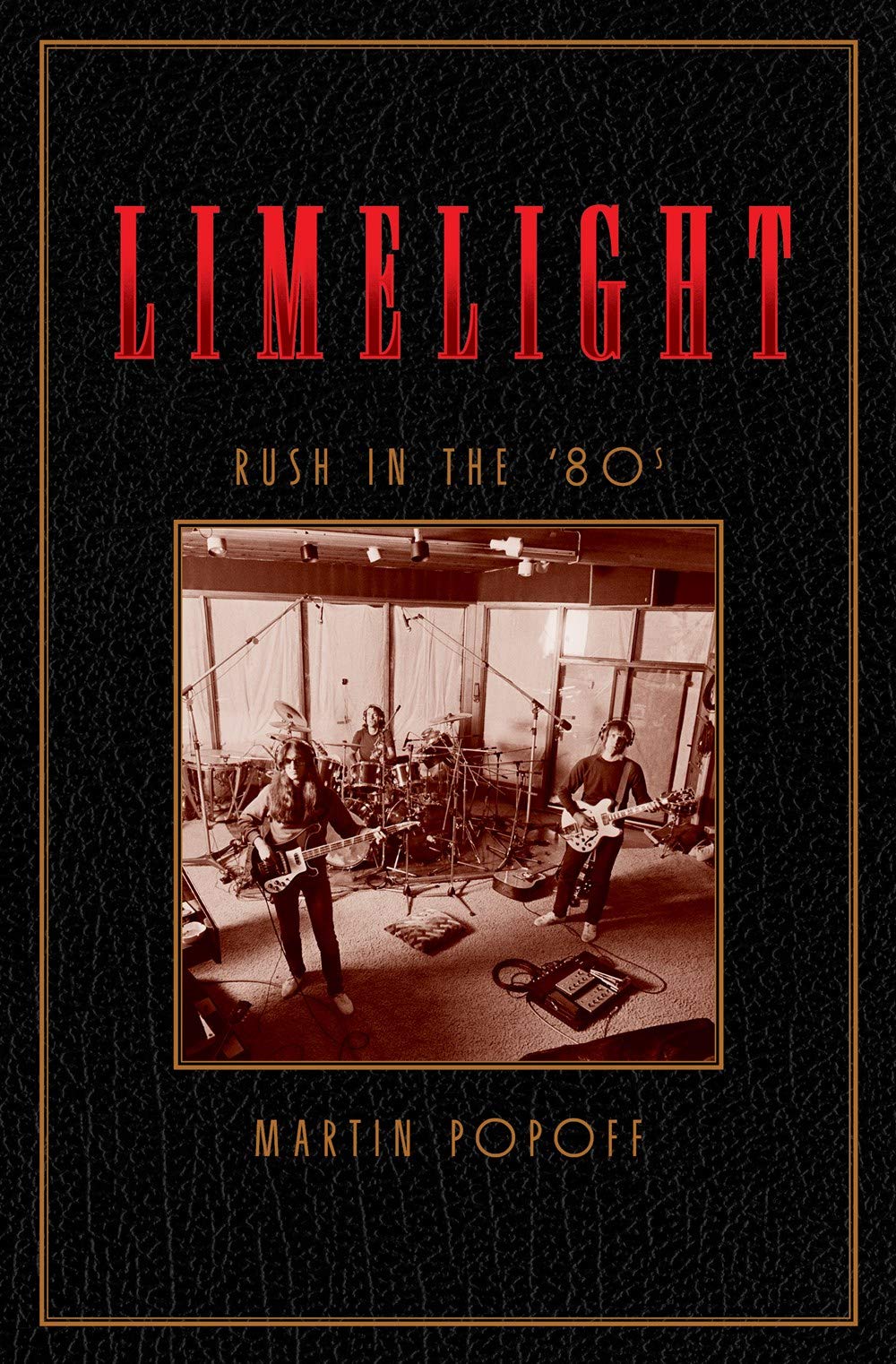 Music writer Martin Popoff released his new book Anthem: Rush in the '70s back in May, which is the first of a 3-part Rush Across the Decades series. The second book in the series - Limelight: Rush in the '80s - is slated to officially release on October 13th and can now be pre-ordered here. The author just announced on Facebook that he has already received several copies of the book and is accepting orders via email/PayPal for signed copies. You can get all the details in this Facebook post. The imitation-leather bound book comes in at 375 pages and includes two full-color photo inserts, with 16 pages of the band on tour and in the studio. From the book's description:
In the follow-up to Anthem: Rush in the '70s, Martin Popoff brings together canon analysis, cultural context, and extensive firsthand interviews to celebrate Geddy Lee, Alex Lifeson, and Neil Peart at the peak of their persuasive power. Rush was one of the most celebrated hard rock acts of the '80s, and the second book of Popoff's staggeringly comprehensive three-part series takes readers from Permanent Waves to Presto, while bringing new insight to Moving Pictures, their crowning glory. Limelight: Rush in the '80s is a celebration of fame, of the pushback against that fame, of fortunes made ― and spent ...

In the latter half of the decade, as Rush adopts keyboard technology and gets pert and poppy, there's an uproar amongst diehards, but the band finds a whole new crop of listeners. Limelight charts a dizzying period in the band's career, built of explosive excitement but also exhaustion, a state that would lead, as the '90s dawned, to the band questioning everything they previously believed, and each member eying the oncoming decade with trepidation and suspicion.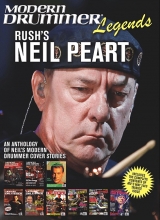 Modern Drummer magazine will be releasing an anthology containing all nine of Neil Peart's Modern Drummer cover features, including the complete contents of the May, 2020 tribute issue. The anthology is titled Modern Drummer Legends Vol. 1 - Neil Peart and is slated for release this coming Wednesday, September 16th. It is currently available for pre-order via the Modern Drummer website and also via Amazon for $19.95 at this location.
Former UFO bassist Pete Way passed away last month at the age of 69 after sustaining life-threatening injuries in an accident earlier this summer. Way played with UFO from 1969 to 1982, briefly in 1988-1989 and once again from 1991 to 2008. He was also known as a founding member of Waysted and Fastway, and played with the Michael Schenker Group and Ozzy Osbourne as well. The September issue of Classic Rock magazine includes a feature where other artists pay tribute to Way, including Rush's Geddy Lee (thanks RushFanForever). Rush and UFO often toured together back in the 1970s and Geddy Lee took to Instagram shortly after Way's death to share his memories of the iconic bass player:
Sad to read today about the passing of Pete Way ...
I have so many fond and hilarious memories of touring with Pete and UFO back in the 80's ...
A true rock and roll character ...always "takin' the piss" as they would say in his homeland ...
I once asked him about his bass sound and he said, "Well, Glee.. it's uh...3/4 good, and 1/4 ..not very nice!"
A funny, energetic, sweet man and a great rock bassist ...
R.I.P. Pway
Legendary Canadian singer David Clayton-Thomas of Blood, Sweat and Tears was a recent guest on CBC Music's My Playlist with JJ LaBorde and included Rush's Closer to the Heart on his playlist (thanks RushFanForever):
Here's a song that may come as a surprise to you that I've included in my playlist. If you've ever listened to Blood, Sweat & Tears and the complexity of the arrangements, you'll know why I'm an enormous RUSH fan. And of course, we just lost Neil Peart recently, and what a tragic loss that was; one of the greatest drummers that ever walked the earth. When I did the Canadiana album, I wanted to include a RUSH tune in there. I think they're just so much a part of the fabric of Canadian music; they've made such an impact. Here's Canada's own super group RUSH and 'Closer To The Heart'.
Clayton-Thomas' 2016 album Canadiana includes a Calypso version of Rush's Closer to the Heart
YES frontman Jon Anderson was recently interviewed for Eon Music and spoke a bit about the band's 2017 Rock and Roll Hall of Fame induction, which featured Rush's Geddy Lee and Alex Lifeson inducting the band. Geddy also sat in on bass for the band's performance of Roundabout, and Anderson had the following to say about the performance:
... "Fantastic, you know, a beautiful guy, and he did a good speech and introduction of the band and what it meant to him. You know, in some way, the Hall of Fame - I've been there with my wife Jane - it's magical. "You walk around and all your heroes are there. The reason I'm a musician is because of all these people from way, way back. It's a remarkable place, and it was an incredible feeling to be welcomed into that whole Hall of Fame, and Geddy Lee was there, and we just rocked! "I was very surprised how good we were, because we did a soundcheck at four in the afternoon, and it was okay, but as soon as we got on stage, we tightened up, and it was good fun." ...
RushFanForever let me know about a video that Big Sugar's Gordie Johnson posted earlier this year where he talks about his friendship with Alex Lifeson and how he came to possess Lerxst's Gibson double-neck for a time. Lifeson appeared on Big Sugar's Eternity Now album, which released earlier this year as described in this post, and has been friends with Lifeson since the early '90s.
Classic Rock magazine posted their list of the 20 best rock albums of 1978 this past week and Rush's Hemispheres made the cut (thanks RushFanForever):
As the final hurrah of Rush's more ambitious prog rock era, where the extensive, science fiction epics of paradiddling moustache monster Neil Peart held sway, Hemispheres is not to be taken lightly. Geddy Lee's soaring vocals gave a welcome break from punk, and Rush managed to flourish where others floundered.
Musician Brandon Dyke has made a request on behalf of Neil Peart's brother Danny Peart via this YouTube video asking fans to wear a Rush t-shirt in tribute to Neil tomorrow:
On behalf of Danny Peart, (Neil's brother) I want to let you know that he would like all of Neil's fans, friends, and family to celebrate Neil's birthday on September 12, 2020 by wearing a Rush Shirt to honor Neil. (And a great band!) If you feel like sharing your picture with your Rush shirt on social media, Feel free to use any hashtag like this: #happybirthdayneil #happybirthdayneilpeart #happybirthdaybubba #bubbarulez etc. ( Pratt, The Professor, Elwood, etc ) ...
That's all for this week. Let us not forget the lives lost in the 9/11 terrorist attacks 19 years ago today, as reflected in Rush's Peacable Kingdom:
Dream of a Peaceable Kingdom
Dream of a time without war
The ones we wish would hear us
Have heard it all before
Have a great weekend everyone.