UPDATE - 5/14@12:20PM: You can listen to the song on YouTube here:
----- snip -----
UPDATE - 5/12@1:42PM: Gordie Johnson was interviewed by Global News to discuss the album and when the interviewer remarks about how much you could hear the Rush influence, Johnson replies:
... [Laughs] Make no mistake, my friend. That was not an accident! [Rush guitarist] Alex Lifeson is on the title track. He's on the title track of my life and career trajectory. He was one of the first supporters of Big Sugar and one of the greatest mentors that I've had. And he's such a down-to-earth chill guy. He saw us coming up, liked our music, and would do things like "Hey, man, here's a double-neck guitar. Why don't you take the Xanadu guitar and use it for a while?" Like, who does that? So I texted him and I had to explain myself because it's such a Rush knock-off. I got the Taurus Moog pedals in there and gave it the full Moving Pictures treatment. But he not only sent me a wicked guitar solo but a bunch of overdubs-acoustic guitars and banjos and all kinds of other production to put in the track. It got way Rushier. And I'm good with it. ... He still plays great. And when he sits down to play, only one sound comes out of that amp. ...
Johnson also discusses his relationship with Lifeson and his contribution to the album in this 94.9 The Rock interview at around the 6:30 mark. Thanks to RushFanForever for the heads up.
----- snip -----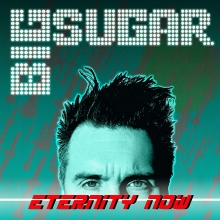 Canadian rock band Big Sugar released their long-anticipated, new studio album Eternity Now this past Friday via a live-streaming event. The album was initially scheduled for release at the end of March with a robust Canadian touring schedule planned in support. However, due to COVID-19, all live shows were postponed and the album release was pushed back. Big Sugar performed at the Danforth Music Hall in Toronto back in November of 2017 and Rush's Alex Lifeson sat in with the band for a couple of songs including the Big Sugar classic Ride Like Hell and a cover of Led Zeppelin's Good Times Bad Times. Shortly after that performance, Big Sugar's Gordie Johnson was interviewed for the Niagara Falls Review and mentioned that Alex Lifeson would be making a guest appearance on the album:
... "He came out and jammed with us," Johnson says, adding that Lifeson offered to help on the album. "We've been friends for quite a while. He asked what was going on with the record. I sent him some tracks and he sent me half a dozen different overdubs with exotic instruments. Now I just have to choose." ...
They ended up using Lifeson's contributions on the title track Eternity Now, which you can hear (at about the 5:20 mark) via the live-streaming event video below or on YouTube. Lifeson and Johnson have been friends since the 1990s and Alex once gave Johnson one of his double neck guitars as he described in a Telegram interview back in 2011:
... "I didn't have to sign a single paper. He'd just met me, but he already knew about Big Sugar. And essentially he walked up to a stranger and handed it to me," Johnson said of the guitar he used to record "Farewell to Kings," and play in the video for "Digging a Hole," its ivory white double necks jutting out like the tusks of a mastodon with every piercing note. "I got really paranoid at one point that it would get stolen, so I gave it back to him. ... By the time we started making (the 1998 Album) "Heated," I kinda got to thinkin 'this belongs in the Rock Hall of Fame, not under my bed in Little Italy in Toronto." ...
The album is currently available for purchase/streaming in Canada and can be ordered as an import in the US via Amazon and other retailers. Thanks to RushFanForever for the heads up.