Canada's Grammy Awards equivalent - the JUNO Awards - took place this past Monday as an online, virtual event due to COVID-19. As expected, Neil Peart was mentioned during the In Memoriam segment, which was also introduced using the following quote from Rush's Presto:
I am made from the dust of the stars
and the oceans flow in my veins
Neil is then shown at about the 4:17 mark of the video which is available for viewing below or on YouTube. Apparently a larger tribute to Peart had been planned for the original JUNO Awards ceremony back in March before it was canceled. Toronto musician Dallas Green (City and Colour, Alexisonfire) recently tweeted out the following message in regards to Rush donating items to a charity raffle he is involved with:
When the @thejunoawards were planned in March I was asked to announce a tribute for Neil Peart. I never got that chance. His incredible song-writing & musicianship will live on & he'll be remembered as one of the greats ... a true legend of our time. The Rush team was kind enough to donate these amazing rare items for our raffle. ...
Rush donated three items to the raffle including a signed drumhead, a signed copy of Geddy's Big Beautiful Book of Bass, and a Rush blanket/bobblehead bundle as detailed in this Facebook post.
Rolling Stone magazine recently spoke with Geddy Lee to ask him to list off his ten favorite bass players, and say a few words about each one. The feature was published in conjunction with the magazine's list of the 50 Greatest Bassists of All Time, where they had Geddy coming at #24. The bassists on Geddy's list include John Entwistle, Chris Squire, Les Claypool, John Paul Jones and many others. Here's what Geddy had to say about Paul McCartney:
[McCartney] gets overlooked as a bassist, but as a pop bassist goes, he's such a melodic player. And you're talking about a guy who wasn't originally the bass player for the band. ... He adapted, of course, and he picked it up. I just find his story really interesting, as a bass player. So he comes at the instrument from a much more melodic place, and you really hear that in a lot of Beatle music. And if you listen to "Taxman," or if you listen to "Come Together," and a range of music in between, that bass part is always so round. It's always so bouncy and melodic, and I think that's really no small part of the infectious nature of Beatles songs. It really added a great element to those songs. I think he was sort of subconsciously working his way into my psyche as a bass player. Although the style of music that I played wasn't Beatles style of music, I did have a great respect for them. We used to play a version of a song called "Bad Boy" that was fashioned sort of after a song that the Beatles did. The Beatles did a cover of that as well. So we all listened to the Beatles. ... I was always respectful of what Paul McCartney brought to the Beatles, not only as a singer, but as a bass player.
You can read Geddy's complete list online at this location, and also check out Rolling Stone's list of the 50 Greatest Bassists of All Time.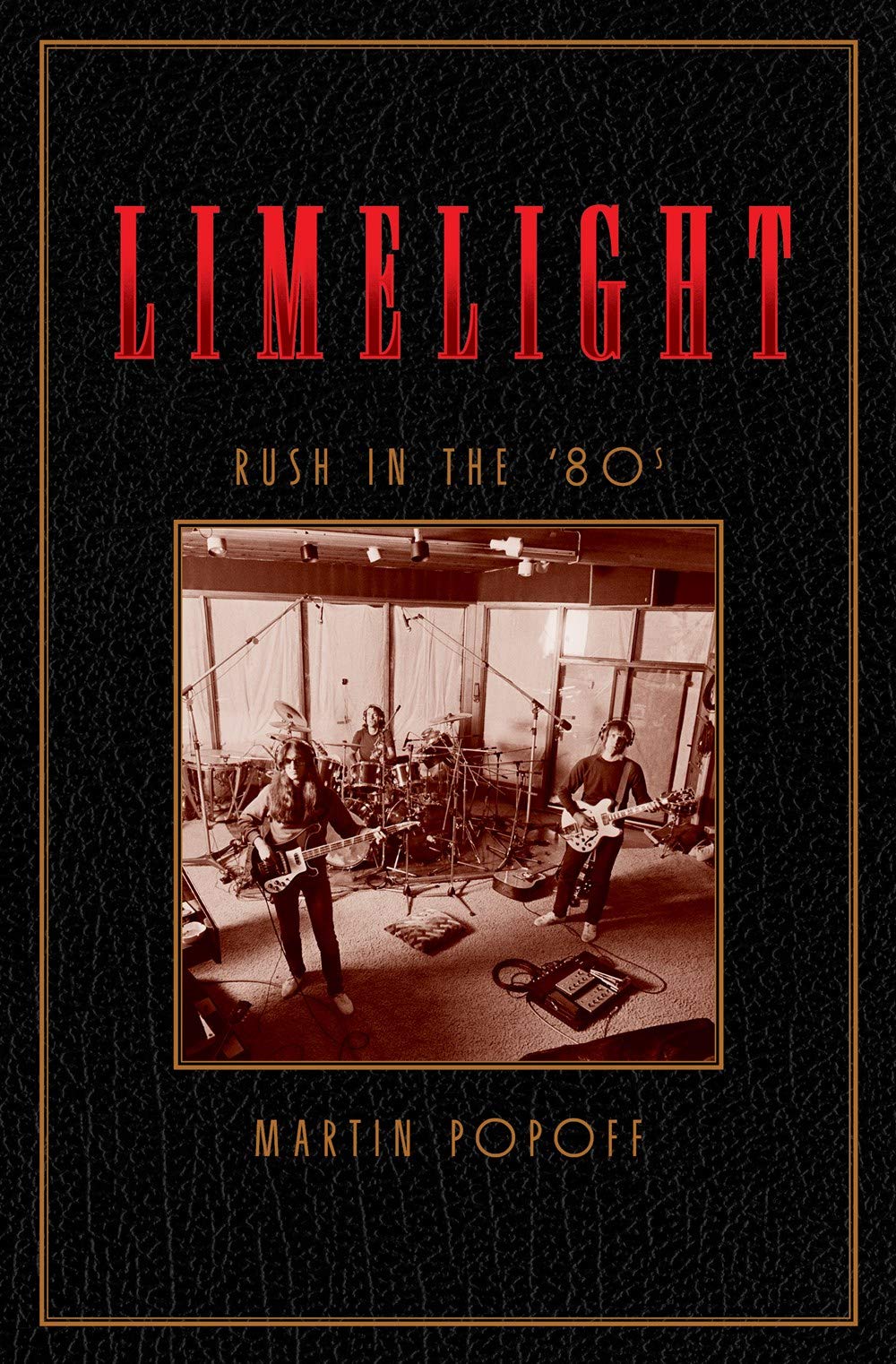 Music writer Martin Popoff released his new book Anthem: Rush in the '70s back in May, which is the first of a 3-part Rush Across the Decades series. The second book in the series - Limelight: Rush in the '80s - is slated for release on October 13th and can now be pre-ordered here. From the book's description:
In the follow-up to Anthem: Rush in the '70s, Martin Popoff brings together canon analysis, cultural context, and extensive firsthand interviews to celebrate Geddy Lee, Alex Lifeson, and Neil Peart at the peak of their persuasive power. Rush was one of the most celebrated hard rock acts of the '80s, and the second book of Popoff's staggeringly comprehensive three-part series takes readers from Permanent Waves to Presto, while bringing new insight to Moving Pictures, their crowning glory. Limelight: Rush in the '80s is a celebration of fame, of the pushback against that fame, of fortunes made ― and spent ...

In the latter half of the decade, as Rush adopts keyboard technology and gets pert and poppy, there's an uproar amongst diehards, but the band finds a whole new crop of listeners. Limelight charts a dizzying period in the band's career, built of explosive excitement but also exhaustion, a state that would lead, as the '90s dawned, to the band questioning everything they previously believed, and each member eying the oncoming decade with trepidation and suspicion.
The imitation-leather bound book comes in at 375 pages and includes two full-color photo inserts, with 16 pages of the band on tour and in the studio. You can pre-order Limelight: Rush in the '80s here.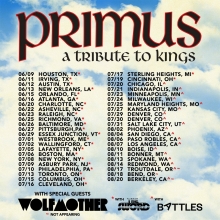 Last Friday Primus announced that their planned 2020 A Tribute to Kings Rush tribute tour, that had been due to kick off last month, has been officially postponed to the summer of 2021 due to COVID-19. The tour will honor the band's musical heroes Rush where they'll cover the A Farewell to Kings album in full every night, before playing a full set of Primus classics. From primus.com:
Third time is the charm...we've postponed this Tribute to King's tour twice now. Once because we opted to help send Slayer on their way into retirement and once because mother nature decided to slap us all into isolation with a nasty virus. This time I will get to go out there and get my "Geddy on". I've got my Ricky shined up and have been practicing my Moog licks. 2020 has proven to be one nasty kick to the crotch on many levels. This nation is divided beyond anything I've ever seen; from who's wearing masks or not to who's treating folks with common dignity...or not. Let's hope 2021 will resolve us all into some form of unity. As far as touring, it will be nice to be back in the saddle again, see y'all next summer..."Geddy up!" - Les Claypool
All 2020 tickets will be honored for the new dates, which can be viewed on the band's website. If you are a ticket holder and cannot make the new show, you will receive an email directly allowing you to request a refund. For all the details, you can visit livenation.com/refund or contact your original point of purchase.
Back in March, the Glioblastoma Foundation announced a new research initiative entitled The Neil Peart Research Award in honor of the late Peart, who passed away from brain cancer in January. The award was created to provide Neurosurgery residents at leading medical institutions around the country with funding to conduct new, cutting-edge glioblastoma research. This past week they announced that the first recipient of the Award is Dr. Zachary Gersey of the University of Pittsburgh Medical Center. You can get all the details here.
Last week guitarist/gear tech guy Doug Doppler hosted a guitar tech round table discussion on his YouTube channel, and Alex Lifeson's most recent guitar tech Scott Appleton was included. During the discussion, Doug asked the guitar techs for a nice guy story about one of their clients that they could share, and Scott mentioned Alex. You can watch Appleton's answer on YouTube at this location (thanks Dave P).
Andrew Mitchell wrote a short piece for Pique magazine this past week for their Pique'n Yer Interest column titled Lost in the Rush. Mitchell reflects on the death of Neil Peart in the lead up to Canada Day and notes that "there's a Rush lyric for everything". You can read the entire article online here.
Ultimate-Guitar.com posted their list of the 25 Most Underrated Guitar Solos last Friday and Alex Lifeson's La Villa Strangiato solo made the cut at #24:
We can't ever get enough of Rush and Alex Lifeson. And although featuring some of Lifeson's best work, "La Villa Strangiato" still remains underrated.
Exclaim! posted a list of 9 Concert Films That Will Tide You Over Until the Real Thing Comes Back this past week, and Rush's Rush in Rio was included:
Long before "Come to Brazil" echoed throughout the internet, Rush wrapped their emotional Vapor Trails tour with three shows in the South American country - two of which featured the largest crowds of their career. Rush In Rio captures a performance to 40,000 people at Rio de Janeiro's Maracanã Stadium. Reflecting on the performance in DVD release liner notes, late drummer and lyricist Neil Peart would identify a "unified, intense, pulsing energy" amongst all in attendance - especially palpable as the crowd sing their hearts out to beloved instrumental "YYZ." ...
Jimmy Kay from The Metal Voice YouTube channel recently headed off to what remains of Le Studio in Morin Heights, Quebec, where Rush recorded many of their albums in the '70s/'80s. Self proclaimed keeper of Le Studio, Richard Baxter, gave Jimmy Kay a walk around this famous site as seen in this YouTube video. Jimmy and Alan Dixon also spend some time discussing the artists and albums that were recorded there, the studio's history and speculate about Le Studio's future (thanks to Brave Words for the heads up).
Treble magazine posted the 3rd part of their series profiling Rush's discography. This latest installment covers the band's keyboard era in the 1980s from Signals to Hold Your Fire, and you can check it out online here.
WhatCulture.com posted their list of the 20 Most Important Hard Rock Albums Of All Time this past week, and Rush's 2112 came in at #17:
After 3 albums of powerful hard rock, it seemed that Rush were coming to the end of the line. While the group kept expanding upon their sound with more progressive elements, their lack of ticket and album sales put them in hot water with their label. Rather than cower and deliver a more commercial record, the band threw caution to the wind with the sprawling epic 2112. The title track's 20+ minute journey is one of the most enthralling beasts in hard rock music, while the rest of the record showcases even more of their musical chops. Across every track, each member proves to be a master at their instrument, with Neil Peart showcasing how to create a sonic landscape with drums. Right by his side is Geddy Lee and Alex Lifeson, whose instrumental parts give each song a sense of controlled chaos that hadn't been heard before. It may have felt like anarchy, but you start to realize just how musically complex it is once you sit down to play it. At a time when bands like Genesis and Yes set the standard for prog, 2112 showed that progressive music could be much heavier than anything else. With their Pink Floyd-via-Sabbath intensity, Rush laid the blueprint for bands as diverse as Dream Theater and Mastodon later down the line.
Speaking of 2112, Trivium drummer Alex Bent was recently interviewed by Music Radar about the 10 albums that influenced his drumming style, and he mentions Rush's 2112:
"This was another album that I had been dissecting before I recorded The Sin and The Sentence. I wasn't really into Rush growing up, but the older I get, the more I appreciate them and Neil Peart. I really dug into his playing because I wanted to listen to the things that were influencing my influences. Neil was truly a legend. Rest in peace!"
That's all for this week. Happy belated Canada Day to all my Canuck readers, and Happy 4th of July weekend to my fellow fans in the USA. Have a great weekend!