UPDATE - 6/27@4:59PM: The Glioblastoma Foundation has announced that Dr. Zachary Gersey is the recipient of the 2020 Neil Peart Neurosurgery Research Award. You can all the details here.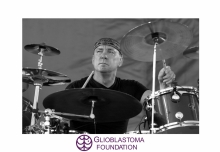 The Glioblastoma Foundation has announced a new research initiative entitled The Neil Peart Research Award and have kicked off a 2112 Tribute Fundraiser in memory of Neil Peart to benefit the Award. From the Glioblastoma website:
... The award will provide Neurosurgery residents at leading medical institutions around the country with funding to conduct new, cutting-edge glioblastoma research. ... The Glioblastoma Foundation is proud to celebrate Neil's life and legacy with this limited-edition 5" x 7" portrait entitled "The Professor." Fans donating $21.12 toward the newly established Neil Peart Research Award will receive the limited-edition print of Neil to commemorate his life and the impact his music had on so many. All proceeds from the Neil Peart Tribute will be used to support the newly announced Neil Peart Research Award for Glioblastoma. ...
To make your donation and receive a print, visit the Glioblastoma website.