UPDATE - 5/30@8:30AM: Here's the review of the set from Prog magazine.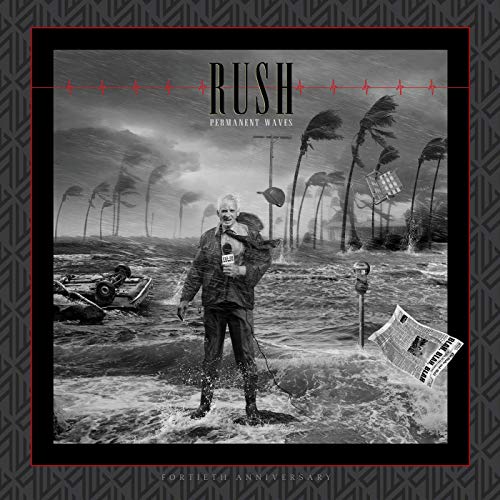 Today is the official release of Rush's new box set celebrating the 40th anniversary of the 1980 release of Permanent Waves. The set is available as a 2 CD or 3 LP set, or as a Super Deluxe Edition containing both the CDs and LPs along with some bonus goodies. Here are the details regarding the Super Deluxe version from Rush.com:
The Super Deluxe Edition includes two CDs and three high-quality 180-gram black vinyl LPs. The set encompasses the Abbey Road Mastering Studios 2015 remastered edition of the album for the first time on CD, along with previously unreleased and newly restored bonus content newly mixed from the original analog live multi-tracks by the band's original producer, Terry Brown. The unreleased bonus live tracks come from three stops on the Permanent Waves World Tour 1980: (1) Manchester Apollo in Manchester, England; (2) Hammersmith Odeon in London, England; and (3) Kiel Auditorium in St. Louis, Missouri. The Super Deluxe Edition of Permanent Waves-40th Anniversary will also include several exclusive items, including a 40-page hardcover book with unreleased photos, reimagined artwork by original album designer Hugh Syme, and an extensive & exclusive 12,000-word essay; a replica of the Permanent Waves 1980 official tour program; The Words & Pictures Volume II, a replica of the band's rare 1980 UK-only tour program; a 24×36-inch two-sided wall poster of the original album cover model photo shoot and photos of the band recording at Le Studio; three replica bandmember 1980 tour backstage laminates; three Neil Peart-handwritten lyric sheets for "The Spirit Of Radio," "Entre Nous," and "Natural Science"; and a 20-page 5×7-inch notepad emblazoned with Le Studio letterhead. ...
The band has released a few preview tracks from the set, including streaming versions of their 1980 live performances of The Spirit of Radio, Freewill and Natural Science, along with an unboxing video which you can check out below. Classic Rock magazine celebrated the box set release last month with a special cover feature on the making of the album written by Philip Wilding. The feature is now available online and you can read the whole thing via LouderSound.com. Wilding also wrote a 5/5 review of the box set in the latest issue of Classic Rock magazine (thanks RushFanForever):
"I'll be honest," says Geddy Lee, smiling although he's complaining. "I'm fed up that every time I turn around that it's the fortieth anniversary of something we've done." You can see his point. It seems like not a month goes by before more repackaged and/or remixed Rush goodies come along. As a band who simply don't have a catalogue of songs and out-takes waiting to be rediscovered, Rush's history isn't the easiest seam to mine. This reissue, though, has added poignancy, being the first major one since we lost drummer/ lyricist Neil Peart, and Permanent Waves is the album that redefined who and what Rush were as a band. ...
PopMatters also posted a review of the set which you can read online here, and The Forward's Dan Epstein posted a very personal review, describing how the album impacted him back in 1980 as well as today:
... [the set has] a remastered version of the album on CD and 180g vinyl, plus unreleased live recordings from Rush's 1980 tour - as well as a folder full of fan-friendly goodies like a reprint of the 1980 tour program, replicas of the band members' tour passes, and a notepad from Le Studio. It's a great package to get lost in during these blurry days, and those opening notes of "The Spirit of Radio" can still send chills up my spine, and bring me back to those days when "invisible airwaves crackl[ing] with life" made uncertain times more bearable. Once again, it feels like someone's tapping me on my shoulder - only this time, it's my thirteen year-old self, telling me to turn it up.
The band is also teasing a June 5th music video release for The Spirit of Radio, with a 15-second teaser available here. The Permanent Waves 40th anniversary box set is now available in stores and online retailers, including via Amazon here: Super Deluxe Edition, 2CD and 3LP.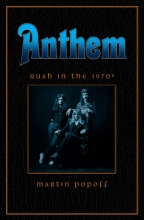 Music writer Martin Popoff has written a new Rush book titled Anthem: Rush in the '70s, which is the first of a 3-part Rush Across the Decades series. The book officially released earlier this month and you can order your copy here. Popoff is also selling signed copies via his website. The author was recently interviewed by Pete Pardo of the Sea of Tranquility YouTube channel, and you can watch/listen to it via YouTube here (thanks RushFanForever). Anthem is the fourth Rush book from Popoff who also authored the 2004 Rush biography Contents Under Pressure, 2013's Rush: The Unauthorized Illustrated History (an updated edition was released back in 2016), and - most recently - Rush: Album by Album in 2017. The second book in the Rush Across the Decades series will be titled Limelight: Rush in the '80s and is slated for an October release; it can be pre-ordered at this location.
Jordan Hoffman wrote a piece for the Times of Israel last week titled Locked down? Open up to... Rush's Jewish frontman Geddy Lee where he encourages readers to check out his favorite band, Rush, while locked in at home. Hoffman basically just profiles the bands history, specifically mentioning how Lee's parents were Holocaust survivors and that the song Red Sector A is based on that experience:
... Peart, inspired by stories Lee had told him about his mother, wrote the lyrics to "Red Sector 'A'." Both of Lee's parents were survivors of Nazi concentration camps. Indeed, they met, as he tells it, building work camps in 1939 at the ages of 12 and 13. They both ended up at Auschwitz and, somehow, continued a flirtation before both being transferred. His father, Morris, was sent to Dachau, his mother Manya to Bergen-Belsen. Manya (now Mary), her sister and mother survived numerous rounds of selection. Lee's parents were reunited at a displaced persons camp after the war and emigrated to Canada. It may seem weird, or even untoward, that there should be a toe-tappin' rock tune about the Holocaust. But if you listen to it, you'll hear it is a serious song, and an emotional one. It is vague enough that it doesn't mention Auschwitz by name, but it is clearly about Nazi concentration camps. Lee sang it to cheering fans at sports arenas for decades. ...
That's all for this week. Have a great weekend everyone!