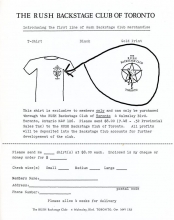 Earlier this week John over at Cygnus-X1.net posted an archive of the complete Rush Backstage Club newsletters from the 1980s-90s and made them available online at this location. Coincidentally, just a few days later, the Rush Backstage Club announced that they would be releasing a print version of the newsletters on May 27th:
... We have reprinted and bound the most meaningful of these newsletters in a 9" X 12", 72-page folio. This folio is printed in Canada on heavy art paper, with open-stitch binding on the spine. Along with actual newsletters, there are a couple of other visual features, as well as a couple hand-typed notes from Neil to their management company SRO. There is an Introduction written by Ray Wawrzyniak, and Foreword written by Patrick McLoughlin. ...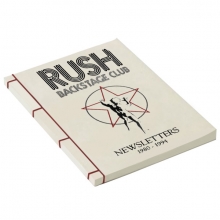 The Rush Backstage Club newsletter was the first official effort by Rush and their management to reach out to the band's growing fanbase back in the early '80s. It was a snail mail newsletter originally called the Rush Backstage Club of Toronto, and provided fans with the latest Rush news, as well as reproductions of Neil Peart's tour book essays, and more. From the Cygnus-X1.net summary of the newsletter's history:
... The early newsletters provided fans the world over with access to news on Rush, as well as reproductions of Neil Peart's tour book essays. Later, the periodically distributed newsletters began to also include tour itineraries, order forms for official Rush merchandise, photos of the band, and even some magazine articles about Rush.

As informative as the early newsletters were, something was still missing - a connection to the fan, and a way for Rush fans to connect to one another. To remedy the situation, the first newsletter of 1985 included a section called 'Pen Pals'; a listing of Rush fan's names and addresses that allowed fans the ability to connect to one another through the mail. It wasn't quite as efficient compared to the way fans connect today, but there was definitely a more elegant and personal touch of writing and mailing a letter to someone you didn't know, but shared a common interest with.

With the very next newsletter, Neil Peart began to share the 'The News' on the band and also took to answering some fan questions. Not surprisingly, the Q&A section became incredibly popular in subsequent issues, with the list of questions steadily growing. As time went on, the newsletter began to shrink in size and was largely only distributed in connection with a new album or tour. Towards the end, the newsletter foreshadowed what the Rush Backstage Club is today - a Rush merchandise shop. Many newsletters were merely a listing of the latest Rush merchandise and a shrinking list of 'Pen Pals' members. Shortly after Rush released Test for Echo, the newsletter quietly came to an end as the growing popularity of the internet and Rush websites took its place. ...
You can pre-order your copy of the Rush Backstage Club Newsletters at the Rush Backstage Club here, and browse the complete online archive over at Cygnus-X1.net.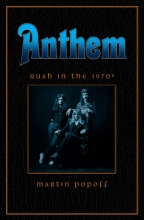 Music writer Martin Popoff is releasing a new Rush book next month titled Anthem: Rush in the '70s, which is the first of a 3-part Rush Across the Decades series. The second book is titled Limelight: Rush in the '80s and is slated for an October release; it can be pre-ordered at this location. Anthem is the fourth Rush book from Popoff who also authored the 2004 Rush biography Contents Under Pressure, 2013's Rush: The Unauthorized Illustrated History (an updated edition was released back in 2016), and - most recently - Rush: Album by Album in 2017. Anthem: Rush in the '70s will officially release on May 12th and can be pre-ordered at this location.
A Night for Neil: The Neil Peart Memorial Celebration concert and charity fundraiser organized by Overtime Angels was originally planned to take place on Saturday, May 16th at the Meridian Centre in Neil Peart's hometown of St. Catharines, Ontario. However, due to the COVID-19 pandemic the event has now been rescheduled to October 17th. The virus has also forced Overtime Angels to cancel their annual RushCamp that traditionally takes place over Labor Day weekend:
From the Department of Hard Realities: We are so sorry to have to tell you this, but "Rational responses force a change of plans." As you well know, the team at Overtime Angels has been working hard on "A Night for Neil" which has now been postponed to October 17, 2020. Due to the rescheduling of this important event, we are unfortunately going to have to cancel RushCamp! 2020, which was scheduled for August 28 - 30, 2020.

This is a decision that we do not take lightly, but due to the unpredictable timelines of COVID-19 and the undivided attention that is needed for honoring Neil, we find that we have no choice. In addition, we didn't think it was reasonable to ask people to travel to two different events within such a short period of time. We also understand this unprecedented virus will have an impact on people's finances, livelihood and ability to travel.

We are wishing everyone and their families safety and health during these trying times and hope that some of you can make it to a "A Night For Neil". Again, from the bottom of our hearts, we are extremely sorry to have had to make this decision. We look forward to RushCamp! 2021.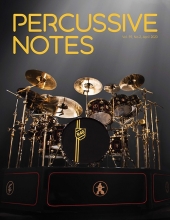 The April issue of Percussive Notes - the official journal of the Percussive Arts Society - is a special edition dedicated to the memory of Neil Peart. A free, digital edition of the magazine is available on the PAS website here (thanks RushFanForever). They also put together a 3-minute video tribute to The Professor which you can watch on YouTube here.
Louder posted their list of the 15 best live Rush tracks, and coming in at number one was the band's performance of 2112 from their debut live album - 1976's All The World's A Stage (thanks RushFanForever):
The big daddy of all Rush live tracks. Though sadly not played in its entirety (Part V, 'Oracle: The Dream was curiously overlooked), this version was recorded in the trio's home town of Toronto, Canada, and captures them with real fire in their bellies, not long after the release of the conceptual milestone album of the same name.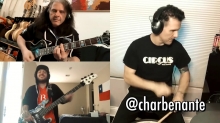 Anthrax drummer Charlie Benante shared a video to YouTube earlier this week of himself, Testament's Alex Skolnick and Suicidal Tendencies' Roberto "Ra" Diaz performing a virtual cover of Rush's YYZ, recorded with each member separated in their own homes:
Here is our version of the @Rush classic #YYZ - @rush inspired all 3 of us to be better musicians. #alexlifeson #geddylee and the great #neilpeart not only played amazing, they also wrote some of the best songs. We are honored to play a little #YYZ for you. Hope this magic music makes your morning/afternoon Alex Skolnick and Ra Diaz are so Amazing - I [love] Rush
That's all for this week. Have a great Easter weekend everyone!