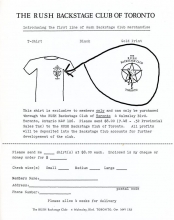 John over at Cygnus-X1.net has compiled an archive of the complete Rush Backstage Club newsletters from the 1980s-90s and made them available online at this location. The Rush Backstage Club newsletter was the first official effort by Rush and their management to reach out to the band's growing fanbase back in the early '80s. It was a snail mail newsletter originally called the Rush Backstage Club of Toronto, and provided fans with the latest Rush news, as well as reproductions of Neil Peart's tour book essays, and more. From John's summary of the newsletter's history:
... The early newsletters provided fans the world over with access to news on Rush, as well as reproductions of Neil Peart's tour book essays. Later, the periodically distributed newsletters began to also include tour itineraries, order forms for official Rush merchandise, photos of the band, and even some magazine articles about Rush.

As informative as the early newsletters were, something was still missing - a connection to the fan, and a way for Rush fans to connect to one another. To remedy the situation, the first newsletter of 1985 included a section called 'Pen Pals'; a listing of Rush fan's names and addresses that allowed fans the ability to connect to one another through the mail. It wasn't quite as efficient compared to the way fans connect today, but there was definitely a more elegant and personal touch of writing and mailing a letter to someone you didn't know, but shared a common interest with.

With the very next newsletter, Neil Peart began to share the 'The News' on the band and also took to answering some fan questions. Not surprisingly, the Q&A section became incredibly popular in subsequent issues, with the list of questions steadily growing. As time went on, the newsletter began to shrink in size and was largely only distributed in connection with a new album or tour. Towards the end, the newsletter foreshadowed what the Rush Backstage Club is today - a Rush merchandise shop. Many newsletters were merely a listing of the latest Rush merchandise and a shrinking list of 'Pen Pals' members. Shortly after Rush released Test for Echo, the newsletter quietly came to an end as the growing popularity of the internet and Rush websites took its place. ...
You can check out the full archive over at Cygnus-X1.net. Thanks John!