A Night for Neil: The Neil Peart Memorial Celebration concert and charity fundraiser will be held on Saturday, May 16th at the Meridian Centre in Neil Peart's hometown of St. Catharines, Ontario, and tickets are now on sale to the general public via Ticketmaster at this location. The performers have not yet been announced, but the organizers posted an update earlier this week:
March 3, 2020 - Overtime Angels are grateful for the THOUSANDS of people who have already purchased tickets for "A Night for Neil". We understand everyone is lit up with anticipation! We are working diligently behind the scenes with the Peart family to put together an event that will honor Neil's memory and leave a lasting impression on all the fans. The show will start as a memorial, and celebration of Neil's life with speakers, musical performances and video tributes. Following intermission, we will transition to RUSH tributes, special guests, and more! Additional information will be released soon! ...
In addition to Overtime Angels, the charities chosen by the Peart Family as beneficiaries of this event are: St. Catharines Hospital and Walker Cancer Centre, The Juravinski Hospital & Cancer Centre in Hamilton, and the Royal Victoria Regional Health Centre in Barrie. Please follow the event on social media (Facebook, Twitter, Instagram) and/or subscribe to the email list at this location to get the latest information. On a related note, the effort to name the pavilion at Lakeside Park after Peart continues, with the latest update coming in this iHeart Radio Canada article:
The formal process to name the Lakeside Park pavilion after legendary Rush drummer Neil Peart has begun. Before council can make the name official, they must first open up the naming process for public suggestions. Residents can submit their own ideas for a name for the pavilion through an online form on EngageSTC.ca until this Friday. After that, staff will put together a short list of finalists and then voting will take place from mid-to-late March. The final name will be presented to City Council next month. ...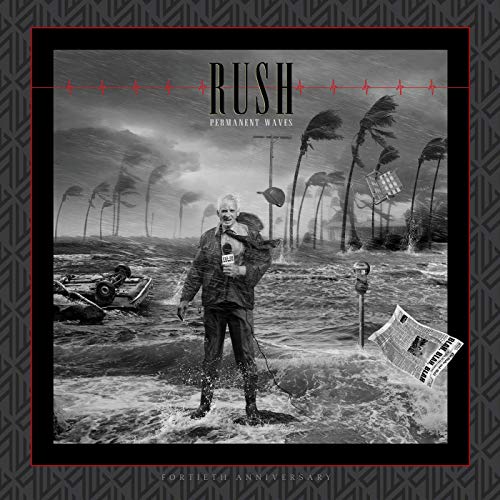 Rush is celebrating the 40th anniversary of the 1980 release of Permanent Waves with a new box set release, available as a 2-CD set, 3-LP set, or Super Deluxe Edition that includes both the CDs and LPs along with some bonus merch. The set is slated to release on May 29th and is now available for pre-order (2-CD, 3-LP, Super Deluxe Edition). The first disc of both sets will include the 2015 Permanent Waves Abbey Road Studios album remaster on CD for the first time (previously released on vinyl), and the second disc of the 2-CD set (2nd and 3rd bonus LPs of the 3-LP set) will contain the following previously unreleased and newly restored (mixed by former Rush producer Terry Brown) live recordings from Rush's 1980 Permanent Waves tour:
1. Beneath, Between & Behind (Live in Manchester)
2. By-Tor & The Snow Dog (Live in London)
3. Xanadu (Live in London)
4. The Spirit Of Radio (Live in Manchester)
5. Natural Science (Live in Manchester)
6. A Passage to Bangkok (Live in Manchester)
7. The Trees (Live in Manchester)
8. Cygnus X-1 (Live in London)
9. Cygnus X-1 Book II (Live in London)
10. Closer To The Heart (Live in Manchester)
11. Jacob's Ladder (Live in Missouri)
12. Freewill (Live in London)
Last month Rush released The Spirit of Radio live in Manchester on multiple streaming channels, including Spotify, Amazon Music and YouTube. From the product listings, the Super Deluxe Edition will also include the following bonus merchandise along with a 40-page hardcover book :
* Official Permanent Waves World Tour 1980 Program
* The Words & Pictures Volume II - U.K. Tour Program
* 3 Neil Peart Handwritten Lyric Sheet Lithos
* 3 Band Member Backstage Laminates
* Le Studio 20-page Notepad
* Double-sided 24"x36" Poster
There's still nothing posted on any of the official Rush channels, or on the Rush Backstage Club site yet, but you can pre-order your copy of the Permanent Waves 40th anniversary box set on Amazon (2-CD, 3-LP, Super Deluxe Edition).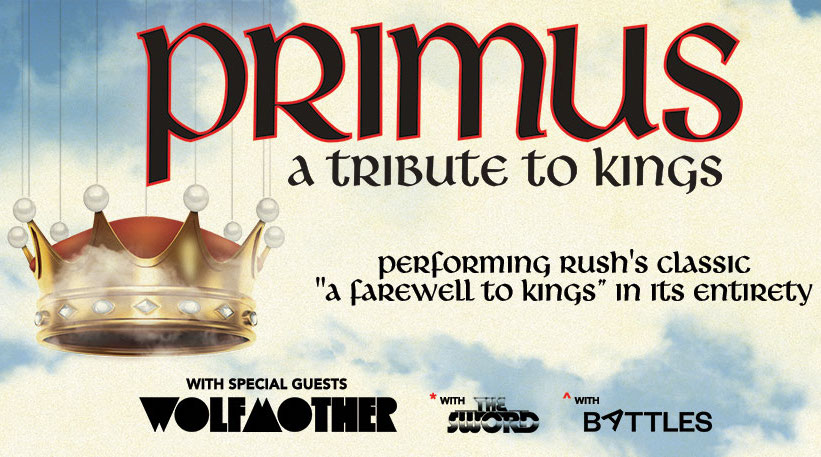 Primus' upcoming A Tribute to Kings tour will feature the band paying tribute to their musical heroes Rush; they'll be covering the band's A Farewell to Kings album in full every night, before playing a full set of their own songs. The tour will hit cities all across the US from late May through early August, and tickets are now available at primusville.com.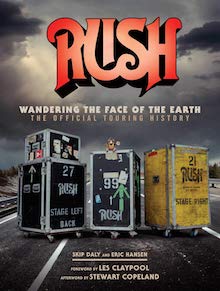 Skip Daly and Eric Hansen's new book Rush: Wandering the Face of the Earth: The Official Touring History officially released back on October 29th, and is currently available to purchase via Amazon and other retailers. The book was recently given a glowing, chapter-by-chapter review over at Dusk Before the Dawn:
... RUSH Wandering the Face of the Earth is not just a great tour book. As each chapter went through I went back and listened to the albums that were represented by the tour described in that chapter. Music always bring back memories. With Neil Peart's passing, the R40 tour really was indeed the last time we will see the trio live. But they certainly live on in their music, and in awesome remembrances like this book.
As is apparent from the book's title, Rush: Wandering the Face of the Earth chronicles Rush's entire decades-spanning touring history, including setlists, opening acts, new imagery and every noteworthy moment meticulously researched and vetted by the band themselves. The book also includes a foreword by Primus front-man Les Claypool, an afterword by Police drummer Stewart Copeland and an introduction by Rush lighting director Howard Ungerleider. Several preview pages and scans can be seen in this post and also here. John over at Cygnus-X1.net has also posted a preview including Claypool's foreword along with some more photos from the book which you can check out at this location.
Reader Will C dug up an old cassette tape with a 1990 Geddy Lee interview on it and provided me with the mp3 file. I've made it available for listening below. It's a 20-minute interview from just before the Presto tour on Scott Muni's World of Rock radio show. It originally aired the week of January 7, 1990.
Last month drummer Mike Portnoy in cooperation with Loudwire.com came up with a unique way to honor Neil Peart and also raise some money for brain cancer research. Portnoy posted a video of himself playing tribute to several Rush songs on a toy drum kit as seen here. He then put the tiny kit up for auction on eBay where all proceeds from the sale would go to the American Brain Tumor Association. The auction produced a winning bid of $1,575, but the bidder ended up backing out because he "was drunk at that time" as described in this article. So they relaunched the auction, which ultimately turned out to be a good thing since the second time around the winning bid was over $10K!

Reader Nyall F let me know of a Rush 2112 reference in the 2019 movie Men in Black: International. About 20 minutes into the film, Agent M (Tessa Thompson) is waiting in a spaceport and a woman announces over the PA, "Last call for Flight 2112 to the Cat's Eye Nebula". A transcript of the movie is available here, and a screenshot of the scene can be seen here.
Jeff Mallett's online comic Frazz included a Neil Peart reference in the entry for March 2nd as seen here (thanks Kevin W).
A new, internet-only 24/7 Progressive Rock Radio channel for Rush music launched a few months ago. It's called Rushwave 2112 Radio and you can tune in online here.
Opening day for the 2020 MLB season is just a few weeks away and reader Ken K (aka The Clansman 2112) wanted me to let everyone know that he has 4 manager spots open for his annual rushisaband Fantasy Baseball League that's going into its tenth year. It's a 20 Team Roto League with no entry fees or prizes - they just play for fun and bragging rights, and have a lot of fun talking about baseball and Rush. If you are interested, go to this link to join up, and send email to Elwood2000@hotmail.com if you have questions.
Central New Jersey craft brewery company Carton Brewing unveiled a new lime-lighted Canadian lager Wednesday which honors the late Neil Peart, who passed away from brain cancer in January. The name of the beer is Pronounced Pier-T, playing off the often mispronounced late drummer's last name, and combines Pilsner and Vienna malts with Motueka hops and lime puree for a beer that is playful, crisp and incredibly refreshing. The beer can be purchased at Carton's East Washington Avenue tasting room at the appropriate cost of $21.12 per four-pack, with all of the proceeds to be donated in Peart's name to to glioblastoma research. Brewery co-founder Augie Carton and lead brewer Mike Stark were interviewed for USA Today about the beer and explain how it came about:
"I get Rush. I love Rush. Those of you that know what I'm talking about, know what I'm talking about," ... "We lost Neil, and that made me really sad. I tried to find a way to make that feel better." ... "I'm really proud of the product," said Carton lead brewer Mike Stark. "I think it came out really nice, and I'm proud I get to do it for a charity like that." Stark began developing a lime-enhanced lager prior to Peart's death, but said he was listening to Rush as he brewed the final product to get a bit of inspiration. ... "We like to drink off the beaten craft and do things off the beaten craft," he said, "and so we take a different look, a different approach at things when it comes to putting our recipes together, putting flavors together in a beer, much as Neil did with his time signatures and different drumming techniques and styles throughout his songs. We kind of echo that through our beers and our brewing process."
That's all for this week. Have a great weekend everyone!!