A Night for Neil: The Neil Peart Memorial Celebration concert and charity fundraiser will be held on Saturday, May 16th at the Meridian Centre in Neil Peart's hometown of St. Catharines, Ontario. Tickets for the event are now on sale to the general public and can be purchased via Ticketmaster at this location. From the official press release:
... The event will be held in the late Mr. Peart's hometown of St. Catharines, Ontario, CA, on May 16th, 2020, at the Meridian Centre and is being coordinated in cooperation with the Peart family, Overtime Angels, Inc. - a registered 501(c)(3) charity - and the City of St. Catharines are bringing together a wide array of production professionals, world-class musicians, and guest speakers to pay tribute to Neil's life and career. The growing roster of artists and guest speakers will be announced in a subsequent release. ... Speaking on behalf of Neil's family, his parents, Glen and Betty Peart stated, "We are grateful for the team that Overtime Angels is assembling...we are especially pleased to be able to support this charity event that will benefit some much-needed organizations that are close to our hearts."...
In addition to Overtime Angels, the charities chosen by the Peart Family as beneficiaries of this event are: St. Catharines Hospital and Walker Cancer Centre, The Juravinski Hospital & Cancer Centre in Hamilton, and the Royal Victoria Regional Health Centre in Barrie. The event has been in the works since shortly after Peart's passing as detailed by Overtime Angels' Jim Brunke in this January 22nd article from the St. Catharines Standard. The event will bring together a wide array of world-class musicians, production professionals, and guest speakers to pay tribute to Neil's life and career. The growing roster of artists and guest speakers will be announced in a subsequent release. Please follow the event on social media (Facebook, Twitter, Instagram) and/or subscribe to the email list at this location to get the latest information. On a related note, the effort to name the pavilion at Lakeside Park after Peart continues, with the latest update coming in this Thorold News article:
... According to Phil Cristi, Director of Community, Recreation and Culture Services with St. Catharines, the pavilion was a part of a major upgrade to the many features in the park several years ago, which included a bandshell, beach sun shelter, playground, washrooms and lighting to the tune of $2.4 million. The newly renovated pavilion remains nameless, so there have been suggestions to name it after Peart, explained Cristi. ... Participants can also make other suggestions and ideas on how to honour Peart on this link, which could include other locations where monuments should be placed at Lakeside Park or other areas, like an art centre, for example. "We've had submissions for a statue, a drum set, those are the most popular ones off the top of my head," said Cristi, also noting the city may be honouring Peart in other ways, as well. Once all suggestions have been received, staff will review the names and present a shortlist of finalists to the public. This is also pending approval of the family and the remaining members of the Rush entity: guitarist, Alex Lifeson and bassist, Geddy Lee. Preference will be given to names that reflect the area history, heritage and environment, states a report by the city. A public meeting will also be held for others to weigh-in on the idea, which Cristi said is a part of the "democratic process" that fosters transparency. Voting on the finalists is expected to take place in mid-to-late March, which will help council make its decision when the report is presented in April 2020. Cristi expects many creative ideas to surface for Lakeside Park. Noting Peart's international fan base and popularity around the globe, he realizes there is a possibility of receiving private funding for additional memorials and dedications to be made. ...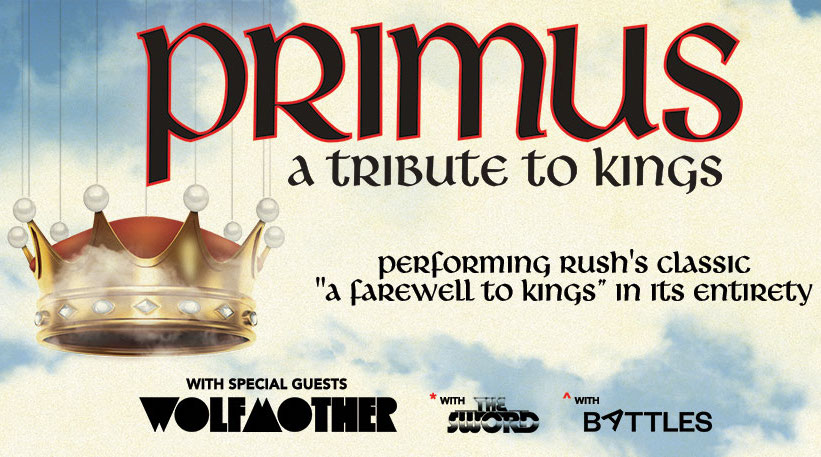 Primus' upcoming A Tribute to Kings tour will feature the band paying tribute to their musical heroes Rush; they'll be covering the band's A Farewell to Kings album in full every night, before playing a full set of their own songs. The tour will hit cities all across the US from late May through early August, and tickets are now available at primusville.com. Rolling Stone magazine spoke with Claypool about the tour and how it came about:
... [the tour] will no doubt take on added significance in light of the death of iconic Rush drummer Neil Peart in January. The timing, as it turns out, is a complete coincidence; Primus' Rush covers run had been in the works since last year. "We're trying to be very sensitive about doing the tour and not having it be, 'Hey, all about Neil,'" Claypool says. "It's about admiration for these amazing musicians and friends." ... we had talked about doing an album in its entirety a while ago. ... we'd always talked about potentially doing Hemispheres because that was my first concert, and it may have been Ler's [LaLonde] first concert too, actually. And when it finally came down to it, we started looking at the different records and settled on Farewell to Kings. ... I talked to Geddy about it, yeah. I texted with him - I keep in touch with Geddy - just to make sure we weren't trodding on something weird. So I checked in with him to see what he thought of it, and he was excited about the notion. ... he thought it was a great idea. You know, we go way back with those guys so I think it made him feel good that it was going to be us that was going to do this thing. But I don't know, you'd have to ask him. I can't put words in his mouth, but he seemed excited about it. ...
Claypool addresses the choice of A Farewell to Kings in more detail later in the intervew, and also talks more about the passing of Neil Peart and his long relationship with Rush. You can read the entire interview online at this location.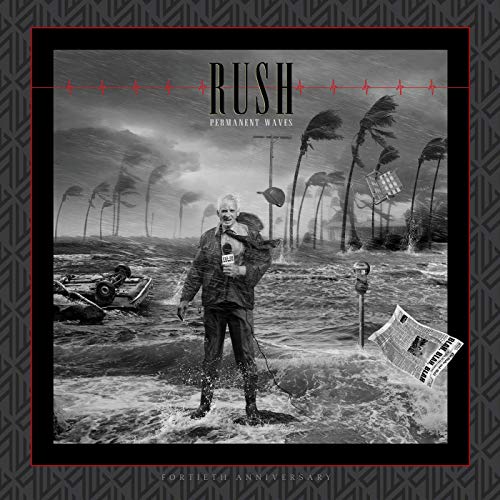 Rush is celebrating the 40th anniversary of the 1980 release of Permanent Waves with a new box set release, available as a 2-CD set, 3-LP set, or Super Deluxe Edition that includes both the CDs and LPs along with some bonus merch. The set is slated to release on May 29th and is now available for pre-order (2-CD, 3-LP, Super Deluxe Edition). The first disc of both sets will include the 2015 Permanent Waves Abbey Road Studios album remaster on CD for the first time (previously released on vinyl), and the second disc of the 2-CD set (2nd and 3rd bonus LPs of the 3-LP set) will contain the following previously unreleased and newly restored (mixed by former Rush producer Terry Brown) live recordings from Rush's 1980 Permanent Waves tour:
1. Beneath, Between & Behind (Live in Manchester)
2. By-Tor & The Snow Dog (Live in London)
3. Xanadu (Live in London)
4. The Spirit Of Radio (Live in Manchester)
5. Natural Science (Live in Manchester)
6. A Passage to Bangkok (Live in Manchester)
7. The Trees (Live in Manchester)
8. Cygnus X-1 (Live in London)
9. Cygnus X-1 Book II (Live in London)
10. Closer To The Heart (Live in Manchester)
11. Jacob's Ladder (Live in Missouri)
12. Freewill (Live in London)
Earlier this month, Rush released The Spirit of Radio live in Manchester on multiple streaming channels, including Spotify, Amazon Music and YouTube. Unlike 2018's Hemispheres 40th anniversary box set, the Permanent Waves Super Deluxe Edition won't include a 5.1 surround sound Blu-ray Audio mix. As we'd pointed out in this earlier post, this could be due to the fact that the multi-track master tapes aren't available as Alex Lifeson explained in this 2012 interview. From the product listings, the Super Deluxe Edition will also include the following bonus merchandise along with a 40-page hardcover book :
* Official Permanent Waves World Tour 1980 Program
* The Words & Pictures Volume II - U.K. Tour Program
* 3 Neil Peart Handwritten Lyric Sheet Lithos
* 3 Band Member Backstage Laminates
* Le Studio 20-page Notepad
* Double-sided 24"x36" Poster
There's still nothing posted on any of the official Rush channels, or on the Rush Backstage Club site yet, but you can pre-order your copy of the Permanent Waves 40th anniversary box set on Amazon (2-CD, 3-LP, Super Deluxe Edition). On a related note, Greg Prato posted a retrospective song-by-song breakdown of the album on BestClassicBands.com this past week which you can check out here.
Author/photographer Bill O'Leary has been photographing rock acts since the early '80s including Van Halen, Judas Priest, Kiss, Ozzy Osbourne, Queen, Pink Floyd, Frank Zappa, Rush, and more. This past September he released a book featuring over 175 of some of his best images titled Timeless Concert Images: And 40 Years of Rock Concert Experiences. The book includes several photos of Rush from both the Permanent Waves and Moving Pictures tours in NYC, and O'Leary has provided these preview images of Geddy Lee, Neil Peart, and Alex Lifeson. You can order your copy of Timeless Concert Images: And 40 Years of Rock Concert Experiences via Amazon at this location.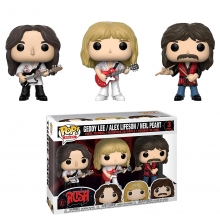 The Rush Funko Pop! Rocks figures got a mention in this GoTechDaily.com article. Funko released their Rush figurines early last year and they quickly became one of their hottest-selling items. You can order your set via Amazon at this location.
A new documentary on the famous Rockfield Studios in Monmouthshire titled Rockfield: The Studio On The Farm is slated to premiere at SXSW next month (thanks RushFanForever). Rush recorded both A Farewell to Kings and Hemispheres at Rockfield. A trailer for the film can be seen at this location.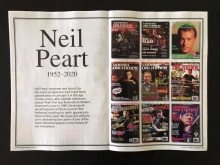 Modern Drummer magazine has announced that their next issue will pay tribute to the late Neil Peart as seen in this photo (thanks Eric at Power Windows). The issue will mark the tenth cover appearance for Peart in the magazine's 40-year history.
Since the middle of last month, ThatHashtagShow.com has been posting a series of articles where they cover Rush and their storied career, reviewing each of their many studio albums. They've published 8 articles so far, each covering 1 or 2 of Rush's albums, with the latest installment moving into the late 1980s/early 1990s and featuring Presto and Roll the Bones. They've also covered Rush and Fly by Night, Caress of Steel, 2112, A Farewell to Kings and Hemispheres, Permanent Waves and Moving Pictures, Signals and Grace Under Pressure, and Power Windows and Hold Your Fire.
This past Wednesday, February 26th marked the 23rd anniversary of Rush receiving the Order of Canada. Here's a CBC news story from 1997 covering the event:
That's all for this week. Have a great weekend!