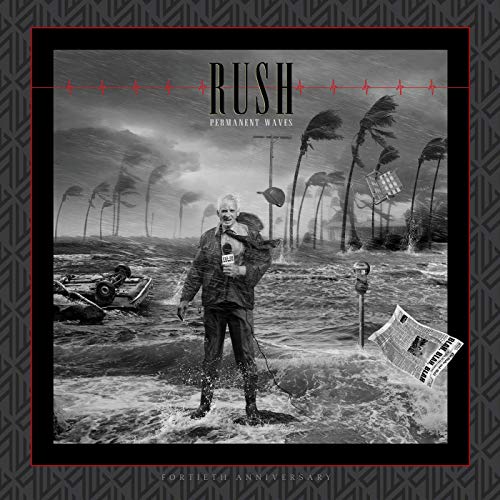 Rush is celebrating the 40th anniversary of the 1980 release of Permanent Waves with a new box set release, available as a 2-CD set, 3-LP set, or Super Deluxe Edition that includes both the CDs and LPs along with some bonus merch. The set is slated to release next month on March 27th and is now available for pre-order (2-CD, 3-LP, Super Deluxe Edition). The first disc of both sets will include the 2015 Permanent Waves Abbey Road Studios album remaster on CD for the first time (previously released on vinyl), and the second disc of the 2-CD set (2nd and 3rd bonus LPs of the 3-LP set) will contain the following previously unreleased and newly restored (mixed by former Rush producer Terry Brown) live recordings from Rush's 1980 Permanent Waves tour:
1. Beneath, Between & Behind (Live in Manchester)
2. By-Tor & The Snow Dog (Live in London)
3. Xanadu (Live in London)
4. The Spirit Of Radio (Live in Manchester)
5. Natural Science (Live in Manchester)
6. A Passage to Bangkok (Live in Manchester)
7. The Trees (Live in Manchester)
8. Cygnus X-1 (Live in London)
9. Cygnus X-1 Book II (Live in London)
10. Closer To The Heart (Live in Manchester)
11. Jacob's Ladder (Live in Missouri)
12. Freewill (Live in London)
Earlier this week, Rush released The Spirit of Radio live in Manchester on multiple streaming channels, including Spotify, Amazon Music and YouTube (watch below). Unlike 2018's Hemispheres 40th anniversary box set, the Permanent Waves Super Deluxe Edition won't include a 5.1 surround sound Blu-ray Audio mix. As we'd pointed out in last week's post, this could be due to the fact that the multi-track master tapes aren't available as Alex Lifeson explained in this 2012 interview. From the product listings, the Super Deluxe Edition will also include the following bonus merchandise along with a 40-page hardcover book :
* Official Permanent Waves World Tour 1980 Program
* The Words & Pictures Volume II - U.K. Tour Program
* 3 Neil Peart Handwritten Lyric Sheet Lithos
* 3 Band Member Backstage Laminates
* Le Studio 20-page Notepad
* Double-sided 24"x36" Poster
There's still nothing posted on any of the official Rush channels, or on the Rush Backstage Club site yet, but you can pre-order your copy of the Permanent Waves 40th anniversary box set on Amazon (2-CD, 3-LP, Super Deluxe Edition).
Drummer Mike Portnoy in cooperation with Loudwire.com recently came up with a unique way to honor Neil Peart and also raise some money for brain cancer research. Portnoy posted a video of himself playing tribute to several Rush songs on a toy drum kit as seen here. He then put the tiny kit up for auction on eBay where it's already surpassed the $1000 mark. All proceeds from the sale will go to the American Brain Tumor Association. Bidding runs through this upcoming Tuesday morning.
Yesterday the U.S. Army Band Pershing's Own vocal group Downrange posted a beautiful tribute performance of Rush's Time Stand Still to YouTube as a tribute to the late Neil Peart. The piece was produced and arranged by Sgt. 1st Class Tim Whalen, and you can watch it on YouTube at this location.
Mixer/producer/engineer Stephen W. Tayler was recently interviewed by Anil Prasad for innerviews.org, and talks about his long career in the music business, including his time as mixer/engineer on Rush's Roll the Bones and Presto albums.
Reader RushFanForever pointed me to a couple of old, rare Rush interviews that recently surfaced on YouTube, including this band interview from May 30, 1976 in Springfield Illinois, and this interview with Geddy from August, 1977 on CHUM-FM for the A Farewell to Kings premiere (mislabeled as 1978 and Hemispheres).
Since the middle of last month, ThatHashtagShow.com has been posting a series of articles where they cover Rush and their storied career, reviewing each of their many studio albums. They've published 6 articles so far, each covering 1 or 2 of Rush's albums, with the latest installment moving into the early-mid 1980s and featuring Signals and Grace Under Pressure. They've also covered Rush and Fly by Night, Caress of Steel, 2112, A Farewell to Kings and Hemispheres, and Permanent Waves and Moving Pictures.
This past Wednesday, February 12th marked the 39th anniversary of Rush's Moving Pictures, and tomorrow marks the 45th anniversary of the release of the band's 2nd album and first with Neil Peart - 1975's Fly By Night. That's all for this week. Have a Happy Valentine's/President's Day weekend everyone!!