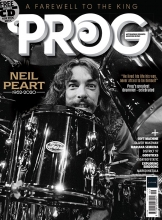 The latest edition of Prog magazine (#106) hit newsstands this past week and honors the late Neil Peart with a cover feature titled A Farewell to the King. In the article, Prog writers Philip Wilding, Chris McGarel, Tim Ponting, Gary Mackenzie, and Martin Kielty share their memories of Neil. John over at Cygnus-X1.net has transcribed the article and made it available online at this location. The latest issue of Classic Rock magazine also includes a tribute to Peart penned by Philip Wilding, which John has also transcribed here.
According to this listing on Finnish music retailer 8raita's website, Rush's expected 40th anniversary Permanent Waves box set will be getting released next month on March 27th, a bit sooner than expected (a holiday 2020 release had been expected). There's very little information available at this point, but it looks like it will be a 3-LP/2-CD set, much like 2018's Hemispheres 40th anniversary box set release. However, there's no Blu-ray Audio disc listed (currently at least) which could be due to the fact that the multi-track master tapes aren't available - at least according to Alex Lifeson as he explained in this 2012 interview:
... The master tapes for Permanent Waves, I just don`t think we have the masters for that record. That is typical of those days. Your recordings would stay at the studio where you last worked. You`d get home and the master tapes would go to be mastered and then the record was released and they would keep your masters as it was safer that way. When we did Permanent Waves, Trident kept the masters but they went bankrupt and everything disappeared so we don`t have the multi-track masters for that one. ...
Ole's Andy Curran first mentioned the planned 2020 release of a Permanent Waves 40th anniversary box set in an interview from late 2018. The release was confirmed during a pre-show advertisement at last year's Rush: Cinema Strangiato event. More information as we learn it.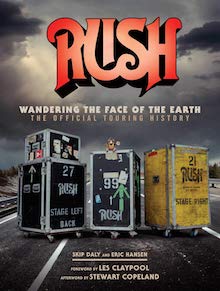 One of the most popular Rush books of the past year (or past decade) was Skip Daly and Eric Hansen's new book Rush: Wandering the Face of the Earth: The Official Touring History which officially released back on October 29th, and is currently available to purchase via Amazon and other retailers. The book was recently included on Bad Feeling Magazine's list of the best pop culture books of 2019:
Rush was always known as one of the greatest live rock bands in the world, and that legacy finally gets its proper due in this mammoth new gigography. Every Rush concert ever has been meticulously compiled here, with notes from the show, the complete setlists, notable debuts or events, and much more. There are gorgeously rendered full-color photos throughout, along with an introduction by Primus' Les Claypool and an afterward by Stewart Copland of The Police, that place Rush's incredible impact in context. This is a must-have for any Rush fan, and a bittersweet tribute to the legacy of drummer Neil Peart, who passed away just a few months after its release. Cue up 2112, crack open a cold Molson and get ready to journey back through Rush's nearly five decades of crisscrossing the globe.
As is apparent from the book's title, Rush: Wandering the Face of the Earth chronicles Rush's entire decades-spanning touring history, including setlists, opening acts, new imagery and every noteworthy moment meticulously researched and vetted by the band themselves. The book also includes a foreword by Primus front-man Les Claypool, an afterword by Police drummer Stewart Copeland and an introduction by Rush lighting director Howard Ungerleider. Several preview pages and scans can be seen in this post and also here. John over at Cygnus-X1.net has also posted a preview including Claypool's foreword along with some more photos from the book which you can check out at this location.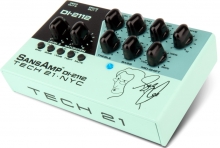 Tech 21 first introduced their GED-2112 Geddy Lee Signature SansAmp at the 2017 NAMM show as described in this post. Then at last year's show back in January of 2019, they unveiled their pedal format version of the GED-2112 - the SansAmp YYZ. For this year's NAMM show they unveiled yet another product in the Geddy Lee Signature series - a desktop version called the DI-2112:
Tech 21 has unveiled the all-new SansAmp DI-2112, a new desk-top/amp-top designed in collaboration with Rush bassist and vocalist Geddy Lee. The DI-2112 takes inspiration from the design architecture of the GED-2112 rackmount, and features a new framework for SansAmp's Parallel Pre-Amping technology which incorporates two separate internal preamps. The Drive preamp is based on the versatile SansAmp RPM and the Deep preamp provides thick, meaty tones. Both preamp sections can be used independently or blended externally to a mixing board as well as two amplifiers. ...
You can also check out a video from the NAMM show where Evanstad Music demos the product with some help from YYNOT's
Tim Starace. For all the details on the SansAmp DI-2112, visit the Tech 21 website here.
Former Rush producer Terry Brown will be hosting a weekend Master Sessions workshop at Chalet Recording Studio in Claremont, Ontario from May 22-24. Terry will cover all aspects of the recording process, with guitarist David Barrett, and sound designer Scott Matthews. Amazing food and deluxe accommodations are included. For all the details go to this link and check out the Facebook event page.
Online literary journal Loud Coffee Press posted an article this past week titled Feeling the Rush: Lessons on Creativity and Life from the Unlikeliest of Punk Bands where they list of 6 lessons that creatives can learn from examining Rush's career and artistic vision.
BabyGaga.com posted a list of 10 baby names inspired by rock bands this past week, one of which was Rush at #8.
Rock Journalist Steve Rosen has recently been posting a few "lost" interviews of various musicians he's conducted over his long career to his YouTube channel, including a 1984 interview with Rush's Alex Lifeson that he posted this past week. The interview runs for about 38 minutes and you can give it a listen here (thanks RushFanForever).
Author and Rush fan Alexander Hellene was recently inspired by Neil Peart's untimely passing to write his first non-fiction book; a book centered on Rush fans with a working title of Dreamers and Misfits. He has created a Rush survey as part of his research and is asking fans to help him out by taking the online survey here.
A collection of six vintage guitars from Geddy Lee's extensive collection were first put on the auction block at a Mecum Auction in Las Vegas this past October. The prize of Geddy's collection was a rare, 1959 Les Paul Standard which failed to sell at the initial Vegas auction. However, it did finally find a buyer willing to shell out over $200K for the vintage instrument last month at a Mecum auction in Kissimmee - none other than Cheap Trick guitarist Rick Nielsen as seen in this video. Nielsen has one of the most extensive vintage guitar collections in existence, and ended up paying $215K for the guitar ($247,250 after including buyer commission). Over the course of the last several years Geddy has amassed a huge collection of his own while compiling his Big Beautiful Book of Bass, and decided to unload a few of them, saying that, "he feels that the time has come to reunite a select few of his finest string instruments with talented musicians around the world who can help these works of art fulfill their original and intended purpose of making art".
That's all for this week. Have a great weekend everyone!