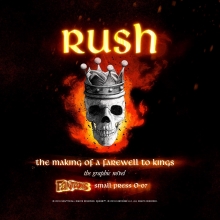 FANTOONS' new graphic novel chronicling the making of Rush's 1977 album A Farewell to Kings officially released this past Tuesday and is now available to purchase. It's also the #1 New Release in Amazon's Biographies & History Graphic Novels category! The beautifully illustrated, 144-page hardcover book tells the familiar story of the making of A Farewell to Kings, but does so in such a fresh and unique way that it feels new. The book features artwork and storytelling from FANTOONS, with new input from Alex Lifeson and producer Terry Brown, who also wrote the book's foreword. John at Cygnus-X1.net posted a review of the book to his site a couple of weeks ago which you can check out here, and GeekDad posted their glowing review last week, having the following to say:
... I think David Calcano nailed it, this graphic novel is something that both Rush fans and comic book fans both can appreciate (but especially Rush fans). I was first introduced to Rush around the time of the release of the Roll The Bones album (a cassette tape back then) and from there I slowly started listening to the Rush back catalog of albums. So for me, A Farewell to Kings, was an album I didn't know a lot about going into the graphic novel. But this made the read even that much more enjoyable. I read the entire graphic novel in one sitting one evening and have since been going back to re-read it again. You can tell there was a lot of effort put into this product with the aim of truly capturing the essence of the band and capture it they did. ...
You can order your copy of Rush: The Making of A Farewell to Kings at Amazon.com and other retailers, or via the official FANTOONS online store at fantoons.shop (get a 10% discount at fantoons.shop using code RUSHFANS). FANTOONS hopes to release several more making of graphic novels for other Rush albums, so stay tuned. To learn more about all of the other officially-licensed Rush merchandise available from FANTOONS, be sure to check out their online store, and follow them on Facebook and Twitter.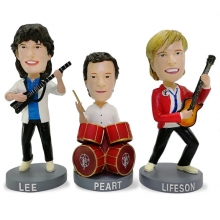 The Rush Backstage Club announced earlier this week that they will be releasing a 1980's edition of their popular Rush bobblehead dolls. A 1970's era version of the bobblehead dolls has been available for several years now, but this new edition gives the power trio an updated '80s era look. From the Rush Backstage Club:
Who can forget the 80's? The decade that spawned albums such as Moving Pictures, Signals, and Power Windows, certainly deserves its own set of Rush bobbleheads. Remember Alex's leather pants? How about the clean-cut hair on Neil! How about Ged's Steinberger!! This set of three polyresin ceramic dolls stand approximately 7" high, and come packaged in a custom box for all of you collectors. Clear some space on the shelf!
A limited quantity of the bobblehead dolls are now available for pre-order and are slated for release on December 2nd. You can also still purchase the classic edition of the bobblehead dolls on Amazon at this location.
Rush producer Nick Raskulinecz was recently interviewed for Episode 32 of the Tape Op Podcast and spoke a bit about his work on Rush's Snakes & Arrows and Clockwork Angels albums at around the 15-minute mark, as transcribed below (audio here):
... The first time I ever worked with [Rush] ... I mean, the drums were pretty covered. Neil had the set that he wanted to use; he's got such a great sound, all his drum sets are custom-built ... But Alex has gone through so many years of different kind of amps, guitars, and pedals, and when I first met him, I was, like, 'Dude, you have to have a warehouse full of gear, don't you?' And he was, like, 'Yeah, I do.' So, we went over there one day and I was just, like, 'Oh my god.' High-watts, Marshalls, cabinets ... He was, like, 'Oh, yeah, see this amp, I used it on '2112.' I was, like, 'Oh, let's use that.' He's, like, 'Oh, it doesn't work anymore.' The main thing with Alex was old guitars. I wanted him to use the old guitars, which was his Tobacco Sunburst ES-335. It was a '63 that his mom bought him for Christmas, and the white 355 that's in the Limelight video, and some various Les Pauls and SGs. I brought a bunch of my guitars and stuff, so we kind-of complemented each other's gear. Geddy has his '72 Jazz Bass which he pretty much used on all the records, it was pretty simple. The sound of Rush is those guys ... Sometimes I still can't believe it happened. We made two records together, and the first one was... it did great for them. I kind of feel they were looking for somebody to inject some energy back into them and what they were doing and tell them that it was okay to be themselves. I felt like they were looking for a direction at that point in their careers. I mean, they'd made so many records. And they had just gotten back together after Neil's hiatus and made a record [Vapor Trails] that was a little - it was too heavy and disjointed, and it didn't really sound like Rush that much. And I liked it, but I didn't love it. And we got together, I was just kind of, like, "No. More fills. And classic fills." Because as a lifelong Rush fan, I knew what I wanted to hear. So I just kind of tried to guide them into what... I feel like the first record we made was their kind of mid-'80s, early-'90s... we kind of touched on that era of Rush. And then the last record we made was total '70s, very early '80s-style Rush. There's a song on there called 'Headlong Flight' that's almost nine minutes long; it has a drum solo in the middle. ...
The Polaris Music Prize recently released the video for its third and final SiriusXM Polaris Cover Session for 2019 featuring Windsor-based rock duo Partner covering Rush's Limelight from their Slaight Family Polaris Heritage Prize-winning album Moving Pictures. You can listen to the cover on YouTube/SoundCloud. From the Polaris Music Prize website:
... Partner's version of "Limelight" was engineered and mixed by Darren McGill at Union Sound Company in Toronto. Partner are strong supporters of the classic prog power trio. "We love you Rush. You seem like the coolest people ever," said Partner's Lucy Niles in the video. "I have a message from my dad," added fellow band member Josée Caron, reading from a phone, "'Your dad had the Exit Stage Left vinyl and 2112 is his favourite.'" The Partner cover is the final session planned for 2019 that features past Polaris nominees interpreting songs from albums that have received Slaight Family Polaris Heritage Prize designation. Rush's Moving Pictures album received its Heritage Prize designation in 2016. Partner made the Short List in 2018 for their album In Search Of Lost Time. Partner's interpretation as well as Faith Healer performing The Band's "When You Awake" and Pierre Kwenders' cover of Jean-Pierre Ferland's "It Ain't Fair" have been pressed on to a limited edition vinyl record that was given out free with purchase at participating retail stores in late-summer. The record will also be given to Polaris Gala attendees. ...
As mentioned above, Rush's Moving Pictures won the Polaris Heritage Prize back in 2016, and their 1976 album 2112 also was a winner last year. The 2019 Polaris Music Prize Gala will take place this coming Monday, September 16th at the Carlu in Toronto.
Prog Magazine's 2019 Progressive Music Awards Gala took place yesterday evening at the Underglobe, beneath Shakespeare's Globe Theatre on London's Southbank. Rush's Hemispheres 40th anniversary box set had been nominated in the Reissue of the Year category, but ended up losing to Marillion's Clutching At Straws Deluxe Edition. You can see a complete list of the winners at this location.
911 Porsche World magazine recently featured one of Neil Peart's old Porsche 911's in their Auction Watch section; the vehicle was recently sold via RM Sotheby's for over $150K (thanks RushFanForever):
This 1994 Porsche 911 Speedster was originally built to order for the drummer of the Canadian rock band Rush, Neil Peart, who is an avid motoring enthusiast. The Speedster is finished in Black with a Black interior and built to Canadian specifications. It was optioned with an AM/FM radio with cassette and four speakers, air-conditioning with full climate control, and a set of Michelin tyres. The car was completed on 2th July 1993 and shipped to Canada where it was sold through Automobiles E Lauzon of Quebec. Peart enjoyed the car for a number of years, eventually importing it to the US to be used at his Los Angeles residence; he parted ways with his 911 Speedster in January 2003, and it was pur-chased by a prominent collector from Kansas, who had owned it until the RM Sotheby's sale. ... A placard can be found on the passenger side dash denoting the car was built especially for Neil Peart. The Speedster features an upgraded aftermarket radio unit and speakers, as well as a removable front boot-mounted Kenwood Bandpass Enclosure subwoofer; unsurprisingly these audio upgrades were completed under Peart's ownership. The car is accompanied by its Porsche manuals, in their original leather pouch, a tool roll, the original jack and spare wheel, a copy of the Neil Peart title, and the respective Porsche Production Specifica-tions document. ...
Ultimate-Guitar.com posted their list of the Top 9 Bass Legends Who Also Performed as Guitarists In Their Career this past week and Rush's Geddy Lee made the cut:
UG just can't get enough of Geddy Lee. A musician of such caliber is worthy of everyone's praise, which is not much of a surprise since he set the standards way up high for musicians of multiple genres. However, he's known even beyond his bass work and was even voted as one of the best keyboard players on our traditional weekly Friday Top list. It's only obvious that we're going to mention him on a list like this one. During his time in Rush, Geddy Lee recorded guitar on some of the band's songs, both in studio and on live shows. One of the examples is "Passage of Bangkok." Although it's rhythm guitar, his tight and very precise work can be heard in how he played.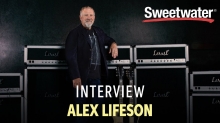 Alex Lifeson recently sat down with Sweetwater Sound's Mitch Gallagher for a lengthy interview to discuss his Lerxst Omega Signature Amplifier among other things, including his thoughts on guitar tone, his many side projects and much more. You can watch/listen to the 38-minute interview below or on YouTube at this location:
Yesterday was Neil Peart's 67th birthday, and today is the 51st anniversary of Rush's first gig with the classic lineup of Lee/Lifeson/Rutsey (see this post for details), which took place at The Coff-In coffeehouse located in the basement of an Anglican Church in Toronto. That's all for this week. Have a great weekend!