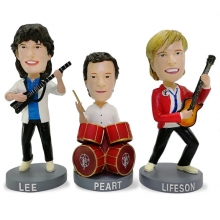 The Rush Backstage Club has just announced the upcoming release of a 1980's edition of their popular Rush bobblehead dolls. A 1970's era version of the bobblehead dolls has been available for several years now, but this new edition gives the power trio an updated '80s era look. From the Rush Backstage Club:
Who can forget the 80's? The decade that spawned albums such as Moving Pictures, Signals, and Power Windows, certainly deserves its own set of Rush bobbleheads. Remember Alex's leather pants? How about the clean-cut hair on Neil! How about Ged's Steinberger!! This set of three polyresin ceramic dolls stand approximately 7" high, and come packaged in a custom box for all of you collectors. Clear some space on the shelf!
A limited quantity of the bobblehead dolls are now available for pre-order and are slated for release on December 2nd. You can also still purchase the classic edition of the bobblehead dolls on Amazon at this location.