Sometime back in September of 1968 - about 50 years ago - the initial incarnation of Rush played their first paid gig at The Coff-In coffeehouse located in the basement of an Anglican Church in Toronto. From the Rush biography Visions:
... The first band formed by Alex and John [Rutsey] in the Spring of 1968 was called The Projection. By the end of the summer that band had broken up.

In August, Jeff Jones came in as bass player and lead singer and a formal line-up of John, Alex and Jeff was formed. They spent their evenings and weekends trying to learn the hard rock songs of the day and scheming for an opportunity to play outside their basements.

The boys were soon able to work out an agreement to play in another basement, but this time they would be paid. Their salary was $25. The gig consisted of playing on Friday nights at an oddly named coffee-house located in the basement of an Anglican Church. The Coff-In served coffee, doughnuts and music to local teens for 25 cents a head.

The band was excited, but they had a big problem. While they had been dreaming of playing, they had neglected to come up with a name for their group. So a few days before the gig they sat around in John's basement trying to come up with an appropriate monicker. They weren't having much luck when John's older brother Bill piped up, "Why don't you call the band Rush" and Rush it was. ...

Although we know it happened on a Friday night, the exact date of this gig is a matter of debate. It has been widely recognized as having occurred on September 18, 1968 due to Alex Lifeson having given this date in a couple of interviews over the years. However, there's very little chance that this is the correct date since September 18, 1968 was a Wednesday ... not a Friday. Nobody seems to dispute that the show took place on a Friday night, yet that WEDNESDAY, September 18th date won't seem to go away (it's much more likely that Alex was "misremembering" the date than it having happened on a Wednesday!). This initial lineup consisted of guitarist Alex Lifeson, singer/bassist Jeff Jones, and drummer John Rutsey. Alex Lifeson talked about the setlist for that first show in a 2006 interview with Sound & Vision:
Wow. Let's see. We did Jimi Hendrix's 'Foxey Lady,' Cream's 'Spoonful' and 'Crossroads,' the Yardbirds' 'Shapes of Things,' and maybe a few others. We only knew about seven or eight songs back then.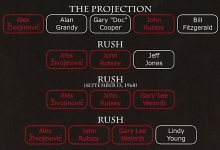 Jeff Jones' stint with the band was short-lived, and Geddy Lee took over the following week as Geddy described in this interview. The Rush Family Tree chart that was included in the 2014 Rush: Rediscovered box set claims that this incarnation of Rush (with Geddy Lee replacing Jones) debuted on Friday, September 13, 1968, which - if accurate - means that the previous Friday's gig with Jones would have taken place on Friday, September 6th. So that's even more evidence that the September 18th date is wrong. We probably will never be 100% certain of the exact date of this first gig, but I think we know enough to safely say that it occurred in September, 1968. Let's just leave it at that, shall we? :) Rush would then see several lineup changes and a couple of name changes until solidifying the Lifeson/Lee/Rutsey lineup around May, 1971. This would be their lineup on through the release of their self-titled debut album in 1974, after which John Rutsey was replaced by one Neil Elwood Peart on July 29, 1974. You know the rest. :) Happy anniversary guys!