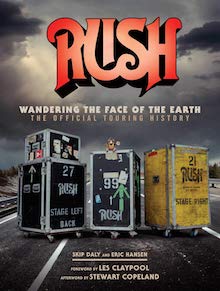 A new book from publisher Insight Editions chronicling Rush's entire decades-spanning touring history is slated for release this coming October. The book is appropriately titled Rush: Wandering the Face of the Earth: The Official Touring History and is authored by Skip Daly and Eric Hansen (of the Power Windows website). The publisher provided rushisaband.com with some exclusive new images from the book earlier this week, including a fan-provided pic of the band in a limo, a photo from Geddy's personal archive of him onstage with his modified teardrop P-bass during an encore, a photo taken by Geddy of two awestruck fans in front of the Hammersmith Odeon marquee, and several late '70s-era live shots. You can view the photos in this post (photo 1, photo 2). The book also includes a foreword by Primus front-man Les Claypool, an afterword by Police drummer Stewart Copeland and an introduction by Rush lighting director Howard Ungerleider. From the Amazon description:
Alex Lifeson, Geddy Lee, and Neil Peart performed together for the first time to an audience of 11,000 people in 1974. Forty years later, their last tour sold over 442,000 tickets. This is the story of everything in between. This is the story of Rush. Fondly known as the Holy Triumvirate, Rush is one of the top bands to shine through rock-and-roll history. Wandering the Face of the Earth covers Rush's storied touring career, from their humble beginnings as a Toronto-area bar band playing middle school gymnasiums to their rise as one of the world's most sought-after live acts, selling out massive arenas around the globe. This book includes every setlist, every opening act, and every noteworthy moment meticulously researched and vetted by the band themselves. Along with spectacular, never-before-seen imagery, this is THE must-have tour compendium for Rush fans.
A couple of weeks ago, John over at Cygnus-X1.net posted Claypool's foreword along with some more exclusive photos from the book which you can check out at this location. Author Skip Daly has also been posting some teaser photos and book excerpts to his Facebook page, including this post about early Rush friend/driver Doc Cooper. The book is expected to release on or around October 29th and you can pre-order it on Amazon at this location.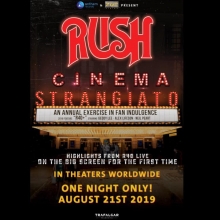 The first annual Cinema Strangiato theatrical film experience hit movie theaters worldwide last Wednesday night. The film brought Rush fans together for a special look into Rush's R40 Live tour, with new backstage footage, special guests, and performances. It was such a huge success that Anthem/Trafalgar has made tickets available for encore showings in select locations worldwide in the coming weeks. As of this post, tickets are available in theaters near San Francisco, Pittsburgh, Boston, Denver, Glasgow, Liverpool, and more. You can check cinemastrangiato.com for theaters and showtimes. Whether a location is offering showings or not is completely up to the individual theater(s), so if there's nothing near you, call your local theater(s) and let your voice be heard. Several clips from the film are available in this post, and a good overview is given in this 8/10 review from the latest Classic Rock magazine:
Cinema Strangiato is a two-hour-20 feature (in selected cinemas worldwide, August 21 only) supported by Falling Down The Rabbit Hole - 10-minutes of Geddy Lee on his Big Beautiful Book Of Bass. Figuring you've seen the R40 Live DVD, the main film eschews its complete-show format and pairs its best bits (including those hilarious interlude videos) with extras, beginning with soundcheck footage of Jacob's Ladder. Roll The Bones is preceded by a new clip of Trailer Park Boys. There's Losing It in Newark, featuring violinist Johnny Dinklage. Producer Nick Raskulinecz and Foo Fighters drummer Taylor Hawkins speak up before YYZ. Tom and Denise Morello detail their other shared love. Then, after candid backstage footage of Neil Peart, Billy Corgan nails it by highlighting Rush's generosity.
As the review mentions, the majority of the film is a greatest hits package of performances from the previously-released R40 Live video, although the soundcheck footage of Jacob's Ladder is a welcome new addition, as is the Losing It performance with Jonathan Dinklage from the band's June 27, 2015 stop in Newark. The film is interspersed throughout with several outtakes, backstage footage, celebrity fan testimonials, backdrop videos, and new animations from FANTOONS. Another highlight took place just before the end credits, when they played some soundcheck footage of the band messing around on a "new" Rush song with Alex improvising on vocals, talking about a giant spider that he found in his room in Arizona that he named Snider (I have it on good authority that this is a true story). Someone was lucky enough to capture this on video and you can watch it on YouTube. The final words shown in the credits were, See you next year, which caused some fans to think that meant the band would reunite next year. No such luck unfortunately. This just references the fact that they expect Cinema Strangiato to be an annual thing, and they are already planning next year's event as Adam Jones (who edited the film) mentions in a recent Billboard article/interview:
... Jones, a Rush fan himself who worked at Rounder Records while the band was signed there, is hoping Cinema Strangiato will be just the first of many "posthumous" film projects culled from Rush's vaults. "After this we'll go back and see what we've got and assess for the next (possibility)," he says. "This is a good start, and I hope the fans enjoy what we've done and want more so we can look forward to the next years of this." ...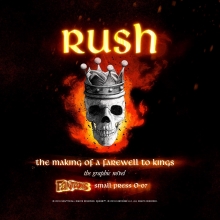 A week from this coming Tuesday, on September 10th, FANTOONS will be releasing a new graphic novel chronicling the making of Rush's 1977 album A Farewell to Kings, which just celebrated the 42nd anniversary of its release yesterday. The beautifully illustrated, 144-page hardcover book tells the familiar story of the making of A Farewell to Kings, but does so in such a fresh and unique way that it feels new. The book features artwork and storytelling from FANTOONS, with new input from Alex Lifeson and producer Terry Brown, who also wrote the book's foreword. John at Cygnus-X1.net posted a review of the book to his site yesterday which you can check out here, and you can pre-order the graphic novel at this location. To learn more about all of the other officially-licensed Rush merchandise available from FANTOONS, be sure to check out their online store, and follow them on Facebook and Twitter.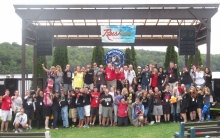 The third annual RushCamp event/fundraiser presented by Overtime Angels takes place this weekend at Independent Lake Camp in North East Pennsylvania, and will feature performances by David Barrett, Brandon Dyke, Solar Federation and Second Contact. If you weren't able to register for the event in time, there are several ways to still help support their charitable mission, including a charity auction, raffle and merch store. Here are all the details via the Overtime Angels website:
CLICK HERE to bid in our eBay auction for chance to win: "The Peart Package" - a paperback copy of "Ghost Rider", signed by Neil Peart and a hardback copy of "Rhythm & Light", signed by Carrie Nuttall. Auction ends at 9pm EDT on Wed, Sep 4th.

CLICK HERE to bid in our eBay auction for a chance to win a signed artist print of a photograph taken by Geddy Lee. Auction ends at 9pm EDT on Tue, Sep 3rd.

CLICK HERE to purchase entries for chance to win some great prizes in our online raffle! The top prize is a numbered, sealed copy of Clockwork Lives, signed by Neil Peart and Kevin J Anderson!! Raffle ends on at 8pm EDT on Sat, Aug 31st.

CLICK HERE to donate to our RushCamp! 2019 online fundraiser on Facebook. One of the best features of Facebook fundraisers is that 100% of your donation goes to our charity because there are no credit card transactions fees! Fundraiser ends on Fri, Sep 6th.

CLICK HERE to purchase "swag" with the RushCamp logo created by FanToons from the Overtime Angels store on Zazzle. We have over 60 items in our store, something for everyone!
RushCamp will also be broadcasting LIVE on YouTube all weekend starting this evening at 6:30PM EDT. Stop in and check out performances and other shenanigans at this location.
Paradise Lost rhythm guitarist Aaron Aedy talks about Rush and Voivod in a new Prog magazine interview (thanks RushFanForever):
"The very first rock album I ever got was Rush's A Farewell To Kings in 1982 and it's still one of my top five records of all time. I'm a massive Rush fan, but Voivod were the definition of progressive metal for me in the late 80s. ...
MusicFestNews.com posted their list of The Top 10 Greatest Rush Songs this past week, with Tom Sawyer unsurprisingly taking the number one spot. You can check out the complete list online here.
In celebration of the Labor Day holiday in the US this weekend, YardBarker.com posted their list of the most famous songs about work and Rush's Working Man made the cut. Here's an early performance of the song from the band's 1974 televised appearance at Laura Secord Secondary School:
That's all for this week. Have a great Labor Day weekend!