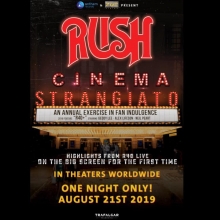 The first annual Cinema Strangiato theatrical film experience hit movie theaters worldwide this past Wednesday night. The film brought Rush fans together for a special look into Rush's R40 Live tour, with new backstage footage, special guests, and performances. It was such a huge success that Anthem/Trafalgar has made tickets available for encore showings in select locations worldwide in the coming weeks (as soon as tomorrow night). As of this post, tickets are available in theaters near San Francisco, Pittsburgh, Boston, Denver, Glasgow, Liverpool, and more. You can check cinemastrangiato.com for theaters and showtimes. Whether a location is offering showings or not is completely up to the individual theater(s), so if there's nothing near you, call your local theater(s) and let your voice be heard. Several clips from the film are available below, and a good overview is given in this 8/10 review from the latest Classic Rock magazine:
Cinema Strangiato is a two-hour-20 feature (in selected cinemas worldwide, August 21 only) supported by Falling Down The Rabbit Hole - 10-minutes of Geddy Lee on his Big Beautiful Book Of Bass. Figuring you've seen the R40 Live DVD, the main film eschews its complete-show format and pairs its best bits (including those hilarious interlude videos) with extras, beginning with soundcheck footage of Jacob's Ladder. Roll The Bones is preceded by a new clip of Trailer Park Boys. There's Losing It in Newark, featuring violinist Johnny Dinklage. Producer Nick Raskulinecz and Foo Fighters drummer Taylor Hawkins speak up before YYZ. Tom and Denise Morello detail their other shared love. Then, after candid backstage footage of Neil Peart, Billy Corgan nails it by highlighting Rush's generosity.
As the review mentions, the majority of the film is a greatest hits package of performances from the previously-released R40 Live video, although the soundcheck footage of Jacob's Ladder is a welcome new addition, as is the Losing It performance with Jonathan Dinklage from the band's June 27, 2015 stop in Newark. The film is interspersed throughout with several outtakes, backstage footage, celebrity fan testimonials, backdrop videos, and new animations from FANTOONS. Another highlight took place just before the end credits, when they played some soundcheck footage of the band messing around on a "new" Rush song with Alex improvising on vocals, talking about a giant spider that he found in his room in Arizona that he named Snider (I have it on good authority that this is a true story). Someone was lucky enough to capture this on video and you can watch it below or on YouTube. The final words shown in the credits were, See you next year, which caused some fans to think that meant the band would reunite next year. No such luck unfortunately. This just references the fact that they expect Cinema Strangiato to be an annual thing, and they are already planning next year's event as Adam Jones (who edited the film) mentions in a recent Billboard article/interview:
... Jones, a Rush fan himself who worked at Rounder Records while the band was signed there, is hoping Cinema Strangiato will be just the first of many "posthumous" film projects culled from Rush's vaults. "After this we'll go back and see what we've got and assess for the next (possibility)," he says. "This is a good start, and I hope the fans enjoy what we've done and want more so we can look forward to the next years of this." ...
Related Posts:
[Rush's Cinema Strangiato hits theaters worldwide TONIGHT]
[New preview clip of Geddy Lee: Falling Down the Rabbit Hole from Rush: Cinema Strangiato film]
[Watch Distant Early Warning from Rush's upcoming Cinema Strangiato film, in theaters August 21st]
[Watch the official trailer for Rush's Cinema Strangiato, tickets now on sale]
[Rush's Cinema Strangiato coming to theaters for one night only on August 21st]