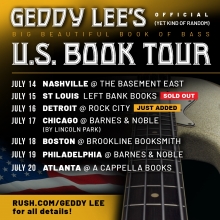 Geddy Lee wrapped up his Big Beautiful Book of Bass US signing tour this past Saturday afternoon at A Cappella Books in Atlanta. This leg of the tour began two Sundays ago at The Basement East in Nashville, which included a Q&A interview conducted by former Rush producers Peter Collins and Nick Raskulinecz - both Nashville residents - which is available for viewing online at this location. Geddy also gave this short interview with The Tennessean to preview the event the week prior. From Nashville Geddy continued his tour across the Midwestern/Eastern US, hitting one stop each day. Last Monday he was at Left Bank Books in St. Louis as described in this blog post from Nicki's Central West End Guide. He then hit Detroit the following day, which was previewed in this article from the Oakland Press that includes a few interview snippets from Geddy. It was on to Chicago last Wednesday where Geddy was interviewed for the Illinois Entertainer as a preview to that event. The interview was mostly about the book, with the same old questions/answers we've seen in dozens of other interviews, but here's what he said about a possible solo album:
"... I do have some ideas, but I haven't put any action into them. I haven't discussed anything with Alex in quite some time. We talk all the time, but we haven't talked about work. You know, I was in a very intense job for over 40 years, and you don't just walk out of that into something else. This book has been a marvelous escape and education, and in a sense, edified me in ways I never thought it would. Eventually, I'm sure I will start making some noise downstairs.. .. I store riffs for a rainy day. Eventually, the rainy day will come, I think. We'll see if they're any damn good."
Last Thursday Geddy hit Brookline Booksmith in Boston, where he appeared on Boston 98.5's Toucher & Rich show to talk about the book and the signing tour. Last Friday Geddy was at Barnes & Noble in Philadelphia; he had appeared on the Preston and Steve Show on Philadelphia's WMMR the week prior to preview the event. The Philadelphia Informer's Cyndy Drue was on hand at the event and posted this video news story covering the event. Ged wrapped up this leg of the book tour at A Cappella Books in Atlanta last Saturday, and he'll now take a break for a while before scheduling more events, which he is expected to do right up through the end of the year. Fans attending the signing events have been canvasing social media with photos, which I've been accumulating on the RIAB Twitter feed, so check that out and share your own photos as well - I'll retweet as I come across them. Geddy was also on the Talkin' Rock With Meltdown podcast a couple weeks ago to talk about the book and preview the signing tour. When asked about whether he misses playing he had the following to say:
... "I certainly miss playing with my bandmates. I was a really fortunate human being that I had such great friends who were also really cool bandmates, and I was able to play with them for, like, 42 years onstage. That was something that was very hard to replace. I have very fond memories of that, and every once in a while, I wish I was onstage joking with those guys. I talk to them all the time. We're still very, very close." ...
And when asked whether he'd consider performing with Alex Lifeson and another drummer, he simply said, "That's really hard to say."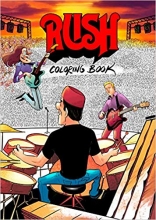 The folks at FANTOONS have released an updated version of their officially-licensed Rush coloring book that was first made available back in 2016. The updated edition with its 20 new pages of content comes in at a whopping 72 pages, and is now available to purchase at this location. FANTOONS was on hand at the San Diego Comic-Con this past weekend and had early copies of the coloring book for sale, along with early release copies of their upcoming graphic novel chronicling the making of Rush's A Farewell to Kings album, which releases on September 10 (pre-order it here). To learn more about FANTOONS and to check out all of their officially-licensed Rush merchandise, visit their online store at this location, and follow them on Facebook and Twitter.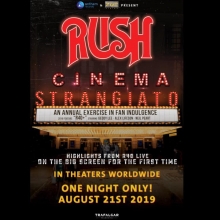 Last month Rush and Anthem/Trafalgar announced the first annual Cinema Strangiato - a theatrical film experience that will bring Rush fans together for a special look into Rush's R40 Live tour, with new backstage footage, special guests, and performances. Cinema Strangiato will hit theaters worldwide for one night only on August 21st and tickets are now available at this location. There's also an official, 1-minute trailer for the film which you can watch on YouTube at this location. For all the details and to sign up for email updates, visit www.cinemastrangiato.com. Geddy Lee described the film in the above-mentioned Preston and Steve Show interview:
... What it is is basically a way of celebrating the 'R40' tour in the sense on a big screen. It's taking a lot of stuff that fans might have seen on that video, the concert footage, but it's added a few twists to it - there's some soundcheck footage, there's some pieces that people haven't seen and haven't been released, and there are interviews with various musicians blah-blah-blah-ing about us. [Laughs] So I think the intent of the record company, in that regard, was just to create something that you can't have at home. Going into a venue with a ton of other like-minded RUSH fans and celebrating the final tour, as it were. ...
The CBC posted a story earlier this month about how a Rush tribute band inspired Quispamsis teen Evan Shelton to apply to Berklee College of Music:
... Shelton, who just finished Grade 10 at Kennebecasis Valley High School, was at Classic Albums Live in Saint John two years ago, playing his guitar at a kitchen party, when a Rush tribute band came over to listen to him play. "They said if I wasn't underage, they would've hired me on the spot," he said. Then they told him he should apply to Berklee. Shelton said he was shocked when he heard this because he never thought he was good enough for such a prestigious music school. "It kind of put things into perspective like," he said. "I might need to do this for a living." ...

UK-based company Zee Productions creates jigsaw puzzles based on rock band album covers, and announced this past week a new line of puzzles based on four classic Rush album covers - Moving Pictures, Permanent Waves, A Farewell to Kings and Fly by Night. The puzzles will be available on September 20th and you can pre-order them at this location (thanks John at Cygnus-X1.net).
Some sad news to report; Neil Peart's old friend and longtime Alex Lifeson guitar tech Jimmy Johnson passed away earlier this week in his hotel room in southern California. Johnson had been working as a guitar tech with Styx for the past couple of decades, and the Styx Facebook page broke the news Wednesday in this post:
... It is with profound sorrow that I am announcing my dear friend and right-hand man, guitar tech and inventor Jimmy Johnson, passed away in his hotel room in the early hours of the morning here today, July 24, 2019, on the Southern Coast of California. When he failed to show up for lobby call, fellow crewmembers contacted hotel management, broke into his room, and discovered him there. ... I knew he was planning on seeing his old friend and dear friend Neil Peart of Rush here yesterday. I hope he did. ...
Johnson and Peart had been friends since 1968, where Johnson was a roadie with Neil's early band The Majority, and later became Alex Lifeson's guitar tech, a role he'd keep up through 1997. Peart talks about Johnson in this NeilPeart.net post from back in 2014:
... I often think back to a "road lesson" involving one of my oldest friends, Jimmy Johnson. He and I met around 1968, when J.J. joined my second band, the Majority (ha-our booking agency's genius slogan was "Join the Majority!"), as a "roadie." A few tumultuous years later (for both of us), when I joined Rush, J.J. became Alex's guitar tech for many years-many hilarious years. The two of them were a fine comedy duo. ... But way back in the Olden Days (when dinosaurs walked the earth), in the mid '70s, Jimmy affected a mustache (as many of us did-I sported a full-on handlebar, myself). However, in the eyes of his fellow crew members, Ian and Liam, J.J. seemed to move beyond the pale when he started wearing a small scarf around his neck, knotted with a ring. They dubbed him "Tony Orlando," and the rest of us laughed and started using it, too. J.J. blurted out a line that has resonated for decades. "But I don't want to be called Tony Orlando!" Oh, we laughed and laughed. Finally somebody put him wise, "You don't get to pick your own nickname!" ...
Condolences to his family and friends. RIP J.J.

On a much lighter note, Alan Cross' A Journal of Musical Things blog asked the following question for their weekly survey this past week: Whose faces would you pick for a Canadian music version of Mt. Rushmore? Mt. RUSH-more? Come on, you gotta be kidding me ... Rush of course! Duh. However, the article doesn't even mention Rush despite making mention of a few other Canadian artists, but you can nominate the trio here. Interestingly enough, there's a 2012 Kerrang! magazine story titled Conquering Mount Rush-More describing several reasons why Rush is awesome, and also including an artist depiction of the band as the faces of Mt. Rushmore. Reader RushFanForever contacted Cross and let him know about the article, but Cross hadn't been aware of it. On a related note, artist Jorge de la Torre actually created a sculpture of the trio as Mt. Rushmore a few years ago as seen and described on his website at rushmoresculpture.com.
Here's video of Jacob Moon and David Barrett performing Time Stand Still at the Lee Lifeson Art Park in Willowdale this past Wednesday evening:
Geddy Lee will be turning 66 this coming Monday, June 29th. Happy early birthday Dirk!!! Have a great weekend everyone!