UPDATE - 5/18@11:10AM: Here's an article from Ultimate Classic Rock chronicling Rush's 1st US show that I'd mentioned below. Today is the 45th anniversary of that show.
UPDATE - 5/17@8:41PM: Here's the 2112 Overture scene from this past week's episode of Billions:
The show #Billions is a great show. This past episode it's even better! #Rush #2112intro @jonhein @cwotd @rushisaband pic.twitter.com/lJ2aeqYsVq

- Etan G (@thejewishrapper) May 17, 2019
----- snip -----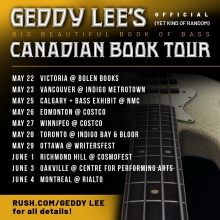 This coming week Geddy Lee will embark on a Canadian book signing tour where he'll be mingling with fans and signing copies of his Big Beautiful Book of Bass at ten different locations all across the Great White North from this coming Wednesday, May 22nd through June 4th. The tour will include stops in Victoria, Vancouver, Edmonton, Winnipeg, Ottawa, Toronto, Montreal and one special stop in Calgary on Saturday, May 25th where he will open Geddy Lee's Big Beautiful Bass Exhibition at Studio Bell at The National Music Centre (NMC), highlighting a selection of his rare and iconic bass guitars - the same collection that was featured at the Rock and Roll Hall of Fame in Cleveland earlier this year (photo here). You can get all the details and purchase tickets for the various events here. A few of the signing events will also include an interview with Geddy Lee, and it looks like the Oakville signing interview will be conducted by musicologist/writer Alan Cross as described in this blog post.
The 2019 Big Slick Celebrity Weekend charity fundraiser for Children's Mercy will take place at several locations across Kansas City the weekend of June 7-8th, and Rush's Alex Lifeson will be one of the many celebrity participants. The fundraiser started nine years ago as a poker tournament organized by actors Rob Riggle, Paul Rudd and Jason Sudeikis, and has since grown into a multi-day event that includes a live auction, celebrity softball game, bowling tournament, VIP party and live show. The event has raised over $8 million for Children's Mercy Hospital since its inception. For all the details including ticket information, visit the website at bigslickkc.org.



Geddy Lee has donated the rotosound bass strings from his 1962 Foam Green Fender Jazz Bass to The Guitarwrist - a UK-based organization that turns artist-donated items into jewelry to help raise funds for charity (thanks RushFanForever). The strings were used by Geddy when he guested on bass with YES to play Roundabout at their induction into the Rock and Roll Hall Fame back on April 7, 2017. The Guitarwrist has turned the strings into a pair of earrings and a bracelet that are currently up for bidding at this location. Funds raised from the auction will go to the Grapes for Humanity and Teenage Cancer Trust charities.
Rush's 2112 Overture was played during one scene of this past Sunday night's episode of the Showtime drama Billions (Season 4, Episode 9 - American Champion). At about the 25:30 mark in the show, Bryan (Toby Leonard Moore) is at a cycling exercise class where Rush's 2112 Overture is played for about 40 seconds. Billions Showrunner Brian Koppelman is a huge Rush fan, and this is not the first time the show has included a Rush reference. During a scene earlier in Season 4 (Episode 2 - Arousal Template) Taylor punches in a 4-digit access code into a keypad to open a door, and the code is - of course - 2-1-1-2 as seen in this tweet. Also, last year in episode 9 of season 3, Axe and Taylor spend a portion of one scene debating which is Rush's best album as seen in this post.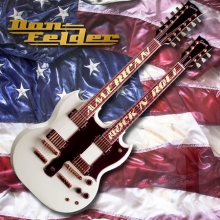 Former Eagles guitarist and songwriter Don Felder's highly anticipated, all-new album American Rock 'N' Roll released last month and is now available for purchase. The album features guest appearances from Sammy Hagar, Slash, Richie Sambora, Orianthi, Peter Frampton, Joe Satriani, Mick Fleetwood, Chad Smith, Bob Weir, David Paich, Steve Porcaro, and Rush's Alex Lifeson. Lifeson appears on the album's 2nd track - Charmed - playing acoustic rhythm guitar on the song's bridge and electric guitar on the song's ending solo. You can listen to Charmed on various streaming channels including YouTube at this location, or purchase the album via Amazon and other retailers. Felder was recently interviewed for All That Shreds Magazine to discuss the album and his other current projects (thanks Philip L). At one point he was asked if there was anybody in particular that he hasn't worked with that he would like to, and he mentions David Gilmour and Neil Peart:
... I would love to play with David Gilmour. My drummer, works and tours with David. And I, through the following channels, mentioned to Stevie, to get David to guest on a track. And he's working right now. And when he's not working, he doesn't work. He doesn't even touch guitars. Matter of fact, I think a lot of his collection is up for sale at Christie's or somewhere that is going to be up for auction. It's kind of like Neil Peart. Neil is a friend of mine, and he just absolutely stopped playing altogether. He put up his drumsticks. It's a shame because he's got such an incredible talent, style, and sound. ...
Former American Idol winner Caleb Johnson gained favor with Rush fans back in 2014 when he declared that Rush was his favorite band, and performed an inspired version of Working Man as his Home Week song on the show. Johnson will be releasing his new album Born From Southern Ground next month and recently spoke with uinterview.com about the album. When asked to describe the album's sound he mentions Rush:
I would say it's soulful, visceral, over-the-top rock and roll, you know I'm very heavily influenced by 70s rock and also some of the 90s grunge, you know I would say you know I had to narrow down my top five favorite records it would be: Queen's "Night at the Opera", Meat Loaf's "Bat out of Hell", Rush's "2112", Black Sabbath's "Heaven and Hell," Aretha Franklin's Greatest Hits, so there's a lot of different kind of stuff that is really kind of in a melting pot so to speak ...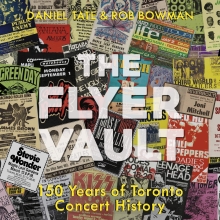 Daniel Tate is the curator of the popular Flyer Vault Instagram page, where he has shared thousands of Toronto-area music flyers that he has collected over the years. He'll be releasing a book version of his Instagram page with co-auther Rob Bowman this coming November titled The Flyer Vault: 150 Years of Toronto Concert History, which is now available for pre-order. This past week on the Instagram page he profiled an early Led Zeppelin show from August 18, 1969 at the Rock Pile in Toronto, which Geddy Lee, Alex Lifeson and John Rutsey attended as described by Geddy in this post:
"I know it sounds somewhat trite to say that an album changed your life but the first Led Zeppelin album had that kind of impact on me. The record was released early in 1969, and word of it's greatness was spreading with such intensity that by the time they were enroute to Toronto for a gig at the The Rock Pile, getting tickets had become nothing short of frenzied...I had zero money at the time and my mom was not very accommodating in such matters...my bandmates Alex Lifeson and John Rutsey had managed to scrape together enough coin but I couldn't...this required drastic measures and so I took the typewriter that my grandmother had bought me for my birthday and ventured down to Church St and pawned it in one of the shops that dotted that street. Success. I guiltily accepted the money and went straight out to buy my ticket for the show that was now being referred to as "Mighty Monday"! We lined up extra early for the 8 p.m. general admission show and we ended up in the 2nd row right in front of Jimmy Page...effin amazing! The band floated onto the stage and started rippin' into a killer version of the old Yardbirds classic, "Train Kept a Rollin"- they were super loud, and the summer heat kept rising in that old Masonic Temple and the crowd was so seriously jacked and stomping that I remember little bits of plaster falling from the ceiling of the place. They literally brought down the house! The unforgettable birth of heavy rock as far as my bandmates and I were concerned. I left the show breathless and ecstatic and it wasn't until the next day that I started trying to figure out how the hell I was going to get my typewriter out of hock before my mom found out!"
Speaking of Led Zeppelin's influence on Rush, Uriah Heep guitarist Mick Box was recently interviewed for The Metal Voice and spoke a bit about some of the bands that got their start opening for Uriah Heep back in the '70s, including Rush (at the 5:45 mark). Rush opened for Uriah Heep back in 1974 during Neil Peart's first stint with the band:
... You know what? We gave them our audience and they took it by the throat and they won the day. They were always good musicians. I think in the early days Geddy was getting the, you know, Robert Plant comparisons because he's got a high voice and things like that. But they waded through all of that and came out stronger, and it was very obvious that they were going to be a force to be reckoned with, especially as a three-piece. ...
Rush's first show with Neil Peart took place on August 14, 1974 at the Pittsburgh Civic Arena opening for Heep. Here's the audio of Rush's set from that show:
A few months prior to that first show with Peart, on May 18, 1974, Rush with original drummer John Rutsey played their first US show at the North Side Drive-In in Lansing, MI. Tomorrow marks the 45th anniversary of that show. That's all for this week. Have a great weekend everybody!